..
..


Guinea is the Switzerland of Africa
Photos and story Muguette Goufrani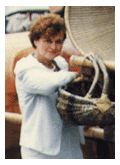 The story of my journey from the Gulf of Guinea on Africa's Atlantic Coast to historic Mali Ville in the northern highlands appears in our bilingual Africa Travel Magazine. With that in mind, please consider this online version as an hors d'oeuvre - the full course banquet will come when you visit Guinea. I guarantee that your travel experience will be a feast - and like one of Nat King Cole' s most famous songs ... Unforgettable! Or as the immortal Maurice Chevalier would say ... C'est Magnifique! Some call Guinea the "Switzerland of Africa" and one of your first pleasant surprises when visiting the Republic of Guinea is that it is uncrowded. Big in size, yet small in population. A nation of 7.5 million, Guinea is also described as the land of contrasts. Those apt comparisons became evident to me a few days into our journey. The route selected by our gracious hosts Hon. Sylla H. K. Diakite, Guinea's Minister of Tourism and General Manager Ibrahima Diallo, began close to Conakry. Here we visited several sites along the "Slave Route," which I will describe more fully my next installment.
The main journey covered a vast expanse of geography, stretching northeast by highway via Kindia, Dalaba, Pita and Labé, to our final destination at Mali Ville near the Senegal border. For tour photos, see the gallery pages, where I had many opportunities to capture the spirit and flavor of the country, its people, history, culture, cuisine, colorful costumes, lifestyles and breathtaking scenery. To follow the route we took,click and view the full page map or scroll for the map inset below.
---
Author: Born in Casablanca, Morocco, Muguette Goufrani has worked as an airline, automotive, tour and travel agent in several African nations and in French speaking countries in Asia and the Caribbean. Her father was one of the first tour operators in Morocco. She is a dual citizen (France - Canada) and has been featured extensively on African television, radio and print media, both English and French. Her first assignment was the 1996 ATA Ecotourism Symposium in Marrakech, Morocco. This was followed by a National Geographic - American Airlines sponsored project in Haiti, plus ATA Congresses in Benin, Tanzania, Ghana, Ethiopia, Zanzibar, Guinea, Zambia, Morocco, South Africa, Cameroon, Kenya and Djibouti.
---
Precious Jewels, Grand Ballet and Malinke Music to Charm the Soul:
Several jewels in Guinea's abundant treasure chest make it a highly attractive tourist destination; one that's loaded with potential. A key facet is the rich vibrancy of the culture, echoing the ATA Congress theme of " Nature, Culture and Hospitality." Another charming jewel in Guinea's tourism crown is the romantic and captivating Malinke music heard literally everywhere you go. It's a rhythmic style that gives inspiration to many West African artists, even "Les Ballets Africains,"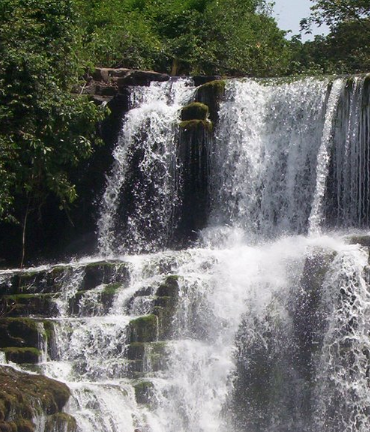 Guinea's musical goodwill ambassadors to the world and Africa's foremost touring dance company. What a sight they are on stage! Our applause rocked the auditorium in Conakry following this group's spectacular, energy-filled, two hour command performance for ATA. Before leaving Guinea, I purchased several albums of West African Malinke music for our library. It will be beamed to the waiting world on our new Web Radio Station, being launched soon.
Of Bridal Veils , Smoking Dogs and Mountain Maidens
Following the ATA 27th International Congress and Trade Show in Conakry, which literally burst with African flavor and color, we began the long-awaited media tour of Guineas's plateaus and northern highlands. Directed by Lamine Diallo, a professional tour guide and his driver Karim, I boarded the Ministry of Tourism bus and we headed east, making our first stop at Coyah, a bustling village that is where Guinea's bottled water is processed. Naturally we had to gather a plentiful supply for the journey ahead.
Close to Coyah is Dubreka Ville, which we visited several days previously. It is the home of "Les Cascades de la Soumba, " which features a spectacular waterfall, water sports and a resort complex with dining room and comfortable cabins. (photo below) For information tel. (224) 45 32 44.
Beyond Coyah a side road, Route de Fria, leads to one of the country's better known tourist sites, Mount Kaloulima, which in French we call "Le Chien Qui Fume," or the Smoking Dog. Look closely at the mountainside and you will see the strange resemblance. At certain times, like when a thick fog hugs the mountainside, a wispy smoke seems to rise from the animal's mouth. Our first overnight stop was at the town of Kindia, (140 km from Conakry) where we visited the spectacular Bridal Veil Falls or "Le Voile de la Mariée. " The falls are at their most appealing during the rainy season, when the flowing water resembles a delicate bridal veil.
Follow your Dream: Here in the heart of West Africa, Guineans offer all the ingredients of a "Dream Vacation," if you long for an uncrowded, unspoiled, visitor-friendly country. In a class by itself is Guinea's unending selection of spectacular landscapes, which unfolded around each bend, like a cinemascope movie, as we motored through the hilly 'Fouta Djalon' region. Many travelers say that the Fouta Djalon offers the most striking vistas in all of West Africa. Put this fact together with the charming, hospitable people I met along the way, and you have a winning combination. Our gracious hosts from the Guinea Ministry of Tourism, working in close harmony with the Africa Travel Association and ourselves as its media arm, hope to make these dream vacations a reality for travelers from around the world.
Did you know?
• Guinea's major ethnic group the Malinke also reside in parts of Mali, Cote d'Ivoire and Senegal, and at an earlier time ruled one West Africa's great empires. Malinke are also known to have originated the best kora musicians in West Africa. The kora is a unique and popular musical instrument in the area. For details on the amazing kora- visit this informative website: http://www.coraconnection.com/
• Guinea is called the Switzerland of Africa, with its lofty mountains and high plateaus, plus a temperate climate. The highest peaks are Mount Loura at Mali Ville (1515 m) and Mount Tinka near Dalaba (1425m). They also call it the Water Tower of Western Africa because many rivers take their origin (River Gambie, Senegal, Niger, etc.) from it. These rivers and churning rapids, hurtling down the mountains create beautiful waterfalls.
• Guinea's Tropical Paradise, the Loos Islands. Our next installment will feature a trip to Loos Islands, an archipelago located near Conakry. The key islands are Kassa, Room and Fotoba. There is also Tortoise Island (where giant tortoises are protected), Snake and Kid Islands. With easy access by boat, these islands offer beautiful white sand beaches for relaxation and nautical sports.
• Financial development: According to a recent financial report, the Gulf of Guinea has become one of the world' s most promising areas for new petroleum development. This income source in itself will help expand the infrastructure on which tourism depends.
• Many Africans call the country 'Guinea Conakry,' to avoid any possible confusion with Guinea Bissau, its northern neighbor.
• The language of business and commerce is French and the currency is the Guinea Franc.
If you are interested in a tour covering the same route, contact Dunia Voyages of Conakry, who have a page on this web site.

Gateway to the Fouta Djalon
The second important leg of my journey inside Guinea followed a stretch of highway heading north, between the towns of Kindia and Mamou, which is known as the "Gateway to the Fouta Djalon." When night falls, Mamou becomes one of the country's liveliest towns, and an ideal place for delicious street food. We sampled a variety of items, from barbecue to Guinean style couscous. I was impressed by the festive atmosphere. These proud, assertive people, walked the streets decked in their bright flowing robes, as if to say "Guinea is subject to no sovereign power." While Guineans represent a combination of the Muslim, Christian and Animist faiths, they have learned to live together in harmony - an example for the entire world. For example, how many are really aware that West Africa was thriving with well established empires and trade routes long before the first Europeans came?
Mamou's Typically Guinean Marketplace: The merchants and artisans in their stalls and various places of business struck me as being confident and strong minded, yet gentle in nature. These are ideal qualities for business success anywhere, but especially in Guinea. In the busy open-air public market and many roadside stands, women traders stood behind large trays of merchandise, looking elegant in their bright robes and always anxious to please. Even the small children approached us with trays of delicacies, sweets or fruits balanced on their heads. The vibrancy of town life, plus contact with the outside world and external trade, has stimulated Guinea to reach a higher standard of civilization than Africa's more isolated people. Shopping for clothing is a real delight. See the wide variety of attractive West African robes in our photo section. Most households in the area have a selection of indigo plants and the locals dye their own clothing, often with interesting patterns. It is an imposing sight, dozens of shop women, each with her selection of palm-oil, soaps, fabrics or yogurt in front of her. Many of these people work at farms in the countryside, so there is a vast system of petty trade. These people have trade in their blood, and bargaining is a favorite sport- an ideal opportunity to fine tune their skills.
Dalaba, a Mountain Retreat: Taking the main route north, Dalaba was our overnight stop. A key tourism site since the Colonial period, the Dalaba Mountain Resort was a major therapeutic center, thanks to its fresh air at 100Om altitude and gently rolling hills. Set amongst lush vegetation in the Foutana highlands, it is a charming town, with an average temperature of 10 degrees c. Guinea's President and the First lady, holiday here often, however when they are not visiting, tourists can stay in the rooms used by his entourages and enjoy fantasies of grandeur. In the commercial area of Dalaba, I spent some quality time chatting with, and learning about local customs from a talented group of artisans. We visited the co-op shoemaker shop (see photo section), where they make a wide variety of colorful sandals, plus intricate leather work and other crafts made from indigenous materials.
Le Jardin Chevalier: At the park like setting of Jardin Chevalier, we saw splendid examples of horticulture, with its selection of trees and shrubs from around the world. Guineans are excellent gardeners. Lawns are carefully nourished, irrigated, and terraced to slope down to the lagoon. Sitting in a lawn chair that evening, with the sunset reflecting in the water and shining through a fringe of oil-palms and slender coconut palms, I could catch the vanishing glamour of the tropics. My night was a fantasy of pleasant dreams
On solid ground: During this journey and my entire three weeks in Guinea, I got the distinct feeling from many people I spoke to at length, that the country is in capable hands. This feeling of confidence, energy and enterprise was illustrated last spring by the solid support our magazine received from the nation's business community. Our website has just added a Business Directory Section that will connect the reader with Guinea's business leaders, and there's much more to come. Encouraged by this support, we plan to reprint the current edition - to keep up with the demand. As the first travel guide in our new Africa Travel Library series, it will be a valuable marketing tool to sell Guinea Trade and Tourism worldwide. One section will cover Guinea's "Slave Road" a joint project of UNESCO and OMT,
Footnotes:
• The photo (left) is of an attractive young lady from Guinea's Peuhl clan. She is wearing the distinctive hairdo and head dress. Migrating from ancient Egypt the Fulani or "Peulh " are said by some to be of Jewish origin, some having light complexions, with Caucasian features.
The Republic of Guinea is located along 300 km of the Atlantic Ocean in West Africa. Thanks to its abundant natural resource base, there are business and investment opportunities in all sectors of the economy
Guinea is a country that has shaped history while conserving its distinctions. Intersection of civilizations of the African Middle Ages, the country was the center of birth, the extension, and the successions of the grand West African empires. Guinea, always protective of its liberty, was the last to be colonized in West Africa and the first to recuperate its independence.
• Guinea's major ethnic group the Malinke also reside in parts of Mali, Cote d'Ivoire and Senegal, and at an earlier time ruled one West Africa's great empires. Malinke are also known to have originated the best kora musicians in West Africa. The kora is a unique and popular musical instrument in the area. For details on the amazing kora- visit this informative website: http://www.coraconnection.com/
From Labé to Mali Ville
by Muguette Goufrani
Labé, Guinea's crossroads community, was the final stop for that day . Approximately 400 km from our starting point at Conakry, Labé is Guinea's third-largest community and for centuries past, a major crossroads for traffic heading to and returning from Senegal and Guinée Bissau. Labé's commercial center or heart of activity is located on a hillside, affording a pleasant view of the surrounding countryside. The area's museum and co-op dyer for fabrics are the town's principal attractions. The final leg of our journey began early the following morning we took off for what would become the high point of the journey, Mali Ville, which is 120 km from Labé. The colors were striking, even the road itself, its pink surface contrasting with a brilliant blue sky. for a few moments as a photo opportunity, we left the beaten track to visit one of the native hut villages, set amongst the baobab (monkey bread) and pineapple palm trees. At the market I purchased some *cassava, avocado, palm kernels and several jars of honey, which we're still enjoying.
A Picture of Health and Vitality: The drive to Mali Ville was outstanding, as this attractive town, located at the highest elevation in the Fouta Djalon plateau, is like a crown jewel of nature, culture and hospitality. The relatively cool temperatures year round, and the spectacular, panoramic views, attract hikers, health enthusiasts, nature lovers and trekkers from around the world, most especially from Western Europe. In my opinion, this area would be the ideal location for a world class health spa and therapeutic center. As Lamine Diallo, our guide told me several times in advance, "You will have the surprise of your life in Mali Ville.
La Dame du Mali: As our vehicle wound its way up the incline towards Guinea's highest mountain, Mount Loura (1538m) we parked the vehicle and made our way along the footpath leading to a legendary rock face they call " La Dame du Mali," which, being perfectly shaped by nature to resemble an elegant woman's head, lives up to the name. Seeing 'La Dame' for the first time as we rounded the final bend in the path, I could scarcely believe my eyes. What a beautiful, unforgettable spectacle!
Note to Readers: We just checked Webtrends and Gunea is attracting more readers than any other section on this site, which scores thousands of pages read weekly. Aug. 2003

The Thatched Roof Villas at Mali Ville
We spent almost two days in Mali Ville, staying at an attractive hillside villa that was a former residence of the country's President. At night the wind would sing its serenade at our window, and it seemed like nature had lost her noble temper. Adding to the romantic special effects were wax candles and oriental perfumes sending an exotic aroma throughout the villa's rooms. Upon awakening the next day, I watched the towns folk at their early morning routine of house cleaning and preparing the morning meal. Women of all ages began arriving from the countryside with huge bundles of dried thatching-grass. The Tourism Ministry's General Manager Ibrahima Diallo's brother, who owns and operates a pharmacy in Mali Ville, invited us for luncheon at his villa. We shared a gourmet meal, consisting of West African couscous and goat meat. It was typical of the meals we enjoyed throughout the journey. One of the local favorites is "bicycle chicken," which earned its name because as they say, "these (organic) chickens will always run away from you, like they're riding a bicycle."
We were invited to meet the Mayor of Mali Ville in his residence. That particular morning his honor was surrounded by a bevy of beautiful young ladies from the "Promotion Feminine du Mali. He told me a short story about the town, where the "Peulh" clan is in the majority. I was particularly impressed by the ladies' unique hairdos and headdresses. I gathered more local information from a local teacher, Mr. Diallo Ibrahima Kindia Mabel, who is also the press correspondent of the Mali Guinea Agency. The meeting was so informative, I have saved my notes from this interview for our next printed edition.
Good-bye Mali Ville, Hello Conakry
The next day on our return trip to Conakry, we stopped briefly in Kindia for a breakfast at the Friguiagbe (Fruit market) and in Labota for its panoramic view. I felt extremely comfortable while traveling in Guinea, which made me more determined than ever to promote this beautiful country, its business and tourist attractions throughout North America. In this unspoiled, uncrowded West African Shangri-La there's plenty of room and opportunity. In my next installment, I will talk about Conakry, the offshore islands and the sandy beaches along the Atlantic Coast on the historic Gulf of Guinea. We will also visit the rain forests and wildlife viewing areas.
Muguette M. Goufrani
Associate Editor, Africa Travel Magazine
If you are interested in a tour covering the same route, contact Dunia Voyages of Conakry, who have a page on this web site.
Footnotes:
• Cassava is an important food plant in West Africa, where it is a staple food. Cassava grows very tall, and its edible parts are the tuberous root and the leaves.
• By the way, when you visit Guinea, make sure to take plenty of film like I did. We have enough precious memories to last a lifetime. Many of these images of Guinea will be available to media, travel clubs and educational groups via the ATA web site. But please ask permission first. mailto:africatravelasso@aol.com
The opportunities to promote Guinea abound in the Pacific Northwest where we live. Around the world there are numerous trade shows and conferences we and other ATA members attend. We also plan to organize trade missions and invite investors interested in becoming partners in building the infrastructure for an enhanced tourism sector. If you want to join us on any future travel to Guinea, fax (604) 681-6595 mailto:africa@dowco.com
Photo Credits: Muguette Goufrani / Robert Eilets / Guinea Ministry of Tourism