GRAND TOUR OF GHANA-
A GOLDEN EXPERIENCE!
By Jerry W. Bird
What was my impression of Ghana on our first visit since 1999? Upon landing at Accra's Kotoka International Airport my eyes were fixed like lasers on a banner newspaper headline that shouted its bold, positive message across the arrivals area - "Ghana is Safe." What a confidence builder -- and nothing in two exciting weeks of ATA 31st Congress activities, colorful galas and an educational, fun-packed, cross country tour gave us any reason to doubt the authenticity of that challenging statement. Our most recent Grand Tour of Ghana could easily be described as a Photo Safari, where Muguette Goufrani captured some unforgettable images of Cape castles, Kente weavers, Slave River (below right), bead making art, regional festivals, roadside commerce, Ghana fashions and an outstanding trade show.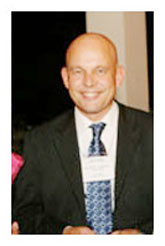 I am pleased to announce that our friend and colleague, Marcel Andeweg, an active ATA Board member, is the new General Manager of Alisa Hotels in Ghana. Congratulations!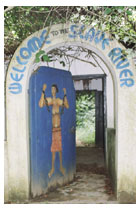 Roadside Commerce
This tour, with its focus on roadside commerce, creative crafts and cottage industries, was an eye opener to the amazing entrepreneurial spirit that is so dominant in Ghana. It is reflected in the latest book by Dave Fick entitled ""Africa: Continent of Economic Opportunities." The experiences enroute during this week long, dawn to dusk tour left a profound impression Starting with the Lake Volta Region near the Togo border, our journey took us to the provincial capital of Ho; then to the Kumasi area, home of the Ashanti Empire. Our agenda included Senchi Riverside Resort, Liate Wote, Afadjato Mountain, Wli Waterfalls, Tafi Monkey Sanctuary, Abenyinase Kente Weavers, Cedi Beads, Oumasi, Shai Hills Game Reserve, Bunsu Arboretum, the Bobiri Butterfly Sanctuary, Ejisu Bease, Bonwire Village, home of the Kente Weavers, Ntoso, the Adinkra Printing Village, plus Ahwiaa, the Carving Village. We visited the the Ghana Tourism Board's Kumasi office and Crafts Center, plus a new luxury resort at Lake Bosomtwe. One of the most meaningful sites was NNonkonsuo, the Slave River Memorial Center. Enroute to Kakum National Forest, with its famous rope bridges, we stopped to watch a family operation producing palm oil. The final leg of our journey involved Elmina and Cape Coast Castles.
GH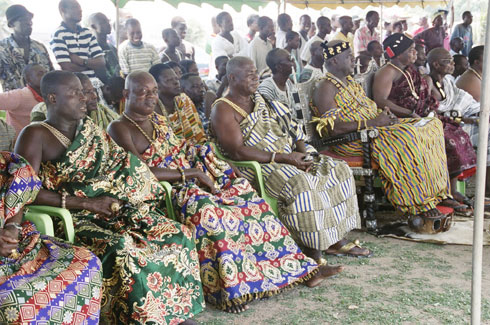 GHANA PHOTO ARCHIVES
Cape Coast Castles / Kente Weavers / Durbar Ceremony / Roadside Commerce / Tour Sites / Ghana Fashions / Bead Making Art / Slave River / ATA World Congress/ Activities/ Gala Events/ Trade Show / Delegates / Fashions

The Volta Region
Our first night of the tour was spent at the Freedom Hotel , a bright, attractive courtyard facility in the city of Ho. Capital city of the Volta Region, Ho has a population of over million and consists of 17 town and villages in the Ho District. We passed through several of these communities in our tour. Ho has three hospitals, including the Volta Regional Hospital and numerous small clinics. There are two internet cafes, a museum and many churches, including a Catholic cathedral in the city center. Ho has many restaurants, including a popular dining establishment they call the White House. The main language spoken in this area of Ghana is Ewe.
Kumasi
Having spent some valuable time in and around Kumasi on this and a previous trip, it was grand e experience six weeks after our return from Ghana to meet it's charming and highly capable le mayor, Patricia Applagyei and her colleague David at the UN World Urban Forum in Vancouver.
Recommendation
Our ATA Canada Chapter had the privilege of touring them around our own community. The professional, award winning tour guide selected by Ghana Ministry of Tourism and Diasporan Affairs was a fountain of information. We jokingly referred to him as yao.com, which in today's lingo is an apt description of his ability to answer questions on many topics, including those of a financial and business nature. yaodzide@yahoo.com
Natural beauty of Ghana
Nature has been generous to Ghana. Few natural attractions can compare with the land of Ghana. National Parks, such as the rain forest of Kakum, or the broad Savannah of Mole, are havens for indigenous flora and fauna, safe from predatory man. Ghana is a bird watcher's paradise and nature lover's delight. Forest walks captivate the senses, as butterflies flit from flower to flower, and shafts of sunlight illuminate tiny orchids and other native flowers. Products of our indigenous trees and plants have always enriched medical knowledge throughout the world. The variety of landscape is matched by striking seasonal and regional contrast. The greens of the hillsides just after the rains, and the golds and ochres of the Savannah in the dry season.
Panafest
As part of the ongoing commitment to enhance the historical, cultural and spiritual focus of PANAFEST, the schedule includes a Pre-Panafest Pilgrimage called "On The Slave Route To PANAFEST," - Part I of the PANAFEST program and allows the participants to experience the courses of the Slave Trade route of the old Gold Coast. For details visit http://www.panafest.org/
Commentary
"I tell tourists about our heroes and heroines, politics and most importantly to me, investment opportunities in Ghana. I have done tour guiding for Ghanaians living within and without Ghana and people from all continents across the world.
When tourists buy air tickets, the airlines pay taxes to the government. When tourists pay airport tax, government receives some of the the money at the end of the day. When tourists arrive and take taxi, sleep in hotels or guesthouses, eat in restaurants, buy souvenirs, and other gifts, all the service providers receive payments and pay tax to governments. The more tourists we receive, the bigger the monies. When tourists travel to our various attractions located in the villages, they go with their money and spend there thus pumping money into local economies". For full test e-mail traveljournal@ gmail.com
Flashback
The ATA-WTO World Congress in Accra, Ghana was our last opportunity to spend some quality time in the company of ATA's dear friend Fred Fuller who passed away in June,1999. For a capsule profile of Ghana, we have included the following section which arrived courtesy of Joe Nyarko of Sagrenti Tours. A darker era saw many of our people, and those of other African lands, leave our shores for the plantations of America and the Caribbean, creating the biggest Diaspora the world has ever seen. Today, citizens of many states around the world still acknowledge and treasure their family links with Ghana, returning to explore those links and to experience the soul of their motherland. Today, come home to Ghana, the gateway to that African Heritage. Our celebrations , with great durbars of chiefs in full regalia, full of dancing and drumming, reverberate with images of our rich cultural traditions and reflect the passage of nature's calendar, so important in the preservation of our culture. Throughout the year and throughout the Country, our people love to celebrate, and the great sights and scenes reflected in these festivals create for every visitor, a memory to be cherished. If you're surprised by all this, you're beginning to get the feel of Ghana. One delightful surprise after another.
African American History Month
• Tour of the Cape Coast Castle & Eliminate Slave Dungeons and West African Historical Museum
• Visit Kakum National Park (Tropical Rain-forest ) and Aburi Botanical Gardens
• Tour of the Manyhia Palace Museum, former home of the Ashantihene
• Tour of Kumasi, Capital of the Ashanti Empire;
• Visits to the Kente Weaver's Village, Wood Carver's Village and the Adinkra Village
• Accra City Tour, cultural display of drumming and dancing
• Visit to W. E. B. DuBois Centre and Kwame Nkrumah Memorial Park
• Dance to live African Highlife Music as you cruise the worlds largest man-made lake, The Volta
• Shopping at traditional and tourist markets in Ghana.
For more information on visit www.africa-ata.org/ghana.htm
http://www.ghanatourism.gov.gh
ATA Official Media Tour

Our tour itinerary courtesy of the Chief Director, Ministry of Tourism, Ghana was issued by the Tour Operators Union of Ghana. The agenda was as follows, and thanks to our experienced and knowledgeable guide Mr. Yao Dzide, we were able to visit almost all of the sites outlined in this ambitious four day tour schedule.

Day One. Our journey began when we departed from the Palm Hotel in Accra, driving along the Coastal Highways to Wli Waterfalls, with further stops at the Senchi Riverside Resort on the Volta River, and at Liate Wote, where we viewed Afadjato and the highest mountain in Ghana. Next on the tour agenda was the Fafi Atome monkey sanctuary. Our final stop for the day was in the city of Ho, capital of Volta Province. Our overnight stay was at the Freedom Hotel.


Day Two: After visiting the Regional Museum, we departed Ho for Abenyinase to visit and interact with the Kente weavers, with further stops at Cedi Bead making facilities and shop, plus the Shia Hills Game Reserve. Overnight was in Accra.

Day Three: An early departure from Accra for Kumasi, with stops at the Bunsu Arboretum, the Bobiri Butterfly Sanctuary, Ejisu Bases and Bonwire village, a kente weaving center near Kumasi. Other highlights were Nitonso, the Adinkra printing village and Ahiwaiaas, the carving village. Overnight was at the Royal Basin Hotel in Kumasi.

Day Four. Driving through Kumasi, after an enjoyable stop at the Cultural Center and regional office of the Ghana Tourist Board, we toured Ghana's second largest city and traditional home of the Ashanti Empire. The huge, sprawling city market and the furniture making operation on both sides of the main street were very impressive.

Leaving Kuumasi, we stopped at several new resorts on Lake Bosomtwe, then continued to the Memorial Gardens at Slave River (Monkonsuo) . Further points of interest were Kakum National Forest, a palm oil making operation nearby, plus Elmina and Cape Coast castles. We arrived for a late dinner at the Golden Tulip Hotel in Accra.
.