Kenya Grand Tour- Part Three
by Jerry W. Bird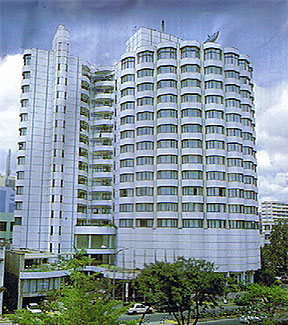 Nairobi in Bloom Our two extended visits to Kenya were exactly one year apart. The first flight was across the continent from Cameroon with Kenya Airways, the second was from Seattle, via Los Angeles and London. One of our main impressions was the remarkable changes we saw in Nairobi in 12 months. First of all, the city streets, parks and boulevards had a more spruced up look, thanks to the new landscaping and creative street lighting program that is now fully underway, and an anti litter program in progress. Flower gardens were in bloom in the traffic circles, new lamp standards were sponsored by community conscious companies and life seemed brighter in many ways.
The longer we stayed, the more at home we felt. We discovered many great places to shop, from downtown and suburban malls to a variety of local craft markets in a park setting. One location we visited often and recommended to delegates was The Village Market (more on this exceptional complex later), Photos: Above- Windsor Hotel and Country Club with Nairobi skyline on the horizon. Right - the Nairobi Safari Club Hotel, our hosts on both visits to Kenya during this program.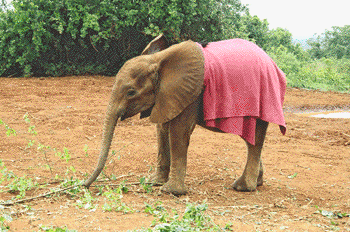 The Orphans' Project:

Nairobi is indeed fortunate to have a National Park on its very doorstep. We visited the area often and took several hour one afternoon to visit an Elephant Orphanage inside the park and a Giraffe sanctuary nearby. Naturally, we had a camera handy, and the following page is an example. Nairobi Wildlife Centers
The rearing of the orphaned elephants, even though we have been at it for a very long time, for us remains an ongoing learning experience and a source of wonder, filled with moments of joy and sadness, plus surprises on an almost daily basis. This animal duplication of a Big Brother series is recorded in the Keepers' Diary which is posted on the Trust's website monthly and keeps the elephants many foster-parents involved. Following the daily life of a newborn baby as it passes through its fully milk dependent infancy, watching it gradually grow through childhood, one gets to know each one intimately as one follows its daily activities and adventures. Friendships blossom and hit glitches, just as in human society, joy and happiness as well as sadness and grief at the loss of a loved one is evident, and one its amazed by the outpouring of compassion and caring for those younger or the less fortunate.
Just like human children, elephants feel shameful when reprimanded for misbehavior; they take themselves off to sulk; they harbor grudges and feel the need to settle scores, they can be deliberately mischievous, and the little bulls are especially competitive, always striving for one-upmanship. We know that elephants possess mysterious abilities alien to us, such as the programming of a genetic memory within the womb to endow them with elements important to survival; the ability to communicate over distance in mysterious ways and an unerring and uncanny ability to traverse alien terrain surely and accurately, despite the fact that they may never have set foot there before. There's much more to come regarding Nairobi National Park and other attractions.
Famous Doors of Hospitality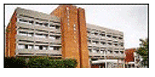 "During the Africa Travel Association's 30th World Congress in Nairobi, Kenya our delegates and guests from North America, Africa and beyond had a unique opportunity to experience the high standards of quality and hospitality at Utalii College. The occasion was a gala dinner, prepared and served by students on the main campus at Utalii. Later in our 40 days of travels, our editors met and interviewed Utalii graduates at hotels and lodges throughout the country. Some of these encounters are in our photo gallery. During the past ten years with Africa Travel magazine, we have enjoyed many opportunities to be served by Utalii grads across the continent. There will be much more to come on this exciting topic, and how you, your friends and family can receive training at this exceptional learning facility."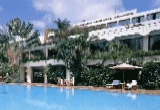 In addition to the headquarters hotel,events were held at some of Nairobi's other famous doors of hospitality, such as the Safari Park Hotel, and the Grand Regency Hotel, plus popular dining spots such as the Carnivore Restaurant and the Casablanca Later we revisited the Norfolk Hotel, now under new management, the New Stanley and the Nairobi Safari Club Hotel, where we stayed several evenings, the Nairobi Serena (right), where we enjoyed a superb luncheon with the Corporate Sales and Marketing Manager Peter Mbogua, the Nairobi Hilton, the Holiday Inn in Westlands, Alliance Hotels group and the beautiful Windsor Hotel and Country Club, a few miles out of the city.
InterContinental Hotel
For a full month, during and following the ATA World Congress, the InterContinental was home. In fact, many observers were starting to think we were part of the staff. We are anxious to share some personal impressions- f and will do so soon. For now, here are some comments from the hotel web site. "Standing at the top of the upscale market, on the verge of the luxury segment, InterContinental is the leading international hotel brand serving the needs of the frequent business traveler. Nairobi. The city than shimmers in the heart of Kenya's Savannah. Just a few hours' drive from the very cradle of mankind, it is a modern, cosmopolitan home to people from every continent."
Mr. Roger Kacou, an ATA Director, is General Manager and Regional Vice President for Eastern Africa, responsible for Nairobi, Lusaka and Asmara InterContinental Hotels in his regional position. Mr. Roger Kacou is a holder of a Masters Degrees in Hotel Administration from Cornell University and Economics Science from Abidjan University. Mr. Kacou is a multi-lingual and speaks English, French and Spanish. He has been a keen participant in the Africa Travel Association and has worked very closely with ATA to assist in promoting tourism in Africa. (continued)]
The following page feature more photos taken by our editors and/or provided by the hotel operators we interviewed. Nairobi Hotels and Resorts
Visiting Nairobi's Tudor style Norfolk Hotel is like taking a journey into British colonial history. Stopping for a Ken ya Tourist Board prearranged luncheon at this elegant hotel, we were greeted like royalty and seated at a pleasant, garden side table next to the main dining room, where we later shared a few pleasant moments with several of the staff who filled us in on the hotel's amazing story. Among the many offerings on the noon buffet menu, was a highly polished silver steamer, brimful with king-size prawns. Only on rare occasions do I take the time to photograph a meal in progress, but this was for the record. Another feast was presented on the dining room walls, where a gallery of black and white photographs portrays life in Kenya from the 1800s through to the 1950s. We could have stayed the entire day gazing at these unique images - and vow to return.
Continued on the Kenya Coast -> -> ->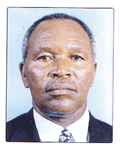 Much more to come as we add new installments weekly
Read about Kenya's famous Olympic Athletes of the Century from our interview with Dr. Kipchoge Keino, head of Kenya's National Olympic Committee of Kenya (left). In addition to Hon. Morris Dzoro, Minister of Tourism and Wildlife, our interviews and visits included Kenya Tourist Board, Kenya Tour Operators Association, Mombasa and Coast Tourist Association, African Airlines Association, Kenya Airways, Kenya Ministry of Transport, Kenya Travel Agents Association, Kenya Chamber of Commerce, Kenya Wildlife Service, East Africa Wildlife Society, Mombasa Air Safaris, East African Auto Rally Village Market, The Standard Group and Kenya Civil Aviation Authority. We interviewed hoteliers, such as the Serena and Alliance group, New Stanley, Norfolk, Nyali Beach, Windsor, Kenya Comfort Hotel, InterContinental, Travellers, Holiday Inn, Sarova, Governors Camp and Nairobi Hilton. We experienced the magic of Utalli College in turning African students into ambassadors of hospitality around the world. These people and many others we met at the ATA 30th World Congress in Nairobi will be heard from in our Africa Travel Yearbook and future editions of Africa Travel Magazine.
---
Windsor Golf Hotel Nairobi
A fifteen Minute drive from the center of Nairobi, the Windsor Golf Hotel & Country Club is located in a peaceful, rural setting. On a clear day you can see the snow capped peaks of Mt. Kenya to the north. The Windsor Golf Hotel & Country Club sets an entirely new standard for resort hotels in Kenya, is unbeatable for a golfing holiday, makes an ideal base for an Kenyan safari and is a top class venue for conferences, seminars conventions and weddings. Windsor Golf Hotel & Country Club's 18 hole championship course is the center of attention and deservedly so. Threading its way through coffee farms and indigenous forest, it boasts of lush, springy fairway, fast, true greens and sprinkling of attractive water hazards. At an altitude of more than a mile above sea level the ball does fly further and you may need to adjust your club selection. Though you may not be a golfer, the course is well worth walking, The Bird life is abundant, the views of Africa are large and spectacular and on the back nine you might catch sight of Syke's monkeys. The Windsor Golf Hotel & Country's greatest asset is the 280 acres of well manicured grounds which offer ideal locations for theme bush dinners, wedding receptions, cocktail parties, product launches and incentive events. The Windsor house six sedate and elegant conference rooms which can accommodate the most discerning client hosting from a small board meeting of 5 people to a conference of 240 people theater style. All rooms have blackout facilities to handle audio/visual demonstrations.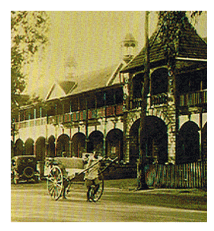 Norfolk Hotel, Nairobi
The Norfolk officially opened on Christmas Day in 1904, offering elegance and comfort in the wilds of Africa. Lions roamed the plains opposite the hotel, and hippos lived in the river at the rear of the grounds. Guests would arrive at the hotel by rickshaws, to spend long lazy afternoons on the Lord Delamere Terrace. And they often enjoyed wild parties long into the night. The exotic blend of romance and intrigue that characterized the Kenya colony was centered on the Norfolk Hotel.
The Norfolk was the base from which many great adventurers began their exploration of the region, making the hotel the place where the "safari" was born. This was where US President Roosevelt began his world famous safari in 1909 setting out from the front steps of the hotel into the wilderness.
Throughout the 20th century adventurers, the safari set, royalty, world leaders, statesmen and movie stars have all enjoyed the Norfolk's stylish ambiance and relaxed charm. Writers ranging from Hemingway and Elspeth Huxley to Kenya's most famous author, Karen Blixen, have all immortalized the hotel.
The town and later the modern city of Nairobi grew up around The Norfolk, which still has its own private tropical gardens. The hotel is still the traditional starting point for safaris and the Lord Delamere Terrace is modern Nairobi's most famous meeting place, where drinks and light meals are served continuously from morning until midnight.
The Norfolk offers accommodations in 168 ensuite rooms and suites, has three conference rooms, the largest seating 175 delegates, a heated outdoor swimming pool, health club with gym, sauna and steam room, beauty salon, book shop and gift shops. Room rates start at US$250 per room per night.

Kenya Stars Shine in our next 4 issues!
Read about Kenya's famous Olympic Athletes of the Century from our meeting with Dr. Kipchoge Keino, head of the National Olympic Committee of Kenya. Other interviews included Tourism Ministry and KTB officials, of Kenya Airways CEO , African Airlines Assn, Kenya Chamber of Commerce, Kenya Tour Operators Assn, Utalii College, East Africa Wildlife Society, Kenya Travel Agents Assn, Great East Africa Auto Rally, Mombasa and Coast Tourist Asson, plus many hoteliers, travel agents, embassies and tour operators. Details