October 23, 2015

By Mathias Ringa


MORE TOURISTS EXPECTED IN KENYA FROM DECEMBER AFTER DIANI EXPO

Tour operators from around the world are set to bring more tourists into the country from December following improved security. Tour operators and travel agents from Europe, US, Asia and Africa, who participated in the Magical Kenya Travel Expo at Leisure Lodge in Diani, Kwale County, were impressed by the significant improvement of security in the country. UK tour operator Ainslie Buck said British tourists were now interested in coming to Kenya for holidays after their government lifted travel advisories against coastal counties of Kilifi, Kwale and Mombasa. She said the lifting of the advisory had made it easier for tour operators and travel agents to bring more British holidaymakers to Kenya for both leisure and safari.
"We are glad the Kenyan government addressed security concerns which were raised by the UK which culminated in the lifting of travel advisories against coastal resort towns," she said. "In January next year, we have plenty of British tourist bookings who are coming to Diani, Malindi and Watamu for leisure holidays," she said. Ms Buck said her tour firm was also seeking bookings for Mombasa. She went on: "Other tourists are set to visit the Maasai Mara Game Reserve and Amboseli National Park for game drives."

AMERICAN TOURISTS

US tour operator Alan Feldstein said he would do bookings for American tourists from January next year, for both safari and leisure. He noted that the terrorist attacks in Kenya last year scared away American tourists but the US market had regained confidence. Mr Feldstein said his tour firm would hold travel shows in California, Los Angeles, New York, Arizona and Philadelphia in a bid to attract more American tourists to Kenya. "I am planning to do bookings for American tourists to come for safari within the Mara conservancies as well as to enjoy the warmth of friendly Maasai people," he said. "My tour company would also bring tourists to the Kenya coast to soak up the sun on the stunningly beautiful beaches like Diani," he explained. A European tour operator, Ulrike Schafer, said her tour firm was getting more bookings for Kenya from Germany, Austria, Switzerland and France. She explained that from November to December, FTI Group tour firm would register more bookings from Germany.

RETURN OF LUFTHANSA

Ms Schafer said the return of German airline Lufthansa to Nairobi this month would be a huge boost to tourism in Kenya. "We are delighted that Lufthansa will this month resume flights from Frankfurt to Nairobi. This will help our tour firm bring more German tourists to Kenya," she added. A German tour operator, Isabelle Huhnergarth, said she felt safe being in Kenya, adding that she would be back for holiday in February next year. She said her tour firm already had some German tourist bookings for December who are coming for both safari and leisure. "The Mara is the best destination for safari in Africa due to its abundant wildlife as well as quality lodges and tented camps," she said. "German tourists will also be coming to the Kenya Coast for relaxation on the powder soft beaches and the tropical weather," she explained. Poland tour operator and eventsorganiser Anna Tederko, who had visited Kenya for the first time, said she was captivated by the Kenyan landscape especially the biodiversity in Samburu. She was also swept off her feet by the alluring coastal beaches, adding that she would book Polish tourists to come to Kenya.

IRANIAN TOURISTS

Iranian tour operator Mehdi Shaerpour said his tour firm had planned to bring 560 Iranian tourists to Mombasa and Diani in March next year. He explained he would bring the Iranian tourists for game drives in Kenyan national parks and for leisure in Mombasa and Diani. MrShaerpour said the Iranian holidaymakers would also do shopping in Mombasa as well as visit historical sites such as Fort Jesus. The Magical Kenya Travel Expo, which began on Thursday, ended on Saturday with local hotels, lodges and tented camps expecting more international tourist arrivals from next month. The Kenya Tourism Board held the expo in Diani for the first time as part of efforts to revive the troubled sector in the region. At least 176 tour operators, travel agents, airline representatives and travel writers from around the world attended the event.
---
By Original travel

ask@originaltravel.co.uk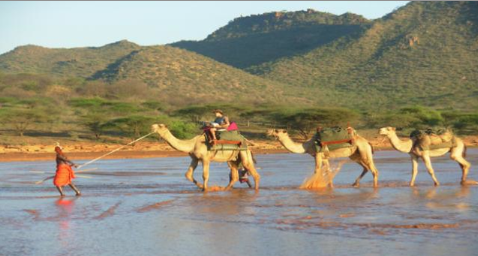 Camel Safari

Kenya

A camel safari is the ideal way to travel through the wilds of Northern Kenya, escaping the constraints of a vehicle (cars can't get here anyway) and where the camel train is the only traffic for miles around you.

Every day is unique and each safari is specially designed to suit different interests or needs, catering for luxury without compromising adventure. On safari you walk through a spectacular variety of country from high montane forest to broad sand rivers or luggas and with the changes in habitat there comes an attendant change in ecology and wildlife.
Each day you will wake up to the sun rise, eat a delicious breakfast prepared by the chefs, and begin the journey accompanied by a Laikipia Masai tracker and a few riding camels who carry your refreshments and day-packs. The pack camels and mobile camp usually follow behind, passing to set up the next camp and allow you to spend time investigating things of interest you see on the way. By the time you arrive at the next camp a cool drink and gourmet lunch is waiting for you!
Afternoons are generally spent relaxing, reading or enjoying the scenery before going for an evening walk and sundowners. In the evening hot showers are offered before drinks by the fire and a three course dinner under the stars, reminding you how simple true luxury really can be. We recommend anything from five to seven day camel safaris followed by a few days at one of the fabulous lodges in the Laikipia area at the end of your safari.
KENYA'S HOTEL AND ADVENTURE TRAVEL

Choosing a safari operator can be risky business. Choose unwisely and an expensive vacation will be ruined. Choose well and your safari will be the highlight of your vacation. We at Hotel & Adventure Travel have the experience to ensure that the safari arrangements we recommend match our clients' value for their money and meet their holiday expectations. We are proud to give references of many who have enjoyed their safaris with us and who would give unsolicited comments. (Photo: Your hosts at HAT in Nairobi, Kenya.)
"...trip was arranged by Peter Muiruri, a Kenyan who heads H.A.T. His arrangements were impeccable, his recommendations for intineraries and accommodations excellent. His tour/driver guide well informed and his prices fair." Letter in the New York Times one of the many complimentary comments we have.
Africa Safari Kenya, summarizes holiday programs organized by Hotel and Adventure Travel of Nairobi, Kenya with dependable expertise and experience gained through over thirty years of involvement in holiday services in Africa. Safaris are operated with a "Personal touch" to ensure visitors receive value for their holiday arrangements. We operate deluxe and standard safaris to suit different interests and lengths of stay. Visitors are also offered opportunities to meet local Kenyans in African farms, village markets and homes where they learn about our ways of life and witness some cultural traditions.

Some features included: Local ground and air transportation. Safari buses and 4WD vehicles with pop-up roof tops. Three meals a day while on safari. Bed and Breakfast in Nairobi and Half Board in Mombasa. All park entrance fees for you, driver and vehicle. Visits to village markets, schools, coffee and Tea farms. The Flying doctor air ambulance evacuation service. HAT safari clients get free Membership of the East African Wildlife Society to be part of our wildlife and environmental conservation. Join H.A.T. to say YES to conservation and NO to extinction. For personally operated safaris for individuals groups, special interest holidays or conference arrangements in Africa, please contact us by telephone, fax or e-mail for lasting holiday experiences.
Hotel & Adventure Travel Ltd.
Peter K. Muiruri, P.O. Box 55182,
Nairobi, Kenya


Tel/Fax : 254-2-882774 or 215907
E-mail: africasafarikenya@swiftkenya.com
For Safari details, see our Web site
E-mail: aadvesafari@africaonline.co.ke

---
Washington DC: Hotel & Adventure Travel
(301) 680 0051, Fax: (301) 680 0263
Email: HATLTD@aol.com

New York: Pema Enterprises and Travel
(914) 429 2781, Fax: (914) 429 1648
E-mail: PEMATH@aol.com

Kenya's Safari and Tour Operators Welcome North Americans

---
Editor's note: Some of the Safari and Tour Operators we have met during their visit to North America (above) have sent us profiles and advertising for the new ATA 30th Anniversary Congress (Kenya ) edition of Africa Travel Magazine, and more are expected soon.