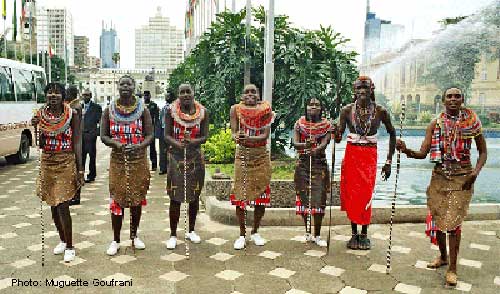 Maasai cultural event in Nairobi, Kenya
Kenya Grand Tour- Part Two
by Jerry W. Bird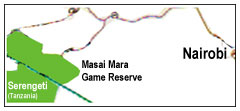 No Hollywood movie could ever match the real thing. In the theater of my mind, the most vivid image I have of the legendary Masai Mara, was standing like a sentinel, gazing out over the endless grasslands, while our 4wd ambled slowly along the trail. Spotting many varieties of wildlife and birds was quite a challenge. One could easily notice the larger and taller creatures milling about - giraffes, buffalo and elephants. But from our vantage point to the far horizon, I could just imagine how many thousand other creatures were hidden from human view. These denizens of the Masai Mara could leap and bound out of the tall grass at any moment -- wild boars, hyenas, graceful gazelles, a flock of guinea hens - you name it. Lions and cheetahs are prevalent, plus zebra, wildebeest, water-bucks, eland and topi. Above photo: View of Masai Mara from pool side at the Mara Serena Lodge.
In our two recent trips to Kenya, 12 months apart, we had the opportunity to enjoy the hospitality of the Mara Serena Lodge (top of page) on two separate occasions, and the second time we were pleased to meet Marlene Melton, an ATA tour operator form New York whose 19 guests were enjoying themselves to the limit. We also stayed at the Mara Sarova and Governor's Camp. Each location presented a different perspective on the Masai Mar as a perfect location of a safari. Being elusive, the wildlife might appear in greater numbers at one spot the first week, and move on to another grazing area the next. So when you go on a game driver, that's the chance you take.
In the Swahili language, an African Safari means a "journey," and this can involve each and every possible means of conveyance. Since launching Africa Travel Magazine a decade ago, Editor Jerry Bird and I have enjoyed a variety of safaris. For example, there was the highly popular "balloon safari," where our craft lifted off in the dusk at 5 am, skimming silently above the migrating herds, We then capped off the morning with a champagne brunch on the grassy plains. On several recent occasions, while touring East Africa, we joined an 'air safari," allowing us access to several distant locations in a few days. From balmy island beach resorts on the Indian Ocean islands, to different tented camps in the vast interior highlands, travel time was compressed into a few hours.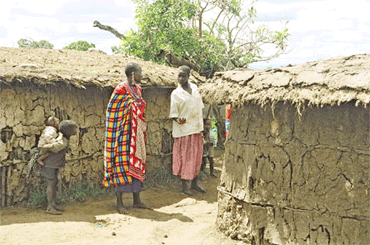 Masai Mara and Great Rift Valley
Kenya is often described as a cultural and geographical microcosm and the cradle of mankind, particularly where historians and geographers talk about the Rift Valley, one of the world's greatest wonders. That's why Kenya is such a popular movie site and the subject of so many classic and romantic novels. It's terrain stretches from the snowcapped peaks of Mount Kenya to the Indian Ocean islands, with their azure waters, coral reefs, teeming marine life and landscapes painted in a thousand shades of blue and green. Kenya's 50 or more ethnic groups add spice and another dimension to this diversity. Kenyans' renowned hospitality has been bringing visitors back for an encore since the 1800s. The Masai Mara, with its huge dramatic skies and panoramic views, is #1 of Kenya's game parks. Geographically, it extends from the Serengeti plains on the Tanzanian. In summer, migrating wildebeest, zebra and their entourage of followers, pour over the Tanzanian border, to create another magical sight one might call, " The greatest wildlife spectacle on earth." On the Mara River, one can take a waterborne safari to observe and photograph hippos, crocodiles, birds galore and wildlife of every description.
Life among the Maasai
We visited several authentic Maasai villages and marketplaces while in Kenya, and the hardest task was to resist spending a small fortune on the colorful arts and crafts in such abundant array. The Maasai are a major ethnic tribe of Kenya, whose members cherish and maintain their unique, nomadic culture and traditions, living in a natural environment, with mud thatched huts built from mud mixed with elephant or cow dung. A typical family dwelling can consist of an elder, with many wives and children, living together harmoniously. North Americans can learn much from these proud people, whose ancestors are said to have originated in North Africa. For more information on Kenya and the Maasai culture, be sure to order ATA's 30th Jubilee Yearbook, or visit www.africa-ata.org Read our final comments on the following page.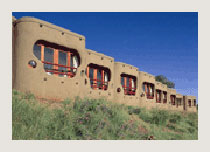 Annual Migration
It's hard to imagine how vast the annual migration is in peak season - usually summer our time. We spent two nights on the Masai Mara, the first stop was at the charming and hospitable Mara Sarova Tented Lodge, and our final overnight lodging was at the Mara Serena Lodge, perched on a forested hill overlooking the rolling, golden plains of the Masai Mara National Reserve. The day was spent on game drives through this natural Eden, tracking the lions and elephants and other denizens of the plains. By night, we experienced a sun downers evening, with campfires, Maasai dancing and bush dinners. Next morning we were awakened by a strange hissing sound, which caused some momentary concern. Looking out the window in the semidarkness, I discovered that it was the 'firing up' of a hot air balloon, that was about the load its guests for a predawn Safari.
Where Roses Bloom.
Our entire excursion, in and around Kenya, including the exciting safaris on the Amboseli and Masai Mara, was an experience that will last a lifetime. Even such seemingly small things as the scent of roses we encountered en route made an impact. As we passed Nyeri, we also learned that this beautiful agricultural and horticultural area was the final resting place of Lord Baden-Powell, who founded the Scout movement, which has helped millions of boys and girls get a good start in their teenage years, one of life's most challenging periods. Knowing this fact brought a flood of gratitude for the great man and his legacy. Our next trip's agenda will include a visit Baden-Powell's grave site, gardens and Paxtu cottage, which now houses a museum in his honor.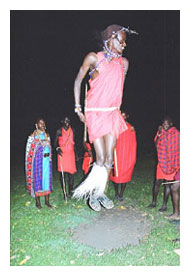 More about the Maasai
Here's what some current Kenya Tourist Board literature has to say about the Maasai culture: Linguistically, they are closest to the Bari of Sudan, with whom they share many customs, such as the shaving of women's heads. The Mara are divided into 12 separate geographical sections. Each section has its own territory. The Mara region is shared by three of these clans - the Siria, the Purko and the Loita - each having their own territory, dialect and customs. The Maasai are guided by a strong belief that they are the sole custodians of all the cattle on earth. This bond has led them into a largely nomadic way of life. All of the Maasais's needs are met by their cattle. Maasai cultural photos
As a warrior, boys learn all the cultural practices, customary laws and responsibilities that they will require as elders. girls is very much of the hands of their parents who will choose a warrior from a respectable family outside their clan.
Despite their strong cultural beliefs and deep-rooted customs, the influence of other cultures and modern education have invariably let to a gradual erosion so some aspects of Maasai life. No one can completely escape the march of modern civilization. Many Maasai have moved away from the nomadic life to responsible positions in commerce and government (a Maasai heads the Kenyan Air Force, another manages a hotel) -- and despite the sophisticated lifestyle they may lead, many will happily head homewards dressed in designer clothes, only to emerge wearing shuka(a colorful piece of cloth), cow hide sandals and carrying a wooden club (orinka) - at ease with themselves and the world. The Kenya's Maasai are probably the most self-sufficient of all Kenyans. Today the Narok Maasai are custodians and managers of Africa's finest game reserve - the Masai Mara. They attract criticism - but only in Maasai land that we found wildlife in abundance and diversity of species. We should thank them for that.
Magic on the Big Screen
You can see "Magical Kenya" at your local theater, in the exciting movie Tomb Raiders II. Then you'll have some idea of why this country has been captivating generations of North American and world travelers. Africa Travel Magazine is going on the road again this summer and fall, to beat the drums for Kenya and other ATA member countries in North America and beyond.
Above photo: Mara Serena Lodge, overlooking one of the world's most spectacular wildlife reserves. Note how the unique exterior design reflects the East African culture. This same mode is featured throughout the lodge and surrounding grounds. Photo courtesy of Serena Hotels.
-> -> -> Continued on next page

Kenya Stars Shine in our next 4 issues!
Read about Kenya's famous Olympic Athletes of the Century from our meeting with Dr. Kipchoge Keino, head of the National Olympic Committee of Kenya. Other interviews included Tourism Ministry and KTB officials, of Kenya Airways CEO , African Airlines Assn, Kenya Chamber of Commerce, Kenya Tour Operators Assn, Utalii College, East Africa Wildlife Society, Kenya Travel Agents Assn, Great East Africa Auto Rally, Mombasa and Coast Tourist Asson, plus many hoteliers, travel agents, embassies and tour operators. Details