Golfing's Big "Four"
When people think of Kenya, often times they thing of the Big Five - the top prize game trophy's hunters used to go after on safari; lion, leopard, rhino, elephant and buffalo. But recently, Kenya has gaining fame for it's Big "Four" from golfing enthusiasts around the world. Surprising? Not really. Kenya has been growing its golf community since the early 1900's, expanding into locales that provide some of the most unique golf experiences in the world. Kenya is host to some of the best golf courses in Africa with incredible scenery, live hazards (not to mention sometimes dangerous) and some of the toughest courses in Africa. We've chosen four of the top courses in Kenya that shouldn't be missed while on safari:
MUTHAIGA GOLF CLUB - 6676 yards - par 71
Muthaiga is easily known as THE Championship Course in Kenya. Host to the annual Kenya Open (European PGA), the course boasts challenging holes, beautifully manicured greens and incredible flowering bushes that line almost every hole. With a spectacular course layout you are sure to be caught off guard by the fast greens and the many bunkers ready to gulp up your ball.
WINDSOR GOLF & COUNTRY CLUB - 6751 yards - par 72
The Windsor is one of the most prestigious golf resorts in Kenya. Built on 200 acres of lush Victorian-style landscape, the club provides vacationers with excellent golfing and spectacular scenery. The course itself provides a gorgeous view of Mt. Kenya's snow capped peak; and is bordered by a coffee plantation and indigenous forest, which attracts hundreds of Sykes monkeys. The course claims the longest hole in Africa at 640 yards.
NYALI GOLF & COUNTRY CLUB - 6510 yards - par 71
The winds of Nyali are said to be the most treacherous hazard on the course. Located on Kenya's coast (not directly on the ocean), the winds off the Indian Ocean can cut strokes off your game or add several, so be prepared for a challenge. You will find it is worth it, with the course's gently rolling hills surrounded by the radiant Flame tree, it a course not to be missed.
LIMURU COUNTRY CLUB - 6519 yards - par 71
Golfers rave about how enjoyable golfing Limuru can be. The setting on tea plantations is lush and relaxing. The course is set at and elevation of 7000 feet, which provides for fresh air and soft green carpets of turf. Stay out of the sand traps; they are painfully deep.
---
Golf Contacts:

Debert C. Cook, CMP, Publisher
African American Golfer's Digest
www.AfricanAmericanGolfersDigest.com

President/CEO, Event Planners Plus!
139 Fulton Street, Suite 209, New York, NY 10038
Tel: (212) 571-6559 (Ext. 11), Fax: (212) 571-1943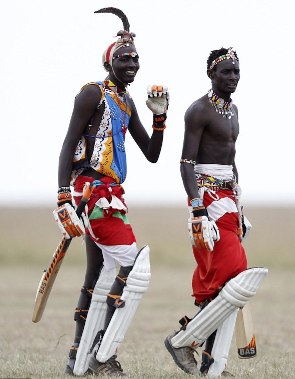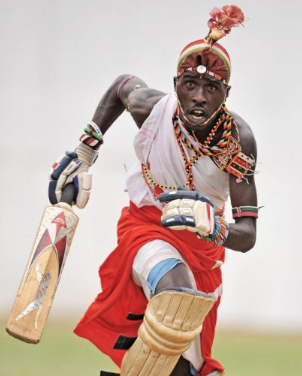 By Hugo Gye
6 June 2013
Cricket may summon up images of green pitches in sleepy English villages, but these pictures show that the sport has penetrated to almost every corner of the globe.

They depict a match involving a team of Maasai tribesmen showing off their skills during a match in their native Kenya today.

The tribesmen, renowned for their height and fierce hunting culture, have started a cricket team as part of a campaign to highlight the dangers facing their isolated rural community.
Rather than the traditional whites, the players wear their own tribal dress, proving a colourful sight for spectators.
When the Maasai were first learning cricket, many refused to wear shoes as they feared that Western footwear would only slow them down.
However, the tribesmen have now compromised with the norms of the sport, and were sporting white trainers for their match against the Ambassadors.
The Warriors' games are intended to raise awareness of issues such as female genital mutilation and young girls being forced into marriage.

They also aim to tackle problems like poaching and the AIDS epidemic which are widespread in rural Kenyan society.
The Maasai's adventure with cricket is being chronicled in Warriors, a documentary which is set to be released this year.

The film, documenting the transformation from tribesmen to sportsmen, is being supported by England's leading fast bowler James Anderson.