ONLINE E-VISA APPLICATIONS TO KENYA
The Government of Kenya has rolled out an online visa application portal accessible on www.ecitizen.go.ke
With effect, from 1st September 2015 all visa applicants will be required to apply and pay for visas online to enter Kenya.
Application process:
• Click register on www.ecitizen.go.ke
• Select Register as a visitor.
• Once logged in, select Department of Immigration Services.
• Select Submit Application.
• Select Kenyan Visa
• Select the type of Visa and read the instructions carefully.
• Fill in the application form.
• Pay using Visa Card, Mastercard and other debit cards.
• Await approval via email then download and print the eVisa from your eCitizen account.
• Present your printed eVisa to the immigration officer at the port of entry.
The visas will be processed and sent online to applicant (s). The applicant (s) will then be required to print out the approved visa and present it to an Immigration Officer at the point of entry.
BY PROF. WOLFGANG H. THOME, SEP 08, 2014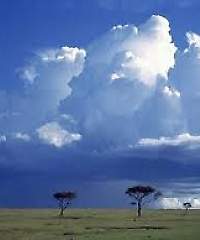 Look! Up in the sky! It's a bird! It's a plane! Is it Superman?
No, it's Kenya Airways preparing for the arrival later this week of their fifth B787-8 Dreamliner, now just one short of the delivery target of six such aircraft this calendar year. An initial order of nine Dreamliners will then be completed with 3 more joining the fast-growing fleet early next year before, and then speculation will kick in, as to when, rather than if, the pending options for additional purchases will be firmed up. The airline's strategic plan shows that by the financial year 2020/21 some 26 B787-8 should be flying Kenya's colors around the globe in addition to a further 6 B787-9, a larger model with more seats and more cargo uplift capacity, offering even better economics. The phasing out of the aged fleet of B767-300ERs, which has already begun, will further improve the airline's bottom line as the new breed of aircraft offer some 20 percent savings on fuel but also added savings in terms of reduced maintenance cost compared to the B767s which are now way beyond their prime.
In spite of a generally challenging business environment, with the Ebola outbreak in West Africa only adding to the problems airlines in Africa presently have, it is expected that Kenya's national airline will remain on course to roll out "Plan Mawingo" which over the next 7 years projects the fleet size to grow to 107 passenger aircraft in addition to several freighter aircraft. This development will go hand in hand with a significant increase in destinations to 115 in some 77 countries across all continents.
Together with the ongoing improvements at Kenya's main airport, Jomo Kenyatta International in Nairobi, where the new Terminal 1A is progressively now handling more and more flights, initially all by Kenya Airways, and the construction of a temporary terminal, the immediate future expansion of Kenya Airways is catered for. When "Project Greenfield" is completed in 2018, with a second runway and a new mega terminal, Kenya's aviation future as the main hub for East Africa is assured to remain a leader in not just the region but the African continent at large.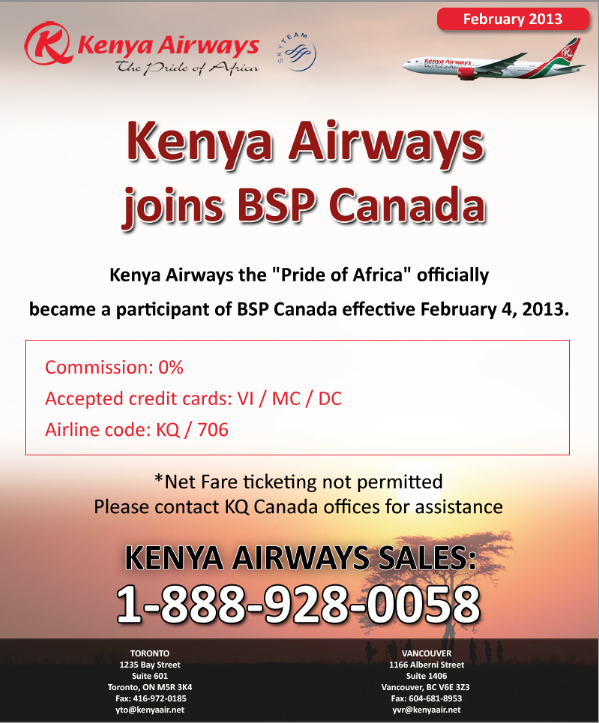 Kenya Airways: Overview
Our Vision
"To be a World Class Network Airline"
Our Values
• To uphold the highest safety standards
• To satisfy our customers.
• To continuosly improve the quality of our services and products
Our Goals
• To achieve world class standards in service delivery, product quality and operational performance.
• To be the Airline of choice in Africa.
• To develop JKIA as a premier hub in Africa
• o pursue a business model that will deliver consistent level of profitability.
In summary actions, our behaviour and attitudes at work will be driven by safety, customer satisfaction and quality (S©˜ +Q) considerations.
Our General Strategy
An important consistent trend about commercial aviation is that it is a fiercely competitive and highly volatile industry, in which fortunes shift continuously. As the drive towards a free, converging and global market gathers momentum, competition within the airline industry is expected to intensify. Increasingly, open skies are therefore likely to impact on yields, and extraordinary profits will increasingly be an exception.
Given this potentially turbulent environment, the key to survival in the industry lies in whether an airline is able to clearly anticipate the patterns of change coming, the underlying forces driving these changes, and above all the ability to align its strategies to respond to a changing business and aero-political environment. With this in mind, Kenya Airways is committed to investing in the development of world-class capacity in information gathering, analysis and interpretation so as to facilitate faster but correct business decision-making. This way, Kenya Airways hopes to enhance ability for rapid response to opportunities, threats and challenges in the market place.
In concrete terms, in the next 10 to 20 years, Kenya Airways aims to grow into a decidedly dominant carrier in Africa with notable presence in Asia, Europe and the Americas, while operating a modern fleet of 30 to 40 aircraft. Kenya Airways intends to forge strong partnerships and be a respected member of a global airline alliance.

Our Organization
Our organization structure comprises of eight (8) departments each headed by an executive director reporting to the Group Managing Director. The departments are:
• Finance
• Information Systems
• Commercial
• Technical
• Human Resources and Administration
• Flight Operations
Getting There
Our vision to become a World Class Network Airline connecting Africa and the World through Nairobi is gradually becoming a reality.
Our goal of becoming world class by 2005 give us the impetuous to relentless focus on a level of performance that will see get there on time.
Together, by working smarter, and by being more creative and innovative, we shall realise our goal.
Future Outlook
We continue to focus on profitable expansion of our network through a combination of direct access and alliances with other carriers.
Sustainable improvement in yield will be pursued through a combination of a new Revenue Management System and better discipline. Management will also place emphasis on greater productivity, costs restraints and reduction in wastage.
Our people are our greatest asset and focus on their development and the way they are both managed an organized out to ensure we attract and retain the best and that they are equipped to serve our customers in line with our being a world class standard airline.
Twice-weekly flight to Accra, Ghana in West Africa
Kenya Airways will be operating direct flights to the Ghanaian capital from Nairobi every Monday and Saturday using the new 737-700. The flights will depart Nairobi at 16.55 on Mondays and 8.30 on Saturdays. Kenya Airways has expanded its route network with a view to improving its market position in Africa and worldwide. Network development has further been enhanced through cooperation with other African airlines like Air Tanzania, Air Malawi and Air Botswana. Other destinations in West Africa are Douala, Lagos, Yaounde and Abidjan.
''The Most Promising African Airline''
Kenya Airways was voted the Most Promising African Airline by the Aviation and Allied Business Update, the premier aviation industry journal in Nigeria. The award was given to Kenya Airways for its resilience and consistency in growth and operational efficiency. During the award ceremony held in Abuja, Nigeria, it was termed ''the fastest growing airline in Africa and a success story of privatization''. Issues highlighted included its modern fleet, impressive financial performance, route network, staff training and information technology.