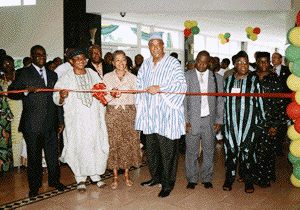 Ghana hosts ATA 31st World Congress 2005


Business and Environment Sucess Stories
An Eco success story of international proportions involves Mamsco, a Ghana-based company which has been developing a major project step-by-step for the past 10 years. Recognized at the highest government levels and leaders of ECOWAS, the project has grown to include many West African Countries. Hon. J. A. Kufour , President of Ghana (left) extends greetings to Mr. Martin Asomoah-Manu, Executive Director of Mamsco Marketing International Ltd. in appreciation of the company's Waste Stock Exchange Management Systems (WSEMS). The company's copyright involves the processing of marine and land-based sources of waste oil into residual oil products. We were impressed with the following excerpt from Mamsco's Business Plan.
• The WORLD should not expect the EARTH to produce more.
• The WORLD must do more with what the EARTH has produced.
• WASTE is nothing but potential RAW MATERIALS currently located at the wrong place.
• WASTE of Company A can become the RAW MATERIAL of Company B.
The WSEMS program operates on the four-R Principles of Waste Management:
Re... cover

Re ... cycle

Re ... use

Re ... duce
Full story and photos to come on the company's pilot project ; a Waste Oil Treatment Plant at the Tema Port facility near Accra, Ghana. For details: mamsco50@hotmail.com
---
Golden Tulip Hotel, Accra, Ghana
Official hotel for the Africa Travel Thomas Sheriff, General Manager, Board Member, ATA.
For details and reservations. e-mail goltulip@ncs.com.gh