Discover Ghana and get to know its people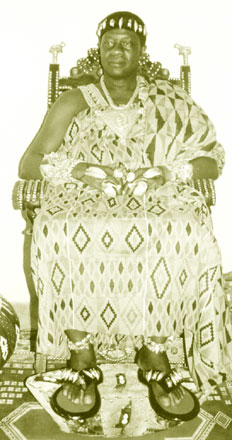 There is a place on the western coast of the African. continent; its sandy shores washed clean by the Atlantic Ocean, its land rich in gold, diamonds cocoa, manganese and bauxite; inhabited by the friendliest, most open hearted people you'll find any where on earth. Its tropical rain-forest, blends with river valleys and dry Savannah plains, to create 250,000 square km of paradise for the lovers and watchers of nature's wonders. It's no accident that Ghana was once known as the 'Gold Coast,' a name bestowed on it by Portuguese traders who landed there in 1472. The legendary gold deposits of Ashante remain the world's richest and largest. A desire to control this great wealth saw a fierce struggle by European nations for the heart and soul of this land. This period shaped unique traditions, unknown in any other part of Africa. Ghana, for years, has enjoyed a peaceful political environment, with one of Africa's most pragmatic governments. It moves into the new millennium inspired by the legacy of Dr. Kwame Nkrumah, the nation's founder and foremost leader of Pan Africanism. His remains are in a mausoleum not far from the sun baked beaches of Accra, Ghana's capital.
The country's tourist offerings are awesome. First and foremost, the people - over 70 per cent of whom have functional skills in English, official language of government and commerce. Ghanaians have a very special way of delivering a most assuring and comforting welcome. "Akwaaba", the traditional greeting, is very polite and courteous. Friendly smiles and an open invitation await you each step of the way, as you travel the length and breadth of this splendid land. A high premium is placed on security of life and property, thereby giving Ghana one of the world's lowest crime rates. Over 90 ethnic groups, each having a distinctive festival, means you could attend a cultural extravaganza virtually every week. A deep spiritual connectedness lies behind the color, pomp and
pageantry of August's Homowo festival by the Gas, September's Fetu Afahye by the Fantes, Aboakyir Festival by the Efutus, Hogbetsotso by the Anlos, Odwira by the Akwapims, and Dambai by the Dagombas.
Elmina and Cape Coast castles: Scattered along Ghana's Atlantic Coast are 26 historic stone and concrete structures, built over 400 years ago by the Europeans . Originally intended as trading posts, they ended up as slave dungeons for millions of Africans, captured and forced into slavery. Many dungeons have been restored to their original form, as testimonials to the drama and tragedy of human encounter. The slave castles of Elmina (above) and Cape Coast, are two recently designated as World Heritage monuments. Together with the Dubois Memorial Center for Pan African Culture in Accra, they crystallize the African experience of slavery, partition, colonialism, racism and the struggle for independence, emancipation and human rights.
Home Away From Home: Over 600 hotels provide courteous service that reflects the near legendary hospitality and traditions of Ghanaians. Government incentives have fueled a boom in privately owned tourist infrastructure. About 40 per cent of the country's hotel capacity is in Accra, which also has most of the 3 to 5 star hotels. The Labadi Beach Hotel, Golden Tulip, Novotel and Wangara are popular choices. Shangri La in Accra, Sanaa Lodge and the Savoy, all in Cape Coast, are known for their superior guest service. Most hotels are located within sights of picturesque beachheads and landscapes, or flush in the center of the host city's business and commercial distinct. Novotel, an outstanding five star hotel of sheer luxury, is minutes away from the Accra International Conference Center, National Theater, Ghana Stock Exchange, Bank of Ghana, Government Ministries Complex and the historic 'Makola Market,' which offers a distinctively African experience in the art of trade by higgling and haggling.
Sunshine, Beaches and Greenery: Close to 600 km of unspoiled sun drenched beaches, shaded by tall coconut trees, await the traveler who desires to soak in the sun of tropical Africa. Ghana is a beach lover's paradise, with 12 hours of bright sunshine all year round. Sports fishing from indigenous canoes, or visiting historic castles along the coast by boat, (especially on clear moonlit nights) is a trip into wonderland. Few places in the world can compare with the beauty of Ghana's natural environment. The Mole Game Reserve in Northern Ghana provides a thrilling encounter with rare, exotic birds, bush cows, reptiles, baboons, hippopotamus, elephants, antelopes and the lion, king of the jungle, The Kakum National Park has Africa's only canopy walkway, (fourth highest in the world) that enables the more adventurous to enjoy the panoramic view of indigenous flora and fauna as they literally walk among tree tops reaching heights of over 40 meters. Then there's the Aburi Botanical Gardens, tucked away in the cool mountains of Akuapem, near Accra. Built over 100 years ago, Aburi's well-kept plant reserve provides a soothing venue for research and relaxation. A visit to Boti Waterfalls, framed by a rainbow after each rainfall, and the Wli and Kintampo, provides a sobering appreciation nature's wonders.

Seventeen million people, whose home is this land of legends and traditions, live by a remarkable cultural code of conduct. Alongside growing modernization and a sensible governmental approach to development, many ancient African traditions and crafts flourish. To find this land is to find natural beauty, century old trades, like goldsmithing, advanced indigenous political systems, colorful festivals, and a fusion of vibrant music and dance, drawn from over 90 ethnic groups. Ghana is a melting pot, where many African ethnic cultures have mixed with numerous European influences, to produce a fascinating assortment of the best traditions of hospitality and architectural legacy.
A Taste of West Africa: Restaurant dining provides a comforting serving of typical American, Continental or oriental cuisine for the discriminating traveler and equally delicious assortment of local courses for the bold and adventurous. The Golden Tulip Hotel is especially famous for its variety of foods especially made for special occasions; New Year's Day Brunch, Mothers and Valentine Days Dinner - and believe it or not, Balkan Festival Dinner, when Hungarian and Rumanian delicacies are served.
Top of page