---

Angela Fairbank, Travel and Environmental Portraiture Photographer, to show Two Ethiopian Portraits at Upcoming Exposure Gallery Exhibition

Click for 2 page spread from Ethiopia Millennium Edition
VANCOUVER, British Columbia - (November 14, 2007) - Angela Fairbank, Travel and Environmental Portraiture Photographer, today announced that two of her Ethiopian Portraits will be exhibited from 7 to 16 December 2007 at Exposure Gallery, 754 East Broadway, Vancouver, BC. The photographs date from September 2005 and were created during one of Angela's two forays into this still little known country situated in the Horn of Africa. These framed images each portray a pubescent girl from the pick of Ethiopia's over 80 tribes, who still live much as they did thousands of years ago, dressing themselves in goatskins and decorating themselves with local crops, such as fruit and flowers, wearing clay plates in their lips or ear lobes, or protecting their shaven heads with hollowed-out gourds. Other portraits of the series will be available for viewing at the event in the form of Angela's self-published book "Ethiopia Through the Eyes of a Photographer" (shown above), which will also be available for sale. Through explanatory text, also written by Angela, the 80-page book of 199 of Angela's photos describes the traditions, houses and decorations of fifteen tribes that she was privileged to meet and study during her time in Ethiopia. The paperback publication also covers other, more touristic, parts of Ethiopia, such as Addis Ababa, Ethiopia's capital city, Axum, Lalibela and the Rift Valley. "I wanted to show how Ethiopia is today, not a country of famine and drought, as so many people still believe after seeing the vivid images shown worldwide in the early 1970s and again in the early 1980s, but rather, a lush and green nation, not without its problems certainly, but among its citizens today you will find a pride in their country as well as a desire to eliminate the stigma of the past and to support themselves independently." said Angela.
About Angela Fairbank
Vancouver native Angela Fairbank, who has studied photography at Langara College, Focal Point, Emily Carr Institute of Art and Design and Vancouver Photo Workshops, is an avid traveller, having visited more than ninety countries in six continents and studied over ten languages. She has also given presentations on Ethiopia at various locales, including St. John's College at the University of British Columbia. Angela's photographic work can be visited on line at www.acfairbankconsulting.ca.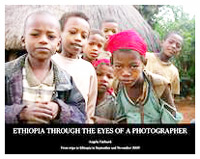 New book on Ethiopia from Angela Fairbank
"I am pleased to announce that I have finally published a book of photography from my travels in Ethiopia. In this e-mail you should be provided with a link so that you can view it on-line. It is also announced on my website at www.acfairbankconsulting.ca/photographer.htm. Copies of the book can be ordered through my website." Angela Fairbank acfairbank@shaw.ca www.acfairbankconsulting.ca

Watch for a book review in the Ethiopia Millennium Souvenir Edition of Africa Travel Magazine
More Great African Photos by Angela Fiarbank
From her recent visit to Cameroon on Africa's West CVoast.
http://www.acfairbankconsulting.ca/cameroon.htm.