Newsmakers
Yearbook Profiles
Yearbook Profiles 2
ATA Chapter Presidents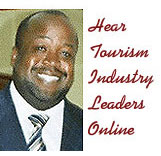 Dr. Beryl Dorsett and ThAfrica Group

We met in Lalibela, on Ethiopia's famous Holy Route. Imagine a scene from faraway Tibet, in that fascinating mountain village on the Horn of Africa. The charming lady that appeared that day was Dr. Beryl Dorsett, founder of the Africa Group of New York. She's an inspiration to all who know her, and I am proud to call her friend. Beryl has a big heart, willing hands and a firm dedication to helping Africans enjoy a better lifestyle in peace and dignity. Africa Travel Magazine's editors first met Dr. Dorsett in Lalibela, one of Ethiopia's Holy cities, in February, 2000. As International Governor of the National Association of Negro Business and Professional Women's Clubs Inc. Dr. Dorsett has a Herculean task. This involves travels to remote villages in Africa seeking unique ways to help women cope with issues of health, education, and economic development. More->


Therese Haury
Therese has been a stalwart in the Cote d'Ivoire, helping establish health clinics in local villages and obtaining medical equipment from sources in Europe and America. Her company Haury- Tours Voyages, has two agency offices, one of which is located in the lobby of the Inter Continental Hotel Ivoire. Here is her story, told in her own words (translated from French). "My dream was to be a surgeon in Africa, but my family never accepted it, so I kept that dream in mind while traveling around the world. I arrived in Cote d'Ivoire in 1976. I reached my goal to live in Africa, however, it was not as a surgeon but as an insurance Agent.
To realize my dream, I created a Women's club in Memni village, helping the Bush Community clinic, the colonies of leprosy with material donated by sources in France. Five villages, Loundou, Yohou, Cousso, Gnielle, Tchechanga adopted me.
Every Tuesday since 1995, when the Village of Memni, 60 km from Abidjan adopted me, we've had meetings on managing the village and settling problems. Lately, some African friends said I was a white woman by mistake. If you learn to leave your European or American mindset behind, you'll discover a fabulous life here in Africa. The human warmth, a smile, and a simple 'bonjour' will open most avenues for you.
Seidnaly Alphadi,


While returning to Paris from Cameroon, we spent some quality time with Seidnaly Alphadi, (opposite) whose African- inspired creations are taking Europe by storm. It seemed like half the plane was filled with models from a Fashion Show he had just staged.
We Welcome Your Profiles for our ATA Jubilee Year Book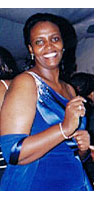 Mrs. Suzan Muhwezi
Updated profiles of Mrs. Suzan Muhwezi, President of ATA Uganda Chapter and other key members are being updated and will appear soon in this section of the website and in our magazine.
With the Africa Travel Association's 30th Jubilee Congress in Nairoibi, May 15-20, the excitement is mounting as our magazine's editors and ATA staff present a landmark souvenir capsule of ATA's progress. The above profiles of members past and present are a key step in that direction, as the association's great strength is the caliber of people in its chapters and on its Board of Directors. To submit a profile, please fax 1-604-681-6595, E-mail africa@dowco.com


Eddie Bergman and Miracle Corners of the World.
Another very dynamic and harmonious 'one man band' we admire greatly is Eddie Bergman of New York. Eddie joined ATA after viewing this web site and he has been a real engine of activity and goodwill. He has been recruiting fellow students at New York University and rolling up his sleeves in more ways than one. The group's first African project, "Miracle Corners" is located in Arusha, Tanzania. Read about their untiring efforts and accomplishments on our special page. Biography

Robert Eilets

Among some tribes of the Diaspora, tribesmen avoid being photographed, as it is believed that ones' soul will be forever lost on the earthly plain. When one views photographer Robert Eilet's work, one can certainly appreciate the basis of this belief for he has surely captured the spiritual essence of his subjects. The wisdom of the elders, the devout faith of men, the innocence of the little babies swaddled to their mother's backs as well as the quiet dignity and beauty of the women are all evidenced in this exceptional photo exhibit that chronicles.



Chief Margaret Fabiyi
In 2000 at the Addis Hilton in Ethiopia, our editor was prompted to get into the act, and took the stage, along with his ATA colleagues at an event sponsored by Chief Margaret Fabiyi of Nigeria. The first of what's now an annual affair, was held in Arusha, Tanzania . Convinced by the results from Webtrends and comments from Tourism Ministers, we know that Africa Travel Magazine's readers enjoy this timely topic. That's why we invite designers, jewelers and cosmetics firms to send items of interest. African wear has been a routine with us for years at home and away. It's a reminder of the wide smiles, upbeat attitudes and lasting friendships we enjoy. Like the pace and lifestyle of Africa itself... it feels good.




Marlene Melton
Marlene E. Melton, president of African Ventures, Inc. has nearly 20 years experience as an advertising, sales and marketing professional. Her career with The New York Times exposed her to the many facets of advertising sales, sales management, strategy development and marketing. Ms. Melton's career was distinguished by four New York Times Publisher's Awards for outstanding advertising sales performance and numerous other distinctions throughout her 20-year career. Prior to leaving The Times in July, 2001, she was responsible for Foreign Tourism Advertising Sales specifically for the Africa, Asia, Middle East and Latin America regions.
Continued->

Daniel "Dan" Dunn
"One of the most valued friendships we've enjoyed in recent years, occurred during our May 2001 visit to South Africa, while in the company of Daniel (Dan) Dunn of Cape Town. During four great days of dawn to dusk touring by mini van, Dan not only showed us many of the Cape area's top attractions, but added spice to the occasion by relating a wide variety of local facts and legends. In my opinion, the most intriguing stories involve Daniel's own family, a line which descended from John Dunn, whose story is related in a book by Charles Ballard. Excerpts from that book will appear on this web site and in coming editions of Africa Travel Magazine. We are sure you will enjoy it." Editor Book Review->

Louis d'Amore
Founder and President, International Institute for Peace through Tourism. Profile to come. For details on the history and current activities of his organization. Visit this page.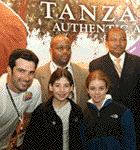 ATA at USA Trade Shows

Muguette Goufrani

Muguette Goufrani's airline agent, tour guide and travel agency background has been the key to her media success, resulting in an ATA Travel Industry Outstanding Service Award in 2001 and 2004. Her career positions - Royal Air Maroc, AOL Airlines, Air Afrique, Matson Lines, Palm Springs Resorts, Club Med, Tahiti Tours and Noumea Tours speak for her capability. After graduating from College du Paris, she launched her career in Casablanca, Morocco, where the Goufrani family has operated a tour company. A dual citizen and member of Canada's Francophone Community,: Muguette has been featured on Caribbean and African television, radio and print media in both English and French. Her first assignment was the 1996 ATA Ecotourism Symposium in Marrakech, Morocco. This was followed by a National Geographic - American Airlines sponsored project in Haiti, plus numerous ATA events ever since.
The World Scene: Muguette's travels have included Europe, Vietnam, Laos, Cambodia, China, Japan, Russia, Australia the Caribbean, and most of Europe. Active with the Africa Travel Association and PATA, she focuses her efforts on tourism to and from the world's Francophone community.
David J. Saunders
Mr. David J. Saunders is the President of the Mid-Atlantic Chapter of the Africa Travel Association and cofounder of a full-service travel and tourism company. Venue International Professionals, Inc. based in the Washington Metropolitan Area. He has written articles on the Business of Tourism and several destination profiles for ATA's magazine and website. Here are his comments on a key market of interest to ATA. "We as African-Americans must reach out, make contact and continue to participate in the emergence of Africa as the tourism destination for the next millennium. This bold concept will hopefully serve as the impetus to challenge, inspire and motivate many more African-Americans to visit Africa and establish cultural and economic ties with their brothers and sisters in Africa. I further believe that the overall success of this noteworthy endeavor requires purpose, imagination, tenacity and leadership. Within the Africa Travel Association, I truly welcome the expertise and experience of the many interested African-American travelers to Africa in assisting us to achieve our expectations. It is our firm belief that we can only get closer together by sharing our cultures and dreams in order to bridge the socioeconomic gap between our two continents."