Textiles from 53 African Destinations
by Muguette Goufrani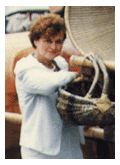 It's amazing! For the past three years, the most popular section on this web site, according to Webtrends, which charts our page views day by day, is Africa Travel Fashions. Since Africa Travel Magazine's editors believe in giving readers what they want, each new editiion of our printed magazine contains additional pages featuring the colorful clothing, designers and fabrics of Africa,. In addition, there are visitors tips on what and where to buy Two years ago at the huge Merkato Market (the size of several football fields) and other unique spots in Addis Ababa, we were in Shoppers' Heaven. The prices were exceptional with our exchange rate and the variety of items was endless.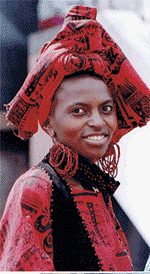 We would need a whole web site or catalog just to cover fashions, wearable art, fabrics and shopping venues in Ethiopia, let alone what I've already experienced in Togo, Gabon, Cote d'Ivoire, Morocco, Tanzania, Ghana, Kenya, South Africa and various other destinations we've visited. We're now considering a special edition of our magazine devoted entirely to African travel fashions with a gallery of color photos.
Speaking of Ethiopian Design, attractive, multicolor scarves and shawls are very popular with visitors. I bought several, one to match each of 3 separate outfits. Such an array to chose from, and they take up so little weight and space in your suitcase. The photo (right) by Robert Eilets of New York, was taken at Lake Tana. We visited a busy and bountiful outdoor market there at Bahar Dar, a lakeside resort that is sure to become a major tourism attraction of the future thanks to its historic setting and the addition of an attractive new resort that was nearing completion at the time of our visit in February 2000. details
Ghana's Weavers of Dreams
When myself and the Editor of Africa Travel Magazine, visited historic Kumasi with our guide from Sagrenti Tours of Accra, Ghana, we made several trips to the weavers village which is located nearby. As in the big city markets, were overwhelmed by the wide variety of Kente cloth items available. Be prepared to bargain - it's part of the scene. The caps, shirts and other goods we bargained for have since proven to be of excellent quality - they never seem to wear out. The question that arises most often when other North Americans see us wearing our African duds is -"What is Kente cloth?"


What is Kente Cloth?
Basically, it's an Asante ceremonial cloth that is hand-woven on a horizontal treadle loom. The looms we saw at the village near Kumasi were out in the open air, although in a grassy, shaded area. Cloth strips, approximately 4 inches wide are sewn together into larger bolts. Of many colors, sizes and designs, Kente cloth items, long scarfs in particular, are worn throughout Ghana and its neighboring countries, during most social and religious occasions. The name comes from the word 'kenten', which means basket. We saw virtually every possible color and pattern of kente cloth during the day-long Durbar ceremony at Koforidua village near Accra. According to Ghanaians, kente depicts the area's history and philosophy, its ethics, oral literature, moral values, social and religious concepts. Back to Africa Fashion Upbeat Page
---
Textile Information from the Web
Yahoo Top 20 search

Adire African textiles gallery: variety of styles. Some African textiles such as adinkra, kente and bogolan are becoming increasingly well known. www.adire.clara.net/

Social Fabric: Exploring the Kate Kent Collection of African Textiles. www.du.edu/duma/africloth/

Sub-Saharan African Textiles. from MARLA MALLETT www.marlamallett.com/african.htm
---
Sites to See! Africa Direct: http://africadirect.com/products2.php?category=9&subcategory=30
---