CAMEROON NATIONAL PARK AND RESERVES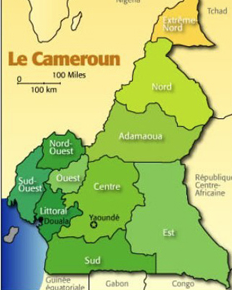 Cameroon has more than 10 National Parks and other 8 nature reserves that serve to protect and conserve the wealth of Mother Nature in this densely forest central Africa habitat. Some of the most popular national parks include Waza National park, Korup National Park,Benoue National park and Lobeke National park which is particularly famous for the western lowland gorillas of central Africa.
Bouba Ndjida National Park
The Bouba Ndjida National Park is located in the north western province of Cameroon. This park occupies more than 1940sq km and is recognized as a habitat for the endangered African painted hunting dog. Other species of mammals in the park include elephants, eland, rhinos, bohor reedbuck and many other animals.
The Park is open for tourist December to May and is found 175km north east of the town of Yaounde and 270km from Garoua.
Faro National Park
Faro Cameroon National Park is located on the banks of River Faro close to the border with Nigeria. The eco-system is mainly a dense green forest on the river bank, rocky massifs that rise to more than 750m above sea level, perennial rivers, sandy river banks and wooded grasslands.
Faro was established as a Faunal reserve in 1947 and became a national park in 1980 covering an estimated area of 341, 820 ha. Wildlife: some of the animals in the park include giraffes, elephant and rhinos among others. More than 243 birds are recorded as residents in the park and these include Senegal parrot, barbet, violet Turaco, yellow billed shrike, warbler, Senegal Eremomela, purple glossy starling, white crowned robin chat, cisticola, sparrow weaver, waxbill, Fire finch and many others.
Kalamaloue National Park
The Kalamaloué National Park is also found in northern eastern Cameroon on the road to Mokolo. This 45sq km park is known for its large elephant herds as seen in Waza National Park which just a few kilometers (2hrs drive) way. The herds migrate to Kalamaloue National park and Waza Park during the dry season and winter months respectively.
Mozoko Gokoro National Park
The Mozoko Gokoro National Park is ofund in the Tsanaga Mayo province in the far north region of Cameroon. This park covers 1,400 hectares of forest and is home to several species of mammals such as monkeys and forest birds among others
Lobeke National Park
The Lobéké National Park is a gorilla protected region in Cameroon, known for several western lowland gorillas habiting the dense forest s of the Congo River basin in southern Cameroon. This Cameroon Park is bordered by Boumba National Park in the North West and Sangha River in east which separates Cameroon from CAR and Congo.
Campo Ma'an National Park
The Campo Ma'an National Park in the south of the country boasts a rich variety of animal species, being inhabited by elephants and chimpanzees which take advantage of the luxuriant forest.
Takamanda National Park
This park is located in the North West region near the border with Nigeria. Its borders join the Cross river national park in Nigeria where more than 110 gorillas are found.
Nature Reserves in Cameroon
Apart from the National Parks, Cameroon offers many reserves devoted to flora and fauna. Pangar-Djerem, Dja, Kribi, Mbi Crater, Douala, Edéa, Kalfou, Lac Ossa, Santchou, Bafia… to name but a few.
Wildlife Reserves of Cameroon, Central Africa
The final leg of our journey to the top of Cameroon, it's Northern reaches where Savannah meets desert near Lake Thad, brought us to Waza National Park. We stayed at an unforgettable site which resembled a native village in that the individual units were round with conical roofs. They were connected to the main dining room by a network of stone steps. All in all it would make a great place for a medium sized seminar or group event. We received an attractive area map which contained the following comments:
The park was established by the Cameroonian government in 1968 to protect the available natural resources, to encourage tourism and to develop educational and research activities. Thanks to the worldwide reputation of the Park UNESCO decided in cooperation with the government to grant it biosphere reserve status in 1982.
Three main vegetation types can be recognized in Waza National Park: a wooded Savannah, an Acacia seyal forest and the flood plains of the Logone. These plains are flooded each year from mid-August until mid-November, which leaves until mid-November, which leaves them inaccessible. Hardly any height differences can be found in the Park, which is situated in the bed of the former Lake Thad. The characteristic rocky outcrops at Waza village form the only exception. However, the small gradients that do exist are responsible for the annual retreat of the inundation waters towards Lake Thad.

....