Kribi, Oct. 14 Ė It is not everyday that you get to boast about dancing with the Baka pygmies of the Cameroon, but I did. It reminded me of my years in my village in Nigeria. Or conflicted by the experience. Why should I be conflicted by the experience? Because here I am an African from Nigeria with the perception that I am behaving like those white people who you see all over the black world being welcomed with song and dance. But when I thought about it, I felt more comfortable being in the midst of the Baka Pygmies, enjoying their company and their dance as I participated.
Our journey up to this point, the Pygmy Village, had taken us from New York on Saturday October 12, through Delta Airlines to Paris, and from Paris through Air France arriving Douala on Sunday, October 13, at around 7 pm. We had been reminded several times that we would have to pay the visa fee of $150.00 on our arrival at Douala Airport. But on our arrival, our passports were collected by immigration officials, and as a gesture of goodwill to the media group, our passports were processed without our paying the $150 fee, which I thought was a good gesture on the part of the country that we would be writing about.
We ended that evening at the Bano Palace Hotel in Douala, a clean hotel with nothing special to recommend it. In the morning, we set out on our way to Kribi, from one coastal city to another down south, about 110 miles from Douala. Of course, right from the airport, we had been joined by officials of the Ministry of Tourism who were accompanying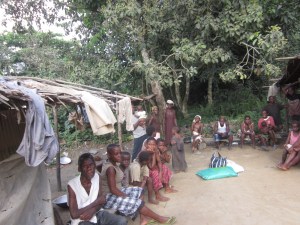 us according to the schedule they had made for us, including Mr. Eric Epoune, Head of the Communications Unit and Mrs. Judith Ewonkem, Service Head for Promotional Activity of the Tourism Ministry, as well as Ms. Carole Ayissi, who chronicled with her powerful camera every move we made during the whole media and Congress event.
The media group included Mrs. Abena Agyeman-Fisher, senior editor at News One who had accompanied the Obamas during their recent trip to Africa; Mr. Jonathan Black, of the Travel Weekly and a former managing editor of the Playboy Magazine; Mr. Michael Marcos, Publisher of World Traveller based in Canada; Mr. Adam McCauley, free lance writer for the Atlantic Magazine who had lived in several African countries; Ms. Dorkys Ramos of the BET; Ms. Kimberley Wilson of Black Enterprise; and of course myself, Dean of the African Media in the U.S. Two other media individuals included Ms. Claudine Moore of CMoore Media who organized the media group on behalf of Arik Air; and Mr. Joseph Placide, ATA Liaison to the media group.
On the way to Kribi, we had passed several towns and villages. As the Toyota Coaster bus neared the Pygmy Village, the road wides to a four lane highway, as just several blocks away is the deep sea port being constructed by the Cameroonian government. On the left, I notice two very ramshackle huts with thatched roofs on a small clearing up the mound, too small to contain two people, let alone more than 40 people no matter how small they are. As we descend from the bus, the Baka Pygmies seem to know that we are there to meet with them. They quickly line up and sit on two raised wooden planks. They seem unfazed by our arrival. We had been told many times that the Pygmies donít like whatís happening in their area of abode, that they would prefer to move back into the deeper rainforest. They are not happy with the developments around them, especially with the sea port being constructed.
We climb the mound to where they are gathered. The first thing I noticed was that not every Pygmy is short: in fact, I noticed several tall ones. They are generally supposed to be on the average side of between 4í6″ to 4í9″, but some were 5í6″ or taller.

The four or five elders are standing at one side, while the rest are seated. The chief is introduced. An interpreter is provided who understands the Pygmy language, but told me he himself is not a Pygmy but their villages abut one another. Then a French interpreter in the person of Judith Ewonkem who translates French into English for us.
The chief is supposedly 75 years old, according to him, but basically most of them donít really know how old they are. During our conversation with the chief and some of the elders, they repeat what we have already been told: they are not happy how their environment is being brutalized and commercialized; how they are no longer able to hunt and feed themselves. They would feel better to move deeper into the rainforest, where they would be able to fend for themselves. There is an subtle insinuation that government is not doing enough to cater for them.
(This sort of provokes a lecture the next morning from our Tourism Ministry officials that we should be talking to them about what the Pygmies want, rather than talking to them directly to find out what they are really about. So why take us their in the first place, if we were just to look at them and neither talk with them nor ask questions).
My question and concern were for how long would they continue to move into the deeper rainforest, as there is heavy logging in Cameroon and the loggers would continue to encroach on them, and development would continue to reach wherever they decide to move. Why donít they just send their children to school so that they could begin to socialize with other children and eventually learn some trade. In fact, I noticed a young lady at least 5í9″ with two children. Though she was tall, her two children didnít seem like they would reach her own height. She didnít fit into the mode of a Pygmy. I asked her why she didnít go to school as nobody would associate her with being a Pygmy. She replied and inferred that she could not afford the expense, as there was no school near enough to where they now live

As the interviews wound to a close, the Pygmy started beating their wooden musical equipment and the dancing started. The old and the young, men and women would go into the circle and dance. Meanwhile, I had given the Chief the sum of 5000 CFA and then I went to the floor and gyrated to the music. I left the circle and noticed that they had put a bowl on the floor so that people could contribute money to them. But to my utter consternation, none of my group was putting any money into the bowl, maybe as I reasoned through ignorance of the custom. So, I picked up the bowl and went directly to each of the media personalities and pushing the bowl in front of them to contribute. Discussing later, at least it seemed we had raised at least CFA 30,000 for them that daySome of the people were like, whatís this? It is the custom, I replied. It reminded me of my childhood back in the village.
To my mind, I doubt that the Baka Pygmies, though the first people to settle in present day Cameroon, would be able to survive the onslaught of commercialization and development, which would lead to them being a relic of the past. What a tragedy that would be!!