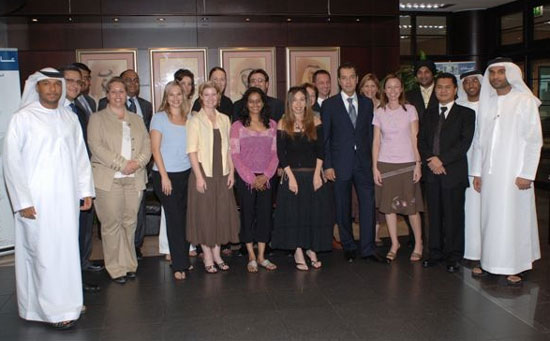 Photo: The South African tour operators on their fam trip to Dubai



DTCM HOSTS SOUTH AFRICAN TOUR OPERATORS
The Dubai Department of Tourism and Commerce Marketing (DTCM) recently hosted seven tour operators from South Africa and officials took them around different tourist attractions in Dubai.
The tour operators who were on a five-day tour of Dubai was accompanied by Mr. Ahmed Othman Bilal from the Missions section of the DTCM.
They visited the sites of Dubai's new ground-breaking projects that had all the potential of boosting Dubai's tourist facilities and transforming it into a glittering metropolis.
They also attended a workshop organised by the DTCM where representatives of Lama Tours and Alpha Tours gave presentations about Dubai as an ideal tourist destination.
The tour operators visited the DTCM head Office and was received by Mr. Abdullah bin Swaidan, Deputy Manager Missions. The DTCM Executive, Mr. Ali Abdul Wahab, gave a presentation on Dubai and its myriad attractions.
The familiarization trip was organised to promote Dubai and its ever-expanding tourist attractions to the South African audience.
For further information, please contact:
*Mohammed Abdul Mannan, Executive, Media Relations
Email: mmannan@dubaitourism.ae
*Shilpi Pillai, Officer, Media Relations
Email: spillai@dubaitourism.ae
Dubai Department of Tourism and Commerce Marketing
P.O. Box 594, Dubai - United Arab Emirates
Tel: +9714 2230000 Fax: +9714 2230022
Web sites
http://www.dubaitourism.ae
http://www.uae-pages.com/tourism/entering-dubai.html