AFRICA HOTEL INVESTMENT FORUM IN 2016
The Government of Rwanda through the Rwanda Development Board, will host the Africa Hotel Investment Forum (AHIF) in 2016 in Kigali. AHIF brings together the leading international hotel investors in Africa with local operators, ministers, government officials and industry experts, to discuss all aspects of hotel investment and operation in Africa.
The decision to host AHIF in Kigali underlines a clear strategy by the Government of Rwanda to attract investment in the tourism sector. Ambassador Yamina Karitanyi, Chief Tourism Officer at the Rwanda Development Board, said: "We see AHIF as an excellent platform to meet many of the most important decision makers and investors, who have the power collectively to influence investment in the hospitality industry in Africa. We are determined to build relationships and showcase Rwanda as the right place to do business and therefore we believe that hosting the event will create an opportunity for local hotel developers to forge partnerships with investors."
In signing the agreement to bring AHIF 2016 to Kigali, all parties committed to pursuing five goals, which include:
Supporting hotel and infrastructure development within Rwanda and across Africa

Promoting Africa to the international hotel investor and operator community

Educating the hotel investment community about the tourism potential of Africa

Facilitating networking between African stakeholders and the international community

Supporting Rwanda's ambition for growth through travel & tourism
In Africa as a whole, Travel & Tourism is seen as a highly attractive growth industry. According to the World Travel & Tourism Council (WTTC), it is responsible for 8.1% of GDP and it is forecast to rise at 4.9% per annum until 2025.
Similarly, Rwanda's tourism sector continues to grow positioning itself as the leading foreign earner for the country. For the financial year 2013 to 2014, the sector registered a three per cent increase in the number of visitors to Rwanda. These numbers grew from 1.14million visitors to 1.2 million visitors also accounting for an increase in revenue from $293.4m in 2013 to $303m in 2014.
In Rwanda, leisure has been a major driver of Rwanda's tourism industry. Currently, the country is focusing on Meetings Incentives Conference and Exhibitions/Events (MICE) tourism, capitalising on safety, developed infrastructure, accessibility and new entrants in the hotel industry such as the Marriott, Radisson Blu, Radisson by Park Inn, Sheraton, Golden Tulip, Kempisnki and Zinc, amongst others. Hosting the AHIF will no doubt contribute growth of Rwanda as a leading MICE destination in the region. Later this year, Rwanda will host Interpol AGM, World Economic Forum on Africa in 2016 as well as Africa Union Summit in 2016.
Jonathan Worsley, Chairman, Bench Events, the company that organises AHIF and other top international hotel investment conferences, said: "I know of at least three hotel projects in Rwanda that came about as a consequence of a conversation at AHIF.I have every confidence that the proactive approach that is being displayed by the Rwanda Development Board will pay off, as all the major hotel chains are seeking new opportunities in Africa – and one of the most crucial issues for them is to find public sector partners that are making a serious effort to speak their language."
By moving to a different African city every couple of years, AHIF will help to showcase high-growth destinations across the continent as a whole. Jonathan Worsley, Chairman of Bench Events concluded: "The African economic growth story is becoming well-known. At around 5% per annum, it is a multiple of developed economies and that is appealing to the international business community."
In 2014, the event took place in Addis Ababa and attracted over 500 participants from more than 40 countries who represented over 400 companies. AHIF '15 will again take place in Addis, at the Sheraton hotel on 30th September – 1st October, where the number of delegates is expected to increase substantially on last year.
Several networking contacts made at AHIF have since resulted in promising new business relationships and the event attracted considerable media attention, with around a hundred reporters in attendance from major local and international news organizations.
THE COUNTDOWN CONTINUES TO THE KIGALI AVIATION CONFERENCE AND SAFETY SEMINARS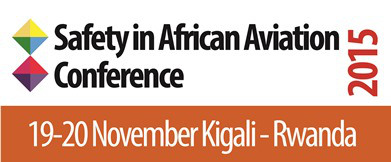 It is now just over 5 weeks until the 4th Safety in African Aviation Conference in Kigali, 19-20November 2015! The conference is set to be the biggest one yet, so make sure that you book your place today, in order not to miss out!
Programme –We have compiled an exciting programme that will capture all the up and coming challenges and developments in the industry. We'll bring together aviation professionals from across Africa and beyond for two days of networking, interactive discussions and presentations across the Airport, Air Traffic Control, Engineering and Flight Safety sectors.
Highlights include presentations from Willis Aerospace & Aerovista that will better equip you for your annual negotiations with you insurance broker. A full programme for the conference is attached to this email, along with a delegate booking form. To confirm your place, please complete and return the form.
Running concurrently with the conference are 3 unique courses on Flight Data Management, Dangerous Goods and Fundamentals of Airworthiness & auditing. They each give you the chance to forward your career and the safety capital of your organisation. Hurry though cause we are starting to run out of places!
Book your places today – for further information about attending the conference or any of the courses or for registration forms for the courses, please visit the events website or contact the conference team at events.
For more information or registration for any of the unique events, please visit the event website at www.2gether4safety.org
A limited number of sponsorship options are still available, please contactevents for more information.
AviAssist Foundation

The partners & sponsors of the Rwanda pop-up safety campus include: