TANZANIA, ONE OF AFRICA'S FASTEST-GROWING TOURIST DESTINATIONS, EMBARKS ON US PROMOTIONAL TOUR TO LOS ANGELES, DENVER AND HOUSTON
Peter Mwenguo, Managing Director, Tanzania Tourist Board, and Gerald Bigurube Director General, Tanzania National Parks, Head Delegation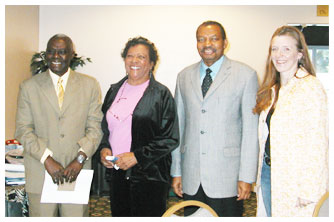 (New York, April 11, 2005) Team Tanzania embark on a US Promotional Tour focusing on some of the key tourism generating markets in the Western part of the country: Los Angeles, Denver and Houston. The delegation included Peter Mwenguo, Managing Director, Tanzania Tourist Board (TTB); Gerald Bigurube, Director General, Tanzania National Parks (TANAPA); and also from TANAPA, James Lembeli, Public Relations Manager and Joseph Kessy, Head of Planning.
Mwenguo says this promotional tour was initiated because TTB recognizes that more and more Americans are looking for adventure travel as well as cultural experiences and opportunities to interact with the local communities. "Tanzania Authentic Africa, certainly offers many of the Continent's most famous sites, Mt. Kilimanjaro, the Serengeti, the Ngorongoro Crater, The Selous, Zanzibar..to name just a few, and we are rich in cultural diversity." Mwenguo adds, "we selected these markets to show support to the travel professionals in these cities selling Tanzania; as well as to introduce the product to those who sell adventure travel, but have not yet included Tanzania in their programs. We also understand that these three cities are "hot" markets for adventure travelers. Currently America ranks second in the number of tourists visiting Tanzania, we hope that this tour will help close that gap, making America the number one source."
"TANAPA places great importance on community-based tourism," says Gerald Bigurube. "We have many success stories of how the local communities run their own tourism enterprises, getting direct economic benefit from visitors. TANAPA encourages tour operators to include these communities in their itineraries."
In Los Angeles, Team Tanzania is being hosted by Africa Travel Association's SOCAL chapter who has organized a Media Breakfast briefing and a Tanzania reception and dinner presentation for tour operators and travel agents. Team Tanzania also has a unique opportunity to visit the "Film Location Exhibition," a trade fair in which destinations promote their country to film producers to consider their countries for film locations.
In Denver, a Tanzania Evening at the Denver Zoo has been organized for travel professionals as well as consumers by Kent Redding, Africa Adventure Consultants, winner of the first TTB Humanitarian Tour Operator Award. The tour concludes in Houston, where a special Tanzania evening at the Houston Museum of Natural Science has been organized by Graham Farebrother, Absolute Adventure Travel, winner of the TTB Tour Operator Award in 2003. The curator of the Museum's African Wildlife Exhibit, Dan Brooks, Dan Brooks, will speak at the Tanzania evening and then lead the group on a special tour of the Serengeti Exhibit. The following morning Tanzania hosts a breakfast briefing to the travel agent community in the Houston area, providing a Tanzania Authentic Africa product update.
Tanzania's tourism is booming and the presentations focus on new product updates in the National Parks, including the lesser known parks of the Southern Circuit. New Air Tanzania flights connecting Tanzania and Zambia, home of the two wonders of the world, Mt. Kilimanjaro and Victoria Falls; and the major new hotel investments by world renowned luxury chains, Kempinski, Movenpick and Sun Inernational.
For more information on Tanzania: In the US: The Bradford Group (212) 447-0027; e-mail Tanzania@bradfordmarketing.org; www.tanzaniatouristboard.com; www.zanzibartourism.net; www.tanzaniaparks.com; www.ngorongoro-crater-africa.org