Mombasa Coast Tourist Association
While in Kenya our editorial team had the opportunity to spend some valuable le time at a luncheon meeting with the Mombasa Coast Tourist Association, which was not only a highlight of our visit, but set the stage for long range promotion of this tourism area in our magazine and web site, plus our travel and business media network. On this site is a full page outline we received from the association management. MCTA is an association of all the businesses involved in the Tourist Industry primarily at the Kenya Coast. The MCTA membership comprises of Hotels, Local and International Tour Operators, Restaurants, Car Hire Companies, Leisure and entertainment centers, Banks, Allied businesses, Air Charters, Institutions, Travel Agents, Airlines, Tourist Attractions, Arts and Handicraft centers among others. More details.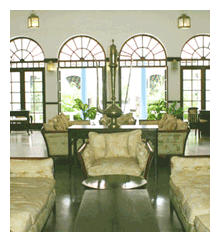 Nyali Beach Hotel

We arrived at the Mombasa Railway station early in the morning and took a taxi to the Nyali Beach Hotel where we had a noon appointment with John Cleave of Mombasa Air Safaris, who is also President of Skal International for Kenya. Getting to the hotel early gave us ample time to look over the premises, check out the lush gardens, stroll along the private beach. We also had time to get acquainted with the staff, and were shown around by Sales and Marketing Manager Catherine Nzokia. Right from the start, we felt so much at home, we ended up spending two days and nights at this delightful location with its rich tradition. The food was superb and we enjoyed early morning dips in the Indian Ocean and pleasant evenings on the poolside patio listening to some great local talent. Our photo selection tells the story - and there is more to come. The Nyali Beach Hotel's interesting history and description of facilities and services are featured in more detail on a separate page. Nyali Beach Hotel Photo page. Also: Full page ad on this site.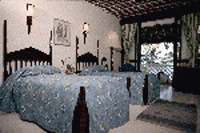 Mombasa' Serena Beach Hotel
Before leaving Nairobi, we received to an invitation to stay at Mombasa Serena Beach Hotel. The two days and nights we spent at this spectacular location was another highlight of an unforgettable visit. Like all the Serena properties we have stayed at in Kenya and Tanzania, this unique resort hotel reflects the area and its culture from costumes to door knobs. In this case it is styled to resemble a 13th century Swahili town, with winding lanes, carved balconies, fountained courts and bustling market squares. The hotel overlooks the powder-white sands and shimmering waters of the Mombasa National Marine Park. We went for a refreshing swim in the warm waters of the Indian Ocean at every opportunity, starting first thing in the morning. We will write about Serena's superb restaurants and our beach side guest room later More background details and links to come. See Serena photo page.
Historic Fort Jesus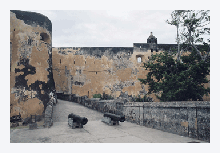 Mombasa is undergoing a major face lift, from its busy Moi International Airport and harbor area to the downtown core, which has its very own visitor attractions, the most famous being historic Fort Jesus. Here's a site that's a true time capsule with a remarkable story to tell. The location is convenient too- we were able to drive right up to the entrance gate and park the taxi for the duration of our escorted tour. Situated on the edge of a coral ridge overlooking the entrance to Old Port of Mombasa, Fort Jesus was built by the Portuguese in 1593 to protect their trade route to India. If you read the amazing story of Vasco de Gama, the famous explorer, you will be aware of the period, its trials and tribulations. It was also a means of guarding their country's growing interests in East Africa. As a heritage site and museum, it is an ideal example of 16th century Portuguese military architecture. History was not kind to Fort Jesus - it changed hands between the Portuguese and Omani Arabs nine times, and later served as a prison when Kenya became a British Colony. That role lasted until 1958, Fort Jesus is now an historical monument under Kenya's National Parks,
Our guided tour around the Fort's perimeter, from stone dungeons to ramparts with cannons in place, plus the museum gallery, took around one hour. I am anxious to return on a day when there are no appointments or interviews, as this gem of history deserves a much longer visit For example, here are some comments we read, " a new exhibit depicting the culture and history of the coast and its peoples. Also on display are artifacts excavated from the underwater shipwreck of the San Antonio de Tana which sank in Mombasa harbor off Fort Jesus in 1697" We also want to see the famous Sound and Light show that was advertised on the property. Details: Fort Jesus Museum, P.O. Box 82412, Mombasa, Tel: 254-11-312839, Email: nmkfortj@swiftmombasa.com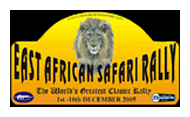 East African Safari Rally
A Sports Tourism Special has topped our agenda for several years, and an interview with Mike Kirkland paved the way. A supporter since day one, Mike introduced us to the East African Safari Rally, December 1-10, 2005. The exciting event starts and ends in Mombasa -- under the giant horns in town center. In addition to a CD we plan to use at 10 Adventure Travel Expos starting this fall, Mike opened the door to a wealth of information through the Rally's web site, such as these comments:
"Following the celebrated running of its 50th anniversary in 2003, the East African Safari Rally returns in 2005 and the event will run from 1-10 December. The world's greatest classic car rally will cover a marathon 4,200 km over nine days and once again take the crews through the remote and beautiful landscapes of Kenya and Tanzania. The East African Safari Rally commemorates the original Coronation Safari, a unique event run by enthusiasts to celebrate the Coronation of Queen Elizabeth in 1953. In 1960 the event was renamed the East African Safari Rally, running annually until 1972, and, in keeping with the sense of history, only cars produced before 31 December 1974 (or the exact same car if built before 1978) are eligible to compete." Watch our Home Page for further announcements on our ATA media coverage and visit: http://www.eastafricansafarirally.com/index.html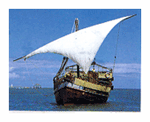 Our special evening with John Cleave and Christine Cronchey of Mombasa Air Safari at the Tamarind Dhow Restaurant helped us get a handle on this lovely, laid back, tourism Mecca. His fleet of light fixed-wing aircraft carries passengers from Mombasa, Lamu, and other points along the Indian Ocean Coast to the far flung Safari camps at Amboseli, the Masai Mara, and other popular safari sites. Both were upbeat about the potential of this area to attract quality tourists and of the more positive prevailing attitude in the country One of our biggest surprises was the quality and variety of resort hotels that literally line the coast from Mombasa in both directions. While it was winter, many hotels were fully booked thanks to large air charters filled with sun worshippers from Europe. We stayed several extra days just to check out as many of these excellent facilities as possible, to take photos and interview the management. Some hotels are included in our Kenya Photo Gallery and more will be appearing soon on our web site and magazine. The caliber of service and hospitality are superb, and much of that credit should go to the training they receive at Nairobi's Utalii College.
We received some further good news later when we learned that Hon. Morris Dzoro, Minister of Tourism and Wildlife, Kenya, is working on a Mombasa Campus for Utalii College. An idea whose time has come. The Minister is from the Mombasa area and was busy on a number of projects to improve tourism on the coast while we were in Kenya.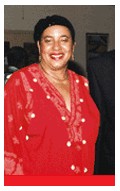 Diani Reef Beach Resort
At the ATA World Congress we learned that Jonquil Clark launched a new ATA chapter in Philadelphia, City of Brotherly Love. And sure enough, Jonquil brought a group to Mombasa following the event. Here's part of what she said about the Diani Reef Resort and Spa. "Our post tour to Mombasa was exquisite. Six of us traveled there after the ATA Conference in Nairobi, and what a treat. The resort is luxurious, from the minute you enter the lobby, of which the floor is an aquarium. The rooms were beautiful, the food outstanding and the spa treatments were absolutely wonderful. We toured Fort Jesus and did a city tour of Mombasa, which was both informative and interesting. It's always good to learn as much as possible about each African destination. Everyone was pleased with our experiences in both Nairobi and Mombasa. The conference was one of the best to date."
POST TOUR PARTICIPANTS WERE JONQUIL CLARK, VICKI JONES, THOMAS VESSELLS , MILDRED VESSELLS, VALERIA TYSON AND JUANITA DEVINE.
Excerpts from our Grand Tours of Kenya - > -> ->

Kenya Stars Shine in our next 4 issues!
Read about Kenya's famous Olympic Athletes of the Century from our meeting with Dr. Kipchoge Keino, head of the National Olympic Committee of Kenya. Other interviews included Tourism Ministry and KTB officials, of Kenya Airways CEO , African Airlines Assn, Kenya Chamber of Commerce, Kenya Tour Operators Assn, Utalii College, East Africa Wildlife Society, Kenya Travel Agents Assn, Great East Africa Auto Rally, Mombasa and Coast Tourist Asson, plus many hoteliers, travel agents, embassies and tour operators. Details

Notes
Mombasa Air Safari
MOMBASA AIR SAFARI, is owned and operated by John Cleave, who we met a few hours after arriving on the Kenya coast, and Christine Cronchey, who we met at the Tamarind. "The company is base at Mombasa's Moi International Airport and you will step out of bright tropical heat into cool efficiency. With its separate terminal building with hard stand for aircraft parking just outside the window, you can be ticketed and through the passenger lounge for screening and then board your flight in minutes. Mombasa Air Safari has staff based at Diani Beach, Mombasa, Malindi and Lamu all along the Kenya Coast to provide friendly and efficient services on their daily flights to LAMU, AMBOSELI, TSAVO and the MASAI MARA." More details