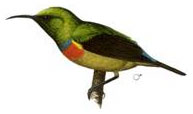 KE NYA'S WAJEE NATURE PARK
Karibu Wajee!
First Time Visitor? Find out What Wajee Has to Offer!
ACCOMMODATIONS & CAMPING
BAR & RESTAURANT
BIRD WATCHING
TRAIL WALKING
TREE PLANTING
PICNICS
MOUNTAINBIKING
TOURS TO LOCAL ATTRACTIONS
Planning an eco-vacation?
Put Wajee on your itinerary. Our ecological reserve is a natural haven in a busy world, featuring a rare-bird sanctuary, a wide range of indigenous tree species with various medicinal and other value, conservation activities such as tree planting, and the opportunity to view local organic farms.
What's New at Wajee...
Meet Flora Namusonge, our new Park Manager. Flora studied Tourism Management at Makerere University, and looks forward to working with the team of welcoming staff at Wajee to make it an even more wonderful experience for our guests and visitors.
Attention Bird Lovers!
Recently, our Education Officer and Naturalist Edwin spotted several of our rare Hindes Babbler birds (Turdoides hindei), now found only in the Central Province of Kenya due to loss of habitat in other areas. Come and see these extraordinary birds &endash; of which there are fewer than 2,000 living in the world &endash; at Wajee Nature Park.
How to Find Us:
Coming from Karatina town towards Nyeri, after 2km branch left towards Mukurwe-ini town. We are 5km from Mukurwe-ini. We look forward to your visit.
Wajee Nature Park
PO Box 148, Mukurweini, Nyeri
Tel 254 723830516
Email info@wajeenaturepark.com
http://www.wajeenaturepark.com/pages/index.php
We look forward to welcoming you!