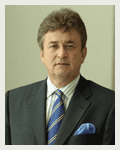 TONY POTTER NAMED NEW CHIEF EXECUTIVE OFFICER FOR CORINTHIA HOTELS INTERNATIONAL
(Floriana, Malta - August 7, 2006) - Corinthia Hotels International, the hotel management arm of the Corinthia Group, announces the appointment of Mr. Tony Potter as Chief Executive Officer.
Tony Potter brings with him a wealth of experience in the hotel industry, having occupied senior roles in global hotel companies throughout his career, most recently CEO with Millennium & Copthorne plc.
Mr. Alfred Pisani, Chairman of Corinthia Group, said: "We have ambitious plans for our hotel business, as investors and operators, and we welcome Tony as a key contributor to this development and growth".
Mr. Potter said: "I am excited by the prospect of joining Corinthia Hotels International and building upon what is already an excellent reputation".
Corinthia Hotels International manages 20 hotels in the four and five-star category in Europe, Africa and the Mediterranean, having a total of 5,300 bedrooms, and a network of sales offices worldwide. The Company is set to embark on a rapid growth phase in the coming years, operating hotels being developed or acquired by its parent hotel investor company, as well as for 3rd party asset owners. In parallel, plans are in hand to redefine the Corinthia Brand within the upscale five-star category.
For further information on Corinthia Hotels International please visit www.corinthiahotels.com
Mr. Tony Potter, Chief Executive Officer, Corinthia Hotels International
Malta Contact: Manuel Briffa USA Editorial Contact:
Phone: +356 2551 1146 Karen Hoffman
Fax: +356 21 239732 The Bradford Group
Mobile:+356 9943 2252 Tel: (212) 447-0027
e-mail: mbriffa@corinthia.com e-mail: bradfordmktg@aol.com
Corinthia Hotels International &endash;-Experience the Warmth Colour and Vitalit