EXPERIENCE LESOTHO: THE MOUNTAIN KINGDOM
"COME AND VISIT THIS BEAUTIFUL COUNTRY AND BE CHALLENGED BY THE WONDERS OF NATURE"
by David J. Saunders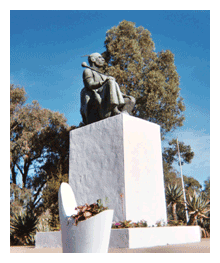 Lesotho offers a truly unique vacation destination full of adventures that will test your limits as you experience breathtakingly beautiful and magnificent views in an ideal place for eco-tourist and nature lovers as well as outdoor sports enthusiasts. Lesotho, affectionately known as the "Mountain Kingdom in the Sky" is one of the few remaining monarchies in Africa and for the local Basotho, traditions are an integral part of their daily lives. Accordingly, the "Ten Best Reasons to Visit Lesotho" are: (a) opportunity to visit the spectacular Drakensburg and Maluti Mountain Ranges; (b) unspoiled and pristine natural beauty; (c) the unbelievable opportunity to actually ski in Africa; (d) opportunity to explore relics of a pre-historic past; (e) unique pony trekking to remote villages; (f) visit the Kome Cave Village &endash; once home to cannibals; (g) experience traditional Basotho villages in remote mountain villages; (h) visit the Sani Top &endash; which is the highest pub on the African continent; (i) see the impressive Katse Dam which is the source of Southern Africa's watershed; and (j) participate in the annual Roof of Africa Rally &endash; which is an extreme off-road motor cross challenge that is rapidly gaining in popularity around the world.
The small mountainous Kingdom of Lesotho, roughly the size of the State of Maryland in the United States with a population of about 2.1 million, is entirely surrounded by South Africa and its terrain has been likened to Switzerland. Lesotho has one of Africa's most homogeneous populations, consisting almost exclusively of Basotho with English and Sesotho as the official languages. In the 19th century, King Moshoeshoe I brought together a number of splinter groups in this mountainous stronghold, giving birth to the Basotho nation. It was in reality a kingdom made up of refugees from the fierce tribal wars in neighboring regions.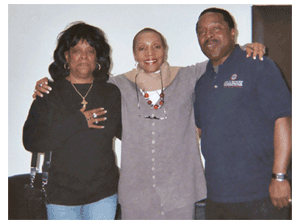 Top: Photo of a small mountain that resembles the national symbol of the Kingdom of Lesotho which is in the shape of the "Basotho Hat".
Above: Statue of King Moshoshoe I, the Founder of the Kingdom of Lesotho . Monument is located in Maseru, the capital city.
Left: Mrs. Felleng Makeka, Chief Executive of the Lesotho Tourism Development Corporation in her office with Helen and David.
Through smart military and diplomatic strategies King Moshoeshoe I managed to keep his enemies at bay until challenged by the Boers who had established their own Orange Free State Republic alongside the kingdom and then started making territorial claims. War ensued and fearing the entire loss of the kingdom's territory, Lesotho became a British Protectorate in 1884 until it regained its independence on October 4, 1966. Today, Lesotho is a constitutional monarchy with King Letsie III as the Head of State with authority vested in the Prime Minister of the majority political party. Currently, the Honorable Pakalitha Mosisili is the Prime Minister (elected in 2002) under the Lesotho Congress for Democracy (LCD).
Interesting Places to Visit while in Lesotho include the following: Major towns and cities &endash; Maseru, Lesotho's capital which is also known as the "place of red sandstone". Its landmarks include the Basotho Hat Craft Center with its upstairs restaurant and the large Basotho Shield. The Moteng Weavers and Seithati Weavers are also worth visiting while in Maseru; Teya-Teyaneng, often referred to as "TY", which is the crafts capital of Lesotho. Here beautiful woven wall hangings, tapestries and jerseys are made by the local craftswomen; Butha-Buthe, founded in 1884, is the last major town before the start of the Lesotho Highlands. The town was the first mountain fortress for the Basotho and it was here in the Maluti Mountains that they fled from the Zulu King Shaka in the 19th century. Liphofung Cultural Village is also housed here as well as the Mahlasela Ski Slope, which is one of the few places in Africa where snow skiing is possible; Near the town of Leribe Hlotse, close to the South African border post, one can buy mohair scarves, Sotho blankets and a variety of other handicrafts; The town of Morija, in the Caledon Valley, at the foot of the Makhoarane Plateau, is the location of the earliest religious mission station and the only museum in Lesotho &endash; the Morija Museum and Archives &endash; which exhibits fascinating geological and ethnographic materials and other interesting items of historical and political relevance. It is also the site of the annual Morija Arts and Cultural Festival held every first week in October.
Major Tourist Attractions in Lesotho include the following: Sehlaba-Thebe National Park, home to the mountain buck, small mammals and birds as well as a variety of Cape Alpine flora; the Katse Dam, which is the second largest man-made dam in Africa next to the Lake Volta Akosombo Dam located in Ghana. This dam is part of the impressive Lesotho Highlands Water Project, which was initiated in order to supply much needed fresh water to Gauteng, the main commercial province in South Africa; There are also many water sports activities that can be experienced by the adventurous visitor such as fresh-water fishing, white water rapids boating, kayaking, canoeing and small boat sailing; Other points of interest include the Maletsunyane Falls which are actually twice as high as the mighty Victoria Falls and well worth seeing; Lesotho also has more than four hundred ancient rock art sites and a number of places where one can see two hundred million year old fossilized dinosaur footprints and fossilized wood. If your are interested in viewing these, the Masitise Dinosaur Track Way and Moyeni are two sites that should not be missed; In addition, a number of local tour operators offer pony trekking, year round hiking opportunities, and 4X4 excursions to explore waterfalls, San paintings and awe inspiring scenery.
Interesting Things To Do while in Lesotho include the following: Pony-trekking on locally bred Basotho ponies is a very popular mode of traversing the mountainous landscape and there are various pony trekking associations throughout Lesotho that will provide assistance with hiring ponies and guides; Year-round mountain climbing, hiking, mountain biking and 4X4 trails are ideal ways to explore the Maluti and Drakensburg Mountains, while skiing is popular between the months of May and July; Para-gliding and hang-gliding offer an opportunity to take in the spectacular views of the countryside; In addition, bird watching is also quite an enjoyable experience with a wide variety of species to be seen. A particularly interesting feature of Lesotho is that you can spend a night in a Basotho village and enjoy genuine Basotho hospitality which is steeped in culture and traditions that are still evident in the daily lifestyle of the Basotho people. In addition, you will be pleasantly entertained with the cultural songs of Basotho. Whether it is sung by a group of women, men and/or children, it will definitely capture your heart and imagination. For the most part, the local people are warm and hospitable. However as a matter of courtesy, visitors should always pay their respects to the local chief before visiting a village.
Travel Details: The climate in Lesotho is generally temperate with summer from November to February which is hot and winter from June to August which range from cool to cold. Rain occurs mainly between the months of March and November and snow falls on the highest peaks during the winter. Casual wear is appropriate during the summer months and in winter, jerseys and jackets are advisable. There are good medical facilities in the main towns but it is advisable to bring your own medical kit and any required medication for the duration of the stay. Malaria is generally not a problem in the area and an international vaccination certificate for inoculation against Yellow Fever is required. Due to the higher altitude, a strong sunscreen and the use of a hat or cap is also recommended. Visas are not required for American citizens but all visitors must have a valid passport and return tickets. South African Airways is the most direct way to get to Lesotho from the United States and you can either fly there directly from Johannesburg, South Africa for a two hour flight or travel by road to Maseru, the Capital of Lesotho, which is about a five hour drive from Johannesburg.
For more information about visiting Lesotho, please contact the Lesotho Tourism Development Corporation (LTDC) at telephone: +266.22.312.427; facsimile: +266.22.313.674; or e-mail address: touristinfo@ltdc.org.ls. Also, please visit their website at www.ltdc.org.ls. You can also contact the Embassy of the Kingdom of Lesotho in Washington, D.C. at telephone: (202) 797-5533 or facsimile at (202) 234-6815 and the mailing address is 2511 Massachusetts Avenue, Washington, D.C. 20008.
About the author: David J. Saunders is the Chief Executive Officer of Venue International Professionals, Inc. (VIP) which is an African-American owned, full-service travel and tourism company based in the Washington Metropolitan Area specializing in travel and tourism destinations to the Continent of Africa. For more information about VIP or to discuss travel and tour arrangements for visiting Lesotho, please contact Helen C. Broadus, President of VIP at 1-877-TO-VENUE [TOLL FREE]; (301) 856-9188 [VOICE]; (301) 868-2218 [FAX]; vipinc@erols.com [E-MAIL]; and also visit VIP's website at www.venuetravel.com.