PATRICIA BROWN, KTI Express Travel and Tours, Sierra Leone.

Patricia Brown is a Certified Travel Counsellor (CTC) from the Travel Institute of Massachusetts. She is an African Diaspora Tour Operator and Managing Director of KTI Express Travel and Tours in Freetown, Sierra Leone. She is also the President of the Sierra Leone Association of Travel and Tour Operators (SLATTO). For the past twenty years, Patricia has worked to evoke the interest of people of African descent in Africa, particularly people who may trace their roots to her home country of Sierra Leone. She is an award-winning tour operator, receiving the 2002 Responsible Tourism to Africa Award from ATA.

KTI Travel and Tours is professional tour operator specializing in adventure holidays for international tourist operators and travel agents in Sierra Leone. With over 30 years of combined experience in travel and tourism, we pride ourselves in offering a professional service with highly trained tour guides.
YouTube KTI Travel Video

KTI EXPRESS TRAVEL contact:
TOP 5 THINGS TO DO IN SIERRA LEONE WEST AFRICA

Outamba-Kilimi National Park
The Outamba-Kilimi National Park is Sierra Leone's only National Park and also a top spot for beautiful scenery and fascinating wildlife. Situate in the very north of the country, the National Park is set amidst the undulating hills, ancient rainforests and meandering rivers there is an abundance of native flora and fauna. Outamba-Kilimi National Park is the perfect place to watch wildlife in its purest form. There are no roads so hiking and walking are the best options for exploring, as is a canoe trip along the rivers.
There are over 260 different bird species across the park and Lake Idrissa such as the endangered Pallid Harrier, plovers, egrets, sandpipers, herons and cattle egrets visit the area. There are nine primate species including four that are severely endangered including the Western Chimpanzee, the Red Colobus Monkey, Black and White Colobus Monkey and the Sooty Mangabey. There are also Western elephants, leopards, pigmy hippopotamus, water chevrotain, Maxwell Duiker and Savanna Buffalo to be found here.
Beaches and Surfing in Sierra Leone
The beaches of Sierra Leone and in particular on the Freetown Peninsula are considered some of the best in Africa. They offer a plethora of activities to keep visitors busy. Surfing has become a must try in this area. The perfect climate and pristine beaches offer an amazing surf experience. The smaller waves of Bureh Beach allow novice surfers the chance to hone their skills. While just South of Freetown, at River #2, experienced surfers well get a chance to catch some larger waves. The unspoilt beaches of Sierra Leone are gorgeous and the views of surrounding mountains are spectacular. Most importantly, most of the pristine beaches are deserted depending upon the time of year you visit. When it comes to surfing and beaches, Sierra Leone is a one stop destination!
Tiwai Island
Tiwai Island is the premier conservation park for researchers and eco travellers alike. Visitors can witness the sheer beauty of the local nature first hand. The island can be reached by traveling down the Moa River. Tiwai Island has two stunning beaches in which you can experience pristine sands beside the alluring Moa River. The forest within the island offers boundless hiking and climbing trails which will bring you in contact with a concentration of various plants and animals. There are multiple species of primates including the endangered Columbus monkey and wild chimpanzees. There are also over a hundred species of exquisite birds to admire. Visitors should be prepared to stay in local lodgings and experience the culture of Tiwai Island.
Explore the culture and nightlife of Freetown
Freetown is the capital of Sierra Leone and is the main city for commerce and culture. It is the perfect place to experience the laid back sandy beaches of Sierra Leone and mingle with the locals. Expect all the modern tourist amenities such as hotels, late night hot spots and restaurants especially in the Lumley and Aberdeen areas which are very tourist-friendly. However, there is still plenty of traditional West African culture to soak up. Visit the St John's Maroon Church which was built in 1800, St George's Cathedral and The Wharf Steps and Old Guard House which were both constructed in 1818. Travellers can visit various markets to dine on local specialities and witness the beauty of Freetown through local city tours. Every year the city hosts cultural events to capture the deep history of the region. A visit to Freetown will impart a piece of Sierra Leone to someone searching for a perfect cultural vacation.
Western Peninsula Rainforest
The Western Peninsula Rainforest lies on the very western tip of Sierra Leone. This stunning rainforest borders gorgeous beaches and offers tourists face to face encounters with nature. Walking trails can bring one in touch with hundreds of species of animals and plants. The views of the mountainous region are breathtaking and should not be missed. Most trips into the region allow for a modern shelter with camping amenities. Meals are prepared onsite and include the local flavour of Sierra Leone. What better way to experience the majesty of the rainforest than staying on the very edge of nature?
RADISSON BLU MAMMY YOKO OPENS IN SIERRA LEONE
Sierra Leone becomes a tourist hotspot and the country is set to reclaim its crown again as the Athens of West Africa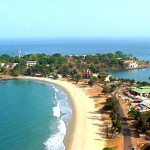 2012 -The West African country of Sierra Leone is witnessing a dramatic change of fortune. Tourists from the UK, US, European and Asian countries are making the capital Freetown their prime holiday destination after tour operators recently discovered the huge tourist potential this small African country has to offer. Thousands of tourists are booking flights long in advance for upcoming holidays as news begin to filter around the tourist world about this little holiday gem that is poised to take the world by storm.
The Sierra Leone government is taking steps to meet the sudden rise in demand for hotel rooms and resorts that are geared for an overwhelming influx of visitors this summer. This government has worked very hard to showcase the potential of its country and recently held an investment conference where the world's leading investors were presented with a showcase of what this country has to offer
Little did the world knew that the most beautiful beaches with pure white sands and untouched coastline were located on this Portuguese discovered land of beauty. The immaculately trimmed natural harbour is one of the most visible landmark of the country's beauty as one enters the coastline of this small paradise. Sierra Leone's beauty was first discovered by a Portuguese explorer, Pedro Da Cinta, by accident. And the country's history documented how this explorer thought he had taken the wrong route to another part of Europe. He had to contend with the geographical position of his compass and come to terms with the fact that he must be witnessing a miracle. He was face to face with one of the most beautiful discoveries of his navigational tour around the world.
Not only does the country provide an unprecedented natural beauty to its visitors, it matches it's amazing scenery with an untapped precious mineral deposit that boasts some of the finest Diamonds ever mined in the world. The Star of Sierra Leone is one of the largest and most beautiful diamond the world has ever seen. In fact oil has just been discovered in a country that is already a leading exporter of Bauxite and Iron Ore.
5 star hotels employ a tantalizing scenery as one tours the blue-sea coated sandy beaches. The sudden calmness that greets the visitor would leave an awesome temptation to make you think you have accidentally landed in paradise. Visitors might be tempted to overstay their visas and are highly advised to make proper consular arrangements. Sierra leone has some of the most beautiful women in the world with curvelines that make models at the New York Fashion show look like a joke!
This dramatic transformation the world is witnessing has been largely due to the unflinching commitment by the country's Head of State who has identified the key benefits of an overhaul in the country's tourist industry. The government's commitment to tourism cannot be over-emphasised. President Ernest Bai Koroma is ensuring that tourism plays a significant part in his Agenda for Change and is lobbying very hard that stakeholders make the development of the country's tourism industry a priority.
Sierra Leone's President Koroma has backed plans to make the 75,000-hectare Gola Forest his country's second national park, and thus protecting more than 50 mammal species including leopards, chimps and forest elephants, 2,000 different plants and 274 species of bird of which 14 are close to extinction. The area, close to the Liberian border, will become the flagship site in a new national park network with local communities paid annually to replace royalties linked to logging and diamond mining in the forest.
The European Commission and French government are both contributing more than £3 million towards the training of more than 100 staff to patrol Gola's boundaries, monitor wildlife and run education programmes. Scientists will be encouraged to study the wildlife of the area which is expected to become a hub for eco-tourism in the country. President Koroma is planning to establish six more national parks in Sierra Leone to develop tourism as the country prepares to fully embrace eco-tourism.
Visitors are assured of a pleasant trip and a beautiful stay as the infectious warmth and kindness of the people will surely leave an indelible impression that will see the return of many in holydays to come.
By Kamara
---