Africa Travel Magazine's "Great Cities of Africa" editions include Lusaka, Zambia and Livingstone, tourism capital and home of Victoria Falls, one of the Top 10 Wonders of the World

The Zambia Success Story ...
by Jerry W. Bird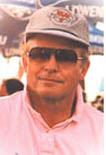 What an amazing country!
We made so many lasting friendships during our month-long stay in Zambia, we've become lifetime ambassadors, eager to spread the good news at every opportunity. Example: Africa Travel Magazine's Zambia Congress edition, with Victoria Falls on the front cover, is getting prime circulation in North America, Africa and beyond. A huge opportunity occurred in August, when the Zambia Edition was inserted as part of Africa Travel Magazine's "SADC 14-Nation Heads of State Summit" Issue -- the official magazine for all delegates at the SADC Summit in Dar es Salaam, Tanzania. In November 2003, it is official magazine for the African Wildlife Foundation Symposium in Washington, DC sponsored by the Corporate Council on Africa (CCA). These are just a few of the ways, ATA benefits its host countries and advertisers by extending the reach, influence and prestige of the magazine. What else? AfricaTravel Magazine has a booth at the "Adventures in Travel Expo" in New York (America's biggest, most influential travel market) January 9-11.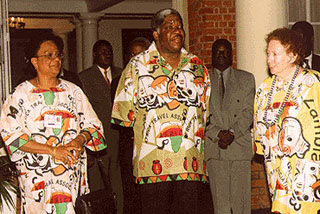 As publisher and editor, I will be a panel speaker, and will have positive comment on our fabulous tour of Zambia. Again the Zambia edition will be front and center, as it will in February at Chicago's IATOS Adventure Travel Expo. Many thanks to the Livingstone Tourism Association for the exciting photo of the ultralite crossing Victoria Falls for our front cover.
Zambia's President active at ATA 28th Congress. Photo: The event was opened by President H.E. Levy P. Mwanawasa, who later welcomed delegates at the State House in Lusaka. Photo (left to right) H.E. Martin Brennan, U.S. Ambassador to Zambia; Ms. Mira Berman, Executive Director, ATA; Hon. Zakia Hamdani Meghji, Minister of Natural Resources and Tourism, Tanzania, and ATA President; H.E. Levy P. Mwanawasa, President, Republic of Zambia. From SADC 14 Nation Heads of State Edition.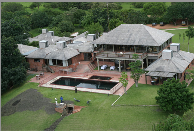 Mighty Mosi-O-Tunya, " the smoke that thunders," was an awesome sight, and our travels on the Zambezi river beyond Victoria Falls by canoe safari, motor launch, car ferries and the African Queen, left an impression we will remember vividly and talk about for years. Our ATA delegates experienced two great destinations in one country, many enjoying post congress tours and safaris. One factor that stood out in my mind immediately, was the wide selection of quality operators, representing wilderness camps, lodges and game reserves throughout the land, once known as Northern Rhodesia. Thanks to the Zambia National Tourism Office, we had the opportunity of visiting several camps and game lodges, with such musical names as Chaminuka, Protea, Mfuwe, Kanyemba and Chiawa.


Profiles of Zambia in World Media
Africa Travel Magazine's Zambia "Success Story" will continue to grow in length and depth all year, as our reams of notes, treasured photos and mementos become transformed into words and pictures for broadcast, print and Internet media. The message (below) from Zambia's genial Minister of Tourism and Natural Resources, Hon. Patrick Kalifungwa (right)sets the stage for "Ethno Tourism." His warm personality combined with his ministry staff's dedication, won friends and influenced people before, during and after the congress. These efforts signal greater rewards to come for Zambia Tourism, as ATA members spread the word about this exciting destination near and far.
The ATA 28th International Congress was a Double Header - or what American humorist Al Capp would have called a "Double Whammy" in terms of excitement, anticipation, enthusiasm, networking opportunities and the magic of serendipity! Zambia's outstanding success as a host country has laid a firm foundation for future marketing achievements across North America and beyond. Both Lusaka and Livingstone lived up to their advance billing as host cities by way of hospitality, attractions, location and guest facilities. The Zambia National Tourist Office operated as true professionals, from their pre event tour of the USA, to the day we said good-bye at Lusaka International Airport.
This week's mail included a "good news" letter from Alexis and Maria at Alendo Travel Tours and Car Hire in Lusaka. Following our trip throughout Zambia, by coincidence we left the Lusaka International Airport on the same aircraft, as they were off for a trip to Australia. We just received news about a new baby girl in their household.
More late news: Chris Wood of Maplanga, the Wilderness Camp Operators, has just relaunched his company's website http://www.maplanga.co.za . Their new e-mail address is mapad@cybertrade.co.za . webTel/Fax: 011 794 1446.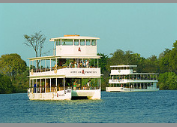 For starters, Africa Travel Magazine has showcased Zambia Tourism in its prestigious 14-Nation SADC Heads of State Summit issue this August. Inside the attractive cover is a 32 page insert, plus photo highlights from the ATA 28th Congress In Lusaka and Livingstone. The special SADC issue mentions President H.E. Levy P. Mwanawasa's panel on Air Transportation. Zambia will also shine like a star in Africa Travel Magazine's 7th Cultural and Ecotourism issue in December, one of the year's biggest editions. Also covered is the 2nd IIPT-ATA Africa Peace Through Tourism Conference in Dar es Salaam.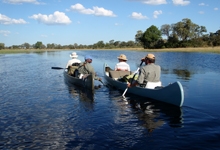 Zambia Adventures in Travel
Africa Travel Magazine's Zambia Story will appear in our "Africa Adventures in Travel" special that debuts, January 2004 in New York and February 2004 in Chicago, at two of America's largest Adventure Travel Expos. Speaking of adventure, our entire month in Zambia was nonstop action, including a "Lower Zambezi River Safari" at Riccardo Garbaccio's Kanyemba Camp. Just picture our editors skimming the river's surface in three fiberglass canoes, dipping our oars deep in the water like old time Voyageurs, dodging hordes of snorting hippos that resembled islands of 'blubber and eyeballs' ... floating menacingly on the Zambezi surface,as hungry crocodiles lurked near the grassy shore. You wouldn't care to fall overboard during this three- hour super adventure. A kinder, gentler river excursion took place above Victoria Falls near Livingstone, as our entire troop boarded the African Queen and Zambezi Queen riverboats, where we were royally entertained. During the cruise we viewed a typical Zambian sunset that lit the sky like few others I've seen, and in an instant the moon and stars appeared as if ordered by a stage director.
Photo (above): Some of the many animals encountered on a typical wildlife drive at Chiawa camp on the Lower Zambezi. We enjoyed similar game drives at Kanyemba on the Lower Zambezi, and Mfuwe in South Luangwa National Park. Game was plentiful where we stayed at Protea Lodge and Cheminuka near Lusaka. The sequence below is from Mfuwe Lodge, a Bushcamps Company.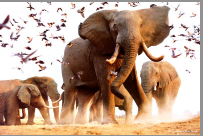 Game drives were a key part of the action at the lodges we visited, and that made each stay a true learning experience. Guides and drivers were well schooled in the seemingly endless variety of flora and fauna and knew each name, every footprint in the sand. Yes, we had anxious moments for several days running, with our vehicle stopped in the midst of a herd of elephants. We expected at least one of them to charge, but managed to luck out. More than once our safari vehicle was parked within twenty feet of a (seemingly) sleeping lion. Here in Zambia, safari guests can view most of the Big Five up close, along with a wide variety of game animals, impalas and their cousins being the most prolific.


Mfuwe Lodge School Project
Andy Hogg, Managing Director of Mfuwe Lodge in South Luangwa National Park is not only a superb host, he is devoted to a great cause. In 1999, The Bushcamp Company and Mfuwe Trails set up a project whose aim is to become involved with the local communities by supporting education. The key project, involved Chiwawatala Primary School in the Mfuwe area and Chilongozi School, in a remote area close to their bushcamps. details. Close to Chiwawatala school, near Mfuwe Airport, is a factory that produces some of the finest tapestries and wearable art I have seen in my travels. Projects like this, plus American Students for Peace and Miracle Corners of the World are signs of a new generation taking positive action.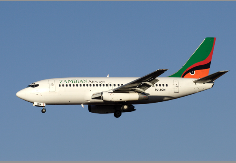 Flightseeing in Southern Africa Skies
Zambia is a great place to get around, looks impressive from a seat in the clouds, and is well served by its scheduled and chartered airlines. At Lusaka International airport we spent a good part of a day meeting with the airport authority and with Charles Tembo of Zambian airways, a company that is making great strides. A lady who contributed greatly to our trip, the flight to and from Mfuwe in south Luangwa in particular, was Christabella Mwansa (above) of Airwaves Aviation. Since Airwaves flies fly to many places of interest, we left a generous supply of magazines in her capable hands for distribution. Thanks to Christabella, personal copies were delivered by air to managers at event the most remote camps.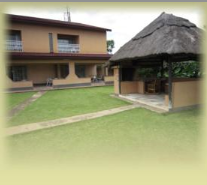 Zambia's Famous Doors of Hospitality: One of the standout personalities on our tour was Julie Limpic (left) of Jul's Guest House and Vehicle Rental Service in Lusaka. While staying at Jul's first class facilities, we met her son Trevor and enjoyed several interviews in her office. What is truly impressive in terms of enterprise and in initiative, is how she built the business in Zambia. Proof of her untiring effort and creativity were apparent in two prestigious awards and trophies she received for outstanding achievement in the business community and travel tourism sector. What made me especially pleased and proud to have been in her company was that Jul was there at the Lusaka International airport to see us off.
The Lusaka InterContinental Hotel proved to be an ideal congress headquarters, as did Livingstone's Zambezi Sun Resort. The food at Lusaka's Holiday Inn earned well deserved praise. As a touch of Zambia hospitality the manager welcomes guests from the hotel, plus local and visiting business community, with a cocktail party. On two Wednesdays in a row, we won the lucky draw. I am pleased to say, the Real Africa and its people won our hearts completely. Dev Malhotra, General Manager of Lusaka's Taj Pamodzi Hotel and his team, including Sales Manager Martha N. Namwinga, (above right) hosted a " bon voyage" dinner in our honor.


Doris Shupekile Kofi (left) of Zambia's National Tourism Board was a special guest, and for good reason. She was our key contact for the entire period and did a superb job. Prior to becoming a publisher, I worked in public relations for decades with governments, industry associations and world class corporate clients, and rank Doris among the tops in many respects. Speaking of quality facilities and service, this fall when we hope to return, the Taj Pamodzi will have already completed its extensive renovations program. The following morning, after close to a month combining congress business and social activities, tours on the country's highways, skyways and waterways, and meeting new friends, we said good-bye to Zambia, vowing to return soon and often. I am sure many ATA congress delegates were equally impressed with the hospitality, attractions and facilities.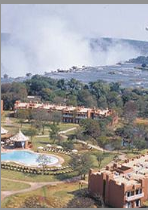 On the journey we sampled every type of lodging, from Caesar's The Emperor Casino Hotel at Jo'burg Airport, to Lusaka's Inter-Continental Hotel, the Holiday Inn, Taj Pamodzi Hotel, the multifaceted Mulungushi Village complex, Chita Lodge and Jul's Guest House. At Livingstone, we stayed at Sun International's Zambezi Sun - a stone's throw from the mighty falls. Wildlife Lodges we enjoyed included Chaminuka and Protea in the Lusaka area, Kanyemba and Chiawa (tented camp) on the Lower Zambezi, and Mfuwe Lodge in South Luangwa National Park near the Malawi border.
Capturing Zambia's Colorful History: We spent several hours of quality time with the management at the Lusaka Museum, which has a major development financing, expansion and enhancement program underway. On the spacious grounds surrounding the building and on its display floors, this site will be transformed into a true "people place" - one of Southern Africa's prime attractions. This impressive museum building is part of a modern complex that's indicative of what's happening in this progressive city. Recent history, when Zambia was known as Northern Rhodesia is carefully documented, ethnic artifacts and paintings abound, and a variety of local arts and crafts are displayed to attract visitors. Other facilities we plan to visit next time are the Livingstone Monument, the Von Lettow Vorbeck Memorial and the Railway Museum in the town of Livingstone
Lifelong Learning Experience
One powerful lesson I've learned in the last decade with this magazine, is that once an African country hosts one of our prestige events, many doors start to open. This occurs in America, Europe and beyond as our web site of over 1,100 pages expands its reach and influence. As positive achievers say, "good news travels fast," and with our team it happens even more swiftly, thanks to ATA's active chapters, focused media support and powerful industry partnerships. Working closely with the Africa Travel Association, often as co-hosts, are such organizations as ASTA, ARTA, RETOSA, the United States Tour Operators Association, Corporate Council for Africa, World Tourism Organization, World Ecotourism Society and the International Institute for Peace Through Tourism. How successful was the event? Many of us gave it a 10. We've added several pages of Zambia ATA Congress Highlights, which may be viewed now or later.
Photo (above): Editor (center) with delegates from South Africa and Guinea, Louis D'amore, IIPT second from left.
On the Road Again ... In summary, our memorable, month-long, marathon tour into the heart of Southern Africa was filled with moments to remember.
We flew via Cathay Pacific Airlines from Vancouver, Canada to JFK International, New York City.
... via South African Airlines to Johannesburg, SA and Lusaka, Zambia.
... via Airlink Charter to Livingstone- Victoria Falls.
... via Airwaves Cessna to South Luangwa National Park, Zambia.
... and return via SAA, with business stopovers in Johannesburg and New York.
In between, we participated in one of the most spirited, productive and fruitful (ATA) Congresses to date - where the focus was on "Ethno Tourism- and its role in Job Creation." This was the first ATA event to be held at two separate venues, which kept us all on the go. We made more great friends this trip than any time in the past (the local people are terrific) and we will enjoy telling their stories in words and pictures in our coming editions of Africa Travel Magazine in print, on radio and on this web site.
Bring on the encore! The Editors
Read highlights of the ATA Congress in Zambia
---
Footnotes
Remembering Zambia's Historic Moment. Muguette Goufrani echoes my sentiments about Zambia, when she says,"Of all mail we've received in eight years at Africa Travel Magazine, and keepsakes from my career as travel professional in Africa and around the world, one beautifully engraved invitation (left) has special significance. It was from the Zambian Embassy inviting us to attend the country's official Independence ceremonies. We were living in Cote d'Ivoire at the time, I worked for Air Afrique and my mother was with the US Embassy. We gratefully accepted Zambia's invitation and helped celebrate that landmark in Africa's history. The hospitality we shared that day encouraged me to visit Zambia two years later. This year has been my encore - a rendezvous with many friends in Zambia. We are planning a RETURN TRIP and hoping to encourage as many ATA members and guests to accompany us as possible.
---
From the Minister: "Dear ATA Delegates. I extend to you all the warmth and friendliness of the people of Zambia. In particular I welcome you to Lusaka, the Capital City and Livings tone, the Tourist and Adventure Capital of Zambia, home of the Victoria- a must see falls - and the 28th African Travel Association Congress. Travel dynamics have placed responsibilities on the traveler to not only derive maximum satisfaction from a destination visited but also to ensure that the visit is beneficial to the host community and takes care of future needs. Therefore this year's theme; "Ethno-Tourism: A key to sustainable development and job creation", seeks to encourage destinations to utilize their cultural heritage for the sustained livelihoods of their rural or indigenous people. Africa has a unique and diverse cultural heritage which if well exploited can give an added appeal to the region.

I am aware of you tight program. However, your visit to Zambia will not be complete if you did not visit the Victoria Falls (locally known as Mosi-O-Tunya " the smoke that thunders"), participate in Livingstone's adventure activities (white water-rafting, elephant Back-ride tours, micro-light, abseiling, river-boarding, bungi-jumping etc.), walk the wilderness and experience the abundance of wildlife of South Luangwa National Park, canoeing in the Lower-Zambezi National Park etc. Let this visit be the most memorable of your lifetime. Welcome."

Read highlights of the ATA Congress in Zambia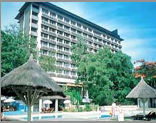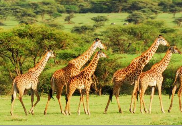 For more information on the Africa Travel Association, (212) 447-1926, fax (212) 725-8253, e-mail africatravelasso@aol.com
Photos on this page by Robert Eilets, Karen Hoffman and Muguette Goufrani