Zambia does not have a national carrier since the collapse of Zambia Airways in 2009. The country therefore relies on international airlines to help develop the local travel and tourism industry, signing open-skies aviation agreements with a number of countries in a bid to boost air traffic into Zambia. Zambia has one international airport - Lusaka International Airport. The Department of Civil Aviation of Zambia is the regulatory agency responsible for air transportation in the country.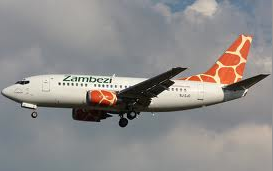 Zambezi Airlines is a privately-owned Zambian airline based at Lusaka International Airport. Zambezi Airlines commenced operations in 2008 and operates a network of services in southern Africa. The airline cooperates with South African LCC kulula, which offers onward domestic connections in South Africa. Capa Aviation.
MUKUBA AIRLINES TO LAUNCH THIS YEAR
NEW AIRLINE FOR ZAMBIA
MUKUBA AIRLINES
ZAMBIA (eTN) - A new airline is starting up in Zambia. This is exciting news as, at the moment, only Proflight offers flights within Zambia, and a little competition is always a good thing.
The new company is called Mukuba Airlines and is being set up by a group of Zambian expats and locals. The Zambian expats have been out of Zambia for a while and gained expertise in the airline business and want to come home to put their knowledge to good use to improve their home country.
The planning of the new business has been ongoing for the past 2 years, and now is the time to publicize it. The plan is that the airline will be operational before the UNWTO meeting in August. Two planes will be used initially – a Turbo Prop ATR 42-500 and an ATR 72-500, both French/Italian-made. They will be maintained by Air Botswana. The ATR 42 has a carrying capacity of 48; the ATR 72.
The Chairman of the company, Mwansa Chalwe, an accountant by profession, stated that the project has been meticulously planned. He hopes that the company will turn around the domestic flight market by making air travel affordable. He also hopes that the company will contribute to investment and tourism in Zambia.
Mwansa Chalwe said that the government had been very supportive, and he hopes that once the airline is successful it will encourage other Zambian expats to return home to help develop their own country.
In the meantime, the government has continued to research the possibility of resurrecting a national carrier. But airlines in Zambia have had a checkered history. Zambia Airways started its life in 1964 and died in 1995. In 1998, Zambian Airways arrived and survived until 2009 amassing a debt of, it is said, of US$29million. In 2008, Zambezi Airlines started operations, but by 2009 had formed an alliance with Proflight, and then it hiccupped between problems and stopped flying in October of last year.
Happy landings to Mukuba Airlines
PROFLIGHT ZAMBI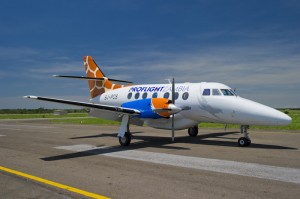 Proflight Zambia, has unveiled an unprecedented reduction in its fares in a move designed to provide more affordable air travel ahead of the United Nations World Tourism Organisation General Assembly (UNWTO) in August.
According to a statement released by Proflight Zambia yesterday the new package of fares is also aimed at encouraging passengers to plan ahead and book their flights earlier, and has been made possible by the impending introduction of a 108-seater Boeing 737 aircraft that will reduce the airline's operating costs on its trunk routes to Ndola and Livingstone.
Airlines' Director of Government and Industry Affairs Capt. Philip Lemba said Passengers who book more than 14 days in advance can now fly from Lusaka to Ndola or Livingstone for just KR250, with similar savings across the board on Proflight's other routes, Chipata, Mansa, Kasama, Lower Zambezi and Solwezi.
"With flight times of close to an hour on most routes, Proflight can now offer travellers a journey that competes favourably with road travel on both time and price,we have listened to the concerns of passengers and regulators about the cost of airfares, and now, thanks to the introduction of the 737 aircraft, we are able to respond to those concerns and reduce costs," explained Capt. Lemba.
He urged people to support their local airline and ensure the carrier becomes a standard-bearer that the nation can be proud of.
Proflight Zambia's decision to reduce fares comes in the wake of its plan to introduce a 108-seat Boeing 737 to its fleet, dramatically reducing the per-seat operating costs of its flights.
The twin-engine jet plane marks a milestone for Zambia's only scheduled airline, which celebrates 22 years of operation this year.
Lemba said the aircraft is expected to be in place for the UNWTO conference in Livingstone in August, and will play a pivotal role in getting delegates to the venue, and raising the nation's standing in the eyes of the world's tourism industry. Proflight Zambia is a Zambian airline based at Lusaka International Airport. Formerly known as Proflight Commuter Services, the airline was officially rebranded as Proflight Zambia in 2010. Proflight Zambia operates both scheduled and charter domestic services. Capa Aviation.