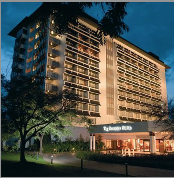 Set amidst tropical gardens in the heart of Lusaka's business and government district, this luxurious hotel provides spacious comfort and modern amenities. Comfortable and stylish, all 193 guest rooms at Taj Pamodzi in a wide range of categories have been recently renovated and offer modern comforts and warm, hospitable service. Complementary use of state of art gymnasium, swimming pool, steam and sauna and enjoy squash at ultra-modern squash courts. Spa treatments and visits to nearby golf or lawn tennis courts can be arranged at an additional cost. The Taj Pamodzi offers a distinctive dining experience, one that explores the nuances of the finest Indian and international cuisines, serving traditional and contemporary favorites. From casual, all-day eateries to formal, fine dining, guests can look forward to a wide selection of delectable dishes and refreshing drinks.
Taj Pamodzi Hotel Lusaka

By the time Africa Travel Magazine's new Zambia Update edition is published, the Taj Pamodzi Hotel will have completed its extensive renovations. We witnessed a beautiful transformation taking place - and are anxious to return. As a visitor's choice, especially for our many travel agent members and readers who expect the best, the Taj Pamodzi Hotel has it all. Your pleasure starts with those three key words - location - location - and location. Your clients will stay in the heart of a thriving, emerging capital city, on spacious grounds that include lush tropical gardens, palms, patios and pool.
More information on the Taj Pamodzi, General Manager Dev Malhotra and key staff will appear on this site and in print. Latest additions will include photos of the extensive renovations. Each of the Pamodzi's newly refurbished guest rooms features a balcony, and having stayed there we can confirm that the views are excellent. The Taj Pamodzi offers three restaurants, two bars and a grill, plus conference facilities for 500 guests. The hotel's health club, gymnasium, massage treatment facilities and squash courts help you keep in trim. Taj Advertisement (full page)
Zambia Profiles: Africa Travel Magazine is launching a series of profiles starring key people in Zambia's tourism and hospitality industries. One of our profiles will be Martha N. Namwinga (right), Deputy Manager, Sales & Marketing, Taj Pamodzi Hotel in Lusaka. Africa Travel Magazine's editors had the pleasure of staying at this excellent hotel and Ms. Namwinga arranged a " bon voyage" dinner. The following morning we said good-bye to Zambia, vowing to return soon and often. I am sure all of our ATA congress delegates were as impressed as we were with the country's hospitality, attractions and facilities. The Real Africa and hosts like Martha won our hearts completely during the 2003 ATA International Congress and post tours.
Contact Information/ Sales:
Martha N. Namwinga, Deputy Manager, Sales & Marketing,
Taj Pamodzi Hotel PO Box 35450
Church Road, Lusaka, 10101, Zambia
Phone: (260-1)254 455, Fax: (260-1) 250 995
Cell 097-859711
About Lusaka and Zambia
As one of the fastest- growing city centers in Central Africa, the capital Lusaka has brought together people of many nationalities and is an intense land of colorful hustle and bustle of free enterprise mixed with real African ingenuity. Interspersed with Lusaka's many excellent luxury and budget hotels and restaurants are truly urban African experiences: large markets full of economic activity; noteworthy historical and cultural sites; the Zintu museum of Arts and Crafts ant the Munda anga Zoo and Botanical Gardens. For those wishing to visit nearby game reserves, several quality facilities are a short drive from this major city center.

ATA Shoppers take note: The price is right and the craftsmanship, from jewellery to carvings, and custom fashion wear - is excellent.
The city is central to the main highways leading north, south, east and west, at an altitude of 1,300 meters (4,265 feet) above sea level. Lusaka is centrally located for Zambians and visitors, with Lusaka International Airport being an important national and international link.
Zambia is a landlocked country in the tropics of sub-Saharan Africa whose population exceeds 10 million. The capital of Zambia is Lusaka, with a population of roughly 1.2 million people.
Victoria Falls lies on Zambia's southern border at the tourist center of Livingstone. Zambia's 19 Parks have some of the most abundant animal populations in Africa.
Zambia's elevation (average 1300m) gives it a mild tropical climate. The weather is so pleasant that is has been nicknamed "The air-conditioned state"