EXCLUSIVE ZAMBIA EDITION OF AFRICA TRAVEL MAGAZINE FOR FALL 2008,
Africa Travel Magazine's "Great Cities of Africa" editions include Lusaka, Zambia and Livingstone, tourism capital and home of Victoria Falls, one of the Top 10 Wonders of the World , ADVERTISE NOW!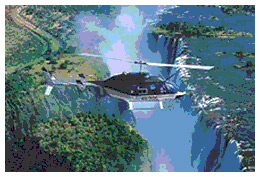 ZAMBIA TRAVEL AND TOURISM NEWS

Material was provided courtesy of Prof. Wolfgang Thome. And again some interesting tourism and conservation news from Gill Staden in Livingstone / Zambia:
And finally once more some interesting tourism news from Gill Staden in Livingstone / Zambia:
Limbo Lodge
Limbo Lodge is on the Lusaka Road, towards the weigh bridge, on the right-hand side as you leave Livingstone.
Kingsley Lilamono is the owner of Limbo Lodge. He built it with money that he earned in Botswana while he was a teacher there &endash; he taught Physics and Chemistry for 12 years in Maun. Although from north western Zambia, he decided to settle in Livingstone because he could see the tourism potential in the town.
Kingsley started to build in 2003, completing two chalets and the main building in a year and a half. He opened at Easter 2005.
He has continued to improve the property and now has 12 rooms &endash; 4 singles, 4 doubles and 4 twins. Some of the rooms are interconnected by a door, so families can easily be accommodated. Each room has air-conditioning, TV, mosquito net and tea, coffee-making facilities. The cost of a room is K150,000 (US$43) for single, K220,000 (US$63) for double. The price includes continental breakfast.
Apart from the chalets, there is also an interesting underground restaurant and bar; and a swimming pool. Kingsley is just constructing a conference facility which he expects will be able to take 50-60 people.
The gardens are very pleasant; the trees gradually growing to provide shade and atmosphere. Kingsley said that most of the trees had been chopped out when he bought the land and it is taking time to get the trees and gardens to grow.
On the future of his business future, he hopes that Government will recognise the tourist industry as a major economic contributor to Zambia. It will be only then when small lodges like his can be a viable business.
On the issue of visa fees, Kingsley thinks that the Government did not think carefully enough about the impact. Although tourists will continue to come for the next six months, because their holidays are already booked, he feels that numbers will decline after September.
He hopes that, in future, Government will work with the private sector to nurture the tourist industry. He feels that when Zimbabwe comes right, Livingstone will lose a lot of tourists to Victoria Falls Town because they have the know-how and the infrastructure.
Contact Limbo Lodge:
Tel: 0213 322096, 0977 811567
Email: limbolodge@zamnet.zm
Livingstone Lodge and Guest House Association (Liloha)
Kingsley is also the Chairman of Liloha. Liloha was started in 2005 to help the guest house owners to work together for marketing, training and networking. There are 22 members of the association. Membership fee is initially K270,000, then K150,000 for each following year. Liloha is a member of the Livingstone Tourism Association.
Liloha has just had a 3-day workshop for members of the association to improve on their business skills. He said that it is much more cost-effective for members to work together with this type of programme. He also says that when one of their members is contacted about hosting a large group of visitors they work together to make sure that they can provide all the necessary rooms.
Lusaka Travel Show
Last weekend saw the first Lusaka Travel Show. It ran for three days. As a new venture for the tourist industry, Kingsley felt that it was not too bad. He said however, that because he missed the first day, he did not get much business from the show. He was told that the first day was very busy and that companies made a lot of contacts and had bookings.
Kingsley also wanted to say a big thank you to Sun International who provided the stand for the show and said that any of the guest houses who wanted to use the stand were free to do so. The stand was a great asset to their presentation.
Birds of Zambia
This book is now available. Bob the Birdman brought a few down to Livingstone and I have got my copy. It is an authoritative work on the distribution of birds in Zambia. It does not contain photos of all the birds but it has the Zambian map divided up into squares, showing where each bird has been seen. It has taken years to collate all this information by birders in Zambia.
Another interesting section is a history of birding in Zambia. It tells stories of people who dedicated all or part of their lives to discovering new species and documenting birds in their area.
The book is a must for all lodges and hotels that have a library. (and for visitors and tourists coming to Zambia adds this correspondent)
The Lady Livingstone, Livingstone's newest River Cruiser, is running a special for all Livingstone residents and friends. This special deal is running for the month of May 2008.
Come and enjoy the Zambezi River for a special evening cruise.
Email address: zaminfo@safpar.com
Website: www.safpar.com
The Lady Livingstone
Saf Par has a new boat. It should be up and running in a couple of weeks. The boat was built in Harare by Demblons. It was brought to Livingstone on a trailer which took a week to travel from Harare to Victoria Falls.
David Livingstone Safari Lodge. Finally … the David Livingstone Safari Lodge will be opening at the end of this week. We hope …
Protea Hotel
The Protea Hotel should be opening at the beginning of May … they hope …
Chizarira Lodge
Last week I wrote the story of my trip to Chizarira Lodge in Zimbabwe. But I did not put in the photos of the lodge, itself. So here are some pics, so that you can see …
The chalets are perched on the edge of the escarpment
The main building is home to a bar, dining area and lounge … great place just to be lazy and enjoy the views … especially the sunsets.
If you want to visit Chizarira Lodge, contact Craig on xclusive@africaonline.co.zw
ENVIRONMENTAL COUNCIL OF ZAMBIA
CALL FOR COMMENTS AND INVITATION TO A PUBLIC HEARING
REVIEW OF THE ENVIRONMENTAL IMPACT ASSESSMENT (EIA) REPORT
SUBMITTED BY AFRICAN LION & ENVIRONMENTAL RESEARCH TRUST (ALERT) FOR THE PROPOSED DAMBWA FOREST No.22 JOINT MANAGEMENT AREA LION REHABILITATION PROJECT.
African Lion & Environmental Research Trust (ALERT) is proposing to resuscitate Dambwa Forest No.22 and re-stock the Forestry area with Lions. The forest is adjacent to the Mosi-oa-Tunya National Park in Livingstone.
The overall objective of the project is to reverse the declining trends in African Lion populations through a breeding and release into the wild program. The program will aim at producing 8 lion cubs per year that will be subjected to a controlled breeding programme to produce cubs raised in the natural ecosystem.
This notice therefore, serves to inform members of the general public, interested and affected parties that an Environmental Impact Assessment Report for the Dambwa Forest Joint Management Area Lion Rehabilitation Project has been received by the Environmental Council of Zambia (ECZ) for review, in line with the provisions of the Environmental Protection and Pollution Control Act Number 12 of 1990 as read with the Environmental Impact Assessment Regulations; SI. No. 28, of 1997 and is available for scrutiny at the following places:
1. Livingstone City Council, Civic Centre;
2. Zambia Wildlife Authority (ZAWA) Offices, in Livingstone;
3. Environmental Council Of Zambia &endash; Southern Regional Office in Livingstone;
4. Environmental Council Of Zambia Information Documentation Centre (IDC) in Lusaka.
The report will be available for scrutiny during office hours from 08:00 hours to 13:00 hours and 14:00hours to 17:00 hours. Interested and affected parties may send their written submissions to the undersigned. The deadline for submission of comments is 23rd April, 2008.
This notice also serves to invite members of the general public to a public hearing for the African Lion & Environmental Research Trust (ALERT) to be held on 12th April 2008 at David Livingstone Training College at 14:00hours.
Chama Mwansa Nyendwa
Communications Officer
Environmental Council of Zambia
P. O. Box 35131
LUSAKA
Phone (w): +260 211 254023
Mobile: +260 955 995426
Email: cmwansa@necz.org.zm
www.necz.org.zm
"We do not inherit the earth, we borrow it from our children" Chief Seatle
From Zambian Ornithological Society
The Birds of Zambia has finally been published! ZOS has copies for sale at K250 000 for members and K300 000 for non-members. These are available from Trish Bingham at Kachelo, on Leopard's Hill Road, Lusaka, or from Fil Hide at Moondogs Café in Mfuwe.
We also have new ZOS caps and hats for sale.
I have contacted ZOS and asked them to get some copies down to Livingstone for us to buy &endash; essential library material for all lodges and homes. Please let Bob know if you would like a copy brought down to Livingstone &endash; bob@zamnet.zm
From the Wildlife and Environmental Conservation Society
Notice for the Annual General Meeting
Please accept this as official notice that the Annual General Meeting for the Wildlife and Environmental Conservation Society (WECSZ) will be held on 31st May 2008 at the Intercontinental Hotel, Lusaka. The time for the meeting is set at 09:00hrs.
All nominations for Executive Committee (EXCO) positions must be submitted to the National Office no later than 3rd May 2008. Please use the attached form for nominations.
For any information, please contact:
National Office
P.O. Box 30255
Lusaka, Zambia
Telephone: 260-211-251630
Email: wecsz@zamnet.zm
From the Livingstone Museum E-news
History of the Livingstone Museum
How the Museum Began
The first notable effort to establish a museum in Livingstone was in 1930 when Mr Moffat Thomson, then Secretary of Native Affairs for Northern Rhodesia, convinced the colonial government of the necessity to collect the material culture of various ethnic groups, which was dying out. In March 1930, Sir James Maxwell, Governor of the territory, instructed all District Officers to collect suitable articles and purchase them. These collections were housed in Mr Thomson's office along Queen's Way (now Kuta Way), Livingstone, and formed the foundation of what was later to be known as the Museum.
In 1934 Sir Hubert Young, Governor, arranged for the collections to be displayed to the public in the old Magistrate's Court building (no longer existing, behind the present New Fairmount Hotel). He also decided to extend the collections into a memorial of David Livingstone and a collection of letters and other relics of the explorer and missionary were obtained through donations and loans from individuals. Consequently the new museum was named the "David Livingstone Memorial Museum". Mr A.W. Brew, the Curator of the Victoria Falls conservancy, was appointed Curator of the Museum on part-time basis. The collections were open to the public three days a week.
First Museum Building - Old Magistrate's Court (1934-1937)
In 1937 the Museum moved to the United Services Club building, which was more spacious and had fallen into disuse after the club moved to Lusaka. This building (no longer existing) was located next to Government House, between the present Kuta Way and the railway line, near the current Office of the President offices on Akapelwa Street. Within the same year the Rhodes-Livingstone Institute was started. The Museum was incorporated in the Institute and the collection was expanded to include the relics of Cecil Rhodes and the British South Africa Company. A single Board of Trustees administered both the Institute and the Museum and Mr W.V. Beresford was seconded as Secretary of the Institute and Museum Curator. The first full-time Curator, Dr Desmond Clark was appointed in 1938.
Second Museum Building &endash; United Services Club (1937 to 1951)
In 1945 the Museum was separated from the Institute as the "Rhodes-Livingstone Museum". In the same year fund-raising for a purpose-built Museum building started, spearheaded by Colonel Sir Ellis Robins. The building plans were done by Major W J Roberts in a Spanish Design. Work on the building started in 1949 and the building was completed in November 1950. This first part of the building constitutes the present Galleries of Archaeology, Ethnography, David Livingstone, History, and the Temporary Exhibition Gallery. The first exhibitions in the galleries were completed in 1951 when the Museum was opened to the public.
Official opening of the Museum, 1951, in the new, purpose-built building on Mosi-o-tunya Road
By 1958, the Museum building was found to be inadequate for the expanded operations of the Museum. There was need for workspace and storage rooms for the collections. Work on a Research Wing began in January 1960 and was completed by December the same year. It was officially opened in 1961. This part houses the storerooms, offices and workspace for Archaeology, Ethnography and History, as well as the library.
Just completed research wing, 1961
The name of the Museum changed from the Rhodes-Livingstone Museum to its present name of the Livingstone Museum in 1965.
Clare Mateke &endash; Keeper of Mammalogy
And some more African tourism news again taken from Gill Staden's 'The Livingstone Weekly' in Zambia (and for those who asked where exactly this is &endash; a major Zambian tourism town across the border from Zimbabwe, overlooking the world famous Victoria Falls of the Zambezi River). Contact Gill for more information at <livingstonian@zamnet.zm>
David Livingstone Safari Lodge
I suppose most of you are wondering when this hotel is due to open. Well, I expect it will be April. There have been delays because there have been alterations to the design ... to include a spa, as well as other things.
Now, Errol Tarr, the landscaper is busy moving soil all over the place to create an indigenous garden. The David Livingstone is within the National Park, like Sun International, and the planting is limited to indigenous species. It is going to be fun watching it all come together. Fortunately the site already has loads of trees. Now the bobcat (a small earth-mover) is busy moving the soil to create an interesting landscape ... and soon the planting will begin.
All this rain though, is causing a bit of havoc. The soil on the site is quite clay-ey. Yesterday, walking from the Waterfront to the site, I slipped into a hole of mud, covering shoes and trousers. And the gardens were unworkable. And this rain today will probably stop a lot of work tomorrow.
The Interior Designer, Belinda Jones, is busy plastering the walls with African artefacts, paintings and curiosities. I can't really comment on all this very much as it is not my forte, all I know is that she will do a fantastic job and that the final result will be amazing.
I have watched the David Livingstone grow from the start (I work for the project) and it has been a rocky ride, but so interesting. Now that it is all coming together, it all seems worth it. But, to be honest, I will be glad to see it finished and the first guests arrive ... then my job will be over ...
We have had lots of agents come to see the hotel as it has grown and all have been agog at the site and the architecture. Now that the interior designer and the landscaper are putting the final touches to the product, it is all coming together to make a first-class hotel ... so now ... over to the management team
Just to let everyone know that we have used as many local suppliers as possible:
Kubu Crafts have made the woodwork design pieces, like bar counters, reception counters, etc
Fallsway Timbers have worked tirelessly to make all the doors and room furniture;
Emmah's Wear is surrounded by cushions and curtains in her workshop waiting for the rooms to be ready;
James Hitchins, of JPA, has made all the pool tiles and copings;
The contract company is a Zambian company which used the skills of engineers and consultants from Zimbabwe who had worked on projects like the Victoria Falls Safari Lodge, Elepant Hills, Kingdom, etc. It was a priority of the project to use as much expertise from Zambia as possible. Several Zambian subcontractors were used. Of course, many of the subcontractors had learned their skills from the Sun International project - electrical, bricklaying, etc. So, it just goes to show how development takes place ... prior to the Sun hotel our artisans could not have managed such developments ... but, with experience, they can.
* * * * *
This leads us onto the new visa fees ...
It would be nice to think that Livingstone can experience a lot more hotel development to use the skills of our artisans, but it is unlikely with the present visa fee regime ... If any hotel company did a bit of research into hotel feasibility in Livingstone they would decide not to bother ... it is not economical.
While I am on the topic of the new visa fees ... it seems that the tour operators have given up trying to fight it. Why bother??? The Government is making a short-term killing in visa fees. The fact that the local economy is suffering and that the long-term effects are devastating is not worth worrying about ... live for today ...
One farmer asked me this week about the new visa fees ... he was devastated ... he had been planning an extension to his farm to cope with increased demand for his products ... forget it, I said, ... we are on the way down, there will be no increased demand ...the tourists will not pay those fees ...
And, so ... onto new development ...
And also, while I am on the topic of new hotel developments ... I have heard that the deal has been signed between Legacy Hotels and ZAWA. I don't know any details except that the development is split between the original ZAWA concession in the Mosi-O-Tunya National Park and an area in Mukuni District. I just hope that Legacy have done their research properly otherwise they could be stuck with a 'white elephant' ... and not the ones they want to use for elephant safaris.
Mabula Farm
Mabula Farm is about 40km north of Livingstone, on the Lusaka Road, … take a right … the farm is just a short distance off the road. Here, the owners have changed the face of a farm … from one of tobacco and dairy cows to game farm and eland domestication.
I was invited to go and have a look at the farm during the week. We were picked up by a bus at Falls Park. Unfortunately we were running African time and left 45 minutes late … but, what can you do … And then, as we weaved our way along the Lusaka road between potholes, the heavens opened and the rain poured. It took us about 45 minutes to get to the farm by which time the rains had faded and all became well with the world.
We were taken to the new boma which overlooks a waterhole and open woodland. The boma has a bar, restaurant and swimming pool &endash; all rustic-looking, but solid, and in good taste. After a welcome drink and some chat we helped ourselves to a buffet lunch. During the lunch we watched as an eland wandered down to the waterhole to drink, much to the delight of everyone. And then, surprisingly, another five eland joined it, with a couple of human herders bringing up the rear. This was our first sight of the domesticated eland. Eland, as you probably know, are large mammals. After lunch the bull eland, which we were told was only around three years old, decided to come and join us on the lawn in front of the boma, which was not the best idea. As he looked as if he was going to come into the restaurant it was decided that he should return to his lady-friends by the waterhole so he was enticed and cajoled back down towards his herd.
We were then taken to the eland pens. The eland are kept like domestic cattle in fenced areas where they are fed and looked after. The ones we had seen by the waterhole were the ones who had been completely domesticated and were happy to go out for a walk with their herders and return in late afternoon. In the fenced areas there were another 50 or so eland which are undergoing training. We were taken to a closed-in area (closed in by wire fence and covered in thatch). We climbed some stairs to a platform which stretched to the middle of the enclosure; the eland were allowed into the enclosure and the farmhands fed them with game pellets. What an extraordinary sight. There we were, high up on a platform, with the most graceful of antelope playing, eating and sparring below us.
This project is one of a kind in Zambia. Chris said that she learned what she could from a previous experiment of eland domestication project in Zimbabwe. She also said that they have domesticated eland in Russia … can't quite get my head around that, but apparently it is true. The great thing about eland is that they do not suffer from all these horrible diseases which seem to be besetting cattle in our region and are relatively trouble-free maintenance-wise. When she needs a vet, Chris can call Ian Parsons from Mazabuka, but much of the work she can do herself, sometimes with a telephone call to Ian.
Mabula Farm covers an area of 1,600 hectares &endash; bigger than our Mosi-O-Tunya Game Park. The whole area has been fenced and animals introduced. They have zebra, giraffe, waterbuck, wildebeest, tsessebe, kudu, impala, puku, reedbuck, duiker, grysbok, steenbok, klipspringer, bushpig, warthog, porcupine, jackal … There are no big cats, of course, so walking, horse riding, are practicable. During our visit we did not have time to go for a drive, walk or horse ride … but that is OK because it means that I need to go again … and this time with my camera which is still on holiday with my son, Muftau, in India.
Anyone can visit Mabula Farm. There is even a campsite if you want to stay overnight. But booking is essential and there is a charge for entrance. Contact them on 0977 866517, 327495 or email mabulagamefarm@zamtel.zm
Local Cowboy
Cliff Sitwala is known to us all as Local Cowboy. Cliff runs cycle tours in and around Livingstone. But, behind the scenes, Cliff has also managed to build and run a primary school. He does this through his own earnings and love of his community.
Recently, Cliff was rewarded for his caring by Celtel, which has given him 20 new bicycles and some furniture for the school.
Anyway, the point of this article is about Cliff's new venture ...
Do you want to cycle to get fit???
For all those of us who sit behind computers all day and need that bit of exercise, Cliff is offering to take us on a cycle ride at 6.30am from Falls Park to Sun Hotel ... it is only a few kilometres ...
I am thinking about it but although the spirit is willing the flesh is extremely weak ..
Also, Cliff wants to offer cycle rides to school children but he wants them to be sponsored. Companies who would like to sponsor a child need to pay K10,000.
All companies who would like to help Cliff with his enterprise, please contact him on 0978 171547 or email localcowboy1970@yahoo.com
The Zambia Success Story ...
by Jerry W. Bird
What an amazing country! We made so many lasting friendships during our month-long stay in Zambia, we've become lifetime ambassadors, eager to spread the good news at every opportunity. Example: Africa Travel Magazine's Zambia Congress edition, with Victoria Falls on the front cover, is getting prime circulation in North America, Africa and beyond. Continued

Zambia adds Zest to your Real Africa Safari. Who wouldn't be awed by their first sight of Mosi- O-Tunya, the smoke that thunders, or by the denizens we encountered up close on, eye to eye on our Lower Zambezi canoe safari. Zambia is a fabulous place to get around, thanks to its regional airlines and highways system This meant we covered much more territory than expected and saw more of the sights. The country's elevation allows for a more pleasant climate than one would expect in a tropical country - all the more reason to plan an encore.
Chaminuks, Zambia
Town office has moved to the following address:
Plot 3515 C, Great East Road, Rhodespark - Opposite Northmead Shopping Mall
Lusaka, Zambia
Our new telephone numbers are as follows:
Tel: +260 211 254140 or +260 211 254146
Fax: +260 211 254190
Our mobile numbers and email addresses remain the same.

Zambia's Proud History as an ATA member
Zambia hosted successful ATA events in 1981 and 1993 - however the Africa Travel Association's 28th International Congress in May, 2003 was the first "double-header," with Lusaka and Livingstone -Victoria Falls sharing the honors. There's something magical about any ATA event, and our Zambian friends added their own zest to the menu. We call it going for the gusto! For business, networking and professional presentation, the Trade Show at Lusaka's InterContinental Hotel was a sure winner. To catch some of the Congress action and attractions, see our magazine's 11 pages of photo archives plus our AWARDS page and comments by key participants and presenters.
To drum up advance interest in "The Real Africa," Zambia's National Tourist Office staged a USA Road Show, aided by ATA's Southern California, Atlanta, Washington and New York chapters. These venues helped ensure a large, enthusiastic attendance at the event's launch in Lusaka. At the Congress opening address, Zambia's President, Hon. Levy P. Mwanawsa (right) was upbeat about tourism's potential, echoed by the theme "Ethno Tourism: A key to sustainable development and job creation." In this positive vein, he stressed the importance of increasing tourist flow from North America to a wider range of African destinations. The President welcomed all ATA delegates at a sunset reception in the spacious gardens of Government House.

Photo (top): ATA delegates taking a time out to catch the spray at Victoria Falls. Above: President greets delegates. Left: H.E. Martin Brennan, U.S. Ambassador to Zambia; Ms. Mira Berman, Executive Director, ATA; Hon. Zakia Hamdani Meghji, Minister of Natural Resources and Tourism, Tanzania, and ATA President; H.E. Levy P. Mwanawasa, President, Republic of Zambia.
H.E. Martin Brennan, United States Ambassador to Zambia hosted ATA delegates at the beautiful embassy complex in Lusaka. He too expressed confidence that, if managed properly, tourism can be a catalyst to better infrastructure development and conservation. He believes that tourism should be seen as more than just an income generator, but as a tool for transforming the world into a global village. Brennan was pleased to announce that the U.S. government will provide $9 million for natural resource management in Kafue National Park and Zambezi-Chobe area, including a program for training Africans in tourist services allocation because it does not only consume but generates resources and wealth." His Co-Chair, H.E. Prof. Mwelwa C. Musambachime, Zambia's permanent representative to the United Nations tackled the timely topics as moderator for "Community-based Tourism as a Driving Force," which focused on cross-ministerial and intergovernmental measures for fostering sustainable development.

ATA President Accentuates the Positive
Why does Africa continue to attract business and tourism despite negative influences, empty rumors empty chit chat from the media's talking heads? "Hosting the congress in Zambia is testimony to Africa's stability in the face of current global conflicts and the (tourism) industry's weakened situation, " said ATA President, Hon. Zakia Hamdani Meghji, Minister of Tourism and Natural Resources for Tanzania. "We are all here because we are optimistic about the future of global travel, specifically to the continent of Africa. ATA member countries, representing most of Africa's major tourism destinations, are recognized by the more sophisticated traveler as among the world's most safe and stable countries to visit at this time," Meghji continued.
Photo : Hon. Meghji (above) with IIPT President Louis D'Amore. Below: Mira Berman, Hon. Patrick Kalifungwa, Hon. Zakia Meghji and Gaynelle Henderson-Bailey, 1st Vice President, ATA.
Continuing on a high note, ATA Executive Director Mira Berman of New York spoke of industry partnerships with the World Tourism Organization, United States Tour Operators Association, International Ecotourism Society, American Society of Travel Agents, Corporate Council for Africa, Association of Retail Travel Agents, RETOSA (Southern Africa) and SATH (Handicapped Travelers). Berman touched on key ATA projects, such as Bermuda's African Diaspora Heritage Trail, and Africa's Second IIPT-ATA Peace through Tourism Conference in early December, 2003.

Zambia's Partnership in ATA, SADC and RETOSA
With RETOSA playing an active role in promoting tourism from North America to Southern Africa's 14 nations, it is significant that the ATA Congress in Zambia set the stage for other key events. One of the most important venues of the year is the (SADC) Heads of State Summit in August. Africa Travel Magazine's SADC Summit edition features a 32-page Zambia Tourism insert featuring Congress highlights and photos. The Zambia supplement will be expanded in future issues as ATA strengthens its bonds with the tourism industry in Zambia, a staunch supporter since 1981.

Banking on Success
The Development Bank of Southern Africa (DBSA) hosted the inaugural dinner, where the bank's Executive Manager J.H. de Botha, stated, "The DBSA recognizes the essential contribution tourism can make towards economic and social development and the alleviation of poverty. Our services to the sector can be grouped into five categories ... finance, agency services, consultancies, technical assistance, information and knowledge, with projects spread throughout South Africa and the Southern Africa Development Community (SADC) countries. We remain committed to tourism infrastructure development in support of improving the quality of life for the people of Southern Africa." Photo: Mira Berman, Hon. Patrick Kalifungwa, Mr. J.H. de Botha and Hon. Zakia Hamdani M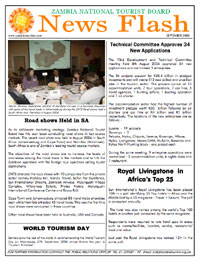 Road shows Held in South Africa
As its deliberate marketing strategy, Zambia National Tourist Board has this year been conducting road shows in key source markets. The recent road show was held in August 2006 in South Africa (Johannesburg and Cape Town) and Namibia (Windhoek). South Africa is one of Zambia's leading tourist source markets.
The objectives of the road shows are to increase the levels of awareness among the travel trade in the markets and to link the Zambian operators with the foreign tour operators selling tourist destinations.
ZNTB attended the road shows with 10 companies from the private sector namely Holiday Inn, Alendo Travel, Safari Par Excellence, Sun International
Dreams, Zambian Airways, Mulungushi Village Complex, Wilderness Safaris, Protea Hotels, Mulungushi International Conference Centre and Rovos Rail. Cape Town and Johannesburg attracted 88 travel trade attendees each while Namibia Other road shows have been held in Australia, USA and Canada.
Maramba Cultural Village in the tourist capital, Livingstone, is progressing well with phase 1 nearing completion. The cultural village which will consist of an art gallery, open air theatre, 9 model villages and a 200-people capacity conference facility is being funded through the Poverty Reduction Program (PRP). The village is located next to the Livingstone showgrounds. In an interview with the Provincial Cultural Officer Mr Vincent Kamwanya, he said that the construction of the cultural village began in March this year and phase 1 consisting of the open air theatre is expected to be completed in November 2006. The open air theatre consists of a dancing arena with a seating capacity of 450 people. The other facilities of the village will be completed under phase 2 & 3. Mr Kamwanya said Government policy is to have cultural infrastructure in all the provinces and so, this initiative is by the Ministry of Community Development and Social services through the Department of Culture (whose mandate is to promote culture and art) in compliance with the policy. It is envisaged that when the cultural village is fully operational, both local and foreign tourists will be privileged to sample Zambia's rich cultural heritage through art, music, dance and food.
The Japanese Market
Zambia National Tourist Board will be attending the JATA World Tourism Congress and Travel Fair to be held in Tokyo, Japan from 21st to 24th September 2006. JATA World Tourism Congress & Travel Fair comprises two separate but complementary events. The JATA WorldTourism Congress is a marketing conference while the Travel Fair features a dedicated day for exhibitors to meet one-on-one with the Japanese travel trade and consumers to showcase their travel offerings and appeal directly to potential Japanese travelers. of the Tumbuka people of Muyombwe District in Northern Province of the Nkoya people of Chief Mutondo Kanongesha. of the Bemba people of Chief Puta of Chiengi District. of the Bisa/Swaka/Lala people of Mkushi.
For more information please download the Newsflash pdf file
Previous Edition