"We have worked with IIPT founder Louis D'Amore during the formative years since he launched this exciting program in Vancouver, BC Canada, our home city. That's just one reason why we are so proud to support the Geneva Summit, which has such great historical significance." Jerry W. Bird, Editor and Publisher, Africa Travel Magazine and Air Highways.


Flashback to 2005:
3rd IIPT AFRICAN CONFERENCE ON PEACE THROUGH TOURISM, LUSAKA, ZAMBIA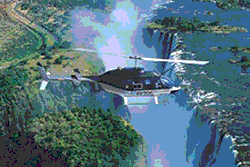 Organized by the International Institute for Peace through Tourism (IIPT). In partnership with the Africa Travel Association (ATA) and Hosted by the Zambian Ministry of Tourism, Environment and Natural Resources
Theme : "Tourism: Pathway to a Peaceful and Prosperous Africa"
Aim : To develop a 21st Century Vision for African Tourism
Goals : Provide a forum for leading government industry, donor agency and NGO decision makers, as well as leading educators and practitioners to debate and reach consensus on a 21st Century Vision for African Tourism"
* facilitate the development of strategic alliances to achieve that vision;
Demonstrate elements of that vision with "success States" and Models of "Best Practice" and
* Continue building a global awareness of Africa as a 21st Century destination
Patron: His Excellency Mr. Levy Patrick Mwanawasa SC, President, Republic of Zambia
Keynote Speakers: Dr. Kenneth David Kounda, Zambia's First President, will deliver the main keynote address. Other featured keynote speakers will be travel and tourism industry statesman and world leaders from other sectors such as environment, culture and sustainable economic development.
Confirmed Keynote speakers include Conference Host co-chairman, and President of the Africa Travel Association Hon. Patrick K. Kalifungwa MP. Minister of Tourism, Environment & Natural Resources, Republic of Zambia; Peter Davies, CEO SN Brussels Airways; David de Villers, Deputy Secretary General, World Tourism Organization: Sir Jayantl Chana, Board of Trustees,
International Rotary Foundation: DeVilliers Botha, Development Bank of Southern Africa; and Hon. Zakia Hamdani Meghji MP. Minister of Natural Resources and Tourism. United Republic of Tanzania, and immediate Past President, Africa Travel Association.
Forum of Ministers and CEOs Educators Forum Youth Leadership Forum
Participants: The Conference will bring together Ministers of Tourism, senior african executives from both the public and private sectors of tourism, NGOs, donor agencies, policy makers, leading educators and practitioners, entrepreneurs, future leaders of the industry, and senior representatives of related sectors including environment, culture, sport and economic development.
Foundations: The 3rd IIPT African Conference builds on the foundations of two previous African Conferences. "Community Tourism - Gateway to Poverty Reduction "Dar es Salaam, Tanzania December 2OO3 and "Building Bridges of Peace through Sustainable Community Tourism Development" Nelspruit, Mpumalanga Province, South Africa March 2OO2. As well two Global Summits on Peace through Tourism in Geneva, Switzerland (February 2003) and Amman Jordan November 200O
Sponsors: IIPT is proud to have the Zambian Minister of Tourism, Natural Resources and the Environment as host of the 3rd IIPT African Conference. The development Bank of Southern Africa and the InterContinental Hotels Groups are also continuing their support of IIPT as sponsors of this event. Other organizations interested in a sponsorship role are invited to contact Louis D'Amore of IIPT.
3rd IIPT African Conference on Peace through Tourism
Tel: 1.802.253.2658 Fax: 1.802.253.2645 Email: africa@IIPT.org http://www.IIPT.org
Special Message from Conference Co-Chairs
Hon. Patrick K. Kalifungwa MP. Minister of TOURISM,
Environment and Natural Resources, Republic of Zambia and President of the Africa Travel Association.
"Africa is one of the most promising tourism destinations due to its natural and cultural resources which to a large extent have remained unexploited. We must join to meet the challenges of the future and bring prosperity to our people through tourism.
Join us in Zambia, Home of Victoria Falls one of the seven natural wonders of the World.
Program: In addition to Plenary Sessions featuring kenynote speakers, the program will include a series of Concurrent Sessions with real life case studies of Success Stories and Models of Best Practice and Workshops in the following areas:
* Tourism Contribution to Poverty Reduction
* Community Tourism
* Indigenous Tourism
* Community Capacity Building
* Micro-Enterprise and SME Tourism Development
* Private Sector Models
* Tourism and Environments/Wildlife
* The Media: Reporting on the Success Stories
* National Parks and Protected Areas
* Healing the wounds of Conflict
* Philanthropic: Tourism
* Youth Travel and Empowerment
* Sports for Peace and Development
* Cultural tourism
* Education and Training
* Making Travel in Africa Accessible to People with Disabilities
Scholarship" IIPT will provide a US $ 500 Scholarship to he college or university student writing the best paper on "21st Century Vision for African Tourism"
* Tours: Pre and Post-Conference tours are being arranged. For more information, contact Enzio Rossi, ATA Zambia Chapter, Email: gardengroup@zamtel.zm and Zambia National Tourist Board, Email: znbinfo@coppernet.zm
Hotel: The five-star hold InterContinental Lusaka in Lusaka, Zambia is the official Conference Hotel and Venue, Rates per night for single occupancy are $100 and $ 112 for double occupancy. To reserve contact the Hotel Inter-Continental Lusaka directly. Tel. 260 1250000 /2506001250000g/250600, Fax: 260 1 251880, Email: lusaka@interconti.com
Official Airline: South African Airways is the Official Carrier of the 3rd IIPT African Conference. To reserve, contact your country's local SAA Office/Travel Agents.
The Zambia Success Story ...
by Jerry W. Bird
What an amazing country! We made so many lasting friendships during our month-long stay in Zambia, we've become lifetime ambassadors, eager to spread the good news at every opportunity. Example: Africa Travel Magazine's Zambia Congress edition, with Victoria Falls on the front cover, is getting prime circulation in North America, Africa and beyond. Continued

Zambia adds Zest to your Real Africa Safari. Who wouldn't be awed by their first sight of Mosi- O-Tunya, the smoke that thunders, or by the denizens we encountered up close on, eye to eye on our Lower Zambezi canoe safari. Zambia is a fabulous place to get around, thanks to its regional airlines and highways system This meant we covered much more territory than expected and saw more of the sights. The country's elevation allows for a more pleasant climate than one would expect in a tropical country - all the more reason to plan an encore.
Zambia's Proud History as an ATA member
Zambia hosted successful ATA events in 1981 and 1993 - however the Africa Travel Association's 28th International Congress in May, 2003 was the first "double-header," with Lusaka and Livingstone -Victoria Falls sharing the honors. There's something magical about any ATA event, and our Zambian friends added their own zest to the menu. We call it going for the gusto! For business, networking and professional presentation, the Trade Show at Lusaka's InterContinental Hotel was a sure winner. To catch some of the Congress