Arabian Travel Market,
Dubai , United Arab Emirates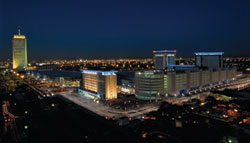 Join the industry's leading travel and tourism exhibition dedicated to unlocking the business potential within the Middle East and Pan Arab region. Uniting key market players from six continents, Arabian Travel Market is fours days of intensive meetings, seminars, press conferences and social networking opportunities.
Accommodation
To assist Arabian Travel Market delegates with their accommodation requirements whilst in Dubai, Net Tours, Arabian Travel Market's official groundhandler, has negotiated special rates at a range of hotels. Discounts are available to pre-registered delegates.
Flights
Emirates Airline, the official carrier for Arabian Travel Market, offer discounts on flights for registered visitors and exhibitors who have confirmed their participation at ATM 2007. To take advantage of these discounts you must book your flights through Travel Focus, ATM's official travel bureau, who are able to offer a variety of flight options.
WTTC Will Release New Economic Forecasts for The Middle East Travel and Tourism Sector
WTTC's annual forecast for 174 economies is eagerly awaited and viewed with particular interest by governments, leading economists and by sector specific analysts following the fortunes of Travel & Tourism businesses such as hotels, airlines, car hire and tour operators.
After recovering from several of the most difficult years in the industry's history, at the hands of war, terrorism, SARS and a significant economic downturn, the major question mark over the Travel & Tourism sector is how will far and fast will 2005 add to the 2004 global recovery. WTTC's forecasts will answer these questions and will also identify the prospects for Middle East and which Middle Eastern Travel & Tourism economies are best positioned for future growth.
Known as Tourism Satellite Accounting (TSA), WTTC's research covers 174 countries and over a dozen regions worldwide, focusing on several economic fundamentals, including Travel & Tourism demand, visitor exports, GDP contribution and employment.
TSA research quantifies all aspects of Travel & Tourism demand, from personal consumption to business purchases, capital investment, government spending and exports. This information is translated into economic concepts of production, such as gross domestic product (GDP) and employment, which can be compared with other industries and the economy as a whole to provide credible statistical information that will assist in policy and business decision-making.
The forecasts are prepared by Oxford Economic Forecasting following a methodology that is internationally endorsed by the United Nations.
During the seminar, in Ajman D at the Arabian Travel Market, Richard Miller, WTTC's Executive Vice President, will present the main numbers and will also identify significant economic trends. He will present headline data for the Middle East and will single out specific countries for comment.
The countries covered by WTTC's Middle East report are: Bahrain, Iran, Israel, Jordan, Kuwait, Lebanon, Oman, Qatar, Saudi Arabia, Syria and United Arab Emirates.
For further information and to reserve a place at the event, please call Olivia Ruggles-Brise on Tel. +44 (0) 20 7481 8007 or Email Olivia@wttc.org
About the World Travel & Tourism Council
WTTC is a membership organisation representing the leaders of the global Travel & Tourism industry. It is a forum for global business leaders comprising presidents, chairs and CEOs of around one hundred of the world's foremost companies. It is the only body representing the private sector in all parts of the Travel & Tourism industry worldwide.
WTTC's mission is to raise awareness of the full economic impact of Travel & Tourism, the world's largest generator of wealth and employment, which accounts for 200 million jobs and over 10 per cent of global GDP.
Governments are encouraged to unlock the industry's potential by adopting the Blueprint for New Tourism, WTTC's policy framework for sustainable tourism development. For background information on the WTTC, please go to www.wttc.org.