How Important is Emirates Airlines to Tourism
in Tanzania and East Africa?


COMMENTS BY HON. ZAKIA HAMDANI MEGHJI (MP) MINISTER FOR NATURAL RESOURCES AND TOURISM , REPUBLIC OF TANZANIA AT A GALA DINNER TO LAUNCH EMIRATES AIR DAILY FLIGHTS TO DAR ES SALAAM ON JUNE 25TH AT THE ROYAL PALM HOTEL
"It is indeed a great honour and privilege for me to be here this evening to officiate the launching of Emirates Air daily flights to Dar es Salaam. May I take this opportunity on behalf of the Ministry of Natural resources and Tourism in particular, and on behalf of the tourism fraternity in general to express our appreciation to the Management of Emirates Air, for this noble initiative. Development of tourism depends on development of almost every other sector of the economy. Its development can therefore be easily hampered by the weakness of another sector. Tourism as an activity connotes movement of an individual from one place to the other. You will therefore, no doubt agree with me the airline industry is essential for development of tourism in any country."

"For many years direct international air travel to Tanzania was cited as a major hindrance to smooth travel for inbound tourists. The scenario began changing rapidly with the introduction of daily flights by KLM in 2001, introduction of direct flights by British Airways in April 2003, and now daily flights by Emirates Air. This is tremendous achievement because Emirates was flying only four times a week to Tanzania. I strongly hope that other Airlines will take this as a challenge."
Further comments by the Minister
"I am told that Emirates Air was established in 1985 with only one aircraft serving 2 destinations. Currently they have 44 aircrafts serving 62 destinations. I understand Emirates flies to North and West Africa, Europe, Middle East, Far East including Japan and Australia just to mention a few. With the introduction of Boeing 777 daily flight into Tanzania, our country will therefore be easily accessed by African countries as well as countries outside Africa. Traveling within Africa has been a major bottleneck towards promotion of tourism among countries in Africa. To travel to West or North Africa an individual is subjected to travel first to Europe then fly back to the expected destination in West, North or Central Africa. I strongly believe that Emirates daily flights into DAR will further alleviate this problem. Doing so will also be a catalyst in promotion of intra-regional tourism and business as well as enhancing inter-regional understanding and harmony which are the major objectives of travel and tourism."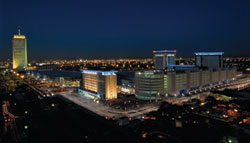 "My Ministry has embarked on serious promotion of Tanzania as a tourist destination and establishing new markets especially in the Middle and Far East. Emirates Air will therefore serve as a link between Tanzania and the new markets in those countries. The introduction of daily flights has indeed come at the most opportune moment. It is my sincere hope that you will also look into the possibility of flying to Kilimanjaro International Airport, (KIA), the gateway to the Northern Tourism Circuit."
"You will recall that Emirates Air emerged as the premier airline in Tanzania two years ago. May I take this opportunity though belatedly, to congratulate. Mr. Abbas, Manager for Tanzania for that achievement. I understand Emirates Air has a target of 100 acquiring new aircrafts by the year 2010. May I take this opportunity to wish you every success in your endeavors.
I will be failing in my duty if I do not recognize the noble role played by all airlines flying into our country. For a destination to be worth visiting, accessibility is paramount. We therefore count on your support in developing and promoting tourism in our country."
For further information, please contact:
*Mohammed Abdul Mannan, Executive, Media Relations
Email: mmannan@dubaitourism.ae
*Shilpi Pillai, Officer, Media Relations
Email: spillai@dubaitourism.ae
Dubai Department of Tourism and Commerce Marketing
P.O. Box 594, Dubai - United Arab Emirates
Tel: +9714 2230000 Fax: +9714 2230022
Web sites
http://www.dubaitourism.ae
http://www.uae-pages.com/tourism/entering-dubai.html