DUBAI HOTELS MAINTAIN VIBRANT GROWTH LEVELS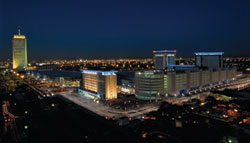 90 % OCCUPANCIES IN DECEMBER 2005 & JANUARY 2006
BEACH PROPERTIES POST 96 % OCCUPANCY IN DECEMBER 2005 - 8.2 % GROWTH OVER CORRESPONDING MONTH IN 2004
DUBAI HOTELS AVERAGE OCCUPANY DURING JANUARY 21-27 WAS 94.45 %
WORLD'S HIGHEST REVENUE PER AVAILABLE HOTEL ROOM (REVPAR)
Dubai's booming hospitality industry is maintaining its vibrant growth tempo with the emirate's ever-expanding portfolio of hotels and hotel apartments posting impressive room occupancies since December 2005 after closing the three quarters of the 2005 with the highest occupancy rate of 86 % and world's highest revenue per available hotel room (RevPar).
The Dubai Department of Tourism and Commerce Marketing (DTCM) data revealed that the average hotel room occupancy levels for the months of December 2005 was 91.5 %&endash; up from 85.1 % compared with the corresponding month in 2004.
The average beach hotels occupancy was 96 % for December 2005 as against 88 % in December 2004.
The DTCM Manager Media Relations, Mr. Eyad Ali Abdul Rahman, said: "These numbers confirm that Dubai continues its impressive growth trends well into the year 2006. The aggressive promotional and marketing agenda of the department has been helping the Dubai hospitality industry grow further and post impressive results. This is a huge achievement for both the leisure and business tourism segments and clearly reflects the success of public-private sectors partnership."
For the five-star hotels, the average occupancy level for December 2005 was 95 % as against 89 % recorded for the corresponding month in 2004.
In the four-star properties category, the December average room occupancy was 96 %&endash; up from 90 % posted for the same month in 2004.
Three-star hotels too maintained the robust growth through average occupancies 95 % in December 2005, significant increase compared with 88.5 % registered during the same period in 2004.
Dubai hotels and hotel apartments reported the highest occupancy rate in January-September 2005, competing and wresting the initiative from other reputed leisure and tourist destinations in the world.
Deloitte and Smith Travel Research have jointly put Dubai on top with an 86 per cent hotel occupancy rate followed by New York with 83 per cent and Singapore at 80 per cent.
Mr. Eyad said the hugely-inspiring performance by Dubai's hospitality industry reconfirms emirate's emergence as a year-round business and leisure destination for visitors from almost every part of the world.
Dubai hotels and hotel apartments have also been ranked the first in the world in terms of generating the highest revenue per available room (RevPar) between January and September 2005, followed by New York and Paris, according to Global Lodging Review, a publication of the Deloitte and Smith Travel Research.
The premium travel research publication highlighted that Dubai hotels' RevPAR (which provides a measure of the revenue generated by each available hotel room during the year) is the highest at US $ 175.47 while New York comes second with US $ 163.32 and Paris third with US $ 169.53.
Dubai's hotels have shown a 43 per cent increase in average hotel daily room rates between September 2004 and September 2005 (year-to-date statistics).
Dubai presently has 393 hotels and hotel apartments with a total room capacity of 35,396, an increase of six per cent from 2004.
*Mohammed Abdul Mannan, Executive, Media Relations
Email: mmannan@dubaitourism.ae
*Shilpi Pillai, Officer, Media Relations
Email: spillai@dubaitourism.ae
Dubai Department of Tourism and Commerce Marketing
P.O. Box 594, Dubai - United Arab Emirates
Tel: +9714 2230000 Fax: +9714 2230022
Web sites
http://www.dubaitourism.ae
http://www.uae-pages.com/tourism/entering-dubai.html
About Dubai
Dubai is the fastest growing Business Location in the GCC countries, and certainly in the United Arab Emirates. Dubai has world class communications, high speed Internet Access, a superb GSM Mobile Phone Network, International Hotels, 100% Foreign Ownership via the Jebli Ali Free Zone, excellent Conference and exhibition facilities, in fact Dubai has everything that you want for a GCC and Arabic base for your Middle East Business location.