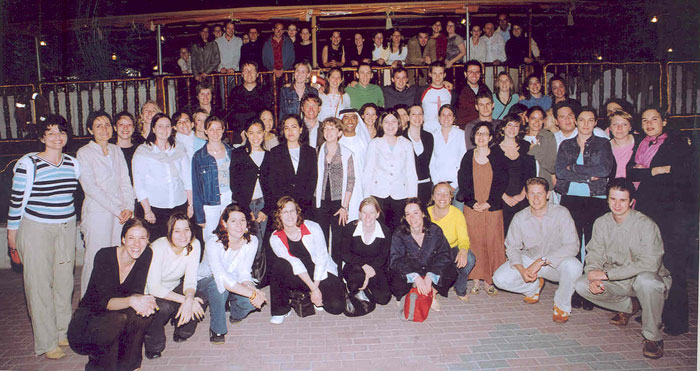 SWISS ACADEMIC TEAM CASE STUDIES DUBAI
68 STUDENTS AND SEVEN PROFESSORS FROM SWITZERLAND VISIT DUBAI ON A STUDY TRIP
Dubai is increasingly gaining popularity and being used for case studies by leading business schools from around the world.
Recently a group of 68 students and seven professors of the Höhere Fachschule für Tourismus Luzern - Lucerne School for Tourism Management, a section of the Lucerne Business School in Switzerland visited the emirate on a study trip.
The students, who are in their last year of studies, were on a study trip in Dubai for a week in order to complete their project report. The main target of the project was to improve their business skills, see Dubai as a successful booming tourism destination within the Middle East and to know how this destination got promoted outbound.
The group was hosted by the Dubai Department of Tourism & Commerce Marketing (DTCM) which provided meet and assist to the visiting group in addition to arranging a Dhow Cruise and dinner for them.
They were given a presentation on Dubai and briefed about the travel and tourism facilities by DTCM Director Dubai Convention Bureau Mr. Awadh Al Seghayer.
As part of their project report, the students were required to study the development of tourism in Dubai over the past 10 years, strengths and weaknesses of the destination and chances and risks/perspectives for the future.
In addition, they had to study about ecotourism in Dubai/ecological efforts made by Dubai's tourism industry and a close examination of the Dubai Tourism Board including their marketing strategies, main markets, target groups, service on the market and at the destination and chances and risks.
They also looked at future tourism projects in Dubai with regard to the expected costs and the realization within the next five years.
Dubai hotel establishments have seen an increasing number of visitors from Switzerland. There was an increase of 50.4 per cent in the number of guests from Switzerland in 2004 over the previous year.
The delegation was overly impressed with Dubai and the wonderful developments taking place besides what the emirate had to offer to the visitors from across the world.
FOR FURTHER INFORMATION, PLEASE CONTACT:
MOHAMMED ABDUL MANNAN
Executive, Media Relations
Tel: 223 00 00 Fax: 223 00 22
Email: mmannan@dubaitourism.ae
SHILPI PILLAI
Officer, Media Relations
Tel: 223 00 00 Fax: 223 00 22
Email: spillai@dubaitourism.ae