We're Google Search Leaders
#1 for Marketing Africa Tourism to USA
#1 for Marketing Africa Tourism to Canada
#1 for Marketing Africa Tourism to Asia

SOUTH AFRICA TARGETS GULF STATES FOR TOURISM PROMOTION, TRADE AND INVESTMENT
South Africa has identified the pivotal importance of the Gulf Cooperation Council (GCC) Countries in the realization of its economic growth as envisaged by the Accelerated and Shared Growth of South Africa (ASGISA). The ASGISA initiative focuses on South Africa's competitive edge in a number of key industries such as tourism, business process outsourcing, international call-centres, information and communication technology, agribusiness and synthetic fuels.This because the hitherto untapped economic prospects that these countries can offer (US$585bn) are above South Africa's other trading partners: China (US$52bn) and Japan (US$437bn) respectively, according to the US investment bank Merrill Lynch.
As a consequence of the May 2005 four-nation Gulf States visit by the Foreign Affairs Minister, Dr Nkosazana Zuma, which strengthened diplomatic relations, senior officials of the Department of Environment Affairs and Tourism (DEAT) seized the opportunity and in December 2005 hosted a series of tourism trade workshops in the United Arab Emirates, Dubai, Al Ain and Abu Dhabi.
These trade workshops created a demand for tourism trade and investment products, which has necessitated the undertaking of a return mission to the region. In this regard, a South African delegation will visit five states in the Gulf Region next month to promote the country's tourism, trade and investment prospects ahead of 2010.
The delegation will visit Kuwait, Qatar, Oman, Saudi Arabia and the United Arab Emirates from 13 to 23 February 2007.
Dubbed NEXT STOP SOUTH AFRICA campaign, the delegation will consist of senior officials from the departments of Environmental Affairs and Tourism, Trade and Industry and will be collaborating with the South African Foreign Missions in the respective territories, while Etihad Airways would sponsor certain aspects of travel and promotions. They will be accompanied by members of the International Marketing Council of South Africa (IMC), which will be its third trade mission following very successful missions to North America in 2004 and to Europe and the United Kingdom in 2005.
"We shall be visiting the GCC Countries with an open mind, being aware of their collective quests to lure as much trade and investment to their shores, balance of payments, labour and skills development demands" said Dr Patrick Matlou, Deputy Director-General for Tourism, who will be leading the delegation.
Furthermore, the delegation will hold one-on-one meetings and discussions with local business personalities, as well as host workshops on tourism, trade and investment opportunities in South Africa. These events would also be utilized to allay fears about the state of crime in the country and elaborate on succeeding strategies to combat such that are championed by government's security establishments.
This is a culmination of eight &endash; months' intense preparations by cooperating partners mentioned in this venture, including market intelligence.
Tyrone Seale, Head of the IMC delegation says the visit confirms the growing importance of the Gulf Region for South African business and investment and the strength of bilateral relations with key countries in the region.
On a global scale the Middle East is the sixth most important region for South African exports and it has grown by almost 20% in the last year. However, there is a massive negative trade balance between South Africa and the region caused by the import of crude oil and petroleum products.
As a result there is a huge potential for growth in trade outside the fuel sector. There are significant new opportunities opening up in the leisure and hospitality industries as well as in the construction and engineering sectors.
The 2010 Soccer World Cup will focus global attention on South Africa as a preferred destination for tourism, travel, trade and investment. It also heralds a more co-ordinated marketing effort by all those promoting tourism, investment and trade with South Africa abroad.
"We are confident that the NEXT STOP SOUTH AFRICA theme, which was developed by the IMC and used in Germany for South Africa's Campaign in Berlin with South African Tourism, the DTI, GCIS, 2010 LOC FIFA and the hosting cities during the unveiling of the 2010 logo ceremony would galvanise the Gulf market to the realisation that it would be ideal to cooperate rather than to compete in this global economy" said Patience Molokoza, project leader and Director, International Tourism Relations at DEAT.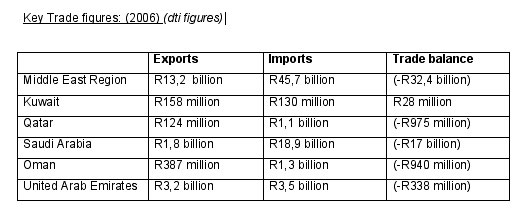 Issued by:
Edwin Sipho Rihlamvu
International Tourism Relations
DEPARTMENT OF ENVIRONMENTAL AFFAIRS AND TOURISM
SOUTH AFRICA
Tel: 27 (12) 310 3940
Fax: 27 (12) 322 5754
Mobile: 073 902 4504