DTCM RELEASED NEW EDITION OF DUBAI BUSINESS HANDBOOK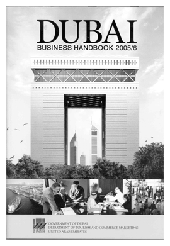 IT SERVES AS A GUIDE TO BUSINESSMEN AND HELP PROMOTE DUBAI AS A BUSINESS DESTINATION
The Dubai Department of Tourism and Commerce Marketing (DTCM), has released the new edition of the hugely-popular Dubai Business Handbook 2005-6.
A total of 20,000 copies have been printed which will be readily available to people looking at setting up businesses in Dubai. Copies of the new edition will also be distributed to all the DTCM Overseas Representative offices.
DTCM Manager Media & Advertising, Mr. Ahmed Al Tunaiji, said: "The Dubai Business Handbook is a very important guide for businessmen and it is aimed at promoting business to the emirate. It provides all the necessary information related to setting up business in Dubai and its free zones and includes information on rules and regulations for the same, key business contacts and a business directory."
"The Business Handbook is different from other such handbooks as it contains the latest updated information on the upcoming projects in Dubai in addition to giving an insight of Dubai's economy and trade and providing first-hand data on the rules and regulations governing the setting up of new businesses in the emirate," he added.
The new edition also has a handy official Dubai Business Directory and includes information on the economy, employment regulations, the MICE sector and life in Dubai in addition to details about the new business projects in Dubai including the Dubai International Financial Centre (DIFC), the Gold & Diamond Park and Dubai Metals & Commodities Centre.
FOR FURTHER INFORMATION, PLEASE CONTACT:
MOHAMMED ABDUL MANNAN
Executive, Media Relations
Department of Tourism and Commerce Marketing
Tel: 223 00 00 Fax: 223 00 22
Email: mmannan@dubaitourism.ae
SHILPI PILLAI
Officer, Media Relations
Department of Tourism and Commerce Marketing
Tel: 223 00 00 Fax: 223 00 22
Email: spillai@dubaitourism.ae