DUBAI: A MODEL DESTINATION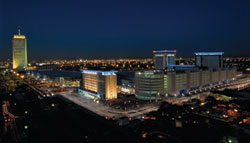 Backed by its innovative approach, commitment to quality and ambition to excel, Dubai has been defying the global trends, including the 9/11 developments.
In the past decade, Dubai has stunned the world with its mind-boggling growth and its ambitious developments.
The vision and ambitions of His Highness General Sheikh Mohammed bin Rashid Al Maktoum, Crown Prince of Dubai and UAE Minister of Defense, is guiding the emirate towards the path of progress.
Its aggressive expansion agenda is the fruit of an inspirational public-private sector partnership and government's unwavering determination to be a model business and leisure destination.
The fourth year of the New Millennium was special in more than one way for the emirate. 2004 will go down in the history of the enterprising emirate as the 'golden year' for its vibrant economy, especially the fast-expanding tourism industry.

For the first time in its history, Dubai played host to over five million hotel guests. No small achievement for a destination that practically started its global marketing in 1997 after the Dubai Department of Tourism and Commerce Marketing (DTCM) was established, replacing a promotion board that existed for nine years.
Like the legendary and beautiful Arabian horse, Dubai is galloping ahead on its competitive tracks with a grace that dazzles the world.
Careful planning and exemplary execution of multi-million projects - quite a few of them well ahead of their schedules &endash; have made Dubai a byword for success.
The DTCM Director General, Mr. Khalid A bin Sulayem, says: "Tourism has been shaping our economy and contributed enormously in giving new directions of growth and expansion for Dubai. We are working towards matching the expectations of the world that has posed immense confidence in us. We are aiming to move a few steps further with confidence and the world keeps looking at Dubai with admiration and amazement. We have crossed a major milestone in our long journey. As far as we could see, the future appears bright."
Unlike several other established and emerging destinations, Dubai posted spectacular growth in the year 2004 in almost all the economic spheres, especially tourism, civil aviation, cargo, trading, real estate and investments.
The performance speaks for itself and offers points to ponder as to where Dubai is heading in 2005 and beyond.
Dubai's Gross Domestic Product (GDP) registered 16.7 per cent growth touching AED 100 billion in 2004, as measured by current prices. Most of Dubai's economic sectors broke all the previous growth records.
The Department of Economic Development (DED) says the strong growth would continue throughout 2005 and projected to touch AED110 billion and achieve 10 per cent growth at current prices.
Dubai GDP grew AED98.1 billion in 2004, up from AED84.1 billion in 2003, AED62.3 billion in 2000 and AED41.2 billion for the year 1995.
The accumulated annual growth of Dubai's economy in the last decade comes to 10 per cent, the highest rate of growth in the world.
The factors that contributed to the phenomenal performance included government's unlimited support for the private sector coupled with dramatic increase in local spending, the constant growth of non-oil sectors and the sustained high oil prices.
The performance indicators also reflect the success of its economic diversification policy and the maturity and vitality of the economy to resist unforeseen circumstances faced by one or other sectors.
Although oil contribution to the GDP grew 10.9 per cent in 2004, the corresponding growth of 17 per cent in the contribution of non-oil sectors enabled Dubai's GDP to reduce its dependency on oil to 6 per cent in 2004 down from 7 per cent in 2003.
The contribution of non-oil sectors to the emirate's GDP has increased from AED 78.22 billion representing 93.4 per cent in 2003, to AED 91.5 billion representing 94.3 per cent in 2004. This is a significant increase when compared to AED 55.9 billion in 2000 and AED 34 billion in 1995.
The positive growth in 2004 was clearly reflected in the continuous inflow of foreign capital - a trend that s expected to be maintained with the prevailing lucrative return on investment in key sectors.
In addition, the aggressive initiatives by the government and large companies have helped local and international interest rates to stabilize at low levels, encouraging private investments and offering opportunities for a wide spectrum of segments.
Economic indicators showed a quantum leap in the construction sector for the third year in line, making it one of the key elements of growth besides trade, tourism and aviation.
The growth in cross sector relations has further vitalized these sectors with the increase in tourist numbers having a positive impact on trade and services, tourism and trade benefiting from the continuous growth in the services sector and the exceptional growth of the construction sector creating similar positive impact on trade, services and banking.
The construction sector achieved the highest growth rate among Dubai's GDP components for 2004, registering 29 per cent growth and lifting its contribution to AED11.1 billion up from AED 8.6 billion in 2003. When compared to the sector's contribution of AED5 billion in 2000 and AED3.4 billion in 1995, the figures offer a clear indication of the increasing number of quality real estate developments by public and private sectors.
The real estate sector itself achieved the second highest growth rate, with 22 per cent growth in returns, which increased to AED10.3 billion in 2004 compared to AED 8.4 billion in 2003. Comparative figures for 2000 and 1995 stand at AED 6 billion in and AED 4.3 billion, respectively.
The record 16.6 per cent growth rate in the industrial sector, with its contribution to the GDP increasing to AED 15 billion compared to AED 12.9 billion in the year 2003, make it the second largest individual contributor. The industrial sector's contribution to Dubai's GDP had been AED10 billion in 2000 and AED4.6 billion in 1995.
Telecommunications, transport, travel and freight sector succeeded in enhancing its lead position as the largest contributor to the emirate's GDP, growing by 19.3 per cent to AED16.24 billion in 2004 from AED13.6 billion in 2003. The Trade sector alone grew by 14.7 per cent from AED12.9 billion in 2003 to AED14.8 billion in 2004.
The contribution of the financial sector increased to AED9.8 billion in 2004 from AED8.6 billion in 2003, a growth rate of 13 per cent. In the tourism sector the hospitality and catering alone achieved 16.4 per cent growth in 2004 to AED4.4 billion from AED3.7 billion in 2003, while the governmental services sector contribution grew four per cent from AED7.2 billion to AED7.5 billion.
The year also recorded 20.2 per cent growth in passengers at the state-of-the-art Dubai International Airport. A total of 21.7 million passengers passed through the airport last year as compared to 18.06 in 2003.
Cargo movement registered 18.26% growth with total freight movement of 1,111,647 tonnes in 2004 as compared to 939,966 tonnes in 2003.Aircraft movement has also shown growth of 16.21% with 195,620 movements as compared to 168,511 movements in 2003.
The continuous growth at Dubai International Airport verifies the fact that Dubai is now the business and leisure destination of the region. Over the years, the Department of Civil Aviation has continuously stressed on maintaining a very high standard for all the services and facilities provided and this has paid off. Dubai has continuously attracted new airlines and can truly be regarded as a hub with 106 airlines and 160 destinations.
In 2005, the department expects around 25 million passengers using the airport. Bearing in mind the general growth of Dubai and specially Emirates airline, according to projections by 2010, the airport will witness passenger throughput of 60 million. Peak passenger movement was in the month of August with 2.05 million passengers.
Dubai Duty Free achieved record sales of $500 million (AED1.8 billion) in 2004 and the half billion dollar and the milestone represents a 32 increase over last year and underlines the operation's global status among the top three airport retailers in the world.
The operation witnessed significant growth across all categories with top categories such as gold increasing by 34 per cent while perfumes climbed to the number two spot with a 38 per cent increase in sales. Sales of electronics goods rose by 24 per cent, while cameras and accessories rose by 47per cent.
In the past twelve months, Dubai Duty Free sold over 41 million products and recorded close to 11 million transactions. The month of December was a record month while on December 20th, which marked the operation's 21st anniversary; daily sales reached a remarkable $3.1 million (AED11.3 million).
Dubai Ports Authority has reported 24% growth in its handling operations and set a cargo traffic record of 6.4 million containers for the year.
Dubai's port facilities rank the city as the world's 11th largest port operator. More than 100 shipping lines are served by DPA. Dubai's ports will expand their cargo-handling capacity further through an ongoing four-phase, AED4.6 billion expansion project.
The plan includes the construction of docking areas, new wharfs, container yards and extension and deepening of the present docks to be able to handle largest ships. The plan is to be implemented in four phases.
After completion, Dubai should be able to handle 21.8 million containers a year by 2020.
The Dubai Financial Market's (DFM) capitalization increased more than 100 percent in 2004 compared with the last year.
The DFM's market capitalization rose from $14.3 billion in 2003 to $28.6 billion this year. On the hand, trading volumes have also witnessed phenomenal growth in the last three years, rising from $267 million in 2001 to more than $9.6 billion.
Another indicator of increasing global confidence in Dubai is the mounting number of companies coming to the Dubai Media City, strengthening its position further as a regional media hub and one of the leading international media centers, a position that it has succeeded in attaining in four years since its launch.
Presently, the DMC hosts over 860 companies, including 80 television and radio stations, 140 magazines besides the Head Quarters for media production companies and over 12,000 professionals working in them.
There are no vacant offices at the moment. However, in 2005 there will be a space of 400,000 sq ft for being rented to companies who wish to join.
The construction work for the five towers is expected to be complete between July and December 2005. The waiting list includes more than 70 companies and with 25-30 companies joining DMC monthly on an average.
The Dubai Technology and Media Free Zone (TECOM) will witness huge expansions to include 8 million sq ft in the coming four years through the 30 towers which are to be built for offices and accommodation.
The expansion will also include International Media Production Zone (IMPZ) which adopted the same idea as DMC by creating the first dedicated trade zone created in the region for media-related production. The first production cluster in IMPZ will focus on the printing industry.
Against the backdrop of Dubai's phenomenal successes in different domains, especially tourism industry, and taking into account the ambitious projects that are taking shape or planned for completion by the end of this decade, the DTCM has set in motion the process for producing strategy plan for the 2005-2010 period.
For further information, please contact:
*Mohammed Abdul Mannan, Executive, Media Relations
Email: mmannan@dubaitourism.ae
*Shilpi Pillai, Officer, Media Relations
Email: spillai@dubaitourism.ae
Dubai Department of Tourism and Commerce Marketing
P.O. Box 594, Dubai - United Arab Emirates
Tel: +9714 2230000 Fax: +9714 2230022
Web sites
http://www.dubaitourism.ae
http://www.uae-pages.com/tourism/entering-dubai.html