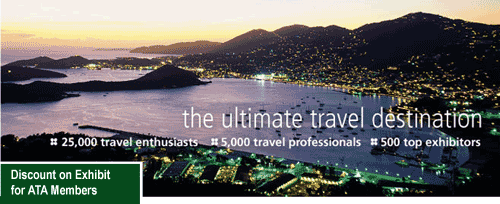 The 2007 New York Times Travel Show Announces February 23 Trade Day Events at Javits Center



New York Times Travel Show announced its trade day schedule for Friday, Feb. 23. The trade day includes a renowned Travel Industry Conference that offers seminars and workshops with some of the top leaders of the travel industry, as well as a preview of the travel show's nearly 500 show exhibitors. The entire trade day will focus on the evolving marketplace and new approaches to doing business. The New York Times Travel Show and travel trade day will be held at the Jacob K. Javits Convention Center in New York City.
"The New York Times Travel Show is the best way for industry professionals to be on top of business," said Alexis Buryk, senior vice president, advertising, The New York Times. "The trade day offers essential workshops on everything from the latest in Web marketing to tips from industry leaders on making your business more profitable. The Travel Show is just one more way that The Times shows its ongoing commitment to this important industry."
The trade day program is supported by leading travel industry organizations, including Cruise Lines International Association, The Travel Institute, Modern Agent, Pacific Asia Travel Association, Caribbean Tourism Organization, American Express/Travel Impressions and Society of American Travel Writers - Northeast Chapter.
Among the seminars featured at this year's Trade Day event will be:
• Home-Based Travel Agents: How the home-based agent market is evolving
• Selling Cruises: Finding a cruise for every customer
• Selling Luxury Travel: The keys to understanding the new luxury market
• Selling Stories: Finding new opportunities in travel writing
• Selling Tours: The evolution of the new tour product &endash; and how to sell it
• Special Interest Marketing
• Successful Web Marketing
• Travel Technology: The essential technology for travel agents
• The Ultimate Selling Workshop
More than 30 top travel executives will share their expertise at the conference, including:
• William Alverson, President & CEO, Joystar Travel Network
• Jeff Anderson, Vice President - Marketing, America's Vacation Center
• Bruce Beckham, Executive Director, Tourism Cares
• Bernie Blomquist, Manager - Training Development, Cruise Lines International Association
• Susie Ellis, President, Spa Finder
• Gary Fee, President, Outside Sales Support Network
• Jerre Fuqua, President, First Choice Expeditions/Travcoa
• Marc Kazlauskas, President, Insight Vacations
• Scott Koepf, General Manager, Nexion / Jurni
• Mark Murphy, President, Performance Media Group/Modern Agent
• Larry Pimentel, President, SeaDream Yacht Club
• Dennis Pinto, President, Micato Safaris
• Kate Rice, Technology Editor, Performance Media Group
• Lee Rosen, President, TRAMS
• Navin Sawhney, Senior Vice President - Sales & Marketing, Tauck World Discovery
• John Severini, President, Trafalgar Tours
• James Shillinglaw, Editor in Chief, Performance Media Group
• Stacy Small, President, Elite Travel by Stacy
To register for The 2007 New York Times Travel Show trade day, visit www.nytimes.com/travelshow . Registration is free through Jan. 12. Beginning Jan. 13, registration is $15. Seating is limited.
About The New York Times Company
The New York Times Company (NYSE: NYT), a leading media company with 2005 revenues of $3.4 billion, includes The New York Times, the International Herald Tribune, The Boston Globe, 15 other daily newspapers, nine network-affiliated television stations, two New York City radio stations and 35 Web sites, including NYTimes.com, Boston.com and About.com. The Company's core purpose is to enhance society by creating, collecting and distributing high-quality news, information and entertainment.
MEDIA Contacts:
Diane McNulty, 212-556-5244; E-mail: mcnuldc@nytimes.com
Pat Eisemann, 212-556-8719; E-mail: eisemp@nytimes.com
Brett Oberman, 212-764-7900; E-mail: brett@ksa-pr.com