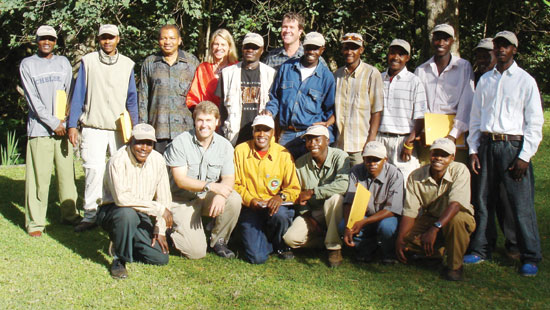 THE EXPLORERS CLUB INAUGURATES TANZANIA CHAPTER FIRST EVER IN AFRICA

Following the Queen of Sheba's Footsteps
Eleven North American journalists explore Ethiopia's Holy Route. Tour starts at historic Lalebela.




Angola's Riches - More Than Diamonds or Black Gold
By Jerry W. Bird. Download from Preview Section.
Africa at World's Biggest Eco Biz Show: Vancouver, BC, May 29-31, 2006

Photo Safaris and Ecotourism
Wildlife Photo Library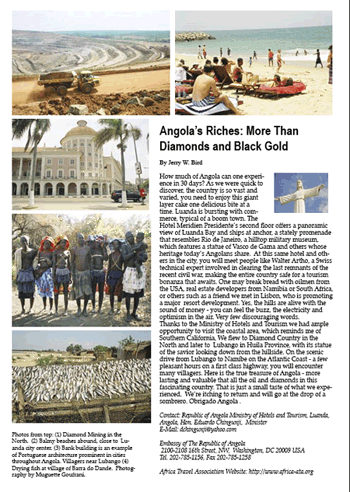 Malawi Tourism Marketing Consortium
Companies which have joined or rejoined the Malawi Tourism Marketing Consortium over the last few months. Represented by Geo Group & Associate


Magical Kenya Grand Tours and Safaris
No Hollywood movie could ever match the real thing. In the theater of my mind, the most vivid image I have of the legendary Masai Mara, was standing like a sentinel, gazing out over the endless grasslands, while our 4wd ambled slowly along the trail. Spotting many varieties of wildlife and birds was quite a challenge. One could easily notice the larger and taller creatures milling about - giraffes, buffalo and elephants. But from our vantage point to the far horizon, I could just imagine how many thousand other creatures were hidden from human view. These denizens of the Masai Mara could leap and bound out of the tall grass at any moment -- wild boars, hyenas, graceful gazelles, a flock of guinea hens - you name it. Lions and cheetahs are prevalent, plus zebra, wildebeest, water-bucks, eland and topic. CONTINUED

News from Uganda, Gifted by Nature,
By Prof. Wolfgang H. Thome MBA Ph.D.
Trekking Uganda's "Mountains of the Moon"
by Cam McLeay of Kampala

Ghana Hosts (ATA) 31st World Congress and Annual Convocation of African Tourism Ministers
Plus Marketing Conference and Trade Show, April 30-May 5. Africa Travel Magazine's World Congress Edition will appear early. Why? To double our attendance and facilitate Pre and Post Tours. ->- World Congress Details -> Downloads ->-Register Online ->-Join ATA ->-Advertise Now Pre & Post Tours: African Venture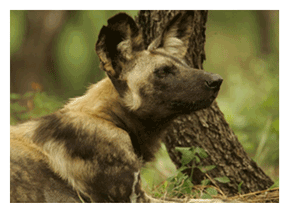 Wild Dogs - Thanda of South Africa Achieves Another First
RAILWAYS CONCESSION GOES TO SOUTH AFRICA
The long search for a concessionaire to run the railway systems in Uganda and Kenya is now over, with a South African led consortium beating India Railways, Magadi Soda and Maersk into second place. The concession will earn the two governments 1 Million Dollars per annum in fixed fees and an 11.1 percent revenue component over the next 25 years. It is understood that this is nearly twice as good an offer as their remaining competitor had put into the bid papers. Take over date is set for 01st April 2006. The two countries expect substantial investment in coming years into a rail track upgrade, rehabilitation of rolling stock and operational improvements to make railway traffic once again a feasible alternative to road transport. The new operator name will be 'Rift Valley Railways
MOMBASA PORT INTRODUCES NEW MASTERPLAN. A high powered delegation led by the KPA chairman Gen. (rtd) Joe Kibwana and the KPA CEO Mr. Brown Ondego recently met the Uganda business community at the Sheraton Kampala Hotel to introduce the new master plan layout for the development of East Africa's most important sea harbour. The tourism sector in particular was keen to learn about the new passenger terminal facilities, KPA proposes to put up, in order to attract more cruise line calls. Cruise tourism is high value business and the establishment of an Indian Ocean / East and South Africa cruise circuit is now high on the agenda of the tourism sectors in East Africa

East African Wild Life Society
Protecting endangered & threatened species & habitats.
Africa's Francophone Countries
by Muguette Goufrani

Heaven is a Hotel in Zanzibar
Emerson & Green's famous retreat in Stone Town.
Moevenpick Hotel Bur Dubai. New Alternative Location
for conferences and exhibitions

"Use Tourism in the War On Poverty"
World Tourism Organization urges Leaders
Historical Flashback.
From the Mountains of the Moon to the Rwenzori
Pioneers Awards at Adventure Travel World Summit
Seattle, Washington, October, 16-18
Partnerships Flourish Between Africa and Canada
Opportunities for African Tourism to exhibit in key cities.

New Travel Technology Partnership
Putman Travel Signs on With Worldspan

Mali Presents West Africa's Great Cultural Events
Eventful Weddings and Honeymoons in Africa
Berber Wedding at Imilchil; Champagne Safari Wedding; Honeymoon on a Train; Gorillas Witness Wedding in Uganda; Heaven is a Hotel in Zanzibar;.
--- GREAT EXPLORATIONS --

Ethiopian - USA Trade Missions
The Eternal Challenge of Kilimanjaro
Your link to a series of articles on Africa's most popular mountain on this web site.
Lesotho, Africa's Mountain Kingdom in the Sky
One of the few remaining monarchies in Africa and for the local Basotho, traditions are an integral part of their daily lives.
A Visit to the Ancient Town of Gedii, Kenya
A short drive from Mombassa, Gedi was founded in the late 13th or early 14th century
Africa Travel Explores the Great Historic Cities of Morocco
Following the ATA Symposium in Fez, we journeyed to Rabat, Casablanca, Marrakech, Essouira and Agadir.
Tourism for Tomorrow 2006 Awards
World Travel & Tourism Council issues call for entries

Timbuktu is Center of Mali's Unique Cultures
On the ancient cross Sahara caravan route.
Yearbook Features Grand Safaris in Magical Kenya
From Amboseli and the Lake Country to Masai Mara and Mombasa
East Africa Women Business Leaders Conference
Nairobi, October 13-14, 2005
Nigeria Presents Black History Month 2006
See the itinerary by Webisco Travel
Miracle Corners Songea Community Village
A great example of US and African youth in action in Tanzania.
Wonz Dar Adventure Team in Ethiopia
Exploring the White Nile's Wild Waters
Three Cheers for Governors Camp, Masai Mara
Photo of the three chefs epitomizes camp's hospitality
The African Diaspora Heritage Trail
Launched as a Self-Guided Tour in Bermuda

Volunteers for Africa in 2006.



Plan ahead for the ATA 31st World Congress in Accra, Ghana