News from Uganda, "Gifted by Nature"
By Prof. Dr. Wolfgang H. Thome
Second edition September 2007
SHERATON KAMPALA HOTEL CATERS FOR LONG TERM STAYS
The recently completed refurbishment of the hotel has created new facilities for long staying guests in their 'Park Square Suites' located on the third floor of the hotel. The one and two bedroom suites offer a kitchenette besides the standard sitting and dining room and feature the latest state of the art technology for guests, including free wireless high speed internet connections. Located in the heart of the city in a sprawling park, which provides a feeling of tranquillity to hotel residents, guests can walk to most of key government or private sector offices from the hotel within a few minutes.
Alternatively, for guests staying longer than just a few weeks, 20 apartments are available just across from the main hotel in the 'Golden Leaves Residences', which allows tenants full access to the hotel's much acclaimed sports and spa facilities.
The hotel has also acquired a new ISDN hunting line and can now be reached at +256 414 420000, although all existing numbers have also been maintained. Email sales.kampala@sheraton.com for more details and bookings or visit www.sheraton.com/kampala for a complete overview of the hotel's upgraded facilities.
'LE PETIT VILLAGE' OPENS AT QUALITY HILL ARCADE
The Belgian owned and operated Quality Hill Shopping Arcade near the American Embassy, along Gaba Road, has now added a small upmarket hotel to its operation, 'Le Petit Village'. Of the 12 self-contained suites 4 are also equipped with kitchen facilities for guests on longer stays or wanting to occasionally cook their own meal. The rather posh little hotel (the rooms are superbly designed and furnished) features a swimming pool and also offers free wireless internet facilities. Breakfast and other meals can be taken at the adjoining 'Le Chateaux' restaurant, arguably one of Kampala's best eateries, which is also located within the arcade compound, although room service is available on request.
The Quality Hill bakery and coffee shop 'La Patisserie' is in addition offering its renowned pastries for guests with a sweet tooth while Kampala's finest butchery 'Quality Cuts' offers a wide selection of imported European cheeses and authentic Belgian recipe cold cuts produced in Kampala. Also located within the arcade are a pharmacy, an indigenous Ugandan owned designer clothes boutique, a gallery and a range of other shops. Quality Hill is situated just outside the city centre, about half way from the city to the lakeside resort complex in Munyonyo. For more information visit www.lepetitvillage.net
AIRLINES CAUTIOUS OVER CHOGM IMPACT
Airlines operating to and from Uganda have expressed reservations over the projected publicity rewards and impact on revenues of the forthcoming Commonwealth Summit in November. In fact none of the airlines has taken up the offer by the CAA to brand aircraft or become a major sponsor for the event, as they all judged the cost of it to be too much to really pay off in their home markets. With participants coming from some 53 nations across the globe, no single carrier is in any case in a position to effectively cover all those routes. Seats to and from Uganda in November are said to be literally sold out anyway. Some airlines have given indication of extra flights but no details were available as yet. Uganda has no longer a national airline, after Uganda Airlines was closed down following a bodged privatization effort, making us the only country in the region without a national carrier. Private sector upstarts in Uganda have largely failed over the past 8 years due to lack of capital, the use of aged fuel guzzling aircraft and the intense competition in the region mainly by Kenya Airways.
OIL PRODUCTION TO COMMENCE EARLY
Following the discovery of sizeable quantities of oil in Uganda over the past year, Tullow Oil has now given the clearest indication yet of their proposed production schedule. The company is confident that the present exploration wells can be turned into production wells within a year. A crash investment programme is aimed to establish a mini refinery, build a thermal power plant and connect the area along Lake Albert to the national electricity transmission grid. The present estimated resource quantity is in the billion barrel region after 7 exploration wells were sunk, a figure expected to rise substantially once additional exploration in yet untouched areas of the concession will go forward. Existing exploration is undertaken by Heritage Oil and Tullow Oil, but additional exploration concessions are now being offered by the Uganda Government. Following the confirmed finds this has generated much additional interests by international oil companies, which had previously shunned Uganda as a potential oil producing country and left the initial risks to such companies as Heritage and Tullow, which now rightly benefit from the finds and their financial potential.
PARLIAMENT SYMPATHETIC TO TOURISM OVER BUDGET
Members of parliament have rapped the government's budget plans to load extra taxes on hotel accommodation. They referred to the national tourism policy of 2004, which specifically demands that VAT is removed from tourism products, including hotel accommodation. They also picked up a previous proposal made by the Uganda Tourism Association through the Private Sector Foundation's budget memorandum, to have tourism vehicles also exempted from duties and taxes in order to promote capacity building in particular for the safari sector. Other East African nations had in the past resorted to similar interventions but the Uganda government has been oblivious to the concerns and problems of the tourism subsectors. This particularly applies to the funding of the Uganda Tourist Board for generic marketing of the country but also in neglecting the tour and safari operators' challenges, when a fully outfitted vehicle can exceed US Dollars 75.000 in cost, much of it attributed to duties and taxes.
Uganda had dropped duties and taxes on imported building materials and outfitting components for hotels ahead of the Commonwealth Summit, to allow swift capacity increases and is now challenged to afford the same treatment to other sections of the tourism industry.
HEAVY RAINS CONTINUE TO POUND THE COUNTRY
Unseasonal heavy rains across parts of the country are causing problems for key traffic routes. In the Karamoja and Teso regions in the Northeast of the country bridges have been swept away and roads made impassable, hindering trade and impacting on people's travelling plans. The North of the country has been equally affected and the two main traffic arteries to the South Sudan's capital of Juba and other towns have now been closed too due to the pathetic state of the key roads. The corridor via Nimule has been officially shut down by the Ministry of Works and Transport to allow emergency repairs take place before reopening the route. The only alternate route via Arua, Koboko and Yei however is now also blocked with many heavy trucks stuck deep in muddy trenches, causing a supply problem for the entire South Sudan. A total of 12 key roads connecting some 22 districts in the Karamoja, Teso, Lango, Acholi and West Nile regions are affected by the flooding and the immediate forecasts predict no change in the weather patterns.
The current heavy rains also have a severe impact on road construction time tables, where major construction projects are getting delayed yet more. This includes the crucial road from Jinja to the Kenyan border, which has been under construction for several years now, and the Kampala Northern bypass, which is aimed to keep heavy traffic out of the city centre. Watch this space for emerging news.
TANZANIA GETS ANOTHER PRIVATE AIRLINE
Community Airline, a low cost carrier based in Dar es Salaam, is expected to commence operations by the end of September. Their fleet is said to comprise four B737, which will be operating domestic as well as regional flights at fares lower than presently charged by other airlines. Good luck and happy landings.
ROYAL PALM HOTEL DAR ES SALAAM IN MAJOR UPGRADE
The Kingdom Hotels owned Moevenpick brand has just announced the completion of a 4 Million US Dollar overhaul of their prime Dar es Salaam property 'Royal Palm Hotel'. All 230 rooms have been renovated and brought to the latest standards as were the public areas of the hotel. It shares the top level rating in the Tanzanian commercial capital with the Kempinski Hotel. The renovation also introduced an executive floor, where a dedicated lounge offers VIP guests private breakfast facilities, meeting spaces and a separate bar.
The hotel was on opening about a decade ago managed by Sheraton, before changing hands when the South African Legacy Group then renamed it as the 'Royal Palm Hotel'. After the Legacy Group withdrew from Tanzania the hotel was then taken over by Kingdom Hotels and is now operating under their Moevenpick brand. Kingdom Hotels are also present in Kenya, where they operate as Fairmont Hotels Kenya.
KENYA AIRWAYS INTRODUCES E-CHECK IN AT KEY AIRPORTS
The Kenyan national airline, rightly called 'The Pride of Africa', has broken yet again new grounds, when they introduced e-check in's at their key airports. Besides Nairobi's Jomo Kenyatta International Airport the facility now also exists at London Heathrow, Amsterdam, Paris CDG, Johannesburg's Oliver Tambo International (formerly Jan Smuts International) and Bangkok/Thailand. Passengers can via the Internet select their preferred seat, print their boarding pass and get the system ready for their physical appearance at the airport ahead of the flight, when they will pass the security check points and go for boarding. A dedicated luggage drop off has also been established, where such pre-checked passengers will then have their bags tagged and processed without having to queue up at the general check in counters.
Kenya Airways is way ahead of IATA's timetable for e-ticketing compliance and was one of the first airlines in Africa to achieve this goal. IATA has moved the final compliance deadline to mid 2008, as several airlines are still trying to make up for lost time due to complacency and technical difficulties. Participation in IATA's clearing house and bank settlement plan system will after mid 2008 only be possible for compliant members, as will other related member services.
More airports will be added by Kenya Airways to the system in due course to eventually cover the entire network with the new service.
PRIVATE LIBYAN AIRLINE TARGETS NAIROBI
Afriqiyah, the private Libyan airline which was launched in 2001, has announced plans to fly from Tripoli to Nairobi from early next year. The North African carrier has presently some 23 Airbus jets on order, including the redesigned Airbus A350 XWB. The announcement was made during the delivery ceremony of their first A320 single aisle jet last week in Tripoli at the airline's main base. Afriqiyah has for long operated a fleet of 6 leased planes and was only able to order the new jets after the long standing embargo on Libya was lifted. This had seriously restricted growth and network expansion, which is now at last being remedied.
GREED THE CAUSE FOR FUTURE TARIFF INCREASES
The Executive Director of the Kenya Wildlife Services has in the yet clearest terms outlined his intent to increase park entrance fees for Kenya's national parks and reserves by multiples compared to the present fee structure. His underlying motive was exposed, when he claimed the rest of Kenya's tourism industry was short changing KWS and his organisation was not getting enough of the revenue the industry brought to the country.
For a long time entrance fees were in the US Dollar 20 region but have now already reached, via an intermediate increase, a level of 40 US Dollars per person per day. Mr. Kipng'etich has admitted that his organization was looking at a level of 100 US Dollars by 2010 for entrance fees, citing the gorilla tracking permit fees in Rwanda and Uganda of 500 US Dollars, which is of course a ludicrous comparison in view of the precarious situation of the mountain gorillas. Their habitat is under severe strain across the border triangle between Uganda, Rwanda and Congo Dr and only about 800 are left in the world. Of those only a small fraction has been habituated for visits by tourists. It therefore seems like grasping at straws to create a desperate argument for the planned increases, which underlying motive seems plain and simple greed. Killing the goose which lays the golden eggs comes to mind.
SAROVA HOTELS REOPEN TAITA HILLS LODGE
As reported in this column earlier in the year, Sarova Hotels had then acquired the two former Hilton game lodges along the Voi &endash; Taveta road, which are located in a large private game sanctuary adjoining Tsavo East National Park. Salt Lick Lodge, built on stilts and overlooking a water hole, was reopened following renovations some time ago already, but the base lodge Taita Hills has now also re-opened its doors, following a 2.5 Million US Dollars overhaul of the facility. The two lodges were initially commissioned in the 1970's by Hilton Hotels but were put on sale following the declining fortunes of Kenya's tourism industry several years ago. Tourism in Kenya has since then of course fully recovered, although there are some concerns over the forthcoming general elections, which in the past have been somewhat violence prone, keeping tourists away from the country.
Sarova Hotels, an indigenous Kenyan four star hotel group with presence in Nairobi (including the famous Stanley Hotel), Mombasa and key national parks like the Masai Mara, Shaba / Samburu (location for 'Survivor Africa') and Nakuru now have yet more rooms and a wider product range to offer for their clientele. Well done!
CONGO VIRUS OUTBREAK CONFIRMED AS EBOLA
As reported in this column two weeks ago, a severe haemorrhagic fever outbreak is underway in the centre of the Congo DR. This has now been confirmed as the dreaded Ebola with reportedly over 200 deaths already recorded. Health facilities in the sprawling jungle country are generally rated very poorly and international organizations have once again been called upon to help fight and contain the outbreak. Uganda and other countries in the region with borders to the Eastern Congo have immediately established strictest containment measures along their borders to ensure no infected persons can cross and spread the disease.
In the meantime, the leader of Congo's regime was compelled by intense diplomatic pressure, including strong pressure from the US, to attend a summit in Arusha / Tanzania, where the host President Kibwete moderated talks between Congo and Uganda. Congolese troops and militias have in past weeks repeatedly inflicted border incidents on her neighbours and killed a number of people in Uganda, including a British oil exploration company executive.
Congo stands also long accused of intransigence over the wanton killing of her wildlife, where the last remaining Northern White Rhinos at Garamba National Park were wiped out after the Congo regime stubbornly refused to have the remaining dozen or so rhinos airlifted to safety to a Kenyan reserve about 2 years ago. The Congo regime then allowed the LRA terror group to take refuge and shelter in that national park from pursuing Ugandan and South Sudanese units. A group of habituated mountain gorillas were also killed in the Parc de Virunga and the ranger forces in that national park driven away. This latter act was especially seen as a direct threat to the Rwandan and Ugandan national parks along the common border, which sustain their respective tourism sectors, as border incursions occurred at the same time (see previous column reports).
Congo earlier in the year halted military action against the dreaded Hutu militias in Eastern Congo along the borders with Rwanda and Burundi, eventually causing General Nkunda to break away with his troops from the integrated Congolese army command and pursue the genocide killers of 1994 directly. This also caused friction with MONUC, the UN peace keeping force in Eastern Congo, who were equally said to have turned a fairly blind eye on the presence of hostile militias and other killer gangs on Congo's territory.
Hope has been expressed that the talks are a stepping stone towards a peaceful settlement, but taking the Congo's lawless record into account, and the relative wait and see attitude of MONUC, this still seems a long shot until such time, that Congo really engages the rebels, militias and terror groups on her territory and brings them to justice.

OL DONYO LENGAI ERUPTS
Minor volcanic eruptions occurred at the Tanzanian Ol Donyo Lengai mountain (about 3.450 metres above sea level), with ash and some lava emerging from cracks and craters. This follows a period of increased seismic activity which resulted in earthquakes across the East African region. Pastoralist Masai villages in the immediate neighbourhood were evacuated and tourist traffic warned off the vicinity of the affected area. It is hoped that this 'volcanic relief' will bring to an end the earthquakes experienced in the past weeks. The Masai herdspeople believe that Ol Donyo Lengai, which is located in North-Western Tanzania near Lake Natron, is the seat of their ancient Gods.
MARAUDING HERDSMEN DECIMATE PREDATORS
The continued presence of pastoralists and their herds in Queen Elizabeth National Park is now reported to have been the main cause of multiple poisoning deaths of lions, leopards and hyenas. The bulk of the pastoralists were in early 2006 evicted from the Parc de Virunga in Congo DR, which adjoins the Ugandan national park and moved across the border. Their action has dropped the numbers of predators, considered vital to wildlife based tourism, to critically low levels, threatening the survival of those species in one of the most important national parks in the country. Dr. Ludwig Siefert of Makerere University and closely associated with a monitoring project of big predators in the country, has estimated that about 80 percent of the hyenas and literally all leopards in a certain part of the park have been killed since early 2006, when the herdsmen started to invade the park and graze their cattle illegally. It is also estimated that the number of lions which some years ago numbered over 90 now stands at less than 40 and to restore their numbers could take two decades under the strictest of protection.
Government has long stood by indecisive over this issue, which is also a problem at Lake Mburo National Park, Kidepo National Park, Semliki Game Reserve and other 'protected areas'. Uganda Wildlife Authority has the mandate to deal with such issues but was several times stopped by political intervention and police orders, significantly reducing their ability to swiftly and comprehensively as and where they occur. Tourism bodies were also unusually mum over one of the biggest threats to their mainstream safari businesses and no public statements from Tourism Uganda, the Uganda Tourism Association nor the Uganda Tour Operators Association are available at this media organization's East Africa network. The Ministry of Tourism's past statements point to some obscure committee supposedly responsible to work out a solution, but none has come forth so far over many months in the face of deteriorating circumstances inside the park. If the situation is not immediately brought under control it is thought to have a serious impact on safari tourism in coming months, which in past years has been growing in leaps and bounds and is now a major economic factor in the country's economy. Specially ahead of the Commonwealth Summit in November this is now a matter of national importance to resolve or else risk to be perceived abroad on doing too little too late over wildlife conservation. Only recently did news emerge that bureaucrats had at the CITES conference applied and obtained permits to hunt leopards, again a grave matter in regard of conservation efforts (see respective past columns). In a related development, the cattle herds are also alleged to have brought the dreaded foot and mouth disease to the wild animals and having kept the herds in the park for so long has not helped to contain the disease. Monitor this space on further developments.
ELDORET GETS MORE AIR CONNECTIONS
This Western Kenyan town has now managed to get additional air connections with the capital city of Nairobi, when Jetlink and Fly540 both announced scheduled services to Eldoret. Fly 540 in fact lands in Eldoret en route to and from Kisumu, also providing an easy air connection between Eldoret and Kenya's lakeside city. Some time ago, when the airport runway of Kisumu was rehabilitated, flights were diverted to Eldoret as a relief measure. The airport had so far only connections through Aero Kenya and the upcoming competition is bound to reduce fares, while Aero Kenya has immediately added a third daily flight to their schedule, using a 19 seater aircraft.
Eldoret has an international sized airport which has been grossly underutilised in the past and was literally idle, when cargo operations were banned for some time to allow investigations into a major smuggling operation using the airport as a conduit to bring undutied goods into Kenya. Operations have however resumed and the airport receives a limited number of cargo flights. The airport is not too popular with air operators due to its elevation and short runway, which imposes severe range restrictions on cargo flights fully loaded with fresh produce for export.
MIGRATION TO THE MASAI MARA BEGINS
Reports have been received from Kenyan tour operators, that the annual migration of the wildebeest and zebras has now reached the Mara River and is set to cross into the Masai Mara. Every year from July till late October or early November the Kenyan part of the border transcending Serengeti ecosystem is grazing ground for up to 1.5 million migrating animals, before they return to Tanzania in search of fresh pasture and to reach their birthing grounds in the low grass plains between Serengeti and Ngorongoro. The annual migration, immortalised by Alan Root's film 'The Year of the Wildebeest', is one of the most thrilling wildlife viewing spectacles on earth. Park authorities in Kenya are expecting nearly 100.000 visitors to be drawn to the Masai Mara this year over the migration period.
SOUTH AFRICA TOURISM ROADSHOWS
The South African tourism trade held roadshows across East Africa during the past week. The workshops and exhibitions attracted a large number of travel agents to the Sheraton Kampala Hotel, where the South Africans met their Uganda counterparts. Dozens of travel agents and tour operators staff who turned up for the functions wanted to know more about available packages for visitors to South Africa and were not disappointed. SAA is now operating 4 flights per week between Entebbe and Johannesburg and South Africa has become a popular travel and shopping destination for Ugandans. Unlike in previous years, when the roadshow was limited to Nairobi, this year all three capital cities plus Zanzibar were visited, reflecting the growing importance of travel between the two African regions.
SPEKE RESORT REBUILDING TAKES SHAPE
The Speke Resort and Conference Centre on the shores of Lake Victoria, located about 10 miles outside the Kampala business district, is gradually coming together, now that the addition of rooms and facilities is taking shape. The Commonwealth Presidential Village, a separate accommodation unit of about 65 VIP apartments, which is being purpose built for the November CHOGM summit, is nearing completion of the external construction and civic works. An extensive poolscape is being developed where formerly the marina was located, which itself is being relocated nearer to the lake itself, due to the fallen water levels. The owners are also adding a separate gym and health club facility adjoining to the main entrance of the resort. Watch this space for more updates on Uganda's hospitality industry and all the new meeting and hotel facilities coming on line over the coming months, ahead of the Commonwealth Summit in November this year.
JINJA TURNS CENTENARIAN
100 years after being founded by traders and 50 years after being made a municipality by the British colonial administration, Jinja celebrates its centenary this week with pomp and glamour. The source of the mighty river Nile is located in Jinja at the former Rippon Falls, where Lake Victoria empties into the river and commences its long journey to the Mediterranean Sea. Many of East Africa's adventure tourism activities are located along the upper Nile valley, such as white water rafting, kayaking, quadbiking, cross country cycling, horseback safaris along the river shores and of course Uganda's only bungee jumping facility near the Jinja Nile Resort. The municipality has made a strong case to be turned into a city following its economic revival and value addition to the country's tourism industry and manufacturing sector. Uganda's national Hotel and Tourism Training Institute is also located in the municipality and attached to the Crested Crane Hotel. The Kingdom of Busoga, one of several ancient kingdoms across Uganda, is a leading cultural institutions and also presents itself as a key attraction for visitors to the Eastern part of Uganda, who want to explore the cultures and peoples of this East African nation besides coming for safaris and adventures.
---

EARTHQUAKES CONTINUE TO ROCK EAST AFRICA
Following a series of earth tremors in the Lake Albert border region between Congo DR and Uganda, new quakes struck in Northern Tanzania recently too, causing alarm amongst the public in Arusha. The rumbles were also felt as far as Nairobi/Kenya. Much of Eastern Africa is located across a seismologically very active zone, the Great Rift Valley, which is also home to some low activity volcanoes. Uganda too was experiencing additional tremors during the week, pointing to an unusually intense period of seismic activity in the rift valley region. The ongoing series of quakes, some in the 6+ range of the open ended Richter Scale, has sharply raised awareness levels of the inherent dangers of major earthquakes, which have long spared East Africa but caused devastation in other parts of the world.
AIR TANZANIA RELEASES RECOVERY DETAILS
Following the column item of last week on Air Tanzania's ongoing efforts to claw its way back into the East African skies, news can now be broken of the plan's details. The airline is to purchase 5 Airbus single aisle models worth over US Dollars 250 Million in a full fleet renewal programme, which will include disposal of their aged B 737's. Financing discussions are at an advanced stage to allow for a fast tracked delivery schedule. The airline is also in the process of identifying partners for code shared flights and additional joint venture activities. China Southern Airlines has reportedly expressed an interest to invest into the Tanzanian national airline and probably use this as a springboard to commence flights into East Africa and have ATC do the feeding and defeeding for them across the region.
The airline's previous failed partnership with South African Airways, which commenced in 2002 and ended in 2006, left the Tanzanian carrier with over 7 Million US Dollars in losses to make good for, so extra care will be taken in selection of financially capable and globally well reputed airlines, ruling out upstarts on fishing expeditions as well as bargain hunters.
MGAHINGA GORILLAS RETURN 'HOME'
A group of habituated mountain gorillas has returned from their long 'exile' across the border in Rwanda's Parc de Volcanoes. Many of the gorillas in that border transcending ecosystem, nestled in the triangle between Congo DR, Rwanda and Uganda, migrate across international borders. The main body of the habituated group is now back in Uganda while only some females reportedly still lingering on the Rwandan side of the park. This development allows Uganda Wildlife Authority to once again sell gorilla tracking permits for the Mgahinga and relieve some of the pressure on Bwindi, where the bulk of the gorilla tracking takes place. It will also benefit tourism into the Kisoro area of Uganda, which in itself is one of the most scenic parts of the country and holds many more attractions interesting for tourists visiting the country.
CHOGM PUBLICITY CAMPAIGN KICKS OFF
The preparations for the much awaited Commonwealth Summit in November this year have just gone into overdrive as the remaining months tick down the clock. The Entebbe &endash; Kampala corridor has visibly changed already for the better, the entire road is being resurfaced from the airport, city roundabouts are being converted into regular intersections with traffic lights and cleanliness of the city has started to improve. A wide spread publicity campaign was launched last week to remind the Ugandan public what the summit is all about and to get ready for it, while the international campaign will also help target tourist markets within the Commonwealth. It will be the largest event ever hosted in Kampala and is considered hugely important for the country's economy this year and future economic developments like investments and cooperation.
CAA TO DIVEST COLD STORAGE
One of the cold storage facilities at Entebbe International Airport, presently rented by Fresh Handling, will within the coming months be privatized. This was revealed by the Managing Director of the Ugandan CAA Mr. Ambrose Akandonda during a presentation to Fresh Handling Limited for attaining ISO 9001:2000 certification. CAA is in the process of establishing a cargo village, much of which will consist of new additional facilities over and above the existing buildings owned by DAS Handling and ENHAS, which will form the core of the new development.
HOTEL OWNERS BLASTED FOR LACK OF TRAINING EFFORTS
Strong criticism was once again levelled against the hotel owners lobby group over the lack of industrial training in particular of managerial staff. Interesting enough, the renewed critique was levelled against the owners by the Kenyan General Manager of a hotel owned by the Chairman of the owners grouping. The General Manager left no doubt that the management of the industry cannot and should not be left to non-Ugandans, as is presently the case with a large majority of the key hotels in the country. Few hotels have Ugandan top or even functional middle management for lack of such training and while the national Hotel and Tourism Training Institute and a number of public and private universities offer degree and diploma courses for the sector, graduates of Ugandan origin have found it difficult to secure suitable employment or enter (generally absent) hotel in-house management programmes. Sheraton Kampala Hotel is presently the leading hotel in employing Ugandans in middle and senior management positions and has been engaged in focussed staff development and training since they acquired the hotel in the late 80's.
BRUSSELS AIRLINES TO ADD FOURTH ENTEBBE FLIGHT
As already anticipated in this column some weeks ago, Brussels Airlines has now formally confirmed that they will add a 4th flight from Brussels to Entebbe, following the acquisition of another state of the art Airbus A 330-200. The extra flight will operate on Sundays from mid December onwards, when the peak of the traditional high season in East Africa gets underway. There is also continued speculation that Kigali / Rwanda may get another flight in the process, which would vastly improve the connectivity to Rwanda, the 'Land of a Thousand Hills'. This development finally matches the addition of a fourth flight by KLM a few weeks ago. However, British Airways is still considering their own options, having operated 3 flights per week between Heathrow and Entebbe for well near a decade now and being in danger of missing out on the fast growing traffic potential to Uganda. This may also have to do with the restrictive VISA regulations the UK imposes on visitors and transit passengers, making the UK less attractive for connecting traffic as compared to many of the mainland European airports.
HOTEL AFRICANA EXTENSION TO BE READY FOR CHOGM
The new bedroom wing next to the original Hotel Africana in Kampala will be ready by October, the owners have announced. Construction of the 112 rooms and suites has been largely concluded and what is left now is the interior finishing and furnishing of the new wing. The hotel is now in its 10th year of operation and last year also opened an extensive conference facility in its grounds. The new room extension will more than double the capacity of this popular meeting and conference venue in Kampala. It is strategically located at the lower end of the city's Centenary Park, which adjoins the Kampala Golf Club and offers quick access to the main business district and government offices. The hotel has won recognition as a key new investment in the hospitality sector last year through the Uganda Investment Authority' annual 'Investor of the Year' competition. Visit www.hotelafricana.com for more information.
MOMBASA RUNWAY LIGHTS FAIL
Embarrassment galore descended on the Kenya Airport Authority and Mombasa's Moi International Airport management, when upon the opening of a major ICAO supported aviation conference (19th Plenary Session of the Africa Aviation Commission) in Kenya the runway lights in Mombasa failed, causing cancellations of all flights after dark. The situation prevailed for three days before a flooded duct was identified as the cause of the fault. The separate back up circuit apparently also failed at the same time, leaving the runway in total darkness after nightfall. The failure caused major traffic disruptions for travellers to and from Mombasa, especially those connecting to evening departures out of Nairobi and compelled airlines to reschedule flights and operate larger aircraft to offer seats to prebooked passengers on the night flights. Many travellers had to sustain unplanned extra overnights when failing to secure flight bookings. A similar failure some months ago happened at Entebbe International Airport also, serving as sharp reminders to those responsible for the management of our aviation infrastructure to constantly ensure that facilities are well and properly maintained and kept in full operational status at all times. MERIDIANA AFRICA AIRLINES TIME FRAME COLLAPSES OVER STRATEGY ISSUES
The Aga Khan Fund for Economic Development underwritten airline has at the very last moment thrown a long prepared start up strategy into the bin, ditching the two contracted modern CRJ aircraft in favour of ageing MD 87 models, and in the process delaying the commencement of operations by probably as much as 5-6 months. The airline was to have taken to the skies by end of June. It was also learned that the start up will probably take place with one aircraft only, while a second equally ageing MD might be added several months later. Travel industry sources expressed disappointment and disapproval with the change of time frame and in particular with the introduction of an old uneconomic aircraft type, while other airlines, specially in Kenya, now see an opening to commence operations on some of the planned routes themselves. This particularly applies to the Nairobi Entebbe route, for which Fly540 has reportedly expressed an interest. Other Kenyan airlines have also apparently secured traffic rights into Entebbe already when learning of these news. Meanwhile both Air Tanzania and Precision Air can now take a commanding lead with their new upcoming flight schedules and their new aircraft on the route between Dar es Salaam / Kilimanjaro / Entebbe, leaving any eventual newcomer trailing in their wake.
It was also pointed out that there are now visible similarities with previous failed start ups in Uganda, which also used ageing aircraft. Those aviation oldtimers were then, as it is now, considered too large for a start up, too fuel guzzling and without the back up of the second aircraft the respective operations were prone to schedule collapses when their sole aircraft experienced a technical problem.
This development is also in stark contrast with regional aviation giant Kenya Airways, which is amongst the airlines with orders for the state of the art Boeing 787 Dreamliner. KQ is due for their first deliveries of the new planes in 2010. The new aircraft (9 on order) are said to cut fuel cost by up to 20 percent, helping the airline to maintain long term profitability. Kenya Airways arguably has the youngest fleet in the African skies, comprising largely Boeing aircraft, while two brand new Embraer 170 aircraft are being delivered this month to assist in taking care of the sharp traffic growth in domestic and regional traffic. Any aviation newcomer will therefore either have to match Kenya Airways' modern aircraft in order to successfully challenge KQ's regional supremacy or else accept to become just another upstart with old planes, and no amount of paint and retrofitting of cabins can dupe to public to believe otherwise.
Watch this space for the latest news.
SOFTPOWER EXTENDS SERVICES TO MURCHISONS AREA
Softpower, a UK originating local NGO hitherto active in the Jinja area around Bujagali Falls, has now spread its wings and began their first project outside Murchisons Falls National Park. Closely associated with Nile River Explorers, Uganda's leading rafting company, the NGO started several years ago supporting schools in the neighbourhood of Bujagali, and has since built, renovated, expanded and modernized over 20 schools. Last year they opened a community centre near the falls, where young people can learn skills like pottery and carpentry and have also established a community health centre with support of a US based medical doctor. Tourists initially started contributing funds but the idea gained momentum and many now come back to Jinja to volunteer some of their vacation time in helping build and work on new sites, besides financially supporting the noble project. Find out more about their tourism based community engagement by visiting their website at www.softpowereducation.com
EAGLE AIR LAUNCHES BEECH 1900
Uganda's largest privately owned passenger airline, Eagle Air, just launched their newly acquired Beech 1900 aircraft, which comes in addition to their 4 LET 410 airliners and other assorted light aircraft. Eagle serves the Ugandan domestic market with a comprehensive network across the country, but also flies to the South Sudan towns of Yei and Juba and destinations in Eastern Congo. They also carry out charter flights across the East, Central and Southern African region. Present at the launch were the Minister for Works and Transport, Hon. John Nasasira, Civil Aviation board members and management and members of the aviation fraternity. The new aircraft offers a pressurised cabin, has a higher cruising speed and attains higher cruising altitude compared with the LET 410's, making flights more comfortable for passengers. All the best to Eagle for a bright future and happy landings for the new craft.
KENYAN TOUR OPERATORS COMPLAIN ABOUT MAIN ROAD INTO UGANDA
A section of Kenyan tour operators, who are regularly sending visitors by road into Uganda, have complained about the state of the roads on both sides of the border. In Kenya a section of the road, heavily used by trucks ferrying cargo to Uganda and the African hinterland, has been giving problems with long traffic jams along a broken up section of the highway. The same has happened in Uganda, where the main road from Bugiri to Jinja has been under construction for several years. The initial contractor has been sacked over non performance but subsequently too little has happened towards completion of this crucial section of the key traffic artery. The road serves not only to supply Uganda but also Rwanda, Burundi, Eastern Congo and Southern Sudan, and brings in tourist traffic by road from Western Kenya. Few comments were available from the Ministry of Works and Communication by the time of going to press other than 'if only we had the funds' …
AIR TANZANIA AIMS AT FULL RECOVERY
The new board of directors and management, now in place for a few months, have vigorously embarked on a recovery programme for the Tanzanian national airline. It is understood, that while partnerships are not being ruled out, but at equitable terms unlike the failed alliances in the past, the airline is set to acquire new aircraft and will reclaim its status as 'the' Tanzanian airline. Both domestic as well as regional routes are likely to be restored soon, having left the field for too long to Kenya Airways' Tanzanian partner airline Precision Air. Entebbe is presently being served three times a week from Dar es Salaam via Kilimanjaro / Arusha but plans are afoot to restore daily flights. It was also learned that the planned daily flights on jet aircraft by Precision Air to Entebbe have been shelved for some more time in favour of continued ATR operations, which would avail a prime opportunity to Air Tanzania to re-establish itself as the main carrier between the two countries
MASS OVER CLASS?
A fresh debate has broken out in Tanzania to establish more lodges and tented camps inside the Serengeti National Park, which presently offers a fraction of the beds on offer in the Kenyan Masai Mara. However it is also acknowledged that the Masai Mara is substantially overpopulated with accommodation facilities and a development moratorium has been self-imposed there to study the adverse affects on the ecosystem caused by the environmental impact. The desire to tap into the rich tourist potential, most of whom would want to stay inside a national park rather than in a lodge outside the protected area, is clearly visible but maximum caution should of course be exercised to avoid the mistakes made elsewhere.
CCTV COMING FOR KAMPALA
Ahead of the Commonwealth Summit in November this year CCTV cameras will be installed at Entebbe International Airport, along the Entebbe &endash; Kampala main road and across the capital city's business district, key roads and intersections and selected routes to the main hotels and conference venues. However, the recently installed solar and wind powered street lighting along Entebbe road has already failed, leaving a crucial part of town without any lights at night. This caused energetic protests by Kampaleans against the inept city administration, which has failed city residents time and again.
MERIDIANA AFRICA AIRLINES TIME FRAME COLLAPSES OVER STRATEGY ISSUES
The Aga Khan Fund for Economic Development underwritten airline has at the very last moment thrown a long prepared start up strategy into the bin, ditching the two contracted modern CRJ aircraft in favour of ageing MD 87 models, and in the process delaying the commencement of operations by probably as much as 5-6 months. The airline was to have taken to the skies by end of June. It was also learned that the start up will probably take place with one aircraft only, while a second equally ageing MD might be added several months later. Travel industry sources expressed disappointment and disapproval with the change of time frame and in particular with the introduction of an old uneconomic aircraft type, while other airlines, specially in Kenya, now see an opening to commence operations on some of the planned routes themselves. This particularly applies to the Nairobi Entebbe route, for which Fly540 has reportedly expressed an interest. Other Kenyan airlines have also apparently secured traffic rights into Entebbe already when learning of these news. Meanwhile both Air Tanzania and Precision Air can now take a commanding lead with their new upcoming flight schedules and their new aircraft on the route between Dar es Salaam / Kilimanjaro / Entebbe, leaving any eventual newcomer trailing in their wake.
It was also pointed out that there are now visible similarities with previous failed start ups in Uganda, which also used ageing aircraft. Those aviation oldtimers were then, as it is now, considered too large for a start up, too fuel guzzling and without the back up of the second aircraft the respective operations were prone to schedule collapses when their sole aircraft experienced a technical problem.
This development is also in stark contrast with regional aviation giant Kenya Airways, which is amongst the airlines with orders for the state of the art Boeing 787 Dreamliner. KQ is due for their first deliveries of the new planes in 2010. The new aircraft (9 on order) are said to cut fuel cost by up to 20 percent, helping the airline to maintain long term profitability. Kenya Airways arguably has the youngest fleet in the African skies, comprising largely Boeing aircraft, while two brand new Embraer 170 aircraft are being delivered this month to assist in taking care of the sharp traffic growth in domestic and regional traffic. Any aviation newcomer will therefore either have to match Kenya Airways' modern aircraft in order to successfully challenge KQ's regional supremacy or else accept to become just another upstart with old planes, and no amount of paint and retrofitting of cabins can dupe to public to believe otherwise.
Watch this space for the latest news.
SOFTPOWER EXTENDS SERVICES TO MURCHISONS AREA
Softpower, a UK originating local NGO hitherto active in the Jinja area around Bujagali Falls, has now spread its wings and began their first project outside Murchisons Falls National Park. Closely associated with Nile River Explorers, Uganda's leading rafting company, the NGO started several years ago supporting schools in the neighbourhood of Bujagali, and has since built, renovated, expanded and modernized over 20 schools. Last year they opened a community centre near the falls, where young people can learn skills like pottery and carpentry and have also established a community health centre with support of a US based medical doctor. Tourists initially started contributing funds but the idea gained momentum and many now come back to Jinja to volunteer some of their vacation time in helping build and work on new sites, besides financially supporting the noble project. Find out more about their tourism based community engagement by visiting their website at www.softpowereducation.com
EAGLE AIR LAUNCHES BEECH 1900
Uganda's largest privately owned passenger airline, Eagle Air, just launched their newly acquired Beech 1900 aircraft, which comes in addition to their 4 LET 410 airliners and other assorted light aircraft. Eagle serves the Ugandan domestic market with a comprehensive network across the country, but also flies to the South Sudan towns of Yei and Juba and destinations in Eastern Congo. They also carry out charter flights across the East, Central and Southern African region. Present at the launch were the Minister for Works and Transport, Hon. John Nasasira, Civil Aviation board members and management and members of the aviation fraternity. The new aircraft offers a pressurised cabin, has a higher cruising speed and attains higher cruising altitude compared with the LET 410's, making flights more comfortable for passengers. All the best to Eagle for a bright future and happy landings for the new craft.
KENYAN TOUR OPERATORS COMPLAIN ABOUT MAIN ROAD INTO UGANDA
A section of Kenyan tour operators, who are regularly sending visitors by road into Uganda, have complained about the state of the roads on both sides of the border. In Kenya a section of the road, heavily used by trucks ferrying cargo to Uganda and the African hinterland, has been giving problems with long traffic jams along a broken up section of the highway. The same has happened in Uganda, where the main road from Bugiri to Jinja has been under construction for several years. The initial contractor has been sacked over non performance but subsequently too little has happened towards completion of this crucial section of the key traffic artery. The road serves not only to supply Uganda but also Rwanda, Burundi, Eastern Congo and Southern Sudan, and brings in tourist traffic by road from Western Kenya.
Few comments were available from the Ministry of Works and Communication by the time of going to press other than 'if only we had the funds' …
AIR TANZANIA AIMS AT FULL RECOVERY
The new board of directors and management, now in place for a few months, have vigorously embarked on a recovery programme for the Tanzanian national airline. It is understood, that while partnerships are not being ruled out, but at equitable terms unlike the failed alliances in the past, the airline is set to acquire new aircraft and will reclaim its status as 'the' Tanzanian airline. Both domestic as well as regional routes are likely to be restored soon, having left the field for too long to Kenya Airways' Tanzanian partner airline Precision Air. Entebbe is presently being served three times a week from Dar es Salaam via Kilimanjaro / Arusha but plans are afoot to restore daily flights. It was also learned that the planned daily flights on jet aircraft by Precision Air to Entebbe have been shelved for some more time in favour of continued ATR operations, which would avail a prime opportunity to Air Tanzania to re-establish itself as the main carrier between the two countries.
MASS OVER CLASS?
A fresh debate has broken out in Tanzania to establish more lodges and tented camps inside the Serengeti National Park, which presently offers a fraction of the beds on offer in the Kenyan Masai Mara. However it is also acknowledged that the Masai Mara is substantially overpopulated with accommodation facilities and a development moratorium has been self-imposed there to study the adverse affects on the ecosystem caused by the environmental impact. The desire to tap into the rich tourist potential, most of whom would want to stay inside a national park rather than in a lodge outside the protected area, is clearly visible but maximum caution should of course be exercised to avoid the mistakes made elsewhere.
CCTV COMING FOR KAMPALA
Ahead of the Commonwealth Summit in November this year CCTV cameras will be installed at Entebbe International Airport, along the Entebbe &endash; Kampala main road and across the capital city's business district, key roads and intersections and selected routes to the main hotels and conference venues. However, the recently installed solar and wind powered street lighting along Entebbe road has already failed, leaving a crucial part of town without any lights at night. This caused energetic protests by Kampaleans against the inept city administration, which has failed city residents time and again.
STOWAWAY FALLS OFF PLANE
Aviation security was once again breached when a young man managed to enter the restricted area and apparently hid in the wheel well of a departing cargo plane. Security is now searching for accomplices who must have helped the young man gain access to the airside, approach the plane and hide himself away. However, after the plane took off the young man fell to his death. It is a sign of desperate attempts to go abroad and earn money. Ugandans are estimated to send over 650 Million US Dollars home every year but many more seek economic fortunes abroad and are prepared to take just about any risk.
Only a few months ago, as reported in this column, a Somali man managed to beat security at their own game, entered the aircraft parking area and set fire to a UN plane's wheels before being chased down and arrested. Oooops.
NILE RIVER EXPLORERS OFFER FREE SHUTTLE
Jinja's premier rafting company on the upper Nile has once again broken new ground by offering a free shuttle service (bookings mandatory but free of cost) between Kampala and their Bujagali Falls river base. The transport leaves Kampala from three locations between 07.00 hrs and 07.45 hrs, reaching Jinja by about 09.00 hrs in the morning and returns every evening from the river site at 18.00 hrs. Pick up points are at the Backpackers, the Lugogo Shopping Mall / Game Megastore and the Red Chilli Hideaway. Contact rafting@starcom.co.ug for more details or for bookings of some of the most spectacular white water rafting and visit www.raftafrica.com or www.nileporch.com for more information.
JINJA NILE RESORT RENOVATIONS COMPLETE
Following a fire in 2004, which destroyed part of the main building at the time, the owners, Kenyan based Mada Hotels, spent over 4.5 Million US Dollars in reconstruction and installation of modern safety features. A recent tour of the renovated facility by tourism officials was also told that the resort hotel was ready for the November Commonwealth Summit and the extra visitors the country was expecting on that occasion. Jinja Nile Resort is generally considered the best conventional hotel facility in Jinja. However, a number of fine guest houses and bed and breakfast operations have in recent years emerged along the upper Nile valley and within the municipality. Jinja is also home of Uganda's national Hotel and Tourism Training Institute, located at the Crested Crane Hotel. The tourism fraternity in Jinja has adopted the name' East Africa's adventure capital' in view of the multitude of activities now offered for visitors, which range from the traditional white water rafting to float trips for families, kayaking, quad biking, cross country cycling, nature walks, bungee jumping, horseback safaris, fishing and of course bird watching along the lake and river shores.
KARUME GETS ANOTHER TERM OF OFFICE AS HOTEL CHAIR
Ms. Lucy Karume was just elected to another two year term as Chairperson of the Kenya Association of Hotelkeepers and Caterers. The meeting took place in Mombasa. Mr. Richard Kimenyi, General Manager of the Norfolk Hotel, was elected as Vice Chairperson. The gathering also heard from Mr. Philip Kisia, Managing Director of the Kenyatta International Conference Centre in Nairobi, about the growing potential of conference tourism, which in his estimate could yield up to 30 Billion Kenya Shillings if properly exploited and top out at as much as 100 Billion. Kenya hosted over 200 international conferences and meetings in 2006, which constitute an increase of almost 13 percent over the 2005 figures.
All East African countries have been promoting MICE business more aggressively in the recent past due to its earning potential and the exposure it gives to the respective countries and their tourism sectors.
In the same meeting NEMA came under sustained criticism for their uncoordinated direction vis-à-vis environmental protection. The agency stood accused of working in isolation and missing the bigger picture, while imposing prohibitive cost on the hotel industry.
HOTEL SCHOOL TO OFFER CHINESE COURSES
Proposals are at an advanced stage to add Chinese language classes to the existing German and French classes at Uganda's national Hotel and Tourism Training Institute. China and Uganda have an existing Memorandum of Understanding for tourism cooperation and Uganda is an approved destination, allowing Chinese citizens to visit. With Chinese economic cooperation at an all time high in many economic sectors, interest has also risen in holiday visits. However, the lack of language capacity has been a problem and the introduction of courses will in coming years help Ugandans to competently speak the language and look after Chinese visitors as guides and interpreters.
FUEL PRICES UP
As of July 01st the new increased fuel tax has kicked in and promptly raised prices for petrol and diesel by up to 200 Uganda Shillings and 150 Uganda Shillings respectively. The move follows the abandonment of the historical annual road licence fee, which was abolished due to collection problems, forgeries of certificates and enforcement difficulties. The cost rise may impact on quotations for road safaris and would be visitors are advised to check with their respective operators.
RIFT VALLEY RAILWAYS PAYS UP
Information has been received that RVR has commenced their scheduled quarterly payments to the government of Kenya and Uganda as a result of their obligations under the concession agreement, which allows the South African led company to operate the joint railways systems. The 25 year contract requires RVR to pay an 11 percent revenue based fee to government on a quarterly basis.
DAALLO SHOWS INTEREST IN ENTEBBE
The UAE and Djibouti based privately owned airline has expressed their desire to commence operations into and beyond Entebbe of both cargo and passenger services. In a recent meeting with H.E. President Yoweri Museveni the group discussed their interest in aviation and other potential investment areas in Uganda.
ISTITHMAR EYES AFRICAN AIRLINE INVESTMENT
The Dubai / UAE based investment firm has recently announced its intent to acquire a majority stake in a yet to be named African airline. The continent's aviation business has been thriving in recent years and safety initiatives like IATA's operational safety audits have further assisted in making aviation not only safer but also more interesting to global investors. Pretenders have always been sniffing around African airline to pick up bargains, but with governments now generally more wary and alert to non performers, the arrival of such serious investors, as Istithmar obviously are, can only spell positive for the aviation industry on the continent. Taking aviation in the Gulf area as an example (Emirates, Etihad, Qatar Airways, Oman Air to name a few), which is now offering the youngest fleets in the skies and the biggest backlog in state of the art aircraft orders, anyone now coming into Africa with ageing equipment and outdated management practises will be promptly exposed for what they are, less than serious 'partners' in developing Africa and best to be shown the door.
SOUTH AFRICAN ADDS MORE NAIROBI FLIGHTS
From beginning of July onwards SAA will add three morning flights from Johannesburg to Nairobi besides their daily afternoon departures, to cater for sharply risen demand on the route. The extra flights will operate on Wednesday, Friday and Saturday. South African Airways is presently undergoing restructuring which will see the company divided into several legally separate profit centres. Major staff redundancies are also expected, as the airline seeks a return to profitability. This will include the grounding of their six Boeing 747's, leaving a fleet of 32 Airbus models and 21 Boeing 737-800 in service.
NEW NILE TREATY PROVES ELUSIVE
In the latest round of meetings of the Nile tributary states in Entebbe / Uganda kept struggling to reach agreement on a final version of the Nile River Pact, which is to succeed the two Nile River Treaties of 1929 and 1959. Those treaties were imposed on the East African states by the British colonial administration on independence and have ever since been hotly disputed. Some countries openly denounced those treaties and vowed not to abide by them any longer, which finally brought Egypt and Sudan to the negotiating tables.
The Council of Ministers of the riparian states found it hard to reach agreement on certain wordings and interpretations of the new agreement, but also on the definition of the 'real' source of the River Nile. This issue was brought to the forefront by some foreign adventurers who in a self promoting journey tried to put the source of the Nile from Jinja to the spring location of another river beyond Lake Victoria and by doing so perpetrating a great misdeed towards the historically accepted 'Source of the Nile', where Lake Victoria empties into the river. The main beneficiaries of the old 1929/1959 treaty are also suspected to use this issue to further divide the East African nations and cloud the main issue, which is to ensure that sovereign rights over the waters of both tributary rivers and the respective lakes (mainly Victoria, Kyoga and Albert) are vested in and remain with the respective countries, first and foremost. Emerging from the Nile Basin Initiative, a new 'Nile Basin Commission' is to be formed in due course to continue dealing with contentious issues.

LAKE WATERS CONTINUE TO RISE
After the low lake levels of early last year, which caused substantial electricity generating capacity to be taken off line to stabilise the water level of Lake Victoria, water rises have now been recorded. Sufficient rain falls and water conservation measures have resulted in a 40 cm rise of water levels at the Jinja Owen Falls Dam over the past few months.
From a low of 10.41 metres the levels measured by January last year (2006) it reached 10.90 metres in January 2007 and now stand at 11.30 meters. Should the trend continue electricity production can once again be increased and the regular load shedding (blackouts) be decreased accordingly.
KABALE &endash; KISORO ROAD REHAB DELAYS
The promised starting date to reconstruct and tarmac this important road link between some of the most scenic parts of Uganda has passed and no sign of activity has been seen yet. The road will be funded with the help of African Development Bank support and construction was due to start in May this year. With almost two months passed beyond the starting date, disappointment and anger has started to ooze from the affected public. A statement was available from the Ministry of Works and Transport by the time of going to press, blaming lack of funds for acquisition of land for the project, adding that the contractors would 'soon get the first 30 KM of the road handed over' and 'construction would take about 36 months'.
The road is used for tourist traffic to the main gorilla national parks of Bwindi and Mgahinga, serves as road link to the borders of Rwanda and Congo DR and is a main market access road for produce from the region to the main consumer markets in the capital city Kampala.
MORE GUIDES GRADUATE
The Uganda Safari Guide Association, once again with support of the Uganda Sustainable Tourism Development Programme, has graduated yet more driver guides after a month long course in Queen Elizabeth National Park's education centre. The ongoing courses are aimed to introduce greater professionalism into the industry and also prepare the tourism fraternity for the forthcoming Commonwealth Summit in November this year. A final support measure by UGSTDP before the programme ends this weekend was the financing of yet another course commencing shortly, aimed at the cultural guide segment, to provide the specialist guides with more knowledge and skills. Uganda Safari Guide Association chairman Herbert Byaruhanga also pledged to continue with more training sessions and seeking funding from other sources to promote human resource development and allow young tourism course graduates carve out a market niche for themselves.
BUDGET TARGETS HOTEL SECTOR
The tax and duty free honeymoon for hoteliers will be over on July 01st, according to the budget presented to Parliament by Hon. Dr. Ezra Suruma, the Ugandan Minister of Finance. Tax and duty incentives granted to the hotel sector to stimulate the building of new hotels ahead of the much awaited Commonwealth Summit in November this year have indeed contributed to the construction of new hotels and the expansion and rehabilitation of existing properties. Now, that most of the building work is either finished or substantially advanced, the concessions are being withdrawn again. However, a transition period, to finish ongoing projects, has been granted until the end of the year to complete ongoing work.
ENVIRONMENT TOO BENEFITS FROM 2007/8 BUDGET
The new budget read to Parliament on 14th June also proposed the banning of plastic bags and all existing stocks have to be used, or subsequently re-exported or destroyed by the last quarter of the year. The introduction of the plastic bags and small factories to produce them locally in the early 90's was very controversial at the time and hotly disputed by environmentalists, but it nevertheless took government over 13 years to realise the accumulative destructive impact of the plastic bags on the environment and come around to banning it. Well done anyway, late as it is.
QUO VADIS TOURISM
The tourism industry, and specifically the tourist board's budget needs, was conspicuously omitted from the budget reading, unlike in previous years. Some sources, this correspondent spoke to on the occasion of the annual ICPAU (Institute of Certified Public Accountants of Uganda) Budget Breakfast and various other functions organized by leading audit and financial consultancy firms, attributed this development to a visible lack of sectoral lobbying on Private Sector Foundation level but also in direct interaction between the Uganda Tourism Association and government, as was successfully done over the past several years, when the tourism sector was at the very heart of pre-budget discussions with the Ministry of Finance. Hence, no tax or duty concessions were given for the importation of purpose built safari vehicles or other related equipment like boats, which is urgently needed to build up capacity matching the extra hotel rooms build over the past 24 months.
The new tourism bill with the built-in funding mechanism for the sector (tourism development fund levy) is not yet passed by parliament and the tourist board is expected to struggle over the next financial year to make ends meet and fulfil the expectations of the industry as to trade fair participation, publicity programmes and road shows. The EU funded Uganda Sustainable Tourism Development Programme (UGSTDP) is ending on 30th June and will then only finalise accounting and audits until end September. It has been a major contributor to Uganda's tourism promotion and marketing over the past 4 years and will be sorely missed, not just the funding but the sound advice and guidance for the sector of especially the Chief Technical Advisor Mr. Stanley Wilson and his helpful programme assistant Ann Teddy Awori.
In the meantime, the new budget has introduced a new hotel tax which local councils can levy on hotels in order to support their local budgets but no percentage figure has yet been set. Watch this space for the details once they become available.
EARTHQUAKE ROCKS REGION
A 5.9 (Richter scale) quake shook the Lake Albert border region between Uganda and Congo once again last Friday night at 21.49 hrs. Although several hundred kilometres away from the capital city, the minute long tremors were still felt substantially in Kampala, causing some objects in this correspondent's residence to fall off shelves. Shouts of anxious residents filled the night air until the earth calmed down again. The epicentre is suspected to be in the same area where some months ago a similar quake struck. The Great African Rift Valley, which also crosses Uganda, is a seismologically active area including active volcanoes near the Eastern Congolese town of Goma. No immediate damage reports were available.
PRECISION AIR ATTAINS IOSA CERTIFICATION
The privately owned Tanzanian airline, in which Kenya Airways holds a 49 percent stake, has just concluded the IATA operational safety audit after passing the final audit stages in April this year. The airline is the 9th on the African continent to meet the demanding standards on operational safety standards. All IATA airlines in Africa have to comply with the IATA directive to attain certification by the end of 2007 or risk loosing IATA membership status and interlining agreements with other certified carriers. This is further expected to make life more difficult for upstart airlines now wanting to enter the markets due to the increased cost involved in conducting the initial gap analysis and then going through the lengthy certification process but at the same time will also increase safety for passengers flying across Africa, where accident rates have stayed amongst the highest in the world.
Precision Air is due for an ambitious fleet and route expansion programme in coming months and has established itself as Tanzania's leading airline for domestic and regional flights.
RWANDAIR PRIVATISATION DECISION DUE BY END JUNE
Rwanda's national airline will decide by the end of the month which suitor they will welcome for investment into the carrier. Belgium's national carrier Brusselsairlines is the leading contender, having submitted a comprehensive business proposal to increase flight links (passengers and cargo) with Europe and also expand the regional routes. Brusselsairlines is already flying twice a week from Brussels to Kigali and a third flight per week could be on the drawing board if the two airlines come to sign an agreement. It is also understood that suitable aircraft, presently operated by Brusselsairlines in Europe, under the proposed deal could be placed in Rwanda to allow for fleet and route expansion, which is thought to also include Eastern Congo DR destinations.
Rwandair presently uses a wetleased B737-500 (from Air Malawi) for regional and continental flights and another wetleased Dash 8 for the shorter routes to Bujumbura, Entebbe and domestic services. Watch this space for emerging news.
EAST AFRICA EXPANDS TO 5
The just concluded Kampala Summit of the East African Community Heads of State has formally admitted Rwanda and Burundi into the organization after several months of preparations. Their full membership will be effective on 01st July this year. The total population of the EAC has now grown to just over 115 million people while the size of the enlarged EAC is now about 1.9 million square kilometres. The summit also dealt with other pending matters and matters arising in regard of further harmonization of laws and economic policies. Important for visitors is the new range of VISA fees for Uganda which has moved to the same levels as for Kenya and Tanzania. The cost is now US Dollars 50 per visit, up from previously US Dollars 30.
The common market for East Africa, with zero internal tariffs for trade amongst the member states, is to commence by 2010, with the present combined GDP standing at about 41 Billion US Dollars. A full political integration, with a separate legislature, judiciary and an elected Federation President is to be in place by 2013. Several protocols are now waiting to be operationalised, including the free movement of labour, which will effectively do away with the need for work permits for East African citizens. Also on the drawing board is a common currency unit, towards which the respective Central Banks are already working.
Community capital is Arusha, otherwise also known for its vicinity to Mount Kilimanjaro and Mount Meru and being the starting place for safaris to the famous national parks Ngorongoro and Serengeti.
ELEPHANTS GET REPRIEVE
The CITES Convention meeting in Holland has now resolved to allow a one off sale of documented ivory stocks for some Southern African nations, but kept the door closed to resuming general trade in elephant products for at least another 9 years. This decision is seen as a victory to the position of the East African nations, where poaching has always increased once even the remotest possibility was sensed by the market that trade may reopen. This is however in stark contrast to the Ugandan delegations application to allow trophy hunting for leopards up to 28 animals per year, which is perceived to be a low blow to conservation efforts. Investigations have been launched by the conservation fraternity to establish those responsible for this ill conceived action and expose them to the general public and the global conservation community.
UGANDA TOURISM ASSOCIATION GETS NEW BOARD
UTA, Uganda's tourism industry apex body, held an Annual General Meeting last week at the Hotel Equatoria in Kampala. Over 50 representatives from the 8 member associations representing the international airlines (BAR), the tour and safari operators (AUTO), the hotel sector (HCAU), the domestic and charter airlines (UAAO), tourism training institutions (UATTI), community tourism (UCOTA), the travel agents (TUGATA), the safari guide associations (USAGA) and also of the district tourism associations from across Uganda met to conduct annual business, discuss a new modern management structure and new organs for the organisation and elect a new board.
Proposals developed for UTA over the past two and a half years by Mr. Charles Abola, tourism consultant for the EU funded Uganda Sustainable Tourism Development Programme at the Ministry of Tourism, Trade and Industry were discussed and in the end approved by substantial majority votes, allowing the new Board to embark on the implementation of these plans. The EU programme, while winding up by mid 2007, has pledged to assist in the creation of a tourism industry secretariat operated by UTA and serving equitably the diverse interests of the UTA member associations.
Outgoing President Prof. Dr. Wolfgang H. Thome delivered his final report on the state of the tourism industry and presented a rosy picture of UTA's achievements over the past years but also of the renewed and respected standing of tourism in the economy as a leading foreign exchange earner and major job creator.
The newly elected President and immediate former Minister of State for Tourism, Hon. Jovino Akaki Ayumu paid tribute to the outgoing Board, having of course interacted with them for many years when serving in government, for having 'put tourism on the map again' and been ardent defenders of sectoral interests, 'diplomatic where necessary and not so diplomatic where required'.
Efforts to infiltrate one of the mouthpieces of the former Geotourism grouping in absentia to a Board position were also soundly defeated as it was immediately apparent that this would breach the UTA constitution. The obscure entity, which was promoted by a USAID project and has since the departure of their godfathers gone awol, was for some time aimed to dismantle and destroy the institutional structure and framework of the tourism private sector and replace it in the image of its clearly biased sponsors, but failed to make an impact on the national scene and folded, when the funds had dried up, leaving UTA as the undisputed industry body representing the broad cross section of the sector.
The unanimous and unopposed election as UTA President of the former Minister, who has since his retirement from politics a year ago joined the tourism private sector, was generally hailed as a mature measure of recognition by his peers that the office of President of UTA has over the years grown in significance and importance and required a person of undisputed standing. It had become obvious that the position needed a seasoned individual with excellent networking capacity, ability to reach out and unite and broad recognition within government circles and respect from the private sector, without controversy surrounding him. This was felt paramount to continue with the policy of constructive engagement between private and public sectors rather than potentially having an egocentric rabble-rouser aspiring for office in search of personal glory. Well-done Hon. Akaki and all the best in coming years.
DIESEL SHORTAGE BITES HARDER
Since last week's column prices for diesel have continued to rise to unprecedented levels in view of the ongoing shortage of the commodity. Blame has in particular been apportioned to the Kenya Revenue Authority demanding crippling terms to have fuel uplifted by tankers from the harbour in Mombasa, since the pipeline has not only reached its capacity limits but also broke down several times in recent weeks. Ugandan fuel companies claim that up to 6 Million Dollars of their money demanded by KRA as bonds, have not ever been refunded and refused to entertain any further bonds or charges. This view was backed by a delegation led by the Minister for Energy from Uganda to Kenya last week seeking relief for the transporters and intervening on government level to scrap any further bond payments. It is generally thought typical of the archaic tax authority in Kenya which never seems to be able to deal with such emergency situations and has in the past also inflicted similar damage on Rwandan, Burundian, South Sudanese and Eastern Congolese transporters and importers.
In the meantime many fuel stations in Western Kenya and across Uganda have ran out of diesel causing long lines of vehicles seeking a few litres from the stations with some little reserves. The thermal power plants presently operating in Uganda consume massive amounts of diesel and also had to cut power production overnight, when between midnight and 6 am large parts of the country are once again without lights.
The shortage is expected to ease a little over the weekend when the Ugandan fuel companies will be have been able to supply directly out of Mombasa, until the pipeline has been reopened and when special trains carrying the commodity will have reached the national fuel depots in Jinja. This however may also be impacted upon by the poor state of the main road between Kenya and Uganda where in the Timboroa area of Western Kenya the road is said to be in a pathetic state, causing extensive back log by trucks while on the Ugandan side the road in the Bugiri District is still under construction. Much of the damage to roads in the region is cause by heavily overloaded trucks, as traffic police seems unable to stop the practise inspite of the heavy cost inflicted on the regional economies by road repairs and reconstruction.
NOW BRUSSELS AIRLINES ALSO ADDS EXTRA FLIGHT TO EAST AFRICA
Brussels Airlines has for some time now been connecting the European capital city with Kigali (twice a week), Entebbe (thrice a week) and Nairobi in a triangular flight. A decision was now announced that a 6th flight to East Africa will start via Bujumbura / Burundi to Nairobi, bringing stops in the Kenyan capital city to a total of 6 per week.
HAPLESS AYA BROTHERS HALT 'HILTON' CONSTRUCTION
A dumbstruck looking Hamid Mohamed announced a few days ago that construction of the much fanfared hotel on Nakasero hill in Kampala was to be 'halted'. The project, dogged from the beginning by controversy and inconsistent statements, is now officially 'not going to be ready for the Commonwealth Summit' said one of the owners, now claiming 'it was never targeted for CHOGM'. Industry observers always disputed that a hotel of this size could be completed in Uganda in this timeframe but were always curtly told of by the brothers. This latest admission is of course in stark contrast to their earlier &endash; and obviously misleading &endash; statements that the hotel would be ready for the summit, one of the reasons they were given this prized property in the first place. Much controversy had arisen over displacing the Uganda Broadcasting Corporation from its age long location, causing in the process disruptions in transmissions and an outcry from the public over unjustified give away of public land. When taking possession of the land the full mouthed brothers attempted to teach the hotel sector in Uganda lessons, but with their background rooted in milling they obviously found out at their own &endash; and a national &endash; cost, that talk alone would not make them expert hoteliers overnight.
One of the infamous statements was, that for a 300-room hotel they would 'employ about 2.000 people whom we shall begin to train after 6 months'. This certainly novel approach to create a skilled workforce in the hospitality industry drew acid and sarcastic criticism from seasoned hotel operators' staff asked for comments at the time.
Public relations of the brothers were rocky from the start over their regular big statements and promises, only to be retracted one by one at a later stage. The Hilton Corporation has also never been willing to confirm or deny that they had indeed signed a contract to manage the hotel upon completion but Hilton is also known to be prudent enough to treat rudderless developers of this ilk with utmost caution.
The hotel construction has reportedly, after almost a year of dillydallying along, reached only second floor level, out of the proposed 22 floors.
Watch this space for more developments over this sad saga.
CAA TO INSTALL DCS SYSTEM AT ENTEBBE
ENHAS, Uganda's leading airport handling company, had some time ago proposed to equip the check-in area of Entebbe International Airport with an electronic check-in system to facilitate airlines not using their own fixed or mobile units. This however was denied at the time by the Civil Aviation Authority, which also manages the airport, in an apparent conflict of interest. After now almost 1 ? years it seems that finally CAA itself has now selected a service provider for this modernization and information given to this correspondent indicates that by October this year a generally compatible system will be installed. All airlines will then be compelled to use the system, and of course pay for it, irrespective of the investments individually undertaken for own, mostly mobile check in units, which will be required to interface with the CAA system.
In the meantime government has allowed CAA to borrow some Uganda Shillings 52 Billion or almost 30 Million US Dollars to renovate, expand and modernize the airport in Entebbe. This will include the creation of a domestic terminal, a dedicated Presidential / VVIP terminal, the introduction of airbridges and the eventual relocation of the cargo section to a new cargo village. Presently an extension to the arrival hall is being constructed, effectively doubling the arrival spaces and key works are expected to be ready for the Commonwealth Summit in November.
SUDAN AIRWAYS STRUGGLES AGAIN ON RETURN TO ENTEBBE
Full-mouthed statements by the Sudanese national airline to return to Entebbe after some time of absence with three flights from Khartoum via Juba have proved too much for the airline to put into action. Their flight loads are reportedly low and instead of 3 flights a week only one flight is presently operating with a very modest passenger load. Southern Sudanese travellers are said to loath the idea of travelling on an airline controlled by Khartoum and continue to fly on Royal Daisy Airlines, which offers 6 weekly flights from Entebbe to Juba and on to Malakal on Embraer 120 equipment, while Eagle Air operates several flights a week from Entebbe via Yei / South Sudan to Juba on LET 410 aircraft. Watch this space for news on aviation from Uganda and the region.
PRECISION AIR BUYS ADDITIONAL ATR
Tanzanian private carrier Precision Air has now announced the firm purchase order for a 7th ATR aircraft from the French manufacturer. This column reported some months ago a near 100 Million US Dollar deal the airline signed up for 3 each ATR 42 and ATR 72, cum spare parts package and training components, and the additional aircraft order reflects the growing demand for air travel across the region. Precision Air has over the past few years benefited from its association with Kenya Airways, which in 2003 acquired a 49 percent stake, but also from the decline of Air Tanzania, which industry observers now hold entirely against South African Airways' failed business plan and policies, when they managed the airline until the inevitable break-up of the joint venture last year. Precision serves a number of domestic destinations across Tanzania but also Zanzibar, Mombasa, Nairobi and Entebbe in the region and two new destinations in Mozambique and the island of Pemba. The remaining LET 410, currently deployed on the Mwanza &endash; Bukoba route is also due to be retired from the fleet shortly. Passengers carried on an annualised basis are expected to reach just under 400.000 for their recently ended financial year.
KENYA AIRWAYS TO INTRODUCE EMBRAER 170 AIRCRAFT
In their continued drive to not only remain Africa's premier airline but also to become a star performer on the more global scene, KQ has now announced the introduction into their fleet later in the year of 3 Embraer 170 regional jets. The airline some years ago expired the ageing A310 fleet to go entirely Boeing. Their jet fleet now includes 4 B777 and 6 B767 aircraft with several new additional orders, including the Dreamliner B 787 pending delivery in coming years. Kenya Airways has now, in the absence of Boeing being able to offer a smaller jet aircraft to supplement their B737 fleet, opted for the Brazilian manufacturer. It will be the first time that Embraer jet aircraft are being introduced into the East African skies and this column will of course break the news when the deliveries are about to take place.
LAW SUITS ARE PILING UP OVER MABIRA FOREST
Civil society organizations set the ball rolling with lawsuits brought against the government, when it became apparent that some portion of the forest was already given away without a change in use authorized by parliament and some 400 acres were already 'harvested', a nice but misleading phrase to describe the illegal and indiscriminate cutting of the forest. Several of these organizations individually and jointly took government to court, seeking permanent injunctions to prohibit government and any of its bodies to touch Mabira forest. The Kingdom of Buganda has now added its strength and voice by also filing a suit at the Constitutional Court over the ongoing saga. Its offer for land has not met with great favour by either government nor the sugar barons, who had the audacity to hold the nation at ransom and giving Uganda conditions under which they might consider dropping their demand to use the forest for expansion of their sugar estate. A general boycott call against their products, not only SCOUL sugar but also those of other companies under their umbrella, is expected to inflict a painful loss of revenue and erode their profits, which in the face of the Mehta's continued arrogance and intransigence as a corporate entity is now only fair game.
Government has also shown little appreciation over the local and global storm of outrage over plans to give a sugar company a quarter, i.e. 7.200 hectares of prime and intact rain forest. Donors have now also added their voices to the controversy and if the intransigence of government persists may well begin to cut development funds.
As the global debate on climate change gathers momentum and countries are seeking ways and means to replant forests and add to the global capacity to absorb the dangerous greenhouse gasses, Uganda seems to be oblivious to the fact that cutting forests at this rate will make it an environmental pariah and outcast, while still having all opportunity to become a model of global best practise and cash in on this.
The ice caps of the famous Mountains of the Moon (Rwenzori Mountains) have since the middle of last century shrunk already by nearly half while the icecap on Mt. Kilimanjaro is also shrinking at an alarming rate (see previous reports in this column or through topical articles on this problem). This will have a severe impact on the neighbouring communities who depend on the water for agriculture, domestic and industrial purposes and also to support a thriving flower export industry. Much of Mombasa's and the Kenyan coast' water for instance comes from springs fed by waters from Mt. Kilimanjaro and are piped from Tsavo West National Park to Kenya's second city. Already by 2020 is a direct impact expected to force a substantial re-evaluation of life in Eastern Africa and be middle of this century the ongoing climate change can cause catastrophic environmental changes including an increase in malaria and similar tropical diseases and prolonged draughts alternated by massive floodings. The expected affected economic areas and sectors are the cattle industry, coffee, tea, agriculture, horticulture but also the fishing industry, all of which presently contribute major percentages to the regions diverse economies.
The German Minister for Environment has last week accused China and the US of 'scientific vandalism' over these countries' attempts to exclude certain statements, conclusions and predictions from the UN Climate Report, which is now being discussed, and global sentiment in fact supports this acid statement. Every country is now called upon to do what is can in it's own context and not deliberately worsening the situation any further. Watch this column as the Mabira debate rages on or send your comments to the leading newspapers in Uganda as follows: www.monitor.co.ug and also www.newvision.co.ug or write to letters@newvision.co.ug and letters@monitor.co.ug, On their web pages you will also find blogs and discussion boards, where you can file your own opinions and contribute to the ongoing discussions and debates.
Authorities in Kampala have in the meantime approved a planned peaceful demonstration against the Mabira forest give away and a massive turnout is expected for the event. The arrogant behaviour of the Mehta's has now also resulted in Parliamentary Committees scrutinizing their general business practices and it was in the process discovered that the company has for the past 26 years claimed NOT to make any profits. With government apparently still owning some 51 percent of the shares under a 1980 agreement, the Auditor General has now been instructed by Parliament to conduct an immediate full audit to establish the true financial picture of the company. This development is now thought to have been triggered by the Mehta's top management's total lack of sensitivity to public outcries over their effort to grab a major share of Uganda's prime rain forest, making it arguably a biggest corporate PR meltdown in Uganda over the past few decades.
CHOGM MISSION REVIEWS PROGRESS
A senior team from the Commonwealth Secretariat has been in Kampala to assess the state of preparation ahead of the Summit in November this year, now only about half a year away. It is understood that concern was expressed over several venue hotels still being under construction and no completion dates in sight for some of them, while appreciating the fact that the Sheraton Kampala Hotel was on track to complete the ongoing renovations of the remaining older rooms. Special concerns was expressed over the state of readiness of the proposed Imperial Royale Hotel which in the past made headlines for allegedly violating city council building regulations and bylaws and which, within sight from the office of this correspondent, still shows little evidence of being ready as promised by the owners in August this year. Kampala is expected to have about 4.000 rated hotel rooms available for the summit.
Also reviewed were the preparations at the international airport in Entebbe, where an extension to the terminal is presently causing diversions of arriving passengers through a temporary facility. Road and other infrastructural improvements were also on the agenda as were logistical preparations for the biggest summit modern Uganda has ever hosted in its history, besides an OAU Summit in the 70's, which was however severely clouded by the dictatorship of the late Idi Amin.
FUEL CRISIS HITS HARD
The present fuel shortages have started to bite the entire country over the Easter period, as the lack of sufficient diesel has forced the thermal power plants to reduce production, causing nightly shut downs of power for large parts of the country. Also affected were holiday travellers, who traditionally flock to upcountry locations for the long Easter weekend, as many fuel stations were out of diesel and petrol. Entebbe International Airport too issued an AIP to non-scheduled airlines landing in Entebbe to carry sufficient fuel to leave for their final destination or at least a waypoint for refuelling en route.
The shortages are caused by a variety of factors, amongst them the bad state of the main road between Kenya and Uganda (construction of which has been delayed for many months), but also breakdowns and shutdowns of the pipeline from Mombasa to the terminal in Eldoret / Kenya. The situation is further aggravated by regulatory measures insisted on by Kenya's tax body over transit and export fuels from Kenya, something which is definitely not appreciated by Ugandans in times of such severe shortages. Yet, tax authorities in this region are recognized to be stubborn, often out of touch with reality and obstinate to the extreme when swift corrective action or intervention is required in situations like these. Fuel prices have risen again to near record levels, reflecting the shortage of the products rather than high prices on the international markets.
As also witnessed by this correspondent during a visit to Nairobi during the week the shortage has started to bite in Kenya's capital city too, with informed sources claiming that the pipeline, constructed in the 1970's has reached its maximum transport capacity and requiring an urgent overhaul and expansion to cater for the growing demands by countries in the African hinterland.
SAROVA HOTELS OF KENYA GET TSAVO PROPERTIES
Sarova Hotels have just added the former Hilton safari lodges of Taita Hills and Salt Lick to their portfolio. The two safari lodges are located in a 20.000+ acres private game sanctuary adjoining the Tsavo West National Park. Sarova so far owned and operated three safari lodges in the Shaba game reserve, incidentally the site of one of the early 'Survivor' series on TV, Lake Nakuru national park and the Masai Mara game reserve. Hilton divested of the two safari lodges some years ago and the new proprietors have now selected Sarova Hotels to manage the two popular sister properties. The landmark 'Stanley' Hotel in Nairobi is also part of the group as are the Panafric Hotel and the Whitesands Beach Resort in Mombasa.
JUBA / SOUTH SUDAN BECOMES BOOM TOWN
The capital of the autonomous region of the South Sudan and seat of government has in recent months become boomtown galore. 4 airlines are serving this hub of political and economic activity from Nairobi now, bringing an ever-increasing number of visitors to the city. Most hotels in Juba are actually of the 'tented' sort, often comprising straight rows of basic safari tents without private bathrooms attached as one might expect and still, due to demand and supply, being able to charge well over 100 US Dollars a night for 'tent only'. Entrepreneurs have however began to discover the potential of minting money by providing superior facilities and the Heron Hotel (heroncampsite@yahoo.com) has over the past months progressively constructed nearly a hundred prefabricated self-contained accommodation units, even providing aircondition and satellite TV in all the rooms. The popular hotel, located within sight of the main bridge across the river Nile along the river shores is now also adding a large conference hall and a fully equipped health club to provide yet better comfort for their guests.
Muthaiga Travel, a leading travel agency in Nairobi / Kenya is also operating the first professional travel business in Juba (a few other 'pretenders' are operating out of hotel receptions, their briefcases and of course lack trained and qualified staff) and more such agencies are expected to open branches in the South Sudan, as business travel is expected to increase yet more.
HOTEL DEVELOPERS STRUGGLE TO PROGRESS
Just six months ahead of the much-awaited Commonwealth Summit in late November this year, several hotel developers have run into obvious trouble and are looking for bailouts in various fashions.
The so called Aya brothers, who were primarily in the milling industry before showing an interest in the hotel business, had started to build a hotel in the fashionable Nakasero area of central Kampala, but the project was plagued from the beginning with delays, negative publicity and questions over their competence and ability to finish such a demanding project. The Hilton Corporation has still not confirmed that they will indeed manage the hotel upon completion and other issues now forced the brothers to turn to SMI Hyundai for technical competence in the construction area, which has been substantially slower than the grand promises made in public statements by the promoters. The hotel was due to be ready for the Commonwealth Summit but is now likely to fail this deadline and let down the country and those who trusted their assurances.
In a related development, the Daily Monitor reported that another hotel group is also to get up to 4 Million US Dollar funding from government to complete the project on time. While the owner reportedly termed such money 'an advance payment for the accommodation bills' industry observers were prompt to point to their recent slow pace of construction and a possible financial squeeze requiring a swift bailout under whatever heading is chosen to describe it.
The only new hotel which is ready for the summit is in fact the Kampala Serena Hotel. The Serena group had invested nearly 31 Million US Dollars, without any handouts, bailout or emergency funding from government or other sources, to reconstruct the obsolete former Nile Hotel and was subsequently chosen to host the summit opening ceremony and the executive session of heads of government. The hotel is also expected to host Her Majesty the Queen, who will visit Uganda to formally open the summit. The Sheraton Kampala Hotel is continuing to undergo renovations and is also expected to be full ready for the summit, when it will host the Commonwealth Business Forum. Other hotels are still under construction, like the Speke Resort and Conference Centre in Munyonyo, where the summit retreat will take place. Government has also invested a substantial sum of money as a joint venture with the Speke Resort to have the new suites and other facilities at Munyonyo ready for the summit. Government had earlier instituted a duty free importation scheme for materials and equipment meant for hotels but there were also reports that some developers, mostly members of the Hotel Owner lobby group, had misused this facility and diverted excess materials imported to the open market. This is presently under investigation by the tax authorities. Watch this column for more news.
SWISS INTERNATIONAL TO FLY DAILY TO NAIROBI
After years of serving the Zurich &endash; Nairobi &endash; Dar es Salaam route 5 times a week the Lufthansa part- and soon to be fully owned airline is now going daily as a result of the increase in demand. Lufthansa itself had withdrawn from the Nairobi passenger route in a misguided development in the late 90's, while enjoying very high load factors at the time but citing low yields. Swiss is however offering connecting flights from any point in Germany via Zurich to East Africa, which has to an extent compensated for Lufthansa themselves not operating a Frankfurt &endash; Nairobi service. This development, after the recent announcement of Virgin commencing daily flights between London and Nairobi, will add further capacity to the market but also increase the pressure on the already very limited facilities at Nairobi's Jomo Kenyatta International Airport.
In a related development the reconstruction and expansion of the airport in Nairobi has also raised controversy, as the initial volume of work has increased more than tenfold, without however the additional workscope being tendered or rather re-tendered, when the parameters changed. It is generally agreed that JKIA needs not only a face lift but also a substantial expansion, as during peak hours &endash; now much of the day in fact &endash; the facilities are overcrowded, the concourse' are jam-packed with travellers arriving and departing as well as connecting (Nairobi has still no separation of passenger traffic flows), making it neither a good starting nor ending experience for a holiday in East Africa. The cost increase from the initial plans has raised public concerns over the award of the contracts and the subsequent information given by the key players did not satisfy the probing questions asked by parliamentarians and the public at large.
UGANDA TOURISM INDUSTRY SUPPORTS BUJAGALI HYDRO PROJECT
In a recent presentation by IPS (Kenya), the lead promoters of the Bujagali hydropower project &endash; together with Sithe Global of the United States &endash; informed the public, business community and the diplomatic corps accredited to Uganda, of the present status of the project. It was revealed that already 150 Million US Dollars equity had been provided and paid up and that the final negotiations with lenders for a 600 Million loan package was nearing completion. The promoters were confident that all matters raised by NEMA and related government agencies would be resolved by May this year and that groundbreaking could take place immediately thereafter. In fact it was revealed at the meeting that Government of Uganda was finalising a special package to fast track the project and have construction commence before full financial closure with the lenders. At the meeting it was also specifically mentioned that opponents of the dam had exaggerated their 'concerns' over the lack of public consultations. In fact it was announced by the tourism sector apex body UTA, in the presence of the owner of the oldest and most successful white water rafting company on the upper Nile, Mr. Cam McLeay of Adrift, that consultations and engagement with Bujagali Energy Limited had commenced already in 2005, ahead of them winning the competitive bidding for the project, when IPS had started to obtain stakeholders comments and inputs. A series of consultative one on one and collective meetings with affected companies and individuals had also taken place in Jinja over the past two years, finally resulting in stakeholders dropping their opposition to the project and in the national interest agreeing to relocate rafting an related activities to the river section below the future dam. Said this correspondent in his capacity as President of the Uganda Tourism Association at the meeting and a press and media interaction afterwards: 'the tourism industry stakeholders in Jinja made a conscious and informed decision to support the project. They took the decision to relocate their businesses to the stretch of river below the new dam, which was not easy but taken in the national interest. It was a sacrifice we made for the nation, which needs power most urgently to fight poverty. Amongst other factors it will also increase electricity use, which will halt and in the future reverse the cutting of trees for firewood and charcoal. This will in fact be an environmental benefit from the new power plant, which is not really highlighted enough yet. Anyone claiming that there were no stakeholder consultations is simply wrong and does not have the facts. We did consult extensively with the project promoters and this is the end of the debate on the project as far as the tourism industry is concerned, full stop. The project is going ahead and we in tourism support it'
SUGAR BARON TO BENEFIT FROM CUTTING FOREST
As the world celebrated the global Forest Day, news emerged that should the Mehta family indeed succeed in getting their hands on a quarter of one of Uganda's most valuable prime rain forests, the clearing of the trees would give them a substantial cash flow advantage. One newspaper speaks of about one trillion Uganda Shillings or nearly 600 Million US Dollars, but other sources put this value more realistically at between 50 and 100 Million Dollars, still enough however to have cash galore out of the transaction and in the process getting 7.200 acres of land for another sugar plantation for free. However, global conservation bodies have lined up their combined lobbying and advocacy capacity to oppose the deal and local activists have now started calling for a total boycott on any products produced by the sugar company and its associate firms. Only recently was a new species of primates confirmed to reside in the forest area, which is conveniently located between Kampala and one of the main tourist centres in the country, Jinja. It is there that the River Nile starts its journey towards the Mediterranean Sea and where tens of thousands of visitors come for white water rafting and other adventure activities every year. The forest is considered as a prime water retention source for the river system feeding in to the Nile and therefore of immense environmental and climatic importance. It is apparent that the Mehta's lack any social or corporate responsibility policy, which in this day and age would dictate not ever to engage in such controversial and environmentally damaging activities.
The Kingdom of Buganda has also made a final concerted effort to underscore their earlier offer to provide land, against a cost of course for leasing it, to the obstinate Mehta's &endash; something which received much public support, but in the face of the sugar barons wanting things their way it is not certain what impact this effort will finally have.
In the meantime and in a just published development, the National Environmental Management Authority NEMA has also now broken their silence and opposed the notion of substituting a mature forest with sugar cane plantations. It also dismissed the notion advanced by the sugar barons that the forest was heavily encroached by categorically denying this. It was in fact staff belonging to the sugar barons who had encroached and since been summarily evicted from the forest, NEMA announced.
Protests are also gathering momentum with campaigns underway to boycott products by SCOUL &endash; The Sugar Corporation of Uganda and their sister companies. Willing public servants made empty threats to prosecute those promoting this protest over 'economic sabotage' a laughable attempt in this day and age to stand up for what is clearly their godfathers own vested interests. Tens of thousands of citizens and residents of Uganda have already signed a public petition and many are expected not to purchase products related to the company responsible for this debacle. This is expected to hit the bottom line of their businesses very hard in coming months.
Finally, still apparently unmoved by the protests the Mehta family enterprises celebrated last weekend with a fireworks display in total disregard of public opinion.
MOMBASA CROSS COUNTRY CHAMPIONSSHIP ENDS
American intelligence was once more exposed for their vain efforts to play into the hands of their politicians over pre-championship anti travel advisories. Having tried once more to keep visitors away from Kenya ahead of the cross-country world championship, being organized for the first time ever in the Indian Ocean port city of Mombasa, they failed once more miserably, as the entire coast reported full house and not a room available. Thousands of extra visitors came to Kenya to witness the event, which passed peacefully inspite of frantic efforts by the American State Department to 'warn' visitors of potential terrorist activities, citing the conflict in nearby Somalia as the main underlying reason. Kenya has rejected overtures to send troops for the African Union and UN sponsored peacekeeping mission, apparently annoying the Americans.
America is often suspected to use anti travel advisories to influence governments through such tools, when other negotiations or discussions do not go their way. However, due to exaggerated and often incorrect statements these advisories have now largely lost their importance and significance, as East Africa has benefited over the past years from a substantial rise of American visitors to the game parks of the region, generally making them the second most significant visitor group by country or origin after Britain.
In the meantime, hoteliers and tourist business operators expressed full satisfaction with the event, which saw roads repaired, infrastructural projects fast tracked and the Moi International Airport expanded and renovated. The added inflow of visitors ahead of the Easter Holiday was also seen as a boost to the sector and evidence of further recovery of the industry, which had suffered setbacks in the past but has emerged from the lows of the late 90's with a vengeance.
Cultural events and shows provided the right background to the sporting spectacle and many visitors expressed their desire to return to East Africa.
ARUSHA &endash; NAMANGA &endash; NAIROBI ROAD TO BE RECONSTRUCTED
In a recent announcement officials from the East African Community headquarters in Arusha stated that this major regional highway would be re-constructed to meet the growing traffic demands. The 240 km road also connects safari traffic between Nairobi and the Amboseli National Park and its environs but also serves as access route between Kenya and Tanzania for visitors to the Northern safari circuit of Tarangire, Lake Manyara, Ngorongoro and the Serengeti, for which Arusha is the common starting and ending point.
The new highway will be largely funded by the African Development Bank and the World Bank through grants and loans. Regional commerce is also expected to benefit from the development.
NEW MANAGER FOR AMADEUS UGANDA
As Ms. Sheila Kamau is preparing to return to the Amadeus regional office in Nairobi, after establishing and managing the Uganda office for some years, a change is now underway. Miss Kainembabazi Sabiti, who previously served with British Airways' Uganda office for many years, will take up her new role as Amadeus Uganda Manageress from 01st of April this year. She is a well-respected and experienced airline professional and undoubtedly will be a credit to Amadeus and help them to make further inroads in the market hitherto dominated by Galileo. Also see recent story in this column on Galileo's ownership in the county and the controversy now surrounding it.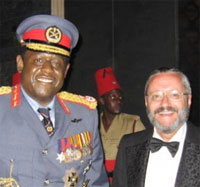 LAST KING OF SCOTLAND GETS OSCAR
Prof. Thome (right) with Actor Forrest Whitaker, from the moovie, Last King of Scotland.
Forest Whitaker, lead actor in 'Last King of Scotland', has won the Oscar for 'Best Actor' following earlier top awards from the Screen Actors Guild and at the Golden Globe. This will be a big bonus for Uganda and priceless free publicity for the country's tourism industry, which has been growing in leaps and bounds over the past few years. Congratulations from the entire Ugandan cast and extras and the country at large.
VIRGIN ATLANTIC COMMENCES NAIROBI FLIGHTS IN JUNE
Virgin Atlantic Airways founder and chairman, Sir Richard Branson, seen here at the Nairobi Serena Hotel, announces that his airline is to start flights to Kenya in June. The airline will operate daily flights between London's Heathrow Airport and Nairobi's Jomo Kenyatta International Airport using Airbus A340-300 equipment with a capacity of about 240 passengers. This is expected to bring some downward pressure on the present airfares between Europe and East Africa but also add capacity on a route that during much of the year enjoys very high load factors. All East African countries are expected to benefit from the added business and tourist arrivals the new connection will generate. It will also add a twist to the present battle between travel agents and British Airways over commission levels and may see a significant shift of allegiance and booking patterns developing in coming months. Watch this column for more news from East Africa.
Picture by Boniface Mwangi, The Standard, Nairobi, Kenya
GOVERNMENT ORDERS PRIME FOREST TO BE GIVEN TO SUGAR BARON
A recent cabinet decision on this contentious issue was apparently taken in favour of the Mehta sugar baron family, giving instructions to begin degazetting a quarter of the forest to make way for a sugar plantation. This immediately caused a storm of outrage of conservationists from across the region and around the world. Many global organizations vowed to pressure their own governments, parliaments and global bodies like the World Bank, the International Finance Corporation, the African Development Bank and others to pile pressure on the Uganda government to revisit their decision and rescind it. The Kingdom of Buganda, into which the forest falls, had offered substantial acreage to the industrialists under an outgrower scheme, but this apparently failed to meet the Mehta's own plans to own and control the plantation and only deal with Ugandans as cheap labour for the undertaking. It is expected that conservation programmes already underway, supporting government efforts in other areas, will now come under scrutiny, as will World Bank loan arrangements for re-forestation and conservation projects in view of this decision. The tourism industry too has voiced their opposition to the plans, specially as only very recently a new species of primates was discovered in the forest, not too far from where the axes are due to be laid on the trees. A recently build forest eco lodge worth some 2 Million US Dollars will be particularly hard hit, as they had targeted visitors for the wildlife, bird and forest experience and not to tour sugar cane plantations. This decision is bound to impact on the chances of marketing the country and the future acceptance of Uganda as a 'green' ecofriendly country. Uganda has signed conventions towards maintaining biodiversity and the other signatories and civil society are now openly questioning the true commitment towards these noble goals.
The Norwegian immediate past Executive Director of the National Forest Authority had resigned end of 2006 from his post rather than give in to the political pressure to give this and other forests away and several board members too resigned over the same principles.
This decision coincides almost exactly with World Forest Day (22nd March), which will also be celebrated in Uganda with a tree planting campaign led by the government friendly 'New Vision'. The paper is publishing an 8-page supplement on the state of Uganda's forests aptly named 'Uganda's Forests Disappearing' &endash; and at a rate of over 6.000 hectares a month. The New Vision estimates that this unsustainable rate of forest clearing will have finished all of Uganda's extensive forest areas within 50 years.
SOUTH AFRICAN AIRWAYS ADDS FLIGHT TO ENTEBBE
Beginning May 2007 SAA will begin to operate a fourth non-stop flight between Johannesburg and Entebbe. The new schedule will operate Monday, Tuesday, Thursday and Saturday every week. Traffic to and from South Africa has been growing above average, now adding the much-needed extra capacity on the route.
SUDAN AIRWAYS TO RESUME ENTEBBE FLIGHTS
From April 01 this year the Sudanese national airline, which has had patchy operations from Khartoum to Entebbe over the past years, will resume full operations on the route. The airline in this connection recently also announced the purchase of 'new aircraft', this being planes of the types A300 and A310, both of which are ancient by today's standards. The statement released in Kampala claims to resume 'regular' operations three times a week from Khartoum via Juba to Entebbe. Let's wait and see what April brings &endash; it does normally start with April 01, also traditionally called Fool's Day.
SOMALI INTRUDER BURNS UN PLANE IN ENTEBBE
A suspected Somali islamist radical apparently gained access to the UN operations base at Entebbe International Airport, dressed in some makeshift military uniform, and managed to set the tyres of a UN chartered plane on fire before being detected and detained after some chase. The plane reportedly did not sustain major damage and after the tyres got changed it took off for its planned mission.
There is speculation that this action was in response to Uganda having sent a contingent of troops under the UN and African Union mandate as peacekeepers to Somalia, where radical Somali islamists, foreign enemy combatants and local Al Quaida terrorists have also vowed to attack and 'repulse' them.
A CAA spokesperson blamed the UN's own security over the incident, claiming they were responsible for their own perimeter security, a notion immediately dismissed by industry observers, as the CAA is the responsible body for the security of the airport. Considering the periodical hasslement of this correspondent, when visiting the airport on official duty, it is all the more amazing that while passengers and staff often feel the pinch of exaggerated application of over zealous security officials, a determined individual has now breached airport security.
What is even more bewildering is that the same individual apparently had just been released after a one month jail term for trespassing at the airport, in other words he was already a known suspect character and yet managed to not only trespass but commit, what can only be described as an attempted act of terrorism. It is expected that he will now face appropriate charges in court for which he could face a life sentence.
EAST AFRICA OR NATION STATES
Differences have arisen amongst East African Community member states over non-tariff barriers in the face of top political declarations of intent to the contrary.
The present Chairman of the Council of Ministers, who is also Kenya's responsible Minister for the East African Community, has singled out the apparently continued requirement by Tanzania to pay 100 US Dollars for business VISA by Kenyan and Ugandan business visitors.
He also complained about Kenya permitting Tanzanian safari operators into the national parks while Tanzania had not responded alike and keeps Kenyan operators out of their own parks. Alongside this situation, the common border crossing between the Masai Mara and the Serengeti also remains closed for commercial safari traffic and individual crossings still require some special permission, not to be taken for granted.
It has also been noted that expatriates across the region, duly registered in their country of residence, are still required to pay VISA fees when visiting the other member states, impacting on the frequency of travel by this important tourism market segment within the region due to the extra cost. This often makes East African expatriates rather visit such places like the UAE or South Africa, where they do not have to pay VISA fees instead of spending long weekends and their annual holidays visiting the East African tourism attractions or the beaches along the Indian Ocean shores.
Civil Aviation Authorities also have been pointed out as lagging behind the expressions of political will of their Presidents and Ministers in charge of the aviation sector. They have failed to more rapidly move towards an integrated, single regulatory environment and granting full reciprocity and recognition to airlines of member states. This too is seen as an impediment of further sectoral integration in the region and subsequent market expansion. The three civil aviation bodies were to harmonize the regulatory framework already by last year, incidentally co-funded by the US Department of Transportation and the FAA, but not only is there still no end in sight after nearly three years of discussions, consultations and meetings but every previous deadline for the promulgation of the new regulatory regime has been missed. Individual regulators in fact continue to treat air operators from the other member states as 'foreign' &endash; a clear violation of the spirit of the cooperation and an indicator of the level of ongoing protectionism and egoism of nation states and some of their national bodies against the desire of the citizens and the business community across East Africa to get on with it.
RWANDA BAGS ITB AWARD
After last year's second place the Rwanda Tourist Board stand this year received the top award for the best stand, their creativity and design. The Chief Executive of the Rwanda National Office for Tourism and National Parks, Mrs. Rosette Rugamba, received the accolades and returned home to Rwanda in a triumphant fashion, also with many new tour operators showing interest to add Rwanda to their brochures and send their visitors to 'the land of a thousand hills'.
LEADING CONSERVATIONIST PASSES AWAY
Dr. Imre Loeffler, Immediate Past Chairman of the East African Wildlife Society, has passed away last weekend after a long battle with cancer, which he fought rather bravely to the very end. Imre led the EAWLS for 10 years as its Chairman before standing aside for Prof. Owino at the Annual General Meeting in late 2005.
Imre was a periodical visitor to Uganda and his quarterly articles in EAWLS's 'Swara Magazine' were always passionate and never shy of controversy, when he felt a strong view was in the best interest of conservation in the region and beyond. Our condolences to the family, friends and the East African Wildlife Society.
Fare you well Imre &endash; You shall be greatly missed.\
LARGEST EVER UGANDA TEAM AT ITB
A strong tourism delegation from Uganda was present in Berlin for the annual ITB tourism trade fair, to promote the country's biodiversity and rich heritage to the world. Neighbouring the stands of East African partner states Rwanda, Tanzania and Kenya the exhibitors reported very strong interest in the country and the region. Uganda will in May host the 4th African Conference of the International Institute for Peace through Tourism, which will further expose the country's attractions to the global travel and tourism fraternity.
These efforts were however almost stabbed in the back by a numerically insignificant but noisy opposition members, who tried to disrupt traffic and business in the city centre on the day prior to ITB opening, seeking global attention by willing 'journalistic' accomplices to portray Uganda as an undemocratic and unsafe country &endash; an effort which gloriously failed however as the 'news' did not make the intended headlines abroad. All they achieved was to further diminish their own standing, discrediting the principle of parliamentary opposition and getting teargassed in the process.
KABALE &endash; KISORO ROAD CONSTRUCTION STARTS IN MAY
Following the signing of the contract between Government of Uganda and SBI International of Switzerland for the reconstruction of the Kabale-Kisoro-Bunagana-Kyanika road on 12th March in Kisoro, the long awaited road re-construction is due to begin early May. This important road is connecting key tourism destinations in Uganda but also leads to border points with Rwanda and Congo, facilitating in particular gorilla tracking tourism but also regional trade. The scenic road will be rebuilt and tarmacked and proper drainage installed to avoid future washouts as seen often in the past. The financing comes largely through the African development bank and the construction fulfils a pending election promise of the current government of President Yoweri Kaguta Museveni.
GORILLA TRACKING FEES GO TO 500 USD PER PERSON
Starting on July 01st this year tourists wanting to see the famous mountain gorillas will have to dig deeper into their pockets and find another 125 US Dollars over and above the present rates of USD 375 per person. This came as a result of a cartel-like agreement between the three conservation bodies in Uganda, Rwanda and Congo, a practice unfortunately not possible in the private sector, where such price agreements are bound to attract investigations and heavy fines. But this is all in the interest of conservation of course, isn't it? Direct your comments to uwa@uwa.or.ug
In the meantime it was also announced that Uganda Wildlife Authority will soon embark to habituate another 2 gorilla groups for future visits by tourists, bringing the total number of habituated groups from presently 4 to 6. This will allow to occasionally rest a group or offer tourists with firm bookings an option, should a group 'disappear' for a while or else be judged not ready to receive visitors on a particular date. Booking uptake has reportedly now reached the high 80 percent margin, leaving only a few available tracking permits for visitors with no advance bookings, something strongly recommended of course and to be done through a reputable safari company only.
FRESH US ANTI TRAVEL ADVISORY 'LAUGHABLE'
For the second time this year the US State Department issued a fresh and stronger anti travel advisory for US citizens, not to travel to Kenya over security concerns. This comes ahead of the World Cross Country Championship in Mombasa, which is expected to bring thousands of additional visitors to Kenya. Tourism industry leaders promptly condemned the new advisory, some calling it a 'thinly concealed sanction', while others point fingers at ulterior motives by the American administration.
It appears, that unlike Uganda, which sent peacekeeping troops under the auspices of the African Union to Somalia, Kenya resisted American pressure to be part of such an engagement, inspite of sharing a border with Somalia. America has long been suspected to use anti travel advisories against Kenya when negotiations over landing rights, use rights for the deep see harbour of Mombasa and related issues did not go their way and most past advisories were proven wrong and excessive. American tourists are now holding the second spot in arrival statistics in Kenya after the UK, partly as a result of intense destination marketing, which has triggered a revival of sectoral fortunes over the past few years. Anti travel advisories are now often ignored by would be travellers as they have largely lost credibility.
EAST AFRICAN WILDLIFE SOCIETY RETURNS TO KAMPALA
A high-ranking delegation from the EAWLS offices in Nairobi visited Kampala last week for meetings with government officials and conservationists. Led by the Chairman of the Council, Prof. Owino, the group also comprised EAWLS' Executive Director Ali Kaka and Council member Dr. Mike Norton-Giffiths, who serves as Chairman of the EAWLS Conservation Committee. From the Ugandan side the team included Hon. John-Emily Otekat, Vice Chairman of the EAWLS and Uganda member on the Council. Following a successful meeting with key members of the Uganda Wildlife Society, chaired by their Chairman Prof. Derek Pomeroy, an announcement was made that the two organizations set a date in September this year to have completed the necessary statutory requirements through EGM and AGM resolutions to make UWS a branch of EAWLS while creating a separate Kenya chapter at the same time and having a proper headoffice function installed to equitably serve the branches across East Africa.
During a reception and presentation at the Kampala Serena Hotel, the gathering then welcomed Government of Uganda representatives through the respective State Ministers for Tourism, Environment and Higher Education, Hon. Prof. Kamuntu, Hon. Jesca Eriyo and Hon. Gabriel Opio. From the Ugandan side an illustrious team of conservationists and the academia were invited, led by Prof. Fred Kayanja, now Vice Chancellor of Mbarara University of Science and Technology, a former Chairman of Uganda National Parks and present Trustee of EAWLS. Also present were Prof. Derek Pomeroy, Prof. William Banage, a renowned Ugandan zoologist and of course this correspondent, himself a former country representative of EAWLS, long serving Chairman of the Rhino Fund Uganda and Chairman of the Ugandan national Hotel and Tourism Training Institute (which by middle of this year will have attained university college status).
During this function a scholarship fund was launched for deserving Ugandan students, funded from the proceeds of the African Journal of Ecology's Ugandan chapter, to further develop and enhance crucial research capacity in this important field. It was also announced during the meeting that progress was being made in regard of border transcending joint resources and specially mentioned was in particular an area in Northern Uganda, where both Government of South Sudan and Government of Uganda will get EAWLS support to protect the landscapes in this ecologically important but frail area. Do visit www.eawildlife.org for more information or write to the Executive Director via info@eawildlife.org
BRITISH AIRWAYS REDUCES AGENCY COMMISSIONS
TRAVEL AGENTS THREATEN TO ENGAGE IN THE 'MOTHER OF ALL COMMISSION BATTLES'
A recent decision by British Airways to cut travel agency commission levels across East Africa from the present 7 percent to a mere 1 percent has raised a storm of protest amongst the travel agents fraternity and resulted in a well near total boycott by travel agents, now refusing to book BA flights on their systems. Many agencies, but not all, have reportedly returned their CIP's to the airline. BA has long been a 'leader' in this area, some years ago demanding a cut from the then usual 9 percent to 5 percent but later relented in the face of similar action and adjusted agency commissions to 7 percent, a step most major airlines serving Uganda then followed promptly, having sat on the fence and leaving the battle of commissions to British Airways at the time. It was also BA that first pushed into the corporate market with direct preferential deals at the expense of travel agents, again causing a level of resentment and rejection.
BA has also drawn fire about their recent introduction of charges for a second piece of checked baggage and will undoubtedly face yet more problems now with agents actively denying them sales and related services.
KLM seems well positioned to take advantage of this development as they will shortly introduce a 4th frequency from Amsterdam to Entebbe, while BA has for an endless period operated only 3 flights a week, citing lack of traffic. This is in contrast however to such airlines as Emirates, which over the same period of time kept adding flights and now serve Entebbe daily via Addis Ababa, all of which enjoy very high load factors, or KLM, which started with 3 flights less than 2 years ago and is already adding a 4th weekly flight, having just upgraded their aircraft from the old B767 to the newer and larger A330-200. BA &endash; no longer the favourite airline, at least not of the travel agents in East Africa at the moment. However, should BA prevail, other airlines are expected to swiftly follow suit again and also lower agency commissions, following of course global trends in this regard. Such a result would surely result in further consolidation of the agency market in Uganda and across East Africa, where many agencies are already only marginal businesses. This writing has been on the wall for East African agents for a long time but it appears that many agencies are still neither ready nor prepared to seek out and develop alternative sources of revenue, other than charging clients substantial fees for reconfirmation of tickets and other basic services. In fact some information suggests that agents in other parts of Africa, where the change has taken place already, are trying to charge their clients really wanting to fly BA with the commission they 'lost' &endash; frankly an appalling idea and practice and surely bound to relegate such agencies into the dustbin of history. Their clients will eventually go directly to the airline in the future when faced with such outrageous methods. Some travel agents in Uganda are now also adding the following text to each and every email sent out to their clients:
***NO WAY BA!!!***
Please note effective immediately, travel agents in Uganda will be unable to
issue tickets on British Airways until further notice. British Airways will
be reducing travel agent commissions to 1% which makes it impossible for
agents to meet overheads.
In view of this the Travel Agents Association of Uganda has resolved to
suspend selling and ticketing all British Airways flights with immediate
effect.
Unable should of course read 'unwilling' and a little vocabular honesty would help to have everyone understand that this is purely an issue about money with the argument fought out on the back of would be travellers. Watch this column as the battle for commissions in Uganda develops and who the eventual winners and losers will be.
GALILEO UGANDA IN PANIC OVER MEDIA REPORTS ON OWNERSHIP
A press report two weeks ago about the alleged change in ownership of Galileo Uganda has apparently caused such concern, that a senior management staff of the supervising Galileo office in the UAE had to rush to Kampala and face hard questions of irate travel agents, who demanded to know if there was any truth about some two agencies having acquired a stake in Galileo, giving them competitive advantages.
At the same time, Amadeus regional management was also in Kampala to sign up yet more agencies, which were disconcerted over the story and rushed to do a quick deal with Amadeus. Galileo had for long been the only GDS available in Uganda before Amadeus began to spread their wings into the rest of Eastern Africa and is now poised to reach an equitable market share with Galileo, as agents are adding the product to their agencies.
A press statement was apparently being prepared by Galileo to counter the allegations but was not available at the time of going to press, adding further doubts about their assurances that all was well. One agent asked for comments on condition of anonymity confirmed, that no firm statement was to be obtained from Galileo's representative of the present shareholding set up, almost confirming the doubts which the article by Michael Wakabi of the EastAfrican &endash; the leading weekly business newspaper of the region &endash; has caused. Secretive deals of this nature have long dominated the travel business in Uganda and it is high time that facts and figures are openly availed to the market to conform to international best practice of disclosure.
KENYA AIRWAYS ADDS FREQUENCIES AND CUTS ENTEBBE FARES
Effective by end of March KQ will be adding a third weekly flight to the Seychelles, operating every Tuesday and also an additional flight to Istanbul, which is again code shared with Turkish Airlines THY. The additional new routes to West Africa, Cotonou and Monrovia, will be operated with the brand new B737-800, which recently joined the fleet.
Information has also reached this correspondent that ahead of the new Ugandan regional airline taking to the skies by middle of the year, Kenya Airways has quietly started reducing tariffs, with entry rates now at US Dollars 199 plus taxes (in itself almost another 100 US Dollars, making it one of the most expensive routes in regard of regulatory and other surcharges), from the previous low fares of about 250 US Dollars plus taxes. This move will be welcomed by travellers, travel agents and the government, all of whom have been complaining about the very high fare levels on the route, which for some time cost as nearly much as special market fares between Nairobi and Europe on some airlines.
PROTEA RETURNS TO UGANDA
Having been rather on the shy side to admit to a management agreement for a small hotel in the Kololo suburb of Kampala, apparently signed over a year ago, Protea &endash; a South Africa based hotel management group &endash; has now formally announced that they have signed a 15 year management agreement with a hotel along the main road leading to the international airport, but still some 25 KM away from it. The hotel, infamous already through a major structural collapse during the early construction period, which killed many workers (reported in this column), is supposed to be renamed prior to opening.
The South African group had attempted in the early 90's to gain a foothold in Uganda's hospitality industry but failed with their management of 'Ranch on the Lake' at the time and quietly withdrew then altogether after being unable to sign up any other property for management.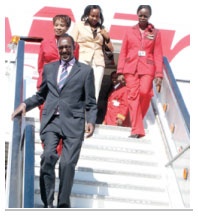 KENYA AIRWAYS INAUGURATES 4TH B 777 INTO FLEET
In a low-key ceremony last week KQ took delivery of their 4th Boeing 777-200ER. Senior management of the airline, government officials and invited guests witnessed the event, which included the US Deputy Chief of Mission Ms. Pamela Slutz. In her address she issued a warning that security for visitors must be upped, saying 'we are watching efforts of the Kenya Government to contain insecurity. We need to see the government working towards this with speed'. In 2006 over 86.000 American tourists visited Kenya and largely defied anti travel advisories issued by their own State Department, but a recent increase in deadly car jackings involving American diplomats and citizens may cause such advisories to have a greater impact on would be visitors in the future.
The new aircraft will be deployed on routes to Europe, the Middle East and Far East to boost frequencies and increase capacity.
Kenya Airways Chief Executive Officer, Mr Titus Naikuni, alights from the new Boeing 777-200ER aircraft that was delivered from the US on Thursday past week. Picture by Martin Mukangu, The Standard, Nairobi, Kenya
APOKA SAFARI LODGE HOSTS ANNUAL UWA WARDEN RETREAT
The annual meeting of park wardens was recently held at the Kidepo National Park's Apoka Safari Lodge in the presence of Mr. Andrew Kasirye, Chairman, Board of Trustees of UWA and senior management of the organization. In his keynote address to the assembled senior staff the Chairman vowed to focus more on customer care in order to improve the image of Uganda as a destination but also the image of Uganda Wildlife Authority in general.
The Apoka Safari Lodge is considered one of the finest upmarket properties on the safari circuit in Uganda at present. Located in the remote wilderness area of Kidepo it can be reached by air charter from Kajjansi near Kampala or through Eagle Air's flight extension to their scheduled Kitgum service from Entebbe International Airport. Together with its sister operations in the Semliki Game Reserve and the upcoming new lodge at Nkuringo, fittingly named 'Clouds', near the Bwindi Impenetrable Forest (Gorilla) National Park, the trio is supported by Kampala's first boutique hotel, the Emin Pasha. Visit their website for further information at www.eminpasha.com or of their in-house safari operation 'The Uganda Safari Company' at www.safariuganda.com and also www.wildplacesafrica.com
UGANDA TELECOM EXTENDS SWITCHOVER PERIOD
As reported in this column some time ago, dialling sequences for landlines were also changed (following the mobile operators compliance) to reflect the international numbering standards. Every prefix, like 041 for the capital city Kampala, had another '4' added to the sequence.
UTL has now announced an extension to the deadline, upon which the 'old' dialling sequences will expire on 30th April this year. After that date only the new dialling sequences will get calls through to their intended final destination. Contact your business partners in Uganda to get the new details to stay in touch and not miss out doing business with 'Uganda &endash; Gifted by Nature'.
KENYA AIRWAYS SIGNS UP WITH SKYTEAM
Following the completion of the application stages Kenya Airways has now formally signed the partnership agreement as an associate member of SKYTEAM, one of the leading airline alliances spanning the globe. Kenya Airways will be the first African airline to join the cooperation, which offers nearly 15.000 daily flights to over 700 destinations world wide, carrying over 370 million passengers per annum. Congratulations to the Pride of Africa for bringing the world to East Africa and connecting East Africa to the world.
MABAMBA NOW A GLOBAL RAMSAR SITE
The extensive Mabamba swamps near Kampala, adjoining the shores of Lake Victoria, have now been formally declared a Ramsar site, following the initial announcement last year during the Ramsar global conference in Uganda. Environment Minister Hon. Maria Mutagamba was at hand for the inauguration and Uganda's tourism industry, in particular members of the Uganda Bird Guide Association (ugasaf@gmail.com), have already started work to include the new site in their bird watching itineraries. Amongst the birds found in the area is also the shoebill stork, one of the many rare birds regularly seen in the remoter parts of the country but now also accessible with proper bird guides nearer to Kampala itself. Uganda is one of the world's most bird rich countries with well over 1.000 species. Queen Elizabeth National Park alone is home to over 600 species of resident and migratory birds, with periodical sightings even of new species, which have not been recorded before. Some of these new species in the area are thought to have made their way from the great tropical rain forests of Congo into the national park, which straddles the border region between Uganda and the DRC. The extensive Maramagambo Forest within the park is still largely unexplored and offers an opportunity to birders to score such a 'first'. This does make 'Uganda &endash; Gifted by Nature' a true birdwatchers paradise and the growing number of dedicated bird safaris is evidence of successful marketing of the country as a prime ecotourism destination for the discerning travellers.
The Uganda Bird Guide Association is also set to offer yet another training module during the forthcoming low season for their members, to improve their spotting capacity ahead of the (initially) voluntary grading exercise which is due to start later in the year, aimed to give guides a generally understandable and globally acceptable rating.
SHERATON ALL SET FOR VALENTINE
The Kampala Sheraton Hotel has gone full swing promoting this year's Valentine's Day with special 'Romantic Room Rates' and exquisite dinner functions at the Victoria Restaurant and the Hippo Grill. Heart shaped special cakes and pastry will also be available from the hotel's renowned 'Temptation Cake Shop' in the lobby arcade. For more information contact food.beverage@apolohotel.com or the Director of Food and Beverages Mr. Kwashie Gbedemah at Kwashie.Gbedemah@Sheraton.com
'BISHOP' RAISES CONTROVERSY
It almost sounds like a return to the dark ages, when one listens to the reasoning of 'Bishop' Boniface Adoyo: 'I did note evolve from Turkana Boy or anything like it', why he does not want the newly refurbished National Museum of Kenya in Nairobi to exhibit the most complete skeleton of prehistoric man ever found. The find was unearthed by an expedition under the auspices of globally renowned anthropologist family member Richard Leakey. The museum is due to re-open towards the middle of 2007 after an extensive refurbishment and modernization paid for by the European Union under its tourism support programme and the skeleton will be one of the most treasured and high profile exhibits. Following the 'bishop's' outburst security will however be tight when the doors of the museum finally open. It seems that the dispute on Darwin's evolution theories has erupted afresh. Remember when one faced burning on the stake for insisting that the earth was not the centre of the universe ?!?
SECURITY CONCERNS IN KENYA OVER CARJACKINGS
A series of high profile carjackings in recent weeks has once again drawn attention to the precarious state of general security in and near Kenya's capital city of Nairobi. Latest reports speak of high-level security meetings now underway to address the issue of rampant crime, in this case often involving foreigners and even accredited diplomats, and the proliferation of arms, including the infamous AK 47 submachine gun. Would be travellers should seek advice from their tour and safari operators, who are in a good position to judge and comment on the current situation and read the country information on Kenya by their own foreign ministries and embassies.
TOURISM PRIVATE SECTOR EXPRESSES CONCERN OVER EU PROGRAMME
The Uganda Sustainable Tourism Development Programme, UGSTDP, funded by the EU for the past few years to support and develop tourism to Uganda, has literally ground to a halt over bureaucratic issues on the final half year of the programme until June this year. While the Kenyan counterpart programme has received additional support and will likely enter into the next phase, EU delegation staff in Kampala and conceivably those responsible in Brussels and at the NAO's office at the Ministry of Finance in Kampala however have shown little if any interest to support another private sector oriented phase of the programme, which at this crucial stage could lift Uganda tourism towards the next level, as the country aspires to move towards the one million arrival figures by the end of the decade. It is now in fact even unlikely that the projected and approved work plan (budget) until June this year can be fully spent, courtesy of the red tape and mindboggling new rules and regulations. Tourism is a fast industry that requires fast and hands on decisions by those responsible, something that has apparently not yet dawned on the bureaucrats overseeing the programme. Barbs Third edition January 2007
UGANDA TOURISM ASSOCIATION PRESIDENT TO RETIRE
After many years in office and with a remarkable industry growth record to his administration's credit, this correspondent in his capacity as President of UTA will retire from office, when the next AGM is held in a few weeks time. Industry relations were rocky at the time of taking office and the dialogue between private and public sectors had nearly broken down, largely due to meddling by an EU appointed consultant at the time. In a change of fortunes a new consultant took office since then and headed the EU funded Uganda Sustainable Tourism Development Programme and helped to build bridges and drive the tourism industry forward. Hence, the standing of UTA in civil society but also amongst other professional sector associations has improved from strength to strength, leaving the new incoming team with a firm foundation to build on and drive the industry towards the magic 1 Million visitor arrival mark in a few years time. At the time of taking office overall arrivals for Uganda stood at a meagre 200.000 visitors per year, which has since then risen to nearly 700.000 visitors and is expected to reach a million by the end of the decade.
During the terms of office major projects were accomplished, like the co-authoring of the national tourism policy, the drafting of the new tourism bill, initiatives for a new marketing strategy for the country and the entire East Africa, new joint air service regulations for the aviation sector, sectoral representation at the Private Sector Foundation including presence on the crucial budget task force and on the key decision making committees and the preparation of the national Hotel and Tourism Training Institute to become part of Busitema University. UTA also gained additional members through the joining of the District Tourism Associations, the Uganda Safari Guide Association and the Uganda Association of Air Operators, but notably lobby grouping Hotel Owners Association failed to join the industry apex body. Driven by a sole desire for tax reductions and duty savings the grouping lacked the greater vision and foresight to join and left the field to the Hotel and Catering Association of Uganda, where all the professional hoteliers are associated. Scandal talk has also broken loose over members of the Hotel Owners being investigated by the revenue body over allegation of misusing duty relief facilities granted ahead of the Commonwealth Summit, where leaked reports speak of multiple quantities of imports reaching the open market instead of being used to build hotels.
Always an advocate for his adopted home Uganda and ever seeking promotional and PR opportunities for the Pearl of Africa, the soon to be Immediate Past President has already now reverted full time to private business developments and has taken the position of Executive Director for Strategic Planning for a new aviation venture in the East African region, which is promoted by the Aga Khan Fund for Economic Development. Watch this column as the new airline is getting ready for flight toward the middle of the year and joins their African sister companies Air Burkina and Air Mali, but also group members Meridiana and EuroFly from Italy in the skies.
FOREST WHITAKER WINS GOLDEN GLOBE FOR UGANDA FILM
As widely anticipated and definitely very much hoped for in Uganda, Forest Whitaker's performance in 'The Last King of Scotland' impressed the international judges for the Golden Globe awards this year and he bagged the 'Best Actor' category, making him a favourite to also win the coveted Oscar, if one goes by past years' voting sequences for the award season. Only two African American actors have so far ever received this top award and Forrest would be the third, following Denzel Washington and Sidney Poitier. Forest's nomination puts him as a frontrunner with the bookies.
Forest was well liked while on location in Uganda, where the premiere is due in February, probably just in time for the Oscar mania reaching fever pitch.
The focus on Uganda is in any case likely to grow as a result of the film and the Golden Globe Award, but an Oscar would add priceless publicity for the country's tourism industry.
In an interesting twist, this correspondent was one of the many Ugandan extras employed on the set, as attached picture demonstrates where he is seen with the lead actor.
COMMON EAST AFRICAN CURRENCY AS EARLY AS 2009
Finance Ministers, Central Bank chiefs and government officials recently discussed the fast tracking of another key area in the drive towards full regional integration in East Africa, a common currency. Plans have been on the drawing board for a while now but were expected to take shape later rather than sooner. However, as the single sky administration is now becoming a reality and the protocols on freedom of movement of labour are coming nearer too, so is apparently the single currency being fast tracked. The joining of Rwanda and Burundi will create an even bigger domestic market and the use of one currency across all of East Africa will be hugely beneficial for commerce and tourism.
RECIPROCITY THE KEY IN AVIATION RELATIONS
The fast tracking of the East African Community and the harmonisation of air service regulations across the region does not seem to have reached the minds and hearts of two of the regulatory bodies. Uganda had for a considerable period of time extended 'hospitality' to Kenyan and Tanzanian registered aircraft, treating them ahead of the formal abolishment of certain rules like a Ugandan registered aircraft, but alas, in turn Ugandan aircraft, when reaching Kenya or Tanzania were still treated as 'foreign'. With some misgivings and heavy heart therefore, and in order to achieve equitable financial treatment for all, Uganda has now again enforced the 'foreign' rule even for other East African registrations, until such time that their bureaucrats standing in the way of fast integration are pushed by their own aviators into compliance and acceptance of the new terms now long overdue, to the benefit of passengers and aviation companies alike. Kudos for the Ugandan CAA and barbs for their regional counterparts.
ISLAND FERRY SERVICES SUSPENDED
The Ministry of Works and Transport has announced a scheduled inspection for the main ferry operating the route from Port Bell (Kampala's suburb harbour on Lake Victoria) to Kalangala (Ssese Islands) to comply with international insurance requirements. In the meantime, visitors to the main island and beyond are advised to use the ferry connections at Bukakata (near Masaka) as an interim measure, until resumption of full ferry service is announced.
VICTORIA GONE AWOL
Efforts to reach senior officials from Victoria International Airline for comments on their situation, (they operated less than two months and indefinitely suspended operations two weeks ago as reported in this column) were fruitless, as their phones were either off or not being answered. Even if ever they would manage to get back into the skies, who would want to forget this sort of attitude and behaviour and still be ready to deal with them once again. Their ancient B737-200 has also not returned to Entebbe from its last flight and is thought to have been recalled and retained by the lessor (VIA operated on ACMI basis from a South African company) to secure their property rights over the aircraft and avoid the plane to be impounded elsewhere. Some press reports however also spoke of a shareholders meeting in South Africa a few days ago where schemes were drawn up to return to the skies. This however will only be possible after finding unsuspecting financiers, willing to throw their money away on an airline concept entirely unsuited for the region.
KENYA AIRWAYS COMPLETES FLEET CONVERSION
All old B737-200 aircraft are now withdrawn from service by Kenya Airways as the brand new B737-800 versions have arrived in East Africa and been commissioned into service. The old 200 version served the airline well for almost 20 years but were no longer economical to operate due to high fuel consumption and rising maintenance cost, something other start ups (see previous column item) seem to conveniently ignore or overlook.
The new 145 seat aircraft offers 16 business class and 129 economy class seats. It will be used on high density routes like between Nairobi and Mombasa but also for the regional flights, where loads have been heavy to such places like Dar es Salaam or Entebbe. The Pride of Africa is also due to receive their 4th B777 in a few weeks time, allowing for further network and frequency expansion.
Information received also indicates that the remaining Saab 340's will also be phased out and a new aircraft type from the Embraer family of regional jets be introduced in their stead during the second half of 2007.
Kenya Airways also just completed their new second hangar which was built to cater for the large size B777's, which began to join the fleet 2 years ago. Kenya Airways engineering division is a Boeing recognized maintenance organization (AMO) and services their own aircraft in-house while also offering such services to other airlines.
Second edition January 2007
COMMONWEALTH SUMMIT THEME ANNOUNCED
The President of Uganda, H.E. Gen. Yoweri Kaguta Museveni, announced the theme for the Commonwealth Head of Government Summit (CHOGM) last week, with the Secretary General McKinnon simultaneously making the same announcement in London. 'Transforming Commonwealth Societies to achieve political, economic and human development' will be the theme for the bi-annual meeting, which is to take place in Kampala between 20th &endash; 25th November 2007, while ministerial, business and civil society meetings will precede the main summit. The opening ceremony and the Executive Committee meetings will be held at the fabulous new Kampala Serena Hotel and the adjoining Kampala Serena Conference Centre, following which the participants will go for a short retreat on the shores of Lake Victoria. Her Majesty Queen Elizabeth is expected to officiate at the opening ceremony, followed by her visit to the famous Queen Elizabeth National Park in the South-West of the country, which was named in her honour following her coronation in the early 1950's.
Opposition activists, who exactly a year ago made much fuss over Uganda hosting the prestigious summit and who threatened all sorts of action, have in the meantime gone ultra quiet, as first signs of major benefits percolate down to businesses and civil society. Kampala is presently seeing major bottlenecks for traffic being completely rebuild, with formerly jam-packed roundabouts giving way for modern, traffic light regulated intersections. Traffic police has already undergone refresher courses and are now starting deployments over the city to deal with traffic offenders on the spot, while keeping traffic flowing more smoothly in critical areas.
The perennial potholes in the city are now also at last being tackled, after the central government took control of over 100 KM of city roads from the hapless city council, which has been disappointing residents time and again. Said the President at the news conference, where the theme was launched: 'I no longer want to see dust in Kampala. I no longer want to see potholes in the major roads in the city' &endash; and one cannot but fully agree with this statement. City fathers have long made a mockery of election promises and abrogated their duties to keep the city clean and functional. However, proposals to take over the city administration by central government have so far only been talked about but not yet implemented. A greater metropolitan area is being considered, where integrated planning and service provision for the greater Kampala area is being looked at.
Residents of Kampala and visitors from abroad will find a much improved city infrastructure when they visit in coming months, as major works are also now starting to improve the appearance off the main road from the Entebbe International Airport to the city and shacks and makeshift structures give way to green areas and tree planting.
Entebbe International Airport is also seeing the main terminal being expanded and modernised and work is progressing on schedule as witnessed by this correspondent during a recent visit to the airport. Watch this column for more news as work continues to prepare Uganda for the big summit in November.
MORE TROUBLE FOR VICTORIA AIRLINES
No sooner was the last column item published did another announcement hit the market: 'flights suspended for another week'. Flights to Nairobi and Juba were definitely not operating during the week and clarification was sought but not received about their intended flights to Johannesburg. Said one travel agent to this correspondent: 'I feel led on by them, the business booked cannot fly, we offer their low fares to our clients and the airline does not deliver. I just stick to Kenya Airways now and clients wanting to travel for less can do their own things and get frustrated, why should we always take the blame for airlines which fail the market. I also don't understand how our government can give these people money and take shares. They were never going to make it'. Grapevine news also spoke of desperate efforts to attract financial investments in the airline but their past track record and the failures of previous Ugandan upstarts is of course a great disincentive to any investor, when loosing their money is a real and present danger. Read this column for more news as they emerge.
In a STOP PRESS development it has since emerged, that the airline has now indefinitely suspended operations, the usual phrase of throwing in the towel, speaking of their disappointment with the market reaction to their plans. Industry analysts however put the blame squarely on the promoters of the airline for failing to adequately address distribution issues and trying to impose alien concepts on the Ugandan market. The same sources also spoke of unresolved issues over the airline's choice of GSA, where harsh sentiments were expressed by several travel agents over that choice, vowing 'we will never book with those people, they have a history and we have not forgotten'.
This will now arguably conclude the latest haphazard expedition into aviation by individuals without the necessary resources and without the sound backing from an existing airline, without which it will be an uphill struggle to take to the skies and keep flying. Claims to be a national airline were reportedly also rejected by the South African regulators over the ownership of Victoria, which lacked the required 51 percent national component, leading to denial of traffic rights. Continue to read this column on the latest news from Uganda's fledgling aviation sector and what is next in store for the public, when other recently licensed ventures commence operations.
RHINO FUND GETS ADDITIONAL WEBSITE
Mr. Deren Coetzer, Executive Director of the Rhino Fund and of the Ziwa Rhino Sanctuary, has just launched a new website dedicated to the Ziwa Sanctuary. Please visit the new site and explore what has been happening there over the past few months, since Deren took over from Yvonne Verkaik, who is fondly considered by all as Uganda's Rhino Lady par excellence. Visit www.ziwarhinos.org and of course www.rhinofund.org
BULAGO ISLAND OFFERS AIR LINKS
Bulago Island in Lake Victoria, a favourite hangout on weekends and weekdays for city weary locals and solitude seeking foreign visitors alike, has once again linked up with the Kampala Aero Club and Flight Training Centre &endash; KAFTC to fly guests from the Kajjansi airfield just outside Kampala to the island. The 10 minute flight is well worth the expense compared to the often rough rides with the speed boat, which can take up to 45 minutes depending on weather and winds. See Bulago's website and contact details at www.islandinthesun.biz
Flights are operated, depending on passenger numbers, on C 172, C 210, or the BN Islander by KAFTC, a long established and thoroughly professional charter airline with a 100 percent safety record. Bulago has its own private airstrip capable of safely landing most single and small twin engined aircraft presently available in Uganda. Passengers disembark just metres away from the reception of the lodge, making it the quickest escape to a tropical paradise in Uganda.
From experience, Bulago is one of the secret hideaways this correspondent treasures, with phone and internet links still possible for those who cannot entirely get away from it all but yet removed far enough from the hustle, bustle and dust of the city. Bird watching, long walks across the island, fishing, just lazing in the sun or under palm trees or socialising with other visitors from across the world, the choices are many. Bulago has also been chosen as the venue for a day long outing in November this year for the top echelon of the Commonwealth Summit during the Heads of Government retreat, following the business sessions of the summit in the city.
HOTEL AND TOURISM TRAINING INSTITUTE PRINCIPAL RETIRES
Following the completion of his contract as Principal of HTTI Mr. Barnabas Kabalisa retired yesterday from office after serving for 3 years as substantive Principal and prior to this as Acting Principal for some more years. Barnabas Kabalisa was an active lobbyist and advocate for improving industrial training for the tourism and hospitality sector and under his stewardship the institute saw major investments from government take place in additional infrastructure. Barnabas Kabalisa was given a send off by this correspondent in his capacity as Chairperson of the Board of HTTI in the presence of senior Ministry of Education officers, institute staff and students. An Acting Principal was put into place to hold fort while the appointing authority is finalising the drafting of the profile for a new Principal, due to be advertised soon, which will reflect the institution becoming part of the new public Busitema University by middle of 2007, when it will start offering its first degree courses besides the certificate and diploma courses now on offer. A formal farewell party will be organised for Barnabas Kabalisa in due course in recognition of his great achievements and contributions to the Institute's development since he took to the helm in 2002.
WORK COMMENCES ON KASESE AIRFIELD
Construction work has started to extend and fully tarmac the landing strip of Kasese airfield, which will in the future be able to accommodate small jet aircraft up to the size of a B737 or equivalent. Kasese is strategically located near two of the country's major national parks and is also near the border with the DR Congo, making aviation infrastructure of this nature a desirable addition. Access from Kasese to Queen Elizabeth National Park and the Rwenzori Mountain National Park is short with both just a few kilometres away from the airfield. A terminal building and other support structures are also being constructed to allow all weather operations meeting international standards vis-à-vis aviation security and safety.
TOURISTS BEMOAN IMMIGRATIONS' SPEED
Several tourists have gone public last week over their apparent struggle to get visitor's passes renewed on time, when seeking extensions at Immigration headquarters in Kampala. Some complainants claim to have been compelled to leave their passports at the immigration offices for as much as two weeks. It must however be pointed out that the general impressions visitors have of Uganda's immigration at the airport are much improved and few if any complaints are now recorded about the speed of getting Visa processed on arrival and being admitted into the country. (Results of the regular visitor surveys carried out at Entebbe and other border points) Visitors are regularly given at least a one month visitor pass and those needing to extend their Visa please bear with us, as Uganda &endash; like many other countries &endash; also needs to vet such applications in regard of possibly illegal work or other dubious activities. An American 'visitor' was arrested late last year (the second such case within 12 months!) and is still on remand on terrorism charges, after being found in possession of an AK47 assault rifle, ammunition and a handgun. To keep our country safe from such and other undesirables a little bureaucracy is unfortunately necessary &endash; yet nowhere near comparable with the mountain of obstacles, Western Embassies create for Ugandans to obtain Visa to visit those countries.
KAMPALA HILTON OWNERS SHOW SIGNS OF 'SUPERIORITY'
When the CHOGM main hotel list was published this week, the list started with the Kampala Serena, the Kampala Sheraton Hotel, the Speke Resort and Conference Centre, Hotel Africana and the Imperial Botanical Beach Hotel in Entebbe as major venues for the key functions and meetings. The proposed Kampala Hilton, which suffered of inexplicable start up problems, was not on the list as it is still a complete building site at a very early stage and would offer the site inspectors no valuable insight. This must have upset the Aya brothers and Mr. Hamid is said to have told the press: '(sic) they have never come to inspect our work' and why would they (the inspectors) want to wallow in mud on a building site when it is ready made hotels they need to see and assess …
The Aya brothers, otherwise engaged in grain milling, are building their first ever hotel and lo and behold, they are now experts in the field, not needing any inspections since, as one of them also told the press: 'we know what we are doing' Best of luck, maybe the cajoles approach works?
PALM VILLAS MUNYONYO OPEN
In Kampala's prime lakeside resort area of Munyonyo a new residential and leisure complex opened its doors a few days ago. Palm Villas comprises of 6 single storey and 23 double storey residences, including a club house and pool recreation area. It is located not far off from the Speke Resort and Conference Centre, where construction is presently going on for the Commonwealth Presidential Villas, complementing the existing Speke Resort area ahead of CHOGM 2007.
KISORO ROAD GETS FINANCIAL BOOST
The African Development Bank ADB has signed a supplementary loan agreement with the Government of Uganda to finance the reconstruction and tarmacking of the Kabale &endash; Kisoro road, one of the most scenic in the country in tourism terms. The road leads to the border triangle of Uganda with Rwanda and Congo and allows access to the gorilla national parks of Bwindi and Mgahinga, but also other areas of tourism value. The road will also ease transportation problems for farmers, making market access for cash crops easier.
BUJAGALI ENVIRONMENTAL IMPACT STATEMENT NOW PUBLIC
The promoters of the Bujagali hydroelectric dam have now published their environmental impact assessment and statement through the National Environmental Management Authority. The public now has time to read and react to the publication ahead of the next steps in putting the final touches on the financing agreements. Uganda is undergoing a massive power shortage, which is presently mitigated through expensive thermal power generation. The tourism stakeholders around the affected area, mainly rafting companies and small privately owned tourism and hospitality businesses, have in principle accepted the building of the dam but expect in mitigation, that a recreational zone is established along the Nile valley and the power lines from the plant moved away from the river frontage to allow the unfettered use of the land on and near the river frontage for recreation, residential, hospitality and tourism purposes &endash; a small price to pay, considering the successful fight the tourism sector had put up against AES Nile Power in 2000/1, when the then American promoters of the Bujagali power plant, the AES Corporation of Virginia, blatantly ignored and partly misled tourism stakeholders and their consultants, Acres International, grossly and probably deliberately understated the value of tourism businesses in Jinja. Time and general trends since then proved them comprehensively wrong of course, while the new promoters IPS / Sithe Global have taken better advice and are generally considered very well prepared for the public hearing phase now unfolding.
UWA SEEKS PARTNERS FOR KATONGA GAME RESERVE
The Uganda Wildlife Authority has now advertised for proposals to manage the Katonga Game Reserve in a public / private partnership under the Wildlife Statute's heading of wildlife use rights. Interested parties can make proposals and obtain further details from uwa@uwa.or.ug or through the Uganda Wildlife Authority's Director for Tourism, Business Development and Planning Mr. Damian Akankwasa via damian.akankwasa@uwa.or.ug
Information can also be obtained at www.uwa.or.ug
MOMBASA CRUISE SHIP TERMINAL PLANS TO BE SHELVED
The plans by the Mombasa Ports Authority, to find a strategic investor for a dedicated cruise ship terminal at the Mombasa harbour, have apparently been shelved as no partner has come forward to invest the nearly 30 Million US Dollars needed for the project. The Ports Authority is now set however to renovate the cruise liner docking area and improve access roads and infrastructure to better facilitate what could be a very profitable section of the future's tourism cake at the Kenyan coast.
QUEEN TO STAY AT THE KAMPALA SERENA HOTEL
Uganda's foreign minister has told parliament, that a decision has been reached to accommodate Queen Elizabeth at Kampala's finest hotel, the Kampala Serena Hotel, during her visit next year for the Commonwealth Head of Government Summit 2007 (CHOGM). Uganda is busy preparing roads, beautifying the Entebbe - Kampala corridor and upgrading the international airport for the big event and major additional infrastructural work is underway. Misguided critics of the summit, found exclusively in the opposition camp of Uganda's multiparty parliament, had vigorously opposed the summit to be held in Uganda but were thoroughly defeated even in public opinion where the mood is now almost entirely in favour of the summit and the subsequent improvements in road and other infrastructure.
The Kampala Serena Hotel, recently crowned 'Investment of the Year' in Uganda (while the hotel group for the fourth year running was awarded 'the most respected company status in the hospitality and tourism sector' by Price Waterhouse Coopers and the NationMediaGroup) has immediately established itself as Uganda's leading hotel and the honour to host H.M. the Queen reflects the quality of operation Serena established in the short time they were operating in Kampala. Incidentally, the entire workforce of now over 370 staff is East African by nationality of which 97 percent are Ugandans, a glowing endorsement of Serena's HR development policies which promotes local talent.
SORRY - WE ARE FULLY BOOKED
Uganda is benefiting from a tourism boom this festive season with airlines reporting a fully booked situation both in and out of Uganda. Campaigns to promote Uganda, like 'Uganda &endash; Gifted by Nature' are now clearly bearing dividends in the face of isolated but noisy critics, who condemned the series of CNN commercials as wasteful and useless. Improved security in and around the country's national parks too has boosted demand. New attractions have emerged also in Uganda, like the Ziwa Rhino Sanctuary, where visitors can now see 6 of the rare animals. The latest James Bond film also has a starting scene placed in Mbale, Eastern Uganda (on the slopes of Mt. Elgon) and this too has brought more focus on Uganda's tourism attractions. Said this correspondent in his capacity as President of the Uganda Tourism Association in a recent interview: 'we can now look back on 6 years of unprecedented growth, which in average was in the 25 percent per annum region. More airlines flying to Uganda, more and better accommodation facilities, improved national park infrastructure, intensified marketing campaigns and a stable predictable government have all contributed to these achievements. During my nearly 6 years in office now the tourism industry has come into its own in Uganda and UTA has played a major role in this through constructive engagement with government, working on legislative and regulatory measures and providing a conducive and enabling environment for more and more investments in the sector. The recent opening of the Kampala Serena Hotel is just one fine example how our efforts have born fruits for the country. As I prepare to retire from office in 2007, my colleagues on the Governing Council of UTA can be proud to have been part of putting tourism firmly on the top of economically well performing sectors in the country and I hope the next generation of leadership will be equally able to focus on sectoral needs and build on these grand achievements'.
VIRGIN TO FLY TO NAIROBI
The announcement was perfectly timed to lift the Christmas spirit amongst Kenya's tourism fraternity: Virgin, Britain's leading privately owned long haul airline, will commence flights into Nairobi from June 2007, operating a daily A340-300 service. Virgin's will provide 34 'Upper Class' seats in its famous business class section, premium economy will comprise of 35 seats and 171 seats will be set aside for economy passengers.
This will be a major boost for East Africa's tourism industry and is bound to positively impact also on the East African neighbours Uganda and Tanzania.
Non stop scheduled services on the Nairobi London route are otherwise provided by East Africa's premier airline 'Kenya Airways' and by British Airways, while inclusive tour charter operations by British carriers to Mombasa are common for many years now and have increased in frequency as demand for Kenya has exponentially increased over the past years.
RIFT VALLEY RAILWAYS PAYS UP AT LAST
In the nick of time has the South African let railway consortium, now running the railways of Kenya and Uganda, paid up their 'concession entry fee' of US Dollars 5 Million, making the takeover legally effective and the concession now fully active. While the Uganda government received 2 Million Dollars, the Kenya Government received its share of 3 Million Dollars, boosting national coffers ahead of Christmas. Shares have been set aside however to allow for the local investment market to get involved through the respective stock exchanges or direct placements.
KISUMU RE-OPENS AFTER SEVERAL WEEKS OF CLOSURE
Last weekend saw the start of scheduled air operations back into Kenya's lakeside city of Kisumu, following extensive runway, taxiway and apron repairs. This is seen as an advance measure of expanding the airport's runway and capacity over the coming years to facilitate the use of larger aircraft and cater for the sharply risen traffic numbers.
East African Safari Air Express &endash; the last to go off the route &endash; were also the first to resume operations and Kenya Airways was following suit only a few days afterwards. EASA operates 3 daily flights to and from Kisumu while Kenya Airways operates 2 flights a day.
'BLUE MANGO' TO MOVE TO NEW LOCATION
The Blue Mango, a restaurant and lodging facility in Kampala's Bukoto suburb, is to move by middle of January to a new site, following prolonged disputes over some of the land on which it was constructed, which also made further expansion impossible. Ugandan 'landlords' &endash; i.e. owners of land (much of it is leased to developers for commercial use) have gained notoriety in the past over wanting to become 'partners' in successful businesses by often less than ethical means and the owners of Blue Mango apparently had enough of those antics and decided to relocate altogether. This will be a blow however to many of their faithful patrons and regular guests who found the location convenient and easily accessible from the city centre.
EU TOURISM PROJECT TO CONTINUE UNTIL JUNE 2007
Following strong intervention by tourism stakeholders the EU has now agreed to extend the Uganda Sustainable Tourism Development Programme until June 2007, following which a 3 month wind down period will be added. The programme was scheduled to end December 13th but as it started several months late due to inherent logistical problems at the EU in 2002, the spirit of the agreement finally managed to come out on top and sweep aside the term limits of the financing agreement.
Kenya has been given additional tourism support along the lines of a similar programme and it is hoped that an add on programme in Uganda, focusing on private sector development and capacity building, will follow in coming years. Uganda's tourism has substantially revived over the past years, not the least thanks to the financial support of the EU programme and grateful acknowledgment is due at this stage to the Chief Technical Advisor Mr. Stanley Wilson and his programme assistant Ms. Anne Teddy Awori, who have been extremely supportive towards Uganda's tourism private sector.
NEW FUEL TAX PLANNED ?
Moves appear underway to add a levy on the price of fuel, as already done in Kenya some years ago, to benefit a road development fund. The planned levy would be approximately 10 percent of the present pump price or about 180 Uganda Shillings. Plans would however also involve the shelving of road licence fees and similar charges, it was reported in the Daily Monitor during the week.
KQ ADDS MORE 787 ORDERS
This column reported a while ago that Kenya Airways had signed 6 firm orders for the new Boeing Dreamliner 787 with another 6 options. The airline now reported that the firm orders were increased to 9 aircraft with another 4 options for what is generally considered the most fuel efficient aircraft produced by Boeing todate. Deliveries of the new aircraft are expected between 2010 and 2012, when the newer types will begin to replace the then ageing B 767 fleet. Well done, Pride of Africa.
UGANDA'S GORILLA PARKS ARE SAFE
Recent international press reports of armed conflict in the DR Congo, across from Uganda's border near Kisoro, portrayed the area as generally unsafe, causing scores of tourist organizations and individuals to seek advice from their embassies and the Uganda Tourism Association. It was re-affirmed that Bwindi National Park, the home of 4 habituated groups of mountain gorillas, is safe from any trouble and that Ugandan security had ensured the safety of visitors at all times. Gorilla tracking near Kisoro in Uganda's second gorilla park Mgahinga has not been possible for a while now as the habituated group had migrated across the border to Rwanda, but forest walks and hikes with guides have been ongoing activities offered by Uganda Wildlife Authority.
FORESTRY CHIEF LEAVES JOB OVER PRINCIPLES
The ongoing saga over forest allocations for sugar and palm oil plantations in Uganda has now reached a new level, when the Executive Director of the National Forest Authority Mr. Olav Bjella, a Norwegian expert attached to the NFA from the Norwegian development partners, resigned last week. He cited an ultimatum from high up, to either sign the permits for the beneficiaries or else resign. He was further quoted to rather do the honourable thing and resign than breaking the law, as in his expert opinion the change of use for indigenous rain forests can only be legally effected by an act of parliament but not an executive decision.
Several members of the board of trustees and senior management of NFA have resigned in recent weeks over their unwillingness to - in their opinion &endash; break the law and issue permits under political pressure.
In another twist of events the Minister responsible for Forestry has now also insinuated 'sabotage' on the side of the Forest Authority and called for a probe. This not entirely unexpected move prompted sources preferring anonymity to speak of the 'usual political whitewash scenario being put into place' to allot blame for the delay in giving the forests away on the NFA and 'environmentalists'.
Yet, large sections of the tourism and conservation fraternity in Uganda have warned against the indiscriminate change of use of indigenous rain forests in a country, where wood consumption is already reaching the point of non-sustainability. Concerns have also been expressed over the hydrological effect of large forest areas being cut for commerce and the toxological effect of fertilizing the plantations and the subsequent run-off into lakes and rivers.
In Mabira Forest a partnership between a Dutch and Ugandan consortium had embarked on the construction of an eco lodge, in which very neighbourhood sugar cane could soon be planted and on Bugala Island several tracts of indigenous, high canopy rain forest are to be cut to make way for palm oil plantations. The Buganda Kingdom had offered the Mehta family at the centre of the forest / sugar controversy the use of 15.000 hectares of land through outgrowers contracts but the company is adamant that they want total control over their growing areas and by implication turn potential agricultural partners into a menial labour force.
Alternative tracts of land have also been put forward for BIDCO's effort to establish a huge palm oil plantation so as to leave the forest alone.
It is hoped that common sense will in the end prevail and a workable compromise been found to make sustainable use of resources rather than following the all or nothing approach presently pursued by the powers that are, which includes upholding international conventions on bio-diversity protection, to which Uganda has become signatory in the past and for which substantial development support was given under bilateral and multilateral aid agreements.
Meanwhile, environmental groups are preparing for court action to obtain permanent injunctions over the change of use for the forest reserves. This comes hot on the heels of the latest scientific findings by NASA and the German Space Service Center, which has detected a fast deteriorating situation with Africa's water supply. A five year study has determined that the available water sources in Africa have dwindled along the Congo basin twice the amount of the continental annual consumption of water, and it is thought that indiscriminate cutting of forests are a major contributor next to the climate changes. Watch this column for the latest developments.
UGANDANS GET CHRISTMAS DISCOUNT IN PARKS
The Uganda Wildlife Authority has once again granted Ugandans a 50 percent discount on entry fees to the main national parks, in order to attract more visitors over the festive season. Schools in the country have closed for the long holidays and families are the main target group for the promotion. A similar offer last year (2005) was well received in the market and contributed to a 52 percent rise in gate numbers of Ugandans compared to 2004. The gorilla park of Bwindi, the primate park in Kibaale and the Rwenzori Mountain Park are however excluded from this special offer due to the exclusive nature of those protected areas. The offer lasts from 15th December until 15th January.
ZIWA RHINO SANCTUARY GETS BOOST
The owners of the Ziwa Rhino Sanctuary in Nakitoma / Nakasongola District &endash; located en route between Kampala and Murchisons Falls National Park &endash; have now given their consent to dedicate the ranch exclusively to conservation and tourism purposes. Capt. Joe Roy, owner of Ziwa Ranchers Limited agreed in a meeting with this correspondent (in his capacity as Chairman of the Rhino Fund Uganda) that all the remaining cattle, numbering about 2.000 at present, will during the dry season in early 2007 be moved to his nearby second cattle ranch, then turning Ziwa into an exclusive wildlife sanctuary. The Memorandum of Understanding between Ziwa Ranchers and RFU will subsequently be reviewed. In the MoU Ziwa had granted the Rhino Fund a 30 year renewable land use right for the establishment and operation of a Rhino Sanctuary.
This development follows earlier meetings with representatives of Save the Rhino International, who were keenly awaiting Capt. Roy's decision on the future of the sanctuary.
Visitors' numbers have been steadily climbing at Ziwa and most safari operators now include a stop at Ziwa on the way to or from Murchisons. Presently 3 breeding pairs of the Southern white species are located in the sanctuary.
VICTORIA INTERNATIONAL'S PROBLEMS CONTINUE
Only two weeks into regular operations a recent flight to Nairobi had to be subcontracted to Eagle Air, which used a LET 410 turboprop 19-seater aircraft to carry VIA's passengers to the Kenyan capital, when the VIA Boeing 737-200 did not return in time from a flight to Johannesburg. This correspondent's dentist also reported being 'stuck' in Juba during this week, when his VIA flight did not arrive on schedule, causing the postponement of his return to the surgery.
Capt. Tony Rubombora was flippant in his response to the question on VIA using his aircraft, pointing out that other airlines too had in the past chartered his planes in such circumstances and then launching a blistering attack on the concept of foreign owned airlines coming to Uganda and being granted operating licenses.
TOURISM MINISTRY OFFERS TRAINING
The Ministry of Tourism, Trade and Industry has now invited nominations from Ugandan hotels in the Entebbe &endash; Kampala &endash; Mukono corridor to send up to 4 staff for training courses covering aspects of house keeping, front office operations, food and beverage operations and food production. This is part of the human resource development plans now underway ahead of the Commonwealth Summit in November 2007.
In a related development notice was also given that the long overdue classification and grading of hotels under the East African Community procedural rules will commence in February 2007, also geared towards injecting greater professionalism and realistic hotel grades into the market, which has long allotted itself stars far from reality.
CAA SETS DATE FOR LICENSING HEARING
The long awaited second public hearing of the licensing committee of the Board of Directors of the Ugandan CAA has now been called for 30th November at the new Kampala Serena Conference Centre. 13 applications will be heard, from renewals for existing air service licenses to new applications for scheduled and non-scheduled passenger and cargo services, both domestic as well as international.
The Kenyan regulators were also last week conducting a licensing hearing for new applicants, still under individual country rules, as the common single sky policy and administration for East Africa has not yet come into effect.
This comes at a time when the European Union has just recently banned East Africa's largest cargo carrier DAS Air Cargo, based in Uganda, from flying into the EU over safety and maintenance concerns. Its domestic and regional passenger affiliate Dairo Air Services has recently re-branded itself into Royal Daisy Airline and will also have their licence application heard under the new company name on 30th November. ICAO audits have in the past regularly taken place at the Ugandan CAA, which was however always certified as making steady progress towards full compliance with the current international regulatory regime.
AHSSA EXECUTIVE MEETS IN UGANDA
The executive members of the association of hotel schools in sub-Saharan Africa have arrived in Uganda for their annual general assembly and conference, which is held at the Crested Crane Hotel in Jinja, where the Ugandan national Hotel and Tourism Training Institute is located. About 35 senior most staff of Africa's leading hotel schools are in Uganda for 5 days to discuss matters of mutual interest in vocational and tertiary education and training for the tourism industry.
Uganda's national hotel and tourism training institution has embarked on re-writing the curriculum for certificate and diploma courses and will begin to offer degree courses in hospitality management from mid 2007 onwards. The institute will by then have become part of Busitema University, a new public university in Eastern Uganda, initially as a constituent college but later to transform into a fully fledged faculty for hospitality and tourism management.
For the graduation of the institute on Friday 03rd November President Museveni has been named as Chief Guest, who will also officially commission the newly constructed tuition and administration building and a new 30 seater bus for the institute. This duty has however been delegated by the President as he is presently on a State visit to China to attend the China &endash; Africa forum. This correspondent is privileged to be Chairperson of the Institute's Governing Council and much involved in transforming the institution from 'ordinary' tertiary status to become an integral part of the new University.
KQ PROFITS CONTINUE TO RISE
The first half of the current financial year showed a near 9 percent profit rise before tax, while passenger numbers rose by about 7 percent. These figures were released a few days ago by the airline's CEO Titus Naikuni. The airline has just started non-stop flights from Nairobi to Paris, which will further add to growth in coming months.
Fuel now constitutes about 30 percent of the operating cost of the airline, which reflects the use of modern fuel efficient aircraft throughout the fleet. 3 old B 737-200 are being released from the fleet over the coming 2 months and will be replaced by state of the art B 737-800 aircraft, while a fourth Boeing 777 will join the fleet in February 2007.
In stark contrast presents itself Ethiopian Airlines' balance sheet with a 50 percent profit reduction over the last financial year &endash; giving further credit to Kenya Airways successful management over the past few years, which saw all relevant economic indicators grow from strength to strength. Undoubtedly and truly KQ remains 'the Pride of Africa' in all respects.
RAILWAY HANDOVER SIGNED IN KAMPALA
Rift Valley Railways and the governments of Uganda and Kenya signed on Monday this week the final documents to effectively hand over railway operations to the concessionaire on November 01st. This now concludes a 4 year privatization process for the two railways, which were to be jointly concessioned and operated by one new company. The railways concession will last for an initial 25 years and the South African led consortium is expected to make major new investments in both track and running stock of the railways. Improvements and opportunities also await for future passenger transport with an eye on luxury trains once again traversing East Africa.
NEW AIRLINE START UP IN KENYA
A new aviation business by the name of Fly540 seems to be taking shape in Kenya, probably stimulated by the growing demand for domestic flights. The airline recently had its dormant licence renewed by the KCAA and reportedly will soon receive 2 ATR 42 aircraft from South Africa on lease to commence operations.
Lonrho appears to have taken a 1.5 Million US Dollars stake in the company in an attempt to re-enter the Kenyan business scene, which they left in a hurry some years ago, when Tiny Rowland's successor Dieter Bock heaved off most of the African business ventures, including Lonrho Hotels, Toyota Kenya and Farmers Choice, of what used to be the London Rhodesia Company's choice investments in East Africa.
However, in this case the apparent primary promoter is closely associated with major business failures in the past, such as the Flamingo Group of Companies in the early 90's as CFO and more recently of Regional Air as CEO &endash; so another business crash landing cannot be ruled out entirely &endash; having a reputation like this hangs like a lasting cloud, specially in a small market like East Africa. Market leader Kenya Airways and other successful Kenyan airlines like Jetlink or East African Safari Air Express are therefore unlikely to shake in their boots as yet and worry about new competition.
EMIRATES ADDS THIRD NEW YORK FLIGHT
Information just released to travel agents in Uganda by Emirates brings more good news. The award winning airline is set to add a third daily flight from Dubai to New York, allowing yet more connections to the 'Big Apple' from Uganda, where a traveler to or from the country can now choose to stay over in Dubai for a few hours of shopping or sightseeing, before taking the next convenient onward flight to the United States. This is especially important also for the tourists coming to visit East Africa from the US, as once again more seats are becoming available to reach the globe's most treasured safari destination.
POWER TARIFFS UP AGAIN
With the arrival of another 50 MV diesel powered electricity plant the present crippling energy shortage is lessened but the cost has dramatically increased. An average increase of 50 percent in tariffs has therefore come into effect on 01st November, the second such increase over the past year. Additional diesel and heavy fuel oil generating capacities are being introduced in coming months, expected to bring a further 100 MW capacity into the market, but once again to cost the consumers dearly through further tariff increases.
The new hydroelectric plant at Bujagali, on the upper Nile valley, is due to break ground in March 2007 and is expected to take up to 4 years to construct. Only the most obstinate of opponents are still making issues over the new dam, as the country has come to realize that one either sits in the dark or receives thermally generated power which in the long term cannot be financially sustained.
AIR TANZANIA GOES ALONE AGAIN
Following the separation of the two companies Air Tanzania is now once again seeking a manager for Uganda to revive its fortunes, although no flights are presently operated by ATC between Entebbe and Dar es Salaam. Maybe an indication of a resumption of flights at an early stage &endash; watch this column for news updates on Uganda's aviation scene.
SN BRUSSELS TAKE ON BAR CHAIR
Mr. Pierre Declerck of SN Brussels Airlines has now for the remainder of the term taken over as acting BAR Chairperson, after the substantive office holder Mr. Emmanuel Okware, formerly of Kenya Airways, stepped down following his departure from KQ. Emmanuel, the first ever Ugandan to hold country manager status in Uganda for the airline, found his contract on expiry not being renewed under what is generally speculated over being suspect circumstances. Officials from the airline decline to comment on the matter but details are gradually emerging that such position to be held by Kenyans in the face of public assurances that the airline is a 'true East African carrier'.The Ugandan aviation fraternity and many clients of KQ who highly valued Emmanuel's professional work ethics and performance continue to be incensed over KQ's move.
NOW LANDLINE NUMBERS CHANGE TO 7 DIGITS
The long overdue move to add a 7th digit to Ugandan landlines is now going underway to make telephone numbers internationally compatible. Between 18th October and 12th November all Ugandan landline exchanges will add a '4' to their previous dialing code so that Kampala and Entebbe for instance will have a prefix '041 - 4' once the conversion is completed. Consult your Ugandan business partners for full details on their updated phone and fax lines in coming weeks to remain connected with them.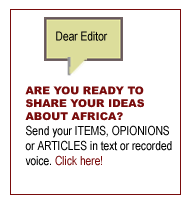 HTTI GETS NEW BUILDING
After over a year of construction time a new tuition and administration block for the Ugandan national Hotel and Tourism Training Institute has now been completed and been formally handed by the contractor to the Ministry of Education construction management unit and the Institute's Chairperson and Principal. This will bring relief to the students who can now study in state of the art surroundings. Also handed over was a 30 seater minibus, procured by the Education Ministry for the Institute and a new large capacity generator will be delivered shortly too.
This is all taking place just two weeks before the annual assembly of AHSSA, the association of hotel schools in sub-Saharan Africa and the annual graduation ceremony, which is due on November 03rd.
VIAL &endash; TO START OR TO START
After twice announcing starting dates to commence flight operations news have now emerged that Victoria International Airlines has set a new date for 06th November to commence flights. The airline now proposes to introduce two B737-200 aircraft and intends to fly such routes as Nairobi, Mombasa, Juba, Lusaka and Johannesburg. Happy landings, as and when it takes off.
CAA FIGHTS AGAINST EU BAN ON DAS AIR
The Civil Aviation Authority has sent a senior management team to Brussels to argue the case of DAS Air Cargo, the nation's predominant cargo carrier of flowers, fish and fresh produce, which has fallen foul of EU regulations and been put on the black list. The EU has been known to act in a heavy handed manner and questions are being asked to what extent they consulted their Ugandan regulator counterparts in advance of taking such a drastic action &endash; two faced friends, taking into account the long held anti travel advisories to which EU states were party. No such sentiments from Africa's new friends in the East, where Chino not only encourages her citizens to visit African countries but also offers fairer trade practices and certainly continues to allow DAS Air to fly cargo to the world's most populous nation.
SOUTH AFRICAN AIRWAYS CHANGES SCHEDULE
As reported in this column some weeks ago, SAA has now introduced a late arrival into Entebbe and will offer an early morning departure back to Johannesburg, to allow the best possible connectivity for passengers to and from Uganda within the SAA global schedule. This goes alongside the introduction of new flights from Johannesburg to Washington DC, which will arguably offer the fastest connection from Africa to the US.
TUGATA RETAINS EUGENIE NSUBUGA AS CHAIRPERSON
In the recent AGM held by The Uganda Association of Travel Agents Ms. Eugenie Nsubuga was re-elected unanimously as chairperson for another term of office. Eugenie some weeks ago made travel history in Uganda when her agency Swanair was elected to become a full franchise of Carlson Wagonlit Travel. Eugenie has been a leading beacon in the travel fraternity for many years and has held the TUGATA chair for the past 4 years.
SHERATON HONOURS OUTGOING RHINO FUND EXECUTIVE DIRECTOR
The Sheraton Kampala last night gave a big send off party to Yvonne Verkaik, who has been Executive Director of the Rhino Fund Uganda for the past 8 years and is now moving to France with her husband Bruce Hathorn &endash; who was ranch manger at Ziwa and also a member of the Board &endash; to take up dairy farming. The Sheraton Kampala has long been associated with wildlife conservation in the country and their 'Going Green' programme, where guest contributions are matched by the hotel, have gone a long way to support such conservation efforts like the Rhino Fund. Yvonne Verkaik has rightly become Uganda's Rhino Lady due to her tireless efforts to promote the return of the extinct species to the country.
The Board of the Rhino Fund and leading conservation and tourism figures were invited for the event and also present were senior staff from the Disney Animal Kingdom, which a few weeks ago sent a breeding pair of rhinos to Uganda in a much publicized translocation. The Chairman of the Board of RFU (this correspondent) and his colleagues applauded Yvonne for her great achievement to have started not only the rhino enclosure at the Uganda Wildlife Education Centre but also finished the 17.000 acre rhino sanctuary at Ziwa Ranch, where now 3 breeding pairs are located and expected to reproduce in due course. The introduction of the Eastern Black Rhino is also on course and some of the endangered species may in fact arrive on the sanctuary before the end of the year, again due to Yvonne's persistence and resourcefulness.
Yvonne was during the last board meeting also elevated to play a continued central role in the Rhino Fund Uganda through the Advisory Council, which brings together eminent conservation personalities from across East Africa and the rest of the world for the benefit of fund raising and guidance to the board and management of the Fund.
The Board has in the meantime also appointed Mr. Deren Coetzer as new Executive Director and Secretary to the Board, to be based on the sanctuary at Ziwa Ranch, and Mr. Mike Oberholzer as a new Board member, representing Ziwa Ranchers Ltd. Fare you well Yvonne and Bruce and God's speed on your way together with our lasting gratitude.
KENYA AIRWAYS TO START ISLAND FLIGHTS
Following the start of regular flights to Paris Kenya Airways has now also announced new flights to Mayotte and Comoros, both French speaking islands in the Indian Ocean off the East Africa coast. These new flights will start in November with the start of the winter schedule. Visit their website www.kenya-airways.com for more details and bookings.
FIRST LOT OF TREES CUT IN MABIRA
Reports have emerged that several acres of nurtured 'Musizi' (measopsis emini) trees have been cut in recent days and are being turned into charcoal. NFA (national forest authority) officials are guarded about pinpointing the suspected culprits in the scheme but suspicion is rife amongst the conservation fraternity that the Mehta owned SCOUL &endash; Sugar Corporation of Uganda Limited may be behind the development, as they have been trying for months to get their hands on thousands of acres of protected forest land to expand their sugar plantations. Apparently offers by the Buganda kingdom, which would have nearly doubled the size under plantation but owned and operated by outgrowers, i.e. independent small scale farmers, did not find favour with SCOUL, who intend to control the plantations directly and rather turn independent farmers into cheap labour.
NOW GIFTED BY NATURE CAMPAIGN UNDER AUDITOR GENERAL SCRUTINY
The Public Procurement and Disposal of Public Assets Authority has now asked the Auditor General to probe into the expenditure of about 1.35 Million US Dollars over the 2005/6 CNN campaign and related work of the 'Gifted by Nature' initiative, which they claim flouted public procurement guidelines and regulations. The Authority had in September 2005 rejected a request by the Ministry of Tourism, Trade and Industry to set aside the procurement rules and this is the second time that the deal is now being looked at over allegations from the public and parliamentarians.
The top managers of a USAID funded programme, who were deeply involved in the initiative, have last weekend quietly left the country after the controversial project came to a timely end.
NEW HUNT FOR KILLER CROCS
Another crocodile was shot as vermin after attacking people fetching water from the shores of river Mayanja. Most recently a young boy was critically injured and while normally UWA are called in to trap the beasts and relocate them, vermin control officers now swung into action to protect their own neighbourhood. They are still hunting for more crocodiles, which in past years have killed several people, injured many and also taken a number of livestock when coming to the water.
LICENSING COMMITTEE TO SIT IN NOVEMBER
The CAA Board of Director's licensing committee is apparently set to have a second public hearing some time in November this year, when applications for new air service licenses and renewals of existing licenses will be heard. The date will be advertised in a public notice at least 30 days prior to the hearing, when all new applications will also be listed for public information.
STOP PRESS
KENYA AIRWAYS HALTS START OF BRAZZAVILLE AND COTONOU FLIGHTS
In a sudden turn of events Kenya Airways released a terse press statement yesterday afternoon, in which they announced the postponement of the new flights to West Africa. Unresolved issues over the bilateral air services agreement &endash; BASA &endash; seem to be behind the delay, which paints the commitment of African countries to the Yamoussoukro aviation agreement in a poor light. As if Congo Brazzaville and Benin were in position anyway to dictate terms, when offered new air connections by one of Africa's leading carriers, but apparently their mind-boggling bureaucrazies (punt intended) have now anyway thrown a spanner into the works of KQ's network expansion, at least for a while.
JINJA CELEBRATES CENTENARY
Jinja municipality, also self appointed 'Adventure Capital of East Africa' will between September and December this year celebrate the 100th anniversary of its town status and its 50th anniversary of its municipal status. Founded by the British in 1901, when they made a small fishing village at the source of the mighty river Nile into their provincial headquarters for the Busoga Kingdom, it was in 1906 given town status. In 1956, a few years prior to Uganda's independence, Jinja was elevated to municipal status.
In the early years of independence Jinja rose to become the industrial heart of Uganda, being connected to the railway system from Mombasa's port but also by lake harbour to the other main ports on Lake Victoria, Kisumu (formerly Port Florence) and Mwanza.
During the Amin era the municipality fell into disrepair, when most of the industries had to shut down, and only in the mid 90's did Jinja awake from its long slumber. Today it is home to Uganda's national Hotel and Tourism Training Institute and offers a wide range of adventure activities along the upper Nile valley, such as rafting, kayaking, bungee jumping, horse riding, cross country biking and quadbiking. It is estimated that about 25.000 visitors come to Jinja per year now to participate in such activities, which makes the tourism industry the mainstay of the area's economy, although industrial and manufacturing activities have of late also been resurrected. Check out the following websites: Uganda Tourist Board / Tourism Uganda at www.visituganda.com or find rafting related information at www.raftafrica.com, www.surfthesource.com or www.nalubalerafting.com
The celebrations will begin on September 22nd and end in early December. In late October the HTTI will host the annual AHSSA assembly, bringing together principals and senior staff from the key hotel and tourism training institutes from across sub-Saharan Africa.
CATTLE INVASION THREATENS NATIONAL PARK
Reports have emerged that cattle keepers who have been evicted from neighbouring Parc de Virunga in Congo have entered Queen Elizabeth National Park en masse and that nearly 40.000 cattle are now competing with wildlife for the grazing resources in the park. Their keepers are also reported to indiscriminately slash trees for fire wood, threatening the fragile ecosystem. In the past such invasions also took place in other parts of the country, notably around Lake Mburo National Park, Kidepo National Park and the Semliki Game Reserve, all parks of exceptional value for tourism businesses and site of upmarket lodges.
Past interventions with the Ministry of Tourism have yielded little results and the Minister has been shtumm on the issue. It is now expected that environmental and conservation groups will try to have the matter raised in Parliament to compel the Ministry to act and back Uganda Wildlife Authority in taking comprehensive action.
Tourism sources have expressed grave concern, specially ahead of the much awaited Commonwealth Summit in 14 months time, that decade long conservation efforts and multi million Dollar investments into the parks through the World Bank PAMSU programme, will be voided by the invasions and that tourists operators abroad will halt programmes to send their clients to Uganda.
SHERATON KAMPALA TRIES TO APPEASE PUBLIC
With renovations going on for nearly 4 years now, the Sheraton Kampala has taken to the offensive and invited selected media houses for a PR offensive. General Manager Jawaid Akhtar gave a figure of 24 Million US Dollars which he claims have been spent over the past years in renovating the hotel. This however compares poorly with the US Dollars 30 Million spent by Serena Hotels, which commenced construction of the new Kampala Serena Hotel in February 2005 and opened the hotel for operations on 31st July 2006, i.e. within 18 months. This disparity left the public wondering just when the Sheraton will complete their rehabilitation programme and where exactly the money has been spent in the hotel.
With other upmarket hotel projects also underway in Kampala ahead of the Commonwealth Summit in November 2007, clients are likely to have greater choices and will arguably vote with their feet by migrating to newer properties, once they feel that promises and projections are not delivered.
KAMPALA HILTON A 'MIRAGE' ?
It was with much fanfare that the Sudan born Aya brothers broke ground some months ago and promised the public and the government, that their new proposed Hilton Kampala would be ready within 52 weeks. Breaking however mainly included the razing of the former headquarters and studios of Uganda Television, which had to be relocated, after government gave the 14 acre piece of prime real estate to the two brothers.
Regular visits to the site then revealed that after the initial hullabaloo no substantial work was being done and the Hilton boys, who were camped at the Sheraton Kampala Hotel, quietly left the country when it became apparent that the brothers could not raise the required finance. Government now has to come to terms with the fact that the projected new hotel might not be ready for the forthcoming Commonwealth Summit in November 2007 and it is generally feared that this could pose a serious threat to the state of readiness for the summit next year.
It is now also understood that investigations have been launched into how the two brothers could have gained access to the highest level of government and duped them into giving priceless real estate to them for a hotel development without having the resources nor being required to post a performance bond, which could now be called in.
ELECTRICITY TARIFFS TO RISE AGAIN
Following an average increase of 38 percent (58 percent for industrial consumers) some months ago the electricity companies in Uganda are once more seeking a sharp rise in their tariffs, reflecting the cost of thermal generation of electricity as opposed to hydro generation. The country is currently suffering the worst energy crisis in its history with the 365 MW capacity at the dam in Jinja now down to a mere 135 MW, which is still falling however.
Additional thermal plants have also been delayed over complaints by one unsuccessful bidder, who lodged his grievance with the Inspector General of Government (complaints Ombudsman) who subsequently halted the tender process. The entire country is now held at ransom by some individuals, who have just filed formal suit in court, a behaviour generally perceived by Ugandan society as greedy and unpatriotic. In a 48 hr period Ugandans now can only count on about 20 hrs of electricity supply, as the published schedules are often ignored by the operator.
KENYA AIRWAYS ADDS BRAZZAVILLE AND COTONOU
In a further network expansion across the African continent KQ has now added another two West African destinations, bringing the total of African cities served to 30. This makes Kenya Airways a premier choice as connecting airline through Nairobi, especially from their main European hub Amsterdam, to which they now fly a B 777 three times every day in codeshare with KLM. Paris flights will also commence on October 26th to add another European destination aimed at increasing tourism arrivals to East Africa from France. For more information see www.kenya-airways.com
UGANDA GETS 9 MORE RAMSAR SITES
In addition to Lakes Nabugabo and George 9 other wetlands across Uganda have now been declared RAMSAR protected sites of international importance for resident and migratory bird species. Bird watching has been a growing market niche in Uganda's tourism sector and this declaration will undoubtedly boost the country's global attraction and standing as a leading bird watching destination.
MTN KAMPALA MARATHON FOR NOVEMBER 19TH
The annual Kampala marathon will this year be run on the 19th of November and registration for runners will cost Ushs 5.000/- or about US Dollars 3 per person. Information can be accessed via www.kampalamarathon.com or from mtnmarathon@mtn.co.ug
BEWARE OF NAIROBI AIRPORT SECURITY
At a recent return from Nairobi to Entebbe the last minute visit to the duty free shop near Gate 4 proved to be a loss of money, as the security detail at Gate 4 demanded that a just purchased bottle of wine, in spite of the receipt and the duty free plastic bag clearly identifying sale, be dropped at the gate or checked as baggage. Being one of the last to board, a privilege front cabin passengers have, this correspondent also witnessed another passenger having to drop his bottle &endash; still sealed &endash; of mineral water. Would it be completely beyond imagination, that the bottle of very decent French red wine could have found its way back to the shop and the guards taken a little profit from the venture? There was no container like for scissors or other sharp objects but the bottle simply went behind the X-Ray machine ?!? These two guards, as others seen in different airports in the world, could well have fitted in their behaviour towards the other passenger (who was told he would miss his flight and worse if he would not part with his water) Herr Himmler's profile of state thugs, although generally airport security has definitely undergone lessons in people skills and PR in recent years.