AFRICAN AGRICULTURAL TECHNOLOGY FOUNDATION
The AATF Mission
To link needs of resource-poor, smallholder farmers in sub-Saharan Africa with potential technological solutions through:
Identifying and facilitating royalty free transfers of proprietary technologies through negotiation
Entering into contractual agreements with existing institutions that will manage deployment of the technologies
Ensuring that subsequent constraints after access are addressed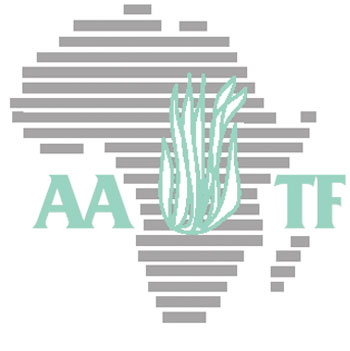 UNIDO DG ROUTES FOR BIOTECH, BIOFUELS IN AFRICA
The Director General of the United Nations Industrial Development Organization (UNIDO), Dr Kandeh Yumkellah, has called on African scientists and leaders to make Africa a world leader in biofuels production.
Speaking in Nairobi Monday, February 5 during the monthly Open Forum for Agricultural Biotechnology (OFAB 4) initiated by the African Agricultural Technology Foundation (AATF), Dr Yumkellah, said Africa had the greatest potential to supply the world with biofuels but that it would only be able to do so if right policies are put in place and scientists given adequate support to conduct research.
He said it would be sad for scientists in Africa, including those serving under the CGIAR on the continent, just to sit back only for them to come back 15 years later to conduct retrogressive research on how and why Africa lost again in the on-going agricultural biotechnology and biofuels revolutions.
The DG said Africa could produce enough cassava, palm oil, sugar cane, maize, among other crops and trees to produce biofuels for the continent and for export. However, he said that for an agricultural revolution there would have to be formed strong public and private partnerships to marshal new technologies and investments. He promised UNIDO support and asked AATF through its Executive Director, Dr Mpoko Bokanga, to help rally African farmers, scientists and leaders for a sustainable agricultural revolution so that the continent can be food secure and also produce surplus for biofuels' generation. For more information contact the African Agricultural Technology Foundation ate-mail: aatf@aatf-africa.org
WEBSITE: http://www.aatf-africa.org/mission.php
AFRICA: New era of biodiversity access begins
16th October, 2005 &endash; Rome, Italy
World leaders in agricultural research today signed agreements that guarantee long term access to some of the world's most important collections of agricultural biodiversity at the same time as requiring commercial users to share benefits with the global community.
In a ceremony timed to take place on World Food Day &endash; with its theme of Investing in Agriculture for Food Security &endash; 11 centres of the Consultative Group on International Agricultural Research (CGIAR) will place all their ex-situ genebank collections under the International Treaty on Plant Genetic Resources for Food and Agriculture, now ratified by 105 countries.
"This really is an investment in food security," said Emile Frison, Director General of IPGRI, which is responsible for the world's banana collection. "The genetic diversity created in the past by farmers and researchers is the foundation of improvements to meet the challenges of the future."
"Unless we can meet those challenges," Frison added, "there will be no food security." The Centres of the CGIAR hold more than 600,000 samples of crop-plant diversity. This includes wild relatives and more than half of the global total of farmer-created varieties, which are such a rich source of sought-after characteristics, for example to meet the challenge of climate change..
Mahmoud Solh, Director General of the International Centre for Agricultural Research in the Dry Areas (ICARDA), also in Rome for the signing, said that the new agreements would "allow breeders and other researchers to tap the collections for solutions to the most pressing problems, such as drought, desertification, and food and nutritional security."
Centre directors "warmly welcome" the agreements and "commit themselves to supporting and implementing the Treaty". A statement issued by the Alliance of CGIAR Centres sets out the Centres' common understanding of certain provisions of the Agreements and indicates some actions that the Centres will be taking to implement them.//..