Bermuda Premier Dr. Ewart F. Brown to be Keynote Speaker at 4th IIPT African Conference
Kampala, Uganda, May 20-25, 2007
(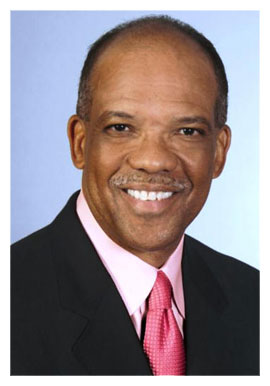 February 6, 2007, Stowe, Vermont, USA) IIPT Founder and President, Louis D'Amore announced today that Bermuda Premier and Minister of Tourism and Transport, The Hon. Dr. Ewart F. Brown, JP, MP will be a featured Keynote Speaker at the 4th IIPT African Conference on Peace through Tourism being held May 20 &endash; 25 in Kampala, Uganda, under the patronage of H.E. Yoweri Kaguta Museveni.
The Conference is being hosted by the Uganda Ministry of Tourism, Trade and Industry, and organized in partnership with the Africa Travel Association (ATA) in support of the UN Decade of Peace and Non-Violence for the Children of the World and the UN Millennium Development Goals.
As Minister of Tourism and Transport and Deputy Premier, Dr. Brown hosted the 2006 Africa Diaspora Heritage Trail Conference held in Bermuda, September 2006. The goal of the 2006 conference was to provide a continuing forum for sharing philosophies, policies, resources, strategic models, and cultural expression that will enhance heritage tourism development and stimulate the perpetuation of African Diaspora Heritage Trail destinations, programs and products - all crafted from the perspective of people of the African Diaspora working to conserve the vast achievements of our cultures.
In making the announcement, Louis D'Amore said: "We are most honored to have Premier Brown again join us as a Keynote Speaker and look forward to supporting Bermuda's bold initiative in facilitating long term relationships between the nations of Africa, the Caribbean, North and South America by means of the Africa Diaspora Heritage Trail. The Africa Diaspora Heritage Trail serves to educate visitors, enhance the economies of destinations, and conserve the essence ofAfrican culture, history and achievements."
The Hon. Dr. Ewart F. Brown, JP, MP, Bermuda Premier and Minister of Tourism and Transport
In his youth, Premier Brown excelled as an athlete, particularly in cricket and track and field. While at Howard University in the United States, he represented Bermuda in the Commonwealth Games and as well was a student activist in the Civil Rights movement.
Premier Brown continued his education to become a doctor, and went on to earn a Master of Public Health degree from the University of California. During his medical practice, he earned several prestigious awards including the Physicians Recognition Award from the American Medical Association; Grassroots Health Award from the Sons of Watts, California; Community Leadership Award conferred by the Dubois Academic Institute; NAACP Pacesetter Award; and the Humanitarian of the Year Award of the Marcus Garvey School.
Premier Brown began his political career in 1993 winning a seat in Parliament and in 1998 was appointed to the Cabinet as Minister of Transport. He was named Deputy Premier and Minister of Tourism and Transport in 2003 and was elected Premier in October 2006 and continues as Minister of Tourism and Transport.
In 2004, he re-ignited the torch of the Africa Diaspora Heritage Trail originally lit by Hon. David H. Allen who was inspired to conceive the vision of an ADHT while participating as a keynote speaker in the first IIPT Summit on Peace through Tourism, Amman 2000. The ADHT was subsequently launched as a self-guided tour in Bermuda in 2001 and the First Africa Diaspora Heritage Trail Conference was held in May 2002. Dr. Brown hosted the Second ADHT Conference in 1996 following a Planning Conference in 1995.
4th IIPT Conference Theme
Theme of the Conference is "Building Strategic Alliances for Sustainable Tourism Development, Peace and Reconciliation on the African Continent." Its goals are to broaden awareness of the social, cultural, environmental, and economic benefits of tourism; identify new markets; facilitate product development and investment opportunities; contribute to reconciliation peace, wealth creation and poverty reduction on the African continent; and continue building bridges of tourism, friendship, and collaboration.
The Conference will bring together Ministers of Tourism and senior executives from both the public and private sectors of tourism, NGOs, and donor agencies, as well as educators, policy analysts, leading practitioners, entrepreneurs, future leaders of the industry, and senior representatives of related sectors including environment, culture and economic development.
Journalists are invited to go to www.iipt.org to apply for media credentials for the 4th IIPT African Conference &endash; and participation in the First African Media Exchange or contact Ms. Karen Hoffman, Director, IIPT Public Relations at email iiptmedia@aol.com.
About International Institute for Peace through Tourism (IIPT)
IIPT is dedicated to fostering and facilitating tourism initiatives which contribute to international understanding and cooperation, an improved quality of environment, the preservation of heritage and poverty reduction, and through these initiatives, help bring about a more peaceful and sustainable world.d's first 'Global Peace Industry,' an industry that promotes and supports the belief that 'Every traveler is potentially an Ambassador for Peace.'
For more information on IIPT please visit: www.iipt.org; Tel: 802 253.2658; Fax: 802 253.2645; Email: Africa@iipt.org
Media Contact: Karen Hoffman, The Bradford Group. Tel: 212 447.0027; Email: iiptmedia@aol.com.