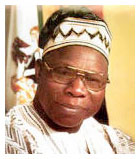 Leon H. Sullivan Foundation to Honor Nigerian President Olusegun Obasanjo
WHO:
· Olusegun Obasanjo, President of the Federal Republic of Nigeria
· Andrew Young, Former U.N. Ambassador
· Hope Masters, President & CEO, Leon H Sullivan Foundation
· More than 800 national and international dignitaries, political leaders, African community leaders and friends of Africa
WHAT: A commemorative evening to honor His Excellency "Chief" Olusegun Obasanjo. As Obasanjo's presidential term comes to an end next year, this champion of democracy will not only be celebrated for his illustrious career as President, but also for being an exemplary leader in all facets of his military and political career, which began in the 60's and continues on today. World leaders along with heads of state from various African nations and U.S. based African organizations will give remarks.
WHERE: The Waldorf-Astoria Hotel, 301 Park Avenue - New York, New York
WHEN: Thursday, December 19, 2006
6:00 p.m. Reception
7:00 p.m. Dinner

RSVP: By December 15, 2006
RSVP Online or by telephone (202) 736-2239
Leon H. Sullivan Foundation, 1800 K St. NW, Suite 1021,
Washington DC 20006, fax: 202-736-2226
The mission of the Sullivan Summits, first created in 1991 by the late Rev. Leon H. Sullivan, is to build a bridge of relationships, networks and personal experience among Africans, African-Americans, Africans in Diaspora and all people committed to the development of the continent of Africa.