AFRICA TRAVEL ASSOCIATION (ATA) SHOWCASES SOUTH AFRICA IN NEW YORK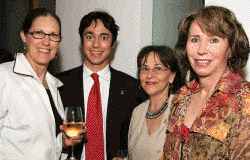 NEW YORK, N.Y., July 10, 2007. A dynamic group of forward-thinking individuals in diplomacy, business, travel and tourism, hospitality, art, film, media, and education gathered on June 21 at one of New York's finest restaurants, Aquavit, for a cocktail reception and presentation devoted to "Bringing New York to South Africa and South Africa to New York."
Organized by the Africa Travel Association (ATA) and co-hosted by the Sandton Convention Centre (SCC) and South African Tourism in New York (SAT-NY), the exclusive event showcased South Africa as a business travel destination, with a special focus on SCC's world class facilities.
"As the continent's premier convention centre, the 12-storey structure was designed to provide special event space for conventions, conferences, meetings and exhibitions across four main levels and for groups of all sizes," said Mati Nyazema, SCC Executive Director. "The centre has hosted numerous high profile events since its opening in September 2000, including Nelson Mandela and Desmond Tutu's birthday parties, the World Summit on Sustainable Development, and the World Petroleum Congress, alongside several UN events and the Global Summit of Women. SCC also plans to host events related to World Cup 2010."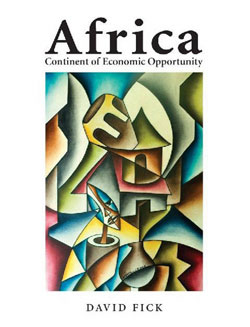 In attendance were individuals with philanthropic and business interests in Africa, including representatives from the South African Permanent Mission to the UN, the South African Consulate in New York, UNICEF, UN-NY Office of Sport for Development and Peace, the UN Africa Women's Association, UBS, MENA, Sotheby's, Amaridian, Ingrao, the Food Network, the Africa America Institute, the Africa Institute, EMPAX, Family Care International, South Africa Chamber of Commerce, Travel World News, Quintess, Condé Naste Traveler, New York Times, North American, Ethiopian, and Emirates Airlines, and New York University. There was a waiting list to join the event. Meeting with such a high-profile and diverse group of people in one room was the highlight of our trip to New York," said Nyazema. "We are grateful to ATA for organizing this exceptional event and for giving us the opportunity to share our centre with a new audience."
"ATA provides a platform for Africa to bring its amazing travel products to new audiences around the world," said Eddie Bergman, ATA Executive Director. "By working with SCC, a new member of ATA, ATA will help the centre showcase its product to new audiences in the U.S., especially in the run up to 2010 FIFA Soccer World Cup, which will be a major happening not only for South Africa, but for all of Africa."
Laura Saeger, Business Tourism Manager for South African Tourism in New York, said South African tourism and business tourism is at an all time high. Ethiopian-born chef Marcus Samuelsson, author of The Soul of a New Cuisine: A Discovery of the Foods and Flavors of Africa and recipient of the 2003 James Beard Foundation's Best Chef in New York award, designed the South African menu for the evening. The event featured a fine selection of South African wines and South African music. South Africa's famous chutney, Mrs Ball's Chutney, was also served.
About the Africa Travel Association: ATA is the premier global travel industry trade association promoting tourism to the African continent and intra-Africa travel and partnership since 1975. ATA\ membership includes African tourism ministers, national tourism boards, airlines, hoteliers, travel agents, tour operators, media, public relations firms, NGOs, and other individuals and organizations engaged in the promotion of travel to Africa. For more information, visit www.africantravelassociation.org.
About the Sandton Convention Centre of the City of Johannesburg, South Africa:
SCC is South Africa's most technologically advanced convention centre. The centre is managed by Southern Sun Hotel Interests and developed by Tsogo Sun, a dynamic partnership between Southern Sun hotels and Tsogo Investments, a leading black empowerment group. Located in the heart of Sandton's hotel, business and entertainment district, SCC offers easy access to over 5,000 hotel rooms, is adjacent to the country's top shopping and entertainment complexes and provides 10,600 secure parking bays. There is over 22,000m2 of convention, exhibition and special event space. The Pavilion can seat 4,500 patrons. The Ballroom can seat 2,000 banquet guests and the 13 other meeting rooms can accommodate up to 350 delegates. The two exhibition levels have a combined floor space of 11,000m2. For more information, visit www.saconvention.co.za/content/home.asp.
About South Africa Tourism: South African Tourism is the national tourism agency responsible for the international marketing of South Africa as a preferred tourist destination. With its head office based in Johannesburg, South African Tourism currently has country offices in London, Frankfurt, New York, Amsterdam, Paris, Milan, Mumbai, Tokyo and Sydney, and a tourism attaché based at the SA Embassy in Beijing. For more information, visit www.southafrica.net.
FOR IMMEDIATE RELEASE
Contact Person: Sharon Roling
Africa Travel Association
Tel: +1-212-447-1357
Email: info@africatravelassociation.org
Website: www.africatravelassociation.org