Ghion Travel and Tours Plc
Owner Profile
Yoseph Getnet Teshale.
Background: 18 years in wildlife Management and Forestry and in tour operation activity. Has traveled frequently to all parts of the world to promote Ethiopian tourism. Always ready to provide professional and friendly services to tourists coming to Ethiopia. B.S.C. in general agriculture, M.S.C Environmental service, major resource management.m M.S.C. Business administration..
Our programs cover all parts of Ethiopia, from the traditional "Historic
route" to tailor made trips through the Omo valley, from trekking in the
Simien, Surma and Bale mountains to rafting in the Omo, Awash and Blue Nile
rivers, from expeditions to the Danakil Depressions to the Gambella and Nuer
regions. Tour services can also be effectively extended to the neighbouring
countries of Ethiopia.
We provide services of very large scopes such as:
- Tourism for holidays( from range of 2 days to 30 dyas)
- Business tourism( like conference, trade exchange, business meeting)
-Education pupose
-Study/research purpose such as paleoantropological studies, nature studies,
plant studies.
-Adventure tours
-Bird watching tours (Ornithological tours)
-Photo and hunting safaris
-water rafting on Omo, Abay, Awash rivers
-Hotel and air ticket reservation
-Car rental service
For further information please visit our websites: www.ghiontour.com and
www.ghiontourandsafari.com. We can also send you our brochures, CD and
leaflets by mail and any information through discs and videocassette
recorders.
With best regards,
Yoseph Getnet
General Manager
Tel: 00251-11-5505566/5505657
Fax: 00251-11-5505656/2794770
E-mail: ghiontrave@ethionet.et
p.o.Box: 25504 code 1000
Addis Ababa, Ethiopia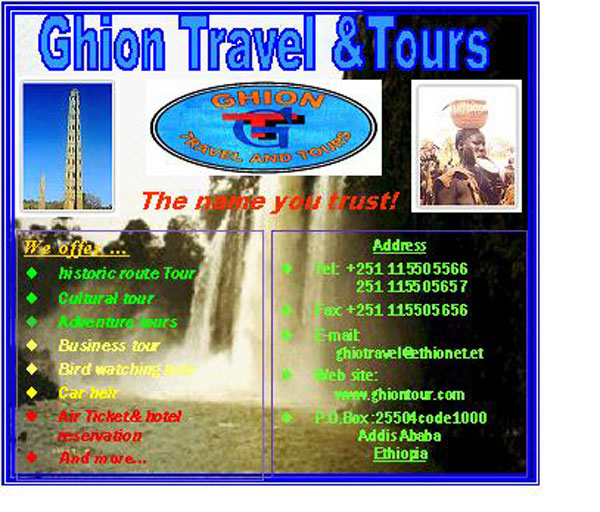 Under Construction. More to come.