Johannesburg Summit 2002. WSSD- Aug 26-Sept. 4
Ten years after the 1992 Earth Summit in Rio, the world's nations will gather again in Johannesburg to review progress and plan for the future.
(much more to come in this section)
Johannesburg Sandton Convention Centre
In Sandton suburb, one block from Johannesburg's new stock exchange, the $42 million Sandton Convention Centre is part of a $160 million development by Fourways. The total complex includes a casino, hotels and entertainment areas. The facility includes a top-floor pavilion for 4,000 people, a ballroom for 2,000 and a foyer for 770. Galleries adorned with African art further enhance the site.
The Cradle of Humankind Museum Complex
Opening soon in Gauteng near Johannesburg, the Cradle of Humankind is one of South Africa's 3 World Heritage Sites. It is the home of Mrs. Ples, a 2.5 million-year-old human skull discovered in 1947. For this reason , among others, the area is marketed as the 'cradel' or place where the human species began. An amphitheater, restaurant, conference center, craft centers and a museum lie adjacent to the Sterkfontein Caves (Mrs. Ples' former home).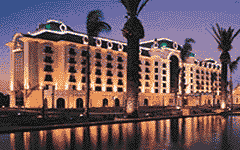 THE E M P E R O R
Johannesburg, SA
The magnificent new five-star hotel at Caesars Gauteng is just 5 minutes from Johannesburg International Airport.
The magnificent new Emperor Hotel at Caesars Gauteng, Africa's premier casin resort experience. For a strictly limited period of time you can savor five-star
luxury with a range of incredible opening offers. Be the first to experience Octavia's Senosorium Health and Beauty Spa and the unique Roman bath. Relive the legend.