Worldwide Volunteers for Africa Travel Magazine. Trade Show Exhibits, Circulation and Promotion. Fax details on your experience to 1-604-681-6595 or email: our office.
Irish Homebuilders visit New York to Recruit American Volunteers to Join Building Blitz in South African Townships
WHAT: An Irish delegation will arrive in New York on Friday, August 1st to highlight the impressive and measurable efforts of the Irish charity to eradicate poverty in South Africa by mobilizing volunteers from every county of Ireland, as well as from England, Wales, France, Germany, the Netherlands, Italy, Finland, and Australia, to build homes in South African townships. The road show is a first step to recruiting U.S. volunteers to join in future Building Blitzes.
WHO: Paddy Maguinness, Chief Executive Officer of the Niall Mellon Township Initiative
WHEN: Friday, August 1 to Friday, August 9, 2008
DETAILS: More than 10 million South Africans still live in "shacks"&emdash;an alarming statistic that affects health conditions, crime rates, quality of life and education in the country post-apartheid. The Irish-led initiative is making a tangible difference in providing housing in disadvantaged communities in South Africa, becoming the largest not-for-profit provider of low-cost houses in the country.
The Initiative was established in Dublin in 2002 by Irish property developer and philanthropist, Niall Mellon. In the first year alone, Mr. Mellon mobilized 153 Irish volunteers to travel to South Africa to build 25 houses in less than a week. This year, the Initiative plans to build 7,000 homes&emdash;250 of which will be built by 2,000 volunteers in a week-long Building Blitz in South Africa in November, and the remainder built throughout the year by township residents trained in the construction trade by the organization. Future Building Blitzes are scheduled for November 2008, March 2009, and November 2009. Paddy Maguinness will be available for interviews throughout the week by appointment. Toschedule an interview, contact Norah Ferriss at 1-212-453-5813 or
norah@nmtownshipsinitiative.com. For more information, visit www.irishtownship.com.
Paddy Maguinness (Worldwide CEO)
Previous acting Deputy CEO and Director of External Relations of Concern Worldwide, Ireland's largest NGO working in over 30 countries in Africa and Asia, Paddy Maguinness has been the Worldwide CEO for the charity since September of last year. His previous positions with Concern Worldwide have included Director of Development and Director of Emergencies. He is also the Director of Traidlinks, the Director of Connect World and an Advisor to Gesci (a global e-schools initiative). His overseas development work includes time spent in Papua New Guinea, Sierra Leone, Turkey, Jordan, Yemen, Liberia, Mozambique, Bangladesh and East Timor.
Number to Call-ask question or comment-678-919-9989 or 1-212-453-5813 mrafrica.ogo@gmail.com
Worldwide Volunteers for Africa Travel Magazine. Trade Show Exhibits, Circulation and Promotion. Fax details on your experience to 1-604-681-6595 or email: our office.
We are a partner of the Africa Travel Association, a prestige, non profit organization founded in 1975. Our magazine and web site are funded by advertising and subscriptions. Your volunteer service with Africa Travel Magazine will be rewarding; example, it could involve sending a monthly news report on activities in your town, city or area. Other options may include assistance at a Road Show event, Exhibition, or Media Promotion in North America, Africa, Europe, Asia and beyond.
Media: Writing, Editing, Proofreading, Photography, Video, Audio, Critiques.

Trade Shows and Seminars
Administrative support:
Proof reading, translations, word processing, and desktop publishing.
• Technical: Web page design and upkeep, fixing code and adding new web programs, server/workstation installation and repair, database repair.
• Development work: Event planning, fund raising, grant writing, public relations.
To get involved e-mail: africa@dowco.com or fax (604) 681-6595.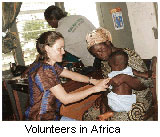 Resolve to Reach Out: Communities Around the World Seek Caring Volunteers
It's a time for fresh beginnings and brave new plans. As we look ahead to 2006, why not make this a year of service and compassion toward others? It's time to enlarge our definition of "community" to include children, the elderly and families in cultures an ocean away for whom life is a day-to-day struggle for survival. Caring individuals can take steps toward peace and economic justice by lending a helping hand on service programs at home and abroad. By working together, volunteers and local people learn that we share a common humanity and that cultural differences are cause for celebration, not conflict. Global Volunteers, a nonprofit organization, invites altruistic individuals to lend a hand on service programs at home and abroad. This truly is "travel that feeds the soul" - a unique blend of cultural immersion and service to others.
No special skills are required to participate on a Global Volunteers service program. Volunteers pay a tax-deductible program fee ranging from $750 for one-week in the continental United States to $1,470- $2650 for two- and three-week international programs. The fee covers all meals, lodging and project expenses; a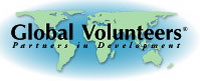 airfare is extra. All project-related costs, including airfare, are tax-deductible for U.S. taxpayers. Call 800-487-1074 or dial up www.globalvolunteers.org <http://www.globalvolunteers.org> for details. (Discounts available for internet use, students, groups.) The following communities seek volunteers in early 2006:
Latin America
Costa Rica: Lend a hand on labor projects at a women's crafts cooperative in Santa Elena. Jan. 14-28. Or build community centers and friendships in close knit highland villages. Feb. 4-18. $2,095. Ecuador: Work on construction or care for at-risk children in the Quito area. Jan. 7-21, Jan. 21-Feb. 4, Feb. 11-25, March 4-18. $2,250.
Mexico: Teach English to university students in the interior cities of Queretaro or Dolores Hidalgo. Feb. 11-25, March 11-25. $1,995.
Peru: Befriend youngsters in South America's largest children's home
located in historic Lima. Jan. 7-21, Feb. 4-18, March 11-25. $2,250.
Asia and the Pacific
China: Teach conversational English to Chinese teachers of English in the southern city of Kunming, called the "city of eternal spring." Jan. 7-28. Or teach eager learners in history-rich Xi'an. Feb, 25-March 18, $2,520.
India: Befriend youths and teach English in a children's home near Chennai in southern India. Jan. 7-28, Jan. 28-Feb. 18, Feb. 18-March 11. (Two-week option also available.) $2,295.
Cook Islands: Tutor children in reading and assist on light labor projects on Rarotonga. (Two-week option available.) Jan. 21-Feb. 11, Feb. 11-March 4,March 4-25.$2,595.
Europe
Poland: Get off the beaten path and meet enthusiastic students young and old. Teach English in rural village schools of historic eastern Poland. Feb. 25-March 18, March 18-April 8. $2,495.
Ireland: Take a stand for peace by volunteering at Glencree Centre for Reconciliation, just 20 minutes south of Dublin. March 4-18 (over St. Patrick's Day). $2,455.
Italy: Experience the hospitality of Southern Italy while teaching in schools in the Puglia region (considered "the next Tuscany" by travel experts). Feb. 18-March 4, March 11-25. $2,495.
Romania: Care for at-risk babies in a rural hospital or teach English. Jan. 21-Feb. 11, Feb. 11-March 4, March 4-25. $2,495.
Hungary: Experience a rich culture while teaching in the schools of Hódmezõvársárhely in southern Hungary. Feb. 11-March 4, March 18-April 8. (Two-week option available.) $2,495.
Greece: Befriend and care for handicapped residents of the northern city of Sidirokastro (April 1-15). $2,495.
Africa
Ghana: Help construct a school, teach English or assist on health projects in seacoast or inland villages in this fascinating West African culture. (Two-week option available.) Jan. 7-28, Jan. 28-Feb. 18, Feb. 25-March 18. $2,450.
Tanzania: Help build and repair school buildings or teach English and other subjects and experience genuine village culture. Jan. 15-Feb. 3, Feb. 5-24, March 19-April 7. $2,385.
Serve in America's Backyard
Befriend vulnerable children or tackle labor projects in the migrant worker community of Immokalee, Fla. (Feb. 4-11). $750. Preserve the rain forest of Kauai, Hawaii. (Jan. 14-28, Feb. 11-25). $1,695.
Global Volunteers, a nonprofit, nonsectarian organization in special consultative status with the United Nations, has been offering "adventures in service" since 1984. For more information on any of the above service opportunities or for a free catalogue, call Global Volunteers at 800-487-1074;
mailto:email@globalvolunteers.org
or via U.S. mail: Global Volunteers,
375 E. Little Canada Road, St. Paul, MN 55117. The website is www.globalvolunteers.org
Barbara DeGroot, Media Relations Manager
Global Volunteers - Partners in Development
800-487-1074 toll free - 651-482-0915 fax
Web Site Offers Ideas, Advice for Volunteers:
A Web site created by 4-H Youth Development Programs in North Dakota, Missouri and Kansas has much to offer adult volunteers who work with youth. The site helps volunteers by providing free information and interactive training about serving young people. The Youth Volunteers site is composed mainly of five lessons: how kids develop, learning through experience, kids as resources, managing groups of kids, and working with parents and other adults. At the start of each lesson, a quiz is provided for volunteers to assess their knowledge on each particular subject before proceeding onto a wide range of activities to increase their skills. Reflection questions are also provided throughout the lessons for volunteers to apply what they are learning to everyday life experiences. The site not only offers a wide range of information and advice, but it also provides an online discussion program so volunteers can talk about problems and ideas with others across the country.
It provides an excellent source of practical tips for volunteers, said Carmel Miller, Grant County extension agent, who helped design the site. According to Miller, North Dakota has taken steps to promote the use of this site within the state. "We have offered classes for Extension agents so they, in turn, can offer classes in their counties for individuals to familiarize themselves with the site," Miller said. The Youth Volunteers site can be found at http://DLDC-COURSES.ext.missouri.edu/umc/4h-Volunteers
Computers for Africa
That's the goal of ATA's Canada and Western Washington State Chapter. At a recent meeting, the Africa Travel Association's Canada and NW USA Chapter agreed to sponsor a worldwide campaign to provide computers and on-site training to village schools, churches and local groups in Africa. More details will be coming, however if you wish to get involved in this program or join the chapter, please send a fax to 604.681.6595, phone (604) 681- 0718, e-mail africa@dowco.com. The ATA Canada Chapter plans to have booths at many Conventions and Trade Shows, starting immediately.
For example, the ATA Canada Chapter is seeking members in all provinces and territories and needs help staging an event late planned for next February in Toronto and Montreal. Let us know if you are interested in helping in this or in any other area. Send e-mail, or fax 604.681.6595. [Top of page]