Special link provided by ATA's Pat Walker from California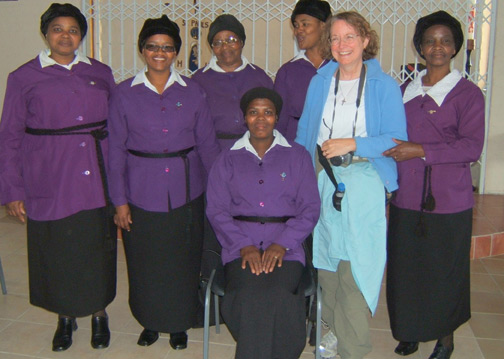 Photo above: Anita and the choir. Below: Hilda and her daughter Khomotso from the Alexandra township.
TOURISTS ARE MEETING REAL PEOPLE - AND THEIR CULTURE
Winnie Graham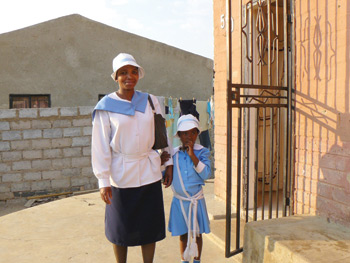 The African mother slipped the infant off her back at a rural clinic in Limpopo and offered the baby to the woman who had been admiring the tiny girl.
Patty McCarthy, an Irish tourist keen to meet the local people, remembers the incident as a defining moment of her holiday.
"I was stroking the silky smoothness of the baby's skin when the young mother suddenly loosened the wraps around her body and lifted the infant into my arms," she says. "I was overwhelmed by her gesture of trust and warmed by the chance of holding the little girl for a few minutes."
McCarthy's experience is typical of a new breed of travellers who visit faraway places, not so much to see the monuments and museums, but to get to know the people. These tourists have less interest in spending time on South Africa's beaches or seeing the city sights.
They want to gain a greater understanding of the issues facing people in their communities - and, perhaps, do something to help.
At the time, McCarthy travelled on her own, arranging visits through friends and contacts. She returned home, she says, enriched by her experiences in South Africa.
Now an American tour operator is focusing on a growing need in the United States for just such trips.
California-based Pat Walker specialises in cultural and philanthropic travel, and each year brings groups to South Africa on "adventures that make a difference".
Her company, Cultural Explorer, has just released its 2008 schedule, featuring exclusive tours of South Africa.
The tourists she brings all want to make a contribution in some way, whether it is helping entrepreneurs with marketing or business practices, teaching English, assisting Aids victims or simply buying or promoting African art.
In 2008 Walker will be bringing "mothers and daughters" groups to South Africa in time for Mother's Day, from May 3 to 17, and again from June 7 to 21. Her "making a difference tours" follow in February, March, September and October, with an "art and animals" tour taking place from May 17 to 31.
Similar specialised tours for South Africans are not yet available, but with interest in cultural travel a new phenomenon, they could become as trendy. Walker, in fact, has said she would love to include South Africans "if space allows".
MOTHERS AND DAUGHTERS
The "all girls" trips are popular with mothers and daughters, grandmothers and granddaughters, aunts and nieces - any women, in fact - who enjoy travelling together. The American experience shows that friends come along as well because they want to meet the resilient women of South Africa.
Walker says the "for women only" tours are limited to daughters over the age of 15 because the travellers will witness and discuss the impact of Aids on families and communities.
"It has been designed to introduce our mothers and daughters to the women and children of your spectacular country, offering them rare opportunities to learn and explore together," she says.
MAKING A DIFFERENCE
Another two-week "hands-on" tour gives travellers the opportunity of getting involved and making a difference while they explore and learn about South Africa.
These groups visit rural schools and develop plans to help with computer work- stations or the library. They tutor students in English, visit orphanages and learn how to help Aids orphans.
The groups are involved with rural communities to such an extent that they could be asked to come up with a plan to get electricity to a Zulu village or take a group of township kids on a field trip to the ocean or, possibly, a place such as Robben Island.
They get to experience life in the townships and see what it's like to live without electricity or running water.
They visit projects involved in helping women to develop much-needed work skills and could be asked to develop an entrepreneur's business or provide marketing advice and suggestions.
"But it's not just serious stuff, though that's the important part," says Walker. "Travellers could also get to observe animal rescue, hike in the Drakensberg mountains, walk on Indian Ocean beaches, tour Robben island, visit the African jackass penguins and shop in Cape Town."
The company's signature tour of South Africa, Making a Difference, has been getting rave reviews from customers in North America.
Comments Walker: "They are eye-opening experiences that give travellers access to South Africans from all walks of life and a chance to make an impact."
A young Canadian traveller, Maxine from Vancouver, describes the experience as riveting.
"We met South African people from all walks of life and saw how they lived on a day-to-day basis," she says.
"We toured numerous townships, met with Zulus in their homes, visited children in orphanages, and learnt about apartheid from varying perspectives and saw the impact it still has on life today.
"All the while we were surrounded by breathtaking scenery and landscapes. Everything - local guides, itinerary, transport, food - was first rate. It was truly a once-in-a-lifetime experience."
The next "hands on" tours will be held in February, March, September and October this year.
ANIMALS AND ART
South Africa's animals and art are the focus of another tour with an unusual itinerary based on exploring fine-art galleries of Joburg, visiting white and black South African artists in their studios, meeting with renowned Venda and Shangaan artists, plus viewing wildlife in the bush.
"This has become a must-have travel experience for anyone who loves both art and animals," Walker says.
"It's popular because travellers are given a unique opportunity of getting to know various South African artists and visiting them in their studios."
The Venda Indigenous Art tour includes optional cultural excursions to local villages and philanthropic projects.
The tour includes part of the famed Ribolla Route in Limpopo , which has produced an array of top sculptors and artists whose work now graces galleries and homes world-wide.
The "big five artists" in Limpopo are Churchill Madzivhandila, Meshack Raphalalani, Noriah Mabasa, Jackson Hlungwani and Sarah Munyai, all of whom have an international following.
In the same area are women weavers and potters, whose work is also in great demand.
Artists in the Drakensberg mountains of KwaZulu Natal are also visited.
Travellers stay in one-of-a-kind hotels, visit mystical regions that few tourists see and view animals in luxurious, eco-friendly safari camps. The next group will be in South Africa from May 17 to 31.
The Cultural Explorer is a member of the African Travel Association and is based in San Francisco.

For more information, visit http://theculturalexplorer.com or e-mail the founder of the Cultural Explorer, Pat Walker, at: pat@theculturalexplorer.com