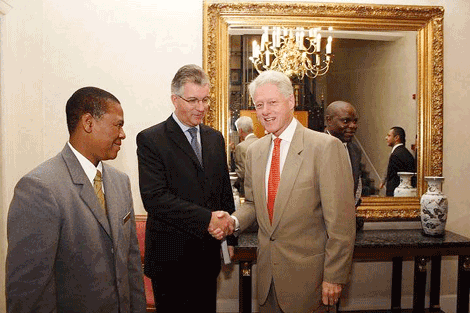 Mr. Clinton being welcomed at Polana Serena Hotel by the General Manager Mr. Lander
"HELLO AGAIN, MR CLINTON"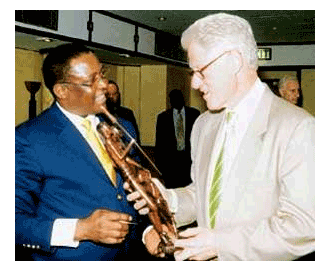 Serena Hotels, East Africa's leading hotel group, had the ultimate Repeat-business guest , former US President Bill Clinton. During his recent extensive visit to Africa, Mr. Clinton stayed at no fewer than three Serena properties: The Polana Serena Hotel, in Maputo, Mozambique; the Zanzibar Serena Inn and the Nairobi Serena Hotel, in Kenya.
Serena Group marketing director, Peter Mbogua, commented: "We are naturally delighted that such a distinguished guest chose to make his visit to our continent a Serena Experience."
During his tour, Mr. Clinton met with several African leaders, including Nelson Mandela and Kenyan President, Mr. Mwai Kibaki , and visited local schools in order to "reinvigorate political will" towards AIDS treatment programmes. The Clinton Foundation has committed over $10 million to the initiative.
Serena operates high quality Hotels, Resorts and Safari Lodges in Kenya, Tanzania (including Zanzibar) and Mozambique. The group is a leader in conservation of the environment with buildings of unique designs that borrows from indigenous culture.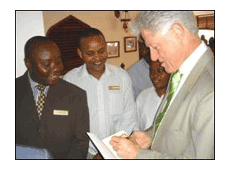 Photo (above right): Mr. Clinton receiving a gift from the General Manager Nairobi Serena Hotel, Mr. Gathuri\
Photo (left) : Mr. Clinton being welcomed at Zanzibar Serena Inn by the General Manager, Mr. Muia

KENYA'S TOURISM LEADERS STAR IN AFRICA YEARBOOK
"This congress has achieved its main objective, which is to enhance cooperation in the promotion and marketing of our African destinations in the United States of America. I believe it would be a great idea to have an umbrella tourism organization such as the Africa Travel Association that can supplement our promotion and marketing efforts in other tourist-generating markets such as Europe and Asia."
Hon. Morris Dzoro, MP, Minister of Tourism and Wildlife, Kenya,
Photos from ATA 30th World Congress and
our current magazine edition.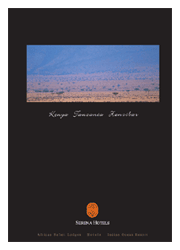 Ready for Action!
Our 40-day stay in Kenya was part of a 2-year effort that will result in several new editions designed to shatter the media myths and set the record straight on Kenya's return to world prominence as a tourism superstar. More
Download Brochure
Mombasa Sedrena Beach Hotels and other Sedena Properties on the Indian Ocean Coast of Kenya and Tanzania. Download
Photo Gallery of Mombasa Serena Beach Hotel on this web site.
view page
NEW ROUTES TO KENYA
East African Safari Air, Kenya's newest International airline, has commenced air services between London, Paris and Rome and Nairobi and Mombasa.
The Airlineís Boeing 767 service offers 2 flights a week on a Rome- Paris- Nairobi- Mombasa route and 4 weekly flights to London. This means much greater air access between Europe and East Africa.
The airline is backed up by its own domestic fleet, called East African Safari Air Express. Their domestic network covers Mombasa and Malindi on the Kenyan coast and connects to Mount Kilimanjaro and Zanzibar in Tanzania, with Fokker 28 and Gulfstream 1 aircraft.
The combination of International and Domestic services have made East African Safari Air Flights a popular choice for travellers heading to Kenya for Safari and/or Beach holidays.
KENYA TOURIST BOARD
SAIL INTO THE PAST
If you are looking for a safari with a real difference, an all new Sailing Safari based around the historical island of Lamu offers an enticing blend of adventure, history, culture and romance.
This fascinating safari is one of the first tourism projects to be funded and assisted by the Tourism Trust fund of the European Union, which is working to spread the benefits of sustainable eco-tourism and community tourism throughout Kenya.
The 7-day safari is a joint effort between African Quest Safaris, the Kenya National Museum and the local communities of the Lamu Archipelago.
Sailing from Lamuís stone town, a traditional dhow will carry you along the waters of the antique spice trade, through a beautiful tropical archipelago, discovering ancient ruins and visiting small villages where East Africaís Swahili culture is at its most pure and welcoming.
The island of Lamu is regarded as one of the most exotic and romantic places on earth- where life has changed little over the centuries, a place with own unique, relaxed lifestyle and atmosphere. The winding narrow streets of its 14th Century Stone Town (recently declared a World Heritage Site) are filled with living history, and the air is rich with the aroma of spices.
In Lamu there are no cars, and all transport is by foot or donkey- ensuring that life is lived at its own leisurely pace.
The Dhow Safari uses Lamu as a base for exploring the neighbouring islands of Manda, Pate and Kiwaayu- where visitors discover some of East Africaís oldest settlements, including the ghostly ruins of Takwa and the remote settlement of Siyu.
Transport is by sailing dhow, and the islands will be explored on foot using donkeys as pack animals.
Kenya Fair International Tourism Trade
I was surfing through your website and I realized than you are involved in responsible tourism and I felt the urge to communicate with you.
I am the Project officer of FIT Kenya (Fair International Tourism Trade) which is a project of African Pro-poor Tourism Development Centre (APTDC). APTDC is an NGO aimed at using tourism as a top priority in addressing the United Nations Development Millennium Goals; poverty alleviation, reduction of gender inequality and Sustainable development. The mission of the project is to ensure that tourists enjoy nature, share experiences with the local communities and contribute to their wellbeing, this is guide by our motto "Travel responsibly and touch the heart of a poor Person".
Today, tourists are becoming more enlightened and they want to feel that their money is used to support the local economies and preserve the environment so that they can behave responsibly when they go on holiday (Worlds Apart, Tearfund). To this effect, FIT &endash; Kenya operates NON - PROFIT Eco-Safaris where all proceeds are `returned` to local conservation and community projects. FIT - Kenya seeks to provide tourists with a memorable opportunity where they can be in a position of visiting the various touristic attractions in Kenya while at the same time have a chance of helping in solving some of the social problems facing the local economies.
From our research and experience we have realised that many tourists especially from America and Europe are concerned about their security while away from home. With the increase in insecurity and the ever increasing incidents of terrorisms all over the world many governments have advised their citizens to avoid unnecessary travel, most of the potential tourists have responded by remaining at home due to fear. To counteract this all our groups however big or small are accompanied by armed escorts who are trained on how to handle fire arms, customer care and how to respond to crisis. This added feature allows tourists to relax and enjoy kenya's touristic attractions without any fear of insecurity.
FIT- Kenya operates as fair tour operators in that we package various eco-safaris and price them accordingly. We are currently seeking partnership with travel agents, and wholesaler tour operators who will be selling our eco-safaris and in turn earn commissions, by marking up our net ground handling charges.
Please advise if you are in position of partnering with us in selling our eco-safaris as we seek to help the marginalized through tourism. Feel free to contact me in case you need further information. Thanks.
With Regards,
James Weru
Project Officer &endash; FIT - KENYA
Message sent courtesy of;
African Propoor Tourism Development Centre
5th Floor, Windsor House, University Way /Muindi Mbingu St.
P. O. Box 4293-00200 Nairobi - KENYA.
Tel: +254 2 318522 or +254 2 310276
Fax: +254 2 310276
Cellular Hotline: +254 722 566725
Email: info@propoortourism-kenya.org
URL: http://www.propoortourism-kenya.org/
SAILING SAFARI
Local guides are on hand to bring the fascinating history of the archipelago to life- but this is no staid museum tour. The safari visits small villages throughout the islands, and time is spent learning about the traditions and cultures of the local people, sampling the local cuisine and lifestyle.
At Siyu, guests will attend a special night Ngoma in the village square, where ñ traditional dancers ñ men dressed in White majestically twirl their sticks and sing to the music of the piper and the slow beating of the drum under a starlit sky.
The safari reaches its end at Kiwaayu, an uninhabitated paradise, where there is plenty of time for swimming, snorkeling and relaxing on the beach.
This competitively priced safari is perfect for anyone looking for a genuine adventure, and promises to give visitors a first and experience of the history and culture of this region.
BUNGEE JUMPING IN KENYA
Kenyaís reputation as Africaís premier adventure destination has been bolstered by the opening of East Africaís first Bungee Jumping operation on the banks of the Tana River at Sagana, just 95 kms North of Nairobi.
ìBungeewallaî now offers high adrenaline jumps at their base and campsite, shared with the countryís most popular White WaterRafting outfift.
This combination of rafting and Bungee makes the Tana a one stop adventure centre. Bungee jumping is a popular extreme sport worldwide. Started in New Zealand, it involves jumping from bridges or towers with your ankles attached to a long rubber bungee cord. Kenyaís bungee is from a specially constructed 60 metre tower over the Tana River.
Jumpers ascend the tower attached to a safety rail by specialized climbing harnesses. Once at the top, they are fitted with the bungee cord, and are then free to take the plunge over the wild waters of the Tana.
After the jump, they are collected in a raft, and returned to the bank to rest, recover, or even take to the rapids and raft.
The bungee location is an ideal stop en route to Mt Kenya or Samburu- and can be combined with a dayís White Water rafting on the Tana
KENYA'S COAST: KITESURFING PARADISE
A recent tour by the Blues III Professional Kitesurfing Team from Italy has confirmed Kenyaís place as a major destination for this exciting new sport.
Kitesurfing is a faster, more thrilling alternative to Windsurfing. With a Kite powering the board instead of a sail, a strong wind and waves allow the surfer to perform acrobatic jumps, flips and turns.
The 14 day Blues III tour took in the best of the Kenya coast with time off for safaris in nearby Tsavo National Park.
This combination of wind, waves and wildlife makes this an ideal location for the Kitesurfing fanatic.
The Prosurfís Kite & Windsurf Centre at Nyali Beach has top notch equipment and training for both professional and amateur wave riders, while the conditions at Che-Shale near Malindi make for world class Kite-surfing.
So perfect, in fact, are the conditions at Che Shale that it has become a host for international Kits Surfing championships.
The trade winds that once brought the spice trade to the Kenya coast are now spicing up the waters as travelers looking for waterborne adventure converge to ride the waves.