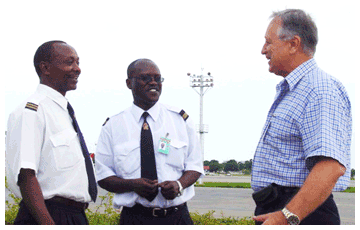 Visit MOMBASA AIR SAFARI Head Office at the General Aviation Terminal at Mombasa's Moi International Airport and you will step out of bright tropical heat into cool efficiency. With its separate terminal building with hard stand for aircraft parking just outside the window, you can be ticketed and through the passenger lounge for screening and then board your flight in minutes. Mombasa Air Safari has staff based at Diani Beach, Mombasa, Malindi and Lamu all along the Kenya Coast to provide friendly and efficient services on their daily flights to LAMU, AMBOSELI, TSAVO and the MASAI MARA. Owned and operated by two Kenyans, Christine Cronchey and John Cleave since 1974, they can claim to be the best known Kenya Coast airline.

Photo- above: John Cleave with Benjamin Mwanza (left), our Ramp Supervisor and Thomas Okeyo (centre), Senior Operations Officer. Below: Christine Cronchey with Mohammed Noor, the MAS I.T. Specialist at the Reservations Office.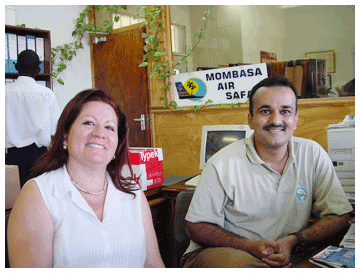 Asked which game parks he recommends, John says, "Each one is unique and they all have their own attractions. However for a two or three day visit, the Masai Mara offers excellent all year round game viewing and during the annual wilderbeest migrations between July to September, the wildlife viewing is spectacular. Amboseli is especially good for photography with Kilimanjaro in the background and is well known for elephant herds. Tsavo is a huge chunk of land that no one really knows what to do with, so it was turned into a Game Park. Over the years it has lost vegitation and animal numbers. If you enjoy wild open spaces then Tsavo will suit you, and it still represents the real bush experience, but I always recommend combining Tsavo with at least one other Park. The quality of the camp is particularly important in Tsavo. One of the best is Finch Hattons."
John takes a long term view and explained, "Mombasa Air Safari is not a city to city airline. With the exception of services to historical Lamu town, all our flights are to game-parks and our future is linked to the future of Kenyas wildlife. Kenyas unique attraction is wildlife. It is essential therefore that our wildlife reserves, parks and sanctuaries are well managed. During the past 100 years, pressure on land use has been consistent as hunters become pastoralists and pastoralists become agriculturalists and everywhere limited arable and semi-arable land was taken up by humans. This human pressure on wildlife land is our greatest challenge."
Asked if he thought Mombasa Air Safari would still be flying in 20 years time, John laughed and said, "I am already a mzee (old one) so who knows ? If you want to see the best of Africa and her wildlife, better to visit Kenya sooner than later.".
On a serious note, John ended by saying, "Our tourism marketing board has understood that Kenya must develop quality tourism and not high volume, low cost tourism. That augurs well for the future. What is also essential, is that we learn to manage our reserves and game-parks as well as they do (for example) in South Africa."
Christine is the co-owner of a well established Malindi based tour company &endash; Southern Cross Safaris (Malindi) Limited and can arrange any type of road or air safari or combination for individuals or large groups to anywhere in Kenya. With 30 years in aviation and 15 years as a tour operator, Christine can claim considerable experience. When combined with John's 40 years in Aviation, the pair bring solid management and direction to their Air Safari's Programme.
In addition to daily services to game parks and the world heritage site of Lamu, Mombasa Air Safari will organize an air safari with hotel transfers, game park entrance, lodge accommodation and game drives. All this is easily accomplished through their website at www.mombasaairsafari.com which is in French, Italian, German and English.
Explains Christine Cronchey who personally handles most air safari bookings over the website, "Air Safaris are possible because most game lodges and camps in Kenya these days keep specially prepared safari vehicles at their accommodation for fly-in visitors. Going by air saves long road journeys. Some roads can be hard going. Basically we make it all easy and convenient for the visitor. Being able to relax at the Kenya coast is a wonderful interlude in between visiting game parks or can be the main base for a one week or two week holiday."
Alone amongst Kenya's domestic airlines, Mombasa Air Safari has become a full member of the Kenya Association of Tour Operators (KATO) and thus adheres to the ethics of tour operators but also participates in various KATO meetings to ensure that AIR SAFARIS are as well established and conducted to the same high standard of road safaris.
British Airways, KLM, Air Swiss, Kenya Airways and SN Brussels all operate schedule flights from Europe to Nairobi.
Both British Airways / Regional and Kenya Airways offer daily jet connections from Nairobi to Mombasa for overseas visitors and numerous air charters operate from England, France, Germany, Switzerland and Italy direct to Mombasa.
MOMBASA AIR SAFARI
Moi International Airport
General Aviation Terminal
P.o.Box 93961,Mombasa,Kenya
Tel:+254 (41) 433061,434265,434487,432257
Fax: +254 (41) 434264
e-mail- airserve@mombasaairsafari.com
http://www.mombasaairsafari.com