Champagne Safari Weddings in South Africa
Photos 1 . Photos 2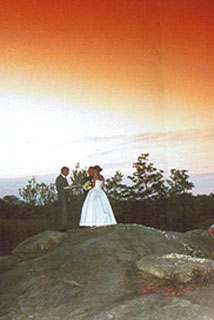 Africa Travel Magazine plans to publish a "GRAND TOUR " of South Africa edition, for long-term, year-round, worldwide distribution. The following story is typical of the tour options recommended in this new edition. African Travel Inc, who have been operating African safaris for 28 years and are based in Glendale CA, are offering wedding packages combined with a honeymoon safari at the luxurious Rock Lodge in Ulusaba Private Game Reserve, South Africa. Couples from North America can opt for an intimate ceremony or share it with their friends and family. Up to 40 guests can be accommodated at Rock Lodge and nearby Safari Lodge. Room rates, including all meals and drinks, are from $700 per couple per night. Wedding packages, which include three nights accommodation, special meals and unlimited French
Champagne, cost from US$3,280. Ulusaba Private Game Reserve can be reached in one hour by scheduled air service from Johannesburg.
The wedding ceremony will take place in one of many stunning locations at Rock Lodge or out in the bush in a safari setting. Or the bridal couple can take a spectacular helicopter flight through the Blyde River Canyon to Gods Window, followed by a wedding ceremony on The Pinnacle, a place of breathtaking beauty high above the world.
African Travel will arrange the preparation and processing of all legal documentation, complimentary room upgrades, an optional room for the bride on the eve and/or day of the wedding, a special wedding turn down, a wedding cake and many other little extras and surprises, including a complimentary massage for the bride and groom. Other options that can be arranged are pre wedding bachelor parties at separate locations, cocktail parties, bush barbecues, candlelit dinners, beauty treatments in the Aroma Boma at Rock Lodge, floral arrangements, a bridal bouquet, a photographer who will shoot and develop up to 150 pictures and disposable cameras for guests to use on the wedding day.
Ulusaba Private Game Reserve offers superb game viewing in the Sabi Sand Game Reserve. Professional rangers and trackers escort guests in safari vehicles or on guided walks twice a day. Guests can experience wildlife encounters with lions, leopards, elephants, rhinos, buffalo, cheetahs, giraffes, zebras, hippos as well as prolific bird life.
African Travel Inc is part of the prestigious family of companies in The Travel Corporation group, which includes Trafalgar Tours, AAT Kings Australian Tours, Insight Vacations, Contiki Holidays, Lion World Travel and Grand European Tours. The Travel Corporation is a member of USTOA and has recently established an additional $10 million consumer protection plan.
For more information contact African Travel Inc, The Safari
www.africa.com
Building, 1100 East Broadway, Glendale CA 91205, telephone 800-421-8907 or 818-507-7893, fax 818-507-5802. E-mail: ati@africantravelinc.com. Web site: www.africantravelinc.com.