The South Africa Story
by Jerry W. Bird
A once in a lifetime opportunity came our way during New Years Week, 2004, when we journeyed on Rovos Rail , the Pride of Africa, from Cape Town to the company's Capital Station complex at Pretoria. It was such a superb experience that we are providing our descriptive travelog of the two-day rail tour to the world's print and broadcast media on request. Travel World News of New York has already run the story nationwide in the USA and an expanded feature will appear in Africa Magazine's Grand Tour of South Africa issue. Here are some opening comments from the Rovos Rail article: "What a way to celebrate the New Year! As we joined the other passengers assembled on the red-carpeted platform, a traditional toast of South African champagne and orange juice set the mood, while a trio of violinists provided soft, soothing classical music -- a fitting background for such a memorable send
off. At the microphone Mr. Vos gave a hearty and humorous "bon voyage," announcing each guest's name in turn as they boarded the train.
Many nations were represented that morning - the UK, Norway, Italy, Australia, USA, Switzerland, Spain, Germany, France, South Africa and Canada. These vintage coaches have carried royalty on past tours, and we soon discovered there was a European countess among us, which reflects the company's claim "the most luxurious train in the world. A mild thunderstorm was brewing above Table Mountain, and as rain began to beat on the windows, the train pulled away from Cape Town station. Have no fear, I had a feeling that the trip would be even more enjoyable, looking out from our cozy cocoon on wheels. My intuition proved to be quite true". Continued



Meet the Women of South Africa Tour
From SA Web Site: The Cultural Explorer, a US-based tour operator specialising in cultural and philanthropic travel in South Africa, has announced an exclusive tour "designed to introduce adventurous North American mothers and daughters to the resilient women and children of South Africa." The trip, billed as a "celebration of women", offers an ideal opportunity for mothers and daughters "to spend quality time together while improving the lives of others, seeing spectacular sights, even going out on safari." More->

Tourists are meeting REAL PEOPLE and their Culture.
Another special featuring ATA's California's Pat Walker. More->
The Dunn Family Story
While in Cape Town, we got together with our good friend Daniel Dunn of Cape Town., representing the Africa Travel Association's Western Cape Chapter. As I learned in detail during chats with him in the week following our South Africa hosted congress in 2001, Dan is of both Scottish and Zulu ancestry. Shortly after we returned to Canada, Dan sent us a copy of the Dunn's fascinating family history, which I am proud to make available to our readers (see Zulu). During our week of travels and exploration with Dan in the Cape area, the coast, wine country and the Kagga Kamma reserve in the rugged Cedarburg Mountains, we learned enough to fill a book or two.
One of Africa's most congenial tour professionals, Dan Dunn's continuous commentary on assorted topics as we traveled, was like a course in South African culture, laced with historical anecdotes. We will never forget the true wartime story of South Africa's famous mascot ... a hound dog who was so loved by sailors at the local naval base, he earned the name and rank of "Able Seaman Just Nuisance" which is on his statue overlooking the beach. It was a superb reunion, as I welcome every opportunity to enjoy Dan's positive, upbeat company. " Networking is our industry's life blood, and the opportunity to expand our contacts in the Gauteng area presented itself on our return via Johannesburg.
In 1974 Daniel (Dan) Dunn son of Gladstone Dunn, was elected as Chairman of the John Dunn's Descendants Association. He has proven to be one of the most dynamic and effective leaders that the Dunn clan has ever produced. Daniel Dunn set out to achieve three goals for his people. The Dunns have succeeded in a large measure because they identify strongly with their remarkable ancestor &endash; whose qualities of individualism and single-minded determination have inspired a sense of pride and perseverance in his descendants. The spirit of unity displayed by the Dunn community is a testimony to the towering personality of one of South Africa's legendary figures. E-Mail: mailto:dddunn@mweb.co.za
Money Talks: Lest I forget, with the current exchange rate, we found South Africa a shoppers delight, and that also relates to what you save on accommodation. Thanks to this favorable rate, we were able to extend our stay without hurting the travel budget, and to purchase some attractive items in the bargain.
Soweto Tour and visit to Gold Drift Theme Park

At the 2003 ATA Congress, the North American and African chapters decided that they would "twin" for the next year. As a result, our Canadian Chapter in Vancouver was twinned with Gauteng Chapter, South Africa. Territorially, Gauteng includes the city of Johannesburg and metropolitan area. With this objective in mind we changed our airline reservations for the return flight, and stayed for most of a week in South Africa's major metropolis where we were shown the sights of Johannesburg and area by two highly motivated entrepreneurs, namely Minah Makhoto (above left), who operates Basiea, an attractive bed and breakfast and diner, and her friend Queen Mokgopo (right), who operates a tour company, which provides among other attractions, escorted tours of Soweto. We enjoyed several auto trips to Soweto and were impressed with what we saw in terms of new development, infrastructure, facilities and especially "community spirit" which is truly outstanding. Minah's Basiea Bed & Breakfast and Diner. basiea_soweto@mail.co.za
Queens Tour and Safari . Phone/ fax 27 11 866 1830,. cel. 27 11 828 70746, e-mail queenstours@mweb.co.za

Khayelitsha Township Tourism succeeds.

Cape Town Tour Guide Dan Dunn helped make our stay in Cape Town one of the most memorable ever. Dan introduced us to Thope Lekau (right) and started off a beautiful friendship. We enjoyed an overnight stay at Kopanong, a charming bed and breakfast which has been featured in a number of hospitality trade magazines in South Africa. Now we know the reason why. Contact Thope at Kopanong B and B, e-mail: kopanong@xsinet.co.za . Contact Dan Dunn at dddun) Follow Africa Travel Magazine's journeys in and around Cape Town, South Africa.
Meet the Cape Doctor: Many positive things have been happening in South Africa that have made our job as the "Worldwide Voice of ATA" even more enjoyable. The most exciting news is the emergence of these thriving ATA Chapters. The photo on the right is of ATA member Rube Khan who we met in Morocco last December. Ruby operates Cape Doctor Health and Tours, based in Cape Town. http://www.capedoctor.net, mailto:info@capedoctor.net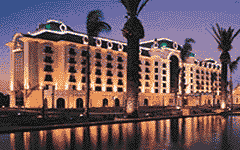 City within a city: Caesar's Emperor is a holiday all by itself.
Arriving at the Johannesburg airport full of jet lag after a long trip from the Pacific Coast of North America (no small feat) when our taxi arrived at the front door of Caesar's Emperor Hotel and Casino , all of the good things I had heard for months from my colleagues in New York and elsewhere came true. I will comment in more detail in our next printed edition, and will include some photos of our experience.
South African Airways' new route to Johannesburg from JFK International Airport in New York via Dakar, Senegal, is another winning move that is of prime importance to our ATA member travel agents. Most of them are active in all parts of the African Continent and welcome this connection, which opens up many new options for them and their clients.
. Thanks to excellent roads, the most friendly, well informed drivers one could ask for, and sturdy, comfortable vehicles, we managed to visit most of the highlights in the Cape area in a few days. We keep in touch on a regular basis, since all three have web sites and newsletters. For example,
The Cape Gourmet Festival: It never ceases to amaze me how much of a gourmet haven South Africa really is. The Cape Gourmet Festival is a shining example. If you ever wanted to combine a tour of the country, with an exciting special event in Cape Town, this is it. Check out our special page.
Jurassic Park in South Africa? Our destination for day two of the Cape Country Tour was "Kagga Kamma," a private game reserve. Not expecting anything too far beyond the ordinary, after a rugged 3 hour motor trip from Cape Town, our group of five was little prepared for the amazing 'moonscape' of this spectacular hideout in the rugged Cedarburg Mountains. It was a site (and sight) that could easily be the movie set for "Jurassic Park" or "Planet of the Apes." As twilight approached, many of the odd rock shapes near the camp cast weird shadows. Continued
Penguins at High Noon. Did you know that there were penguins in South Africa? Now you do! I saw my first South African penguin while visiting Robben Island prison in Cape Town's scenic and historic harbor. This little fellow came around the corner from his hiding place behind a clump of bush and we met face to face. It reminded me of a scene from the movie "High Noon" as two strangers eyeballed each other on the main street. Later that week I would encounter dozens more of his gang frolicking on the beach. Visitors to the area will discover an entire colony of Jackass penguins lounging and fraternizing (with each other, not the tourists) at a local community called Boulders, not far from Cape Town. Photo by Muguette Goufrani.
South Africa's Diversity: Helen Broadus, of ATA Mid Atlantic Chapter in the Washington, DC area, invites our readers to discover the immense diversity of South Africa, which she describes as a land full of rich cultural heritage, friendly people, spectacular wildlife and stunning landscapes. South Africa is truly famous for its mixture of cultures, heritage and traditions that are blended together through its festivals, music and foods. You will also find that there is much more than a traditional safari experience to see the "Big Five" in South Africa. Continued
Getting around South Africa: During our weeks in the Cape area, we were very impressed with the highway systems, since we seemed to be touring continuously. For those who want to get an idea of the immense size of this country, there is a South Africa Map on our site. The nine provinces of South Africa are: Gauteng (Capital - Johannesburg, Kwazulu-Natal (Capital -Pietermaritzburg), Northern Province ( Capital - Pietersburg), North West (Capital Mmbatho, Mpumalanga (Capital Nelspruit) , Free State (Capital Bloemfontein), Northern Cape (Capital - Kimberley), Western Cape (Capital - Cape Town), Eastern Cape (Capital - King
Blue Train! White Glove Service! Our Associate Editor Muguette Goufrani comments on this famous South African Railway. "For years I had read that South Africa held many pleasures for those of an adventurous spirit or romantic nature. So one summer, taking a month's vacation from my job as a travel agent in Ivory Coast, West Africa, I headed south. Here at last was my chance to spend some leisurely, laid back weeks getting to know that fascinating country surrounding the Cape. While the sights and delights were many and varied, the epitome was my experience aboard the famous Blue Train. It was like the finest luxury cruise, sailing across a sea of ever-changing landscapes . Yet there was time and space to savor every waking moment.(photos to come) I managed to read some pamphlets about the line's history, which spans o
Important Links for Information on Booking Travel to South Africa
South African National Department of Environmental Affairs and Tourism -
www.deat.gov.za
South African Tourism - www.southafrica.net
South African National Parks - www.sanparks.org
International Marketing Council - www.imc.org.za
Edwin Sipho Rihlamvu
Tourism International Liaison
DEPARTMENT OF ENVIRONMENTAL AFFAIRS AND TOURISM SOUTH AFRICA
Tel: 27 (12) 310 3940, Fax: 27 (12) 322 5754
Mobile: 073 902 4504
E-mail: erihlamvu@deat.gov.za